We are very pleased to have reached our target, thanks to the kind people of Pozible, but we are still going.
If we can get to $6000, we can cover the cost of postage of all your magazines and contributor payments.
If we can get to $8000, we'll be able fund our office rent for long enough to do all of the above, and Ampersand will have a future.
So, it would be incredible if you could show your ongoing support.
Thanks so very much.
– Alice
_______________________________________________

Ampersand Magazine needs some help to fund the printing of Issue 6 – 'One Little Room'. You see, it's all done, it's in the can, but we've found ourselves short for this *quite major* expense. So, we humbly turn to you, kind readers.

IT'S AS SIMPLE AS PRE-ORDERING THE ISSUE

If we can get a bunch of people to simply buy the issue now, instead of after its release, it'll all be jake. That's $15 – the cover price of the magazine – for both Issue 6 and entry into the Melbourne or Sydney launch.
"LET'S GO SHOPPING", SAID LARRY EMDUR
For those of you who feel like helping out a bit further, we also have back issues for sale. Each and every one a perfectly strange planet of fine writing and beautiful art guaranteed to advance your by-the-loo reading library and provoke thoughtful discussions and/or fights between family members and housemates.
BUT FIRST, A BIT ABOUT US
_________________________________________________________
"Mainstream newspapers and magazines could not match
Ampersand for intelligence and eclecticism; university
publications could not replicate the quality of writing; existing
literary journals struggle to be as unboring."
– Lisa Pryor (Sydney Morning Herald)
––––––––––––––––––––––––––––––––––––––––––––––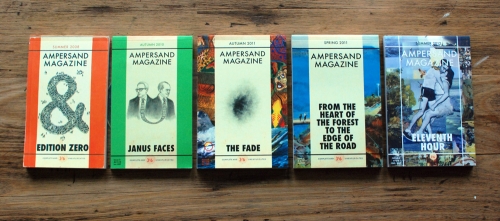 180mm x 110mm – circa 200 pages – black and white with colour sections

Ampersand Magazine is a Melbourne-based curiosity journal. It is produced infrequently, which means roughly once a year. It contains non-fiction, fiction, poetry, interviews, and visual art.
Ampersand voraciously collates material from diverse fields of interest in a mission to better understand the world.
Ampersand explores creativity, societal change and the human condition. It is interested in the unfashionable, the unorthodox, the illuminating, and the rare.
Ampersand brings together academia and pop culture, seriousness and humour, innovation and tradition. It intertwines it all with absurdity, sex and cheap laughs.
Ampersand is a print magazine in a digital world – with one foot in the old world, Ampersand is a magazine you can hold, drop in the bath, keep, collect, and share.
____________________________
"Ampersand is so cool."
– Helen Garner
––––––––––––––––––

Ampersand publishes the work of emerging and established writers and artists from Australia and around the world.
Our previous five issues have seen the work of some 150 contributors including:
Tracey Moffatt, Lisa Pryor, Suzannah Biernoff, Erik Kessels, Christos Tsiolkas, Bill Henson, Nick Coyle, Claudia O'Doherty, Bob Brown, Tommy Murphy, My Darling Patricia, The Suitcase Royale, Ralph Myers, Sebastian Meyer, Heidi Yardley, Courtney Collins, Gareth Liddard, Bob Log III, Laura Jean, Warwick Baker, Eddie Sharp, Alyssa McDonald, Bonny Cassidy, Tom Civil, Adam Jasper Smith, Amelia Groom, Willoh S Weiland, Simon Greiner, Fran Barrett, Briohny Doyle, Stephan Balleux, Lucy Kaldor, Adam Hill, Rita Kalnejais, Nick Sun, SPOD, Leigh Rigozzi, Jess Cook, Lillian O'Neil, Emily Hunt, Stella Mozgawa, Anna Kristensen, Tom Polo, Soda_Jerk, James Harney, Toby Schmitz, John Birmingham, Amelia Stein, Polly Dedman, Leo Greenfield, Peter Combe, Shannon Holopainen.
________________________________________________
"Unusual compared to pretty much any magazine."
– Stack Magazines UK
––––––––––––––––––––––––––––––––––––––

EXTRA-CURRICULAR
Ampersand has a life outside its print pages. It puts on events and collaborates with festivals, ARIs, performance groups, theatres, radio programs, galleries, and bookshops.
ISSUE 6 – ONE LITTLE ROOM
Issue 6 was originally to be called 'Love', but the further into curating it we got, the more we realised how foolish it would be to try to cram that reason for everything, that meaning of life, into 200 pages. So 'One Little Room' it became, under John Donne's good guidance: the small place that love makes into a universe.
Contents:
Bob Ellis – How love has changed
Kate Holden – On being paid to love and loving for free
Helen Razer – Midlife and new romance
Bill Henson – Photography, 1983 crowd series
Amber Wallis – Painting
John Elder – On growing up in the year of the dog
Thomas Henning – The initiation into the Bwiti tribe in Gabon, West Africa
Darren Hanlon – Poetry, signposts to the existence of love
Angie Hart – Why are there so many insects? (An Oxford Men's College Entrance Exam question)
Laura Jean McKay – Fiction
Cathleen Ross – Erotic fiction
Paul Knight – Photography, portraits of his lover and him
Georgia Metaxas – Photography, Greek widows
Emily Hunt and Raquel Welch – Unconventional love in cinema
Lucy Lehmann – On her grandmother, Olive Cotton
Jesse Cox – On his grandparents, the celebrity psychics The Piddingtons
Patrick Stokes – On how we go on loving our dead loved ones online
Sam Wallman – Comic
And more.
SELECTED SPREADS










WE'D LIKE TO CONTINUE MAKING AMPERSAND
And of course your contribution isn't just for the printing cost of this issue, it's for the ongoing life of Ampersand. It's for Issue 7 and beyond. For paying contributors, for distribution, for renting our office, for putting on events. It all costs those accused dollaroos. We really would love you to help us to continue doing this.
$4000 will only barely cover our printing costs, and of course we need a lot more than this – more to the tune of $8000. But we're trying to be realistic here.
LAUNCHES

The Melbourne launch is on May 29th at 1000 Pound Bend, and will feature readings, music and tomfoolery by Helen Razer, Kate Holden, Laura Jean McKay, John Elder and more TBA.
The Sydney launch will be held at 107 Projects in Redfern in June, details to come.
TEAM

Editor – Alice Gage
Fiction and poetry editor – Charlie Garber
Contributing Editor – Erik Jensen
Editorial Assistant – Natalie Quinliven
Designer – Mikie Inglis
Illustrator – Simon Greiner
Editorial Advisory Board – Miles O'Neil, Darren Hanlon, Bill Henson, Sarah Booth, Simone Mandl, Kali Reid, Roland Barthes.
CONTACTS AND THINGS
Alice Gage – alice@ampersandmagazine.com.au
0415 923 164
Twitter – @AmpersandMag
Facebook –
Ampersand Facebook Page
THANK YOU THANK YOU THANK YOU THANK YOU THANK YOU THANK YOU