The Sustento Garden (Huerta Sustento), the community garden of Colectivo Sustento is a space that has become a living, breathing refuge from the city. A place where we resist, where we form bonds and grow community, a space for collective learning. After three years and heaps of work, we need support to develop to the next stage: to increase our self-sustainability, and to advance the educational role of the garden space. That's what this campaign is for.
The Sustento garden nourishes the collective and our community of local supporters with organic products, grown and cared for by our own hands. We are committed to protecting and saving seeds, and respecting the natural planting cycles. This means we have learnt to understand the cycles of the moon and the seasons, and have become aware of the particular development needs of each and every plant in our garden. We see the enormous potential of this space!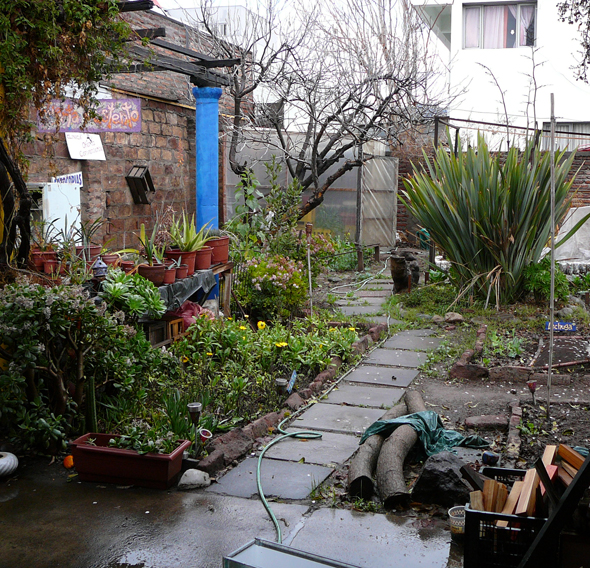 We are part of a movement; gradually community organisations are fortifying their work in different urban and rural territories of Chile. Through networking with other Santiago community garden initiatives, we have found that many women and men have preserved local knowledge about plants and their properties, we have learnt from them and applied the knowledge in our garden. Together, we are rebuilding social networks through caring for the earth, caring for our own bodies, and autonomous organisation. We believe this is the way to reconstruct community well-being in a just and equitable way, according to our needs and freedoms.
The Sustento Garden was born in September 2012. We took over the backyard of a collective member's house in San Miguel in the urban metropolis of Santiago, and began to dream. With the help of a local organic farm -
Huellas Verdes
- we created the first garden design. The garden has undergone many changes since 2012, as has Colectivo Sustento. Using the garden as a base, we have opened up to the local community in our neighbourhood: we established the Verdivereda (footpath garden) in 2013 to promote a return to home vegetable and herb growing, and we run workshops and children's activities at our bimonthly markets. In 2015 we went further afield and ran garden workshops in two juvenile detention centres: this is a continuation of Colectivo Sustento's
community theatre work in the Colina 1 prison
.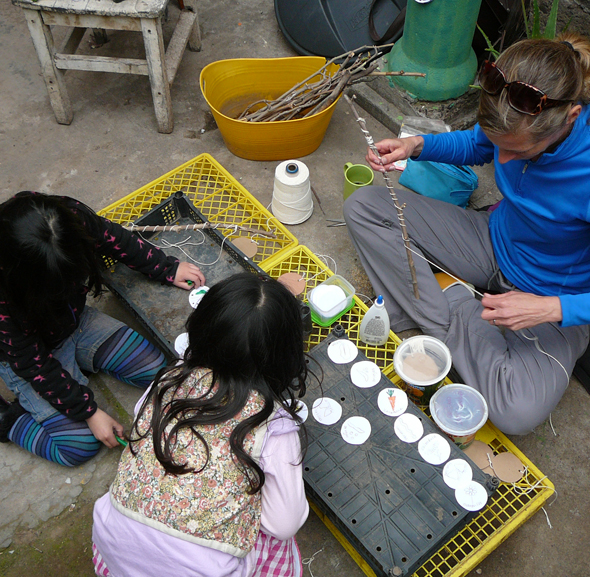 After 3 years, our self-generated strategies - bimonthly community market days (Feria Sustentina), sales of monthly baskets of country to city organic products, as well as seasonal products from our garden (Fair Produce/Víveres Justos) - have created a network of supporters who wish to eat organic and also support an autonomous alternative. We now need extra financial support to develop the process further, to generate more income, and to expand the educational and community possibilities of the garden. This development is not possible at our present level of income.
Project target
We have set a target of $6500 Australian dollars, but this is a minimum amount to cover some of Carolina and Mariana's wages. The real amount we need to pay for 10 months work is $8000 Australian dollars. This is a big step up from our 2015 campaign, so we have been cautious in setting our target. On the other hand, we hope that our work inspires the generosity that we experienced last year, and that we may pass our target. Fingers crossed!
Some Of My Previous Work
Colectivo Sustento works on two fronts: organic community gardening, and community theatre in prisons. The two are linked, promoting collective work in resistance to the brutal neoliberal system in Chile, both promote healthy living, collective action and critical reflection. The Sustento garden is the focal point of the first front, and the work spreads out into our neighbourhood and connects with community garden networks in the Santiago region.
The gardening front has developed as a collective effort of all the 8 Colectivo Sustento members, we get our hands dirty regularly with collective working bees and collaborative projects, for example the natural water filter that was built with the
Women's Bioconstruction Network
based on a barter arrangement (they help us and in return we help them to create a vegetable garden). We receive volunteers from Workaway and WWOOF who are essential. We need extra help always. Particularly over the last year, the work of Carolina and Mariana has been essential to the coordination of new developments in the garden (installing a drip irrigation system, designing the planting cycles, coordinating working bees, market days and volunteers) and dreaming future possibilities. They are community activists, and bring a wealth of knowledge about autonomous organisation and indigenous gardening, and a love for the earth.
The two fronts of our collective came together last year through the
Sowing the Future
project: garden workshops in 2 Santiago juvenile detention centres. This was financed by a crowdfunding campaign, and was a second step in our work with young offenders. In 2014 we designed a program of theatre and reflection with Fénix & Ilusiones (long-running heatre project with men in Colina 1 prison) and took it on tour to 250 young offenders in SENAME (Chilean National Juvenile Service) centres. After the tour, we received a grant from the Metropolitan Government to run a theatre workshop in one of those centres (San Bernardo). This has become part of the ongoing prison theatre work of the collective. A second tour to juvenile centres, focusing on the theme of gender violence, is at present being coordinated for 1st semestre 2016.
We are about to launch a documentary of "Sowing the Furture" project and a second documentary about the collaboration focus of ur work called "Sharing the Collective". More news soon about these launches!!!
How The Funds Will Be Used
The funds will pay part-time wages (20 hours a week) during 10 months for Mariana and Carolina, who are the coordinators of the Sustento Garden. They will design the garden space, oversee the sowing-harvesting cycles, expand our Fair Produce sales, develop the educational potential of the garden, seek funding and coordinate volunteer work. They have been doing this work with only minimum financial retribution over the three years since the garden began. The income we get at the moment from our Fair Produce sales covers water costs and shifts by Colectivo members. We are running this campaign to give a boost to that income over 10 months so that Mariana and Carolina can concentrate on increasing the income possibilities of the garden, as well as its potential as an educational space: that is, to give garden workshops to local schools and local community, to stimulate school garden initiatives, a movement that has been very successful in Australia. The space is not big enough for large production but it is perfect for training.
The Challenges
There are always obstacles in our work. We are very resourceful, for example, all the building materials used in the Sustento garden have been retrieved from the streets around the house. Also, Colectivo Sustento constantly comes up against the difficulties of working in institutions such as prisons and juvenile detention. Our driving force is the resilience and persistence of the collective members. This is our great strength, we are convinced that we are on the road to creating social change in our own small way, providing a model for others and always dreaming new and viable ideas. We hope this aim is also important for you.