My stories arise from my obsession with minutiae, finding contingencies between people, places and events.
I love Stop Motion Animation as a storytelling tool as puppets can be incredibly sympathetic and emotive to the human condition in their honest form.
'The Dabblers' set in an ancient mandala lined cave. It has history is flipped on its head, King Richard III who was recently excavated from a car park is now on his own search through history while detaining a captive of ducks.
The ducks who are unable to migrate north are forced to dig for artefacts under some strange watchful characters and become despondent and reactionary to the denial of their basic duck rights.
Cave Interior;
The process of the set has become very important to me, how we connect to the history of our culture through art. The meditation of making the canes and patterns for mandalas from colourful modelling clay are informed by the interior chambers of mosques, places of ritual and rock art.
This was a drawing that inspired this story 'Mask Confronting Mandala'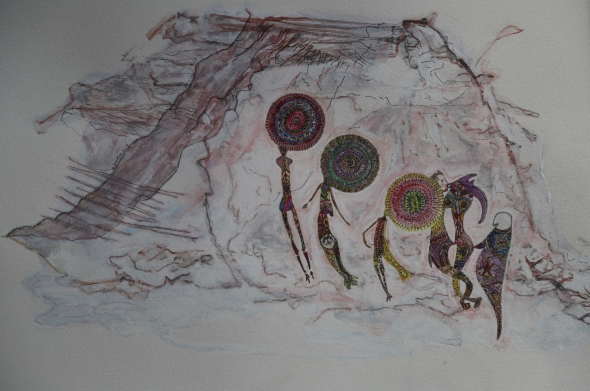 The Ducks;
I fell in love with ducks when I discovered the unusual anatomy;) dynamic personality and also as they are a way to mimic human story through otherness.
This project received script mentoring from Brett Stanning
http://masterthenextdraft.com.au/
How The Funds Will Be Used
Ducks $450
Puppets $400
Wood/set/papermache $600
Resin $350
Stalactites & Stalagmites $1100
Modelling Material for caneing $3500 (approx 970 canes)
Post Production $800
Music - The wildly entertaining Melbourne based band The Bon Scotts
http://www.thebonscotts.com/
Total Stop Motion Animation Budget $7200
+ Contingency $7920
The Challenges
Stop Motion Animation is always a test of patience but can allow you to slow down and find yourself in another world if only for a moment.