Dear friends and friends-to-be,
I am curating a project called "
The Patient
." It's a touring exhibition of contemporary art, starting in Sydney at UNSW Galleries in June this year and then traveling to six venues in NSW and Victoria until 2018 with the support of Museums and Galleries NSW.
It's a project that considers the embodied experience of the artist as medical patient, and the medical patient as subject in recent contemporary art.
The exhibition's focus is on new collaborations between scientists and artists, and artists working closely with patient communities.
The Patient
explores the ways in which artists are addressing powerful human experiences in the fields of health, biological science and medicine, contributing to discourse on the representation of illness, disease, care, personal agency and what it is to be human.
Included in the show are works by contemporary and historical, Australian and international artists, museum objects and specimens, a library, a catalogue and a participatory public program.
The artists are: Ingrid Bachmann (CAN), Guy Ben-Ary (AUS), John A Douglas (AUS), Bob Flanagan & Sheree Rose (USA), Brenton Heath-Kerr (AUS), Carol Jerrems (AUS), Eugenie Lee (AUS), ORLAN (FRA), Helen Pynor (AUS), David McDiarmid (AUS),
Jo Spence (UK), John Wynne & Tim Wainwright (UK).
There are twelve bodies of work in the exhibition, four of which are new/works in progress by artists Helen Pynor, John A Douglas, Guy Ben-Ary and Eugenie Lee. Pynor is creating a multimedia installation,
Flesh Tones,
that looks at the liminal space between living and dying. The artist has worked biologically with cells in the laboratory as well as engaging with medical patients who have had lucid death experiences.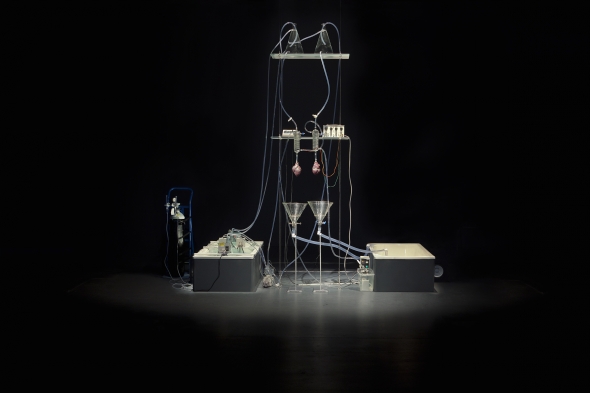 Image: Peta Clancy and Helen Pynor, The Body is a Big Place, 2011
John a Douglas will be exhibiting a trilogy of works of his lived experience as a renal patient including the premiere of a new work as a transplant recipient called
Circles of Fire.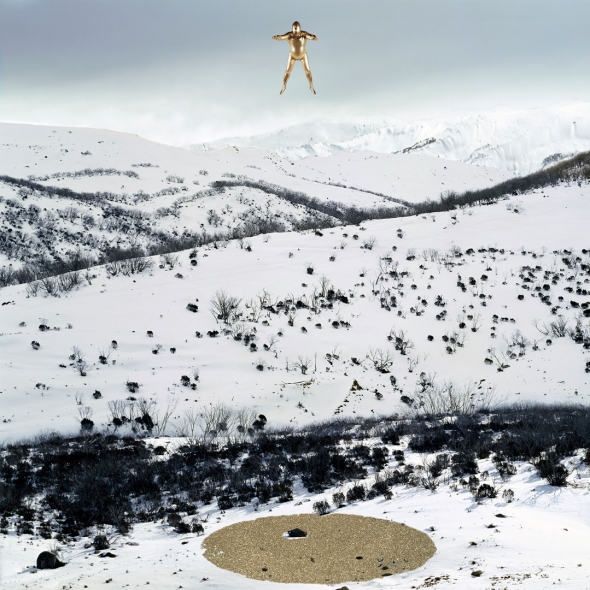 Image: John A Douglas, Body Fluid - Ascension, 2012
Installation artist and painter Eugenie Lee has been collaborating with neurologists at the University of South Australia and the University of Sydney on a participatory, virtual reality installation for visitors to comprehend the experience of chronic pain.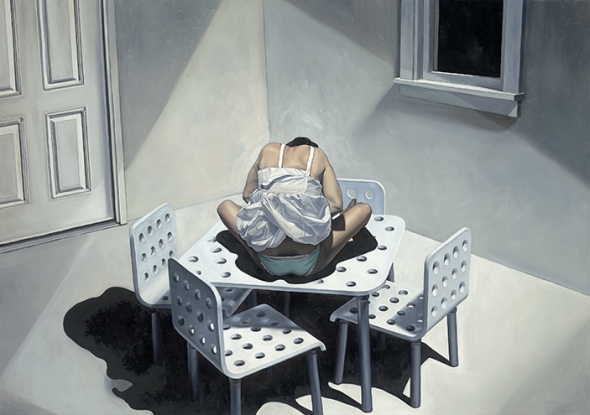 Image: Eugenie Lee, If Only, 2015
Guy Ben-Ary has become a medical patient in order to harvest and grow his own tissue for a project called
CellF.
CellF
is a cybernetic musician and instrument, the heart of which is a neural cluster (made with the artist's neural stem cells) that plays an analogue synthesiser. The synthesiser will perform with Australian musicians including Chris Abrahams, Claire Edwardes and Jon Rose.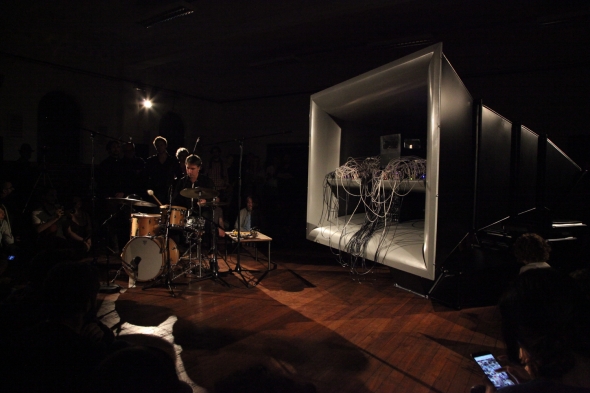 Image: Guy Ben-Ary, Performance of CellF with Darren Moore, 2015
The exhibition also includes UK artists John Wynne and Tim Wainwright whose work
Transplant
saw them work as artists-in-residence for a year in a hospital specialising in heart and lung transplants. Canadian artist Ingrid Bachmann has made sculptural works using bone transducer sensors, so that the stories of transplant patients literally get under your skin.
Also included in
The Patient
are historical works by artists Bob Flanagan and Sheree Rose, whose project
Visiting Hours
brought the live experience of Flanagan's unorthodox, Fight Sickness With Sickness approach to his Cystic Fibrosis to the gallery-going public back in 1994. British photographer Jo Spence and celebrated Australian photographer Carol Jerrems are also included in the show, their work speaking directly and defiantly to the loss of agency they experienced as patients within the hospital system. Similarly ORLAN's surgical performances were borne out of her 'recuperation' of a medical emergency into contemporary art. The work of artists and AIDS activists David McDiarmid and Brenton Heath-Kerr also appear in the exhibition and remind us of the power and subversive potential of art in addressing discrimination, visibility and other social impacts of the epidemic. Both artists were included in Ted Gott's important exhibition
Don't Leave Me This Way: Art in the Age of AIDS
held at the National Gallery of Australia in 1994, a landmark exhibition in engaging with the lived experience of artist patients and their community.
This is my first ever crowdfunding campaign for my first independent curatorial project in fifteen years (at least!). I don't like to ask for money from my friends, but I do love supporting art projects through crowdfunding platforms and I know that many of you also feel a bit special when you share the love and know you have contributed to an independent project's success…so here goes!!
Main Image: Brenton Heath-Kerr, Homosapien 1994, photograph by John Webber
How The Funds Will Be Used
The Patient
opens on 2nd June, 2016 at UNSW Galleries and then goes on to tour to six regional venues in NSW and Victoria across 2017 and 2018. It's an ambitious project and my first properly independently curated project after 15 years of working for various arts organisations. I am extremely fortunate to have received state (ArtsNSW), federal (the Australia Council) and foundation (Russell Mills Foundation) funding for this exhibition, but over half of that money is simply going towards freight (freight is so damned expensive!!), and this is why I am still looking for money as well as other funders, and need your support.
BTW, not a cent of ANY of the funds I am raising is going to me personally. Your hard-earned coin will be used for the following:
-
Bringing the performance artist Sheree Rose from Los Angeles to Sydney to participate in the exhibition. Rose was the collaborative partner of Bob Flanagan, and their important work has been very influential to me
and artists I am working with.

- Supporting the presentation of new artwork by John A Douglas, Helen Pynor, Eugenie Lee and Guy Ben-Ary.
- Enabling the reproduction and presentation of historical artworks and objects.
- Facilitating the loan of objects from museums and private collections (which costs money, yep).
- Publishing a fantastic catalogue, which you may also receive as a reward!
- Developing an (actually) accessible public program including films, performances, conversations, artist talks, specialist panels, workshops and participatory projects which include Auslan and Audio Description interpretation.
I have some lovely artist friends that have kindly and wonderfully donated artworks to this campaign, and they aren't even in the exhibition. They are so great! This is an opportunity for you to acquire their works at reduced prices. Thank you so much, Lucas Ihlein, Ian Milliss, Lily Hibberd, Deborah Kelly and Raquel Ormella. Eugenie Lee, who
is
in the exhibition has also offered some limited edition prints as rewards, which is really exciting.