The Journey of Admiral Bolognaise is a picture book for children that I have been working on for
a couple of years. It is the sequel to "The Monsters of Tasmania", which was funded via Pozible in 2014.

The book is 99% complete, the design is very close to completion and I just need to finalise/touch up a couple of illustrations. Below is the cover mock up, which is similar in layout to the Monsters of Tasmania.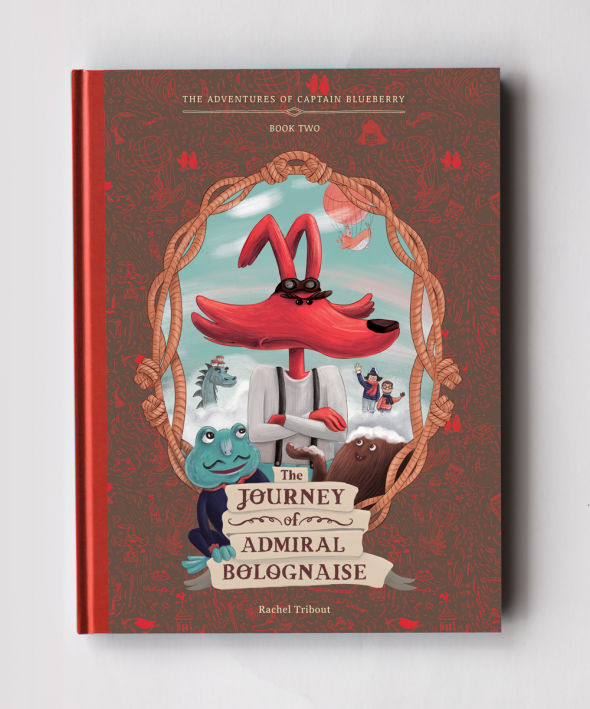 The Journey of Admiral Bolognaise is the second book in the series
The Adventures of Captain Blueberry. In Book One, we follow Captain Blueberry as she finds mythical sea creatures hidden in the landscapes of Tasmania.
In this book we meet another character in Captain Blueberry's world, and he has a different perspective on things monstrous.
You see, Admiral Bolognaise is a Non-Believer, and his greatest wish is to prove to the world that monsters don't exist. When the Admiral receives a joyful letter from Captain Blueberry with tales of her discoveries and inviting him to join her explorations, he decides that enough is enough! With his toad-friend Mister T he departs on a journey across the world, to Tasmania and beyond, to make his point.
Will Admiral Bolognaise find what he's looking for, or what he's not looking for? Will he prove the world that there's no such a thing as monsters? Will he find Captain Blueberry and show her what's what and what's not?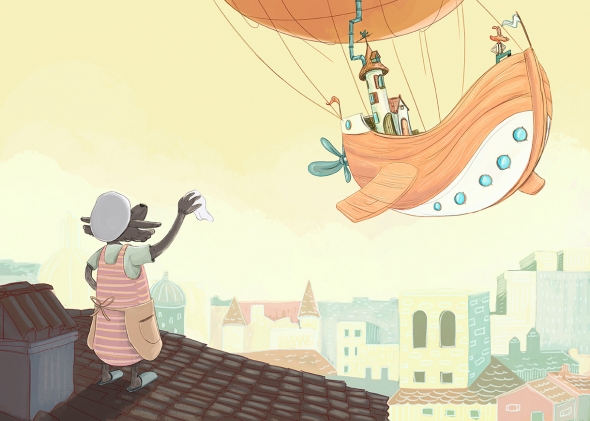 The book will have 32 pages and a hardcover. I have designed it myself, illustrated everything, and once again my husband Dan helped me write it (my Franglish hasn't improved much!) and he was part of the creative process.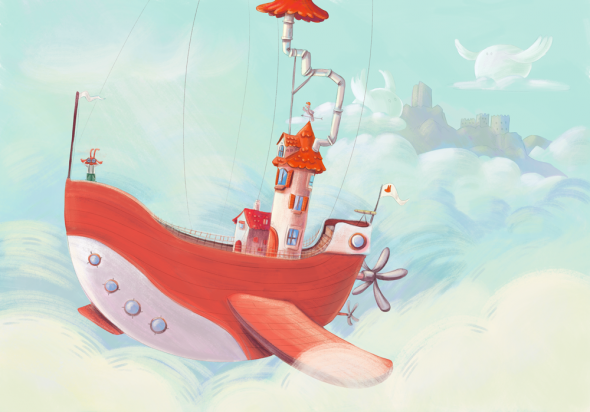 In this project we explore, in a light and humorous way, the idea of preconceptions and how what we believe shapes what we see.
I hope kids,

grown-ups and everyone in-between will have as much fun reading this book as it's been for me to make it. As always I am inspired by nature, and living on a beautiful island surrounded by seas, mountains and monsters means I have an endless supply of inspiration. I also wanted to step away from Tasmania (although we might pass through!) and visit other places. It's been great to introduce someone new to Captain Blueberry's world and explore other traits of personality in a character.
Project Team
Rachel:
By now everyone should know that I am not Captain Blueberry and that any resemblance is just a coincidence.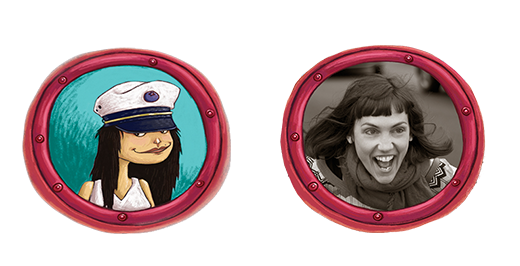 I was born in France and now live in the space between Hobart, Tasmania and the monster world. I work as a graphic designer/illustrator. You can check out my website if you would like to see some of my work:
www.racheltribout.com
My big love is graphic novels, myths and the legends of old. I have been playing with the Captain Blueberry project for the past six years and it allows me to explore that side of my imagination.
Dan:
Daniel Patman is not Captain Blueberry either. Nor is he Albert.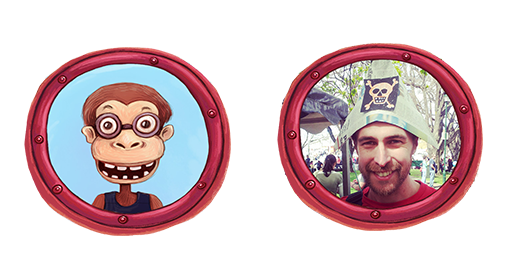 Daniel spends his daylight hours either out in the wilderness or working with the Wilderness Society to keep that wilderness wild! He is my partner in life and in crime, and a big part of Captain Blueberry too. He is an idea bouncer, and more than that, a lot of the funniest details in the books have been extruded from his brain. He is a general project helper and the text of the book is a million times better with his input.
How The Funds Will Be Used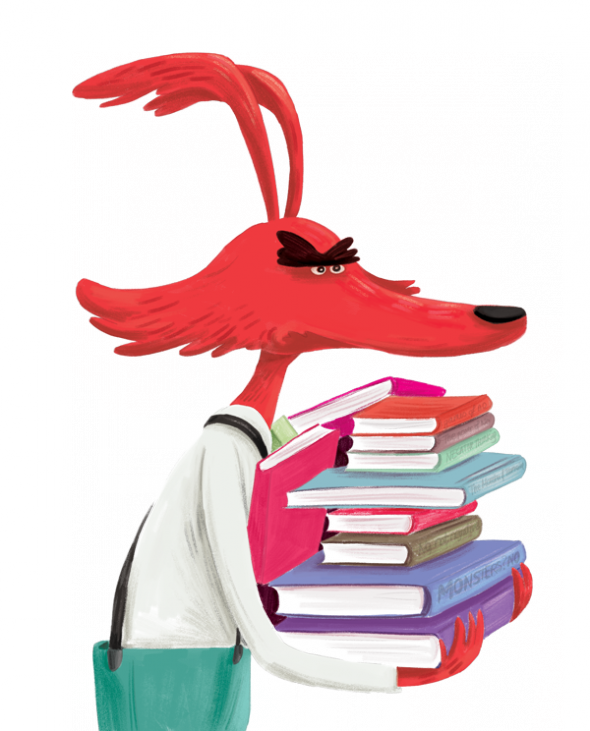 All funds will be used to produce the books. I will get 1000 copies printed
-- a minimum amount for offset printing. I have some quotes from the printer already.

Most of the cost is going into actual printing and the extra bits like shipping, buying the ISBN and the extra postage (I am not charging you for the full postage when you purchase a reward!)

If we go over the target, I'll be able to make the book more attractive. I would like to emboss some parts of the cover and add a gloss varnish to the title. It would be great to make it a more special object, but these additions make the book a little more expensive to print!

This project is supported by Arts Tasmania and their Crowbar Program. If the campaign is successful, they will add an extra $2000 to the target.

Here's a cost break down:
printing = $6600
rewards postage = $1000 (approx)
ISBN = $200 (approx)
Book launch (only partially, I'll pay part of it from my own pocket) = $200
Total = $8000
On self
-publishing:

I have once again decided to self-publish this book. It seems like a logical pathway to follow, and I have a distributor (Blackgum Distribution) in Tasmania who has been doing a great job getting The Monsters of Tasmania in shops around the island.

(I would actually love to work with a publisher one day. It would be an amazing opportunity to collaborate with an author and an editor, and I would learn so much out it. However, I think that The Adventures of Captain Blueberry series should remain my project for the time being. I really enjoy the process of taking care of all sides of the making, from concept to press production.)

As per the first one, this book will be sold in shops in Tasmania, on my online store, and at market stalls I hold around Hobart.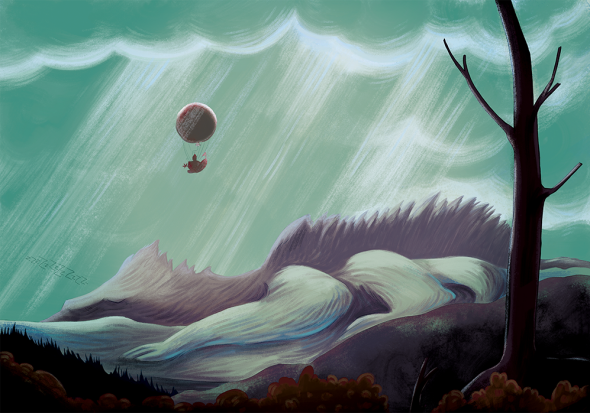 Why Pozible?
Apart from the obvious huge financial help Pozible can provide, running a campaign is a great way to promote the book before it is actually printed. Doing a Pozible campaign will mean that I will need to promote the campaign a lot, and it will hopefully be a great way to gain some attention. I hope it will give a kick start to the book before it is published. Using Pozible allows me to involve people in the making of the book and
it's also a simple way to create a "pre-sale" system.

There's also a reward I am really excited about this time; it will give an opportunity to the most generous supporters (or a person of their choice) to be featured in the book. I will draw their portrait and it will be featured in the book ends, in the "portrait gallery", or "hall of fame", alongside to the Captain, the Admiral, Albert and the others. I thought it was a great way to make this book a special thing, and a way to involve people.
The Challenges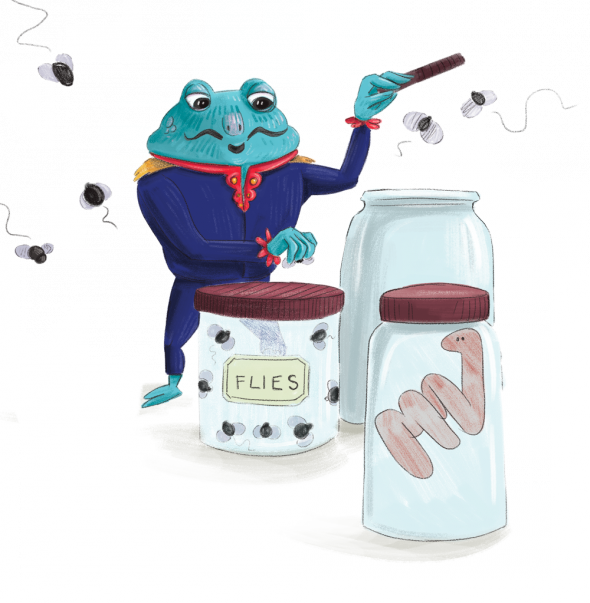 It's been a challenge already! Creating this second book has been a journey! I think it can be a little daunting to re-bounce after a first project: trying not to do the same thing again and repeat myself, while keeping on with the spirit of the first book
, and creating something interesting for me and the readers. I guess that's the "second book" syndrome!

I had the idea of Book Two in my head when I was finishing The Monsters of Tasmania (and I even know what will happen in number Three, but we aren't there yet!) but finding the time and energy to create this sequel was the biggest challenge. Again, I have been doing it in my spare time (that is, instead of having a social life), but it's great fun, and I love doing it.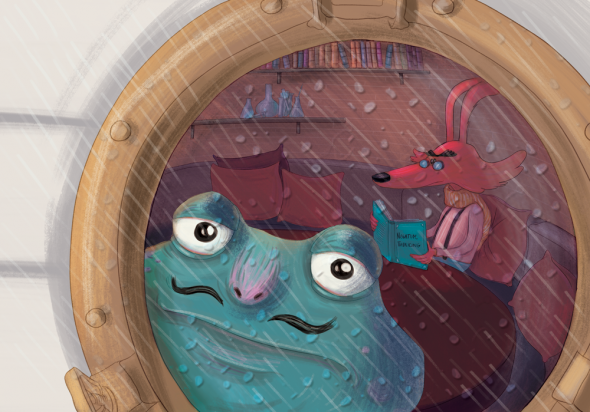 The biggest challenge left in my way is to actually be successful in funding and selling this book.
I am highly aware that the relative success of The Monsters of Tasmania doesn't mean that this sequel will be well received. It doesn't have "Tasmania" in its title so I know that it may have less of an appeal on the local market and tourist market.
I will rely on the fact that this new book is part of the series, and I hope it will help bringing attention to it. They certainly complement each other.
The other challenge will be in being organised in sending the rewards. Last time it was a big thing, postage ended up being pricier than I thought, and I was working full time, so I had to pack and send the books every evening with my husband's (huge) help. It was exhausting, and this time I will plan accordingly, as I want to make sure the supporters feel how grateful I am for their help, and feel like their reward is a special thing. I'll keep you updated, and will make sure all books are sent within six weeks of arrival.