The
Archive of Nuclear Harm
is turning to the community to raise $6,398 to evolve its operations from an online-only resource into a mobile theatre for screening films and digital exhibitions, as well as hosting the occasional public lecture and workshop.
To achieve this, we need your financial help...
What is the
Archive of Nuclear Harm
? The Archive of Nuclear Harm collects and exhibits materials on life and death in the nuclear age. Our evolving collection is freely available digitally to anyone with an internet connection, although we also hold a modest number of physical works.
Items in the collection include artworks and other cultural artefacts that explore the full range of harms—both to bodies and the biosphere—that are inflicted by nuclear weapons, energy, accidents and waste. Our mission is to create an accessible resource deep into the nuclear future. Since the legacy of the nuclear age must be conceived on timescales of up to one million years, and threatens the continued safe operating conditions of Earth's biosphere if handled irresponsibly, this will be a memory institution like no other.
The Archive was established in 2012, and is now a part of the Nuclear Futures partnership initiative, a three-year arts and culture program sponsored by the Australia Council for the Arts. Nuclear Futures brings together artists and atomic survivor communities in Australia, Japan, Kazakhstan and the Marshall Islands.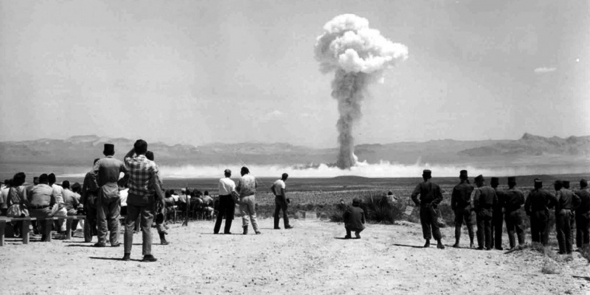 Why does the success of this Pozible campaign matter?
The history of the peace and environmental movements is one punctuated by grassroots, citizen activism. People like you took small actions that led to demonstrable policy change, at both the local and global levels. Achieving a nuclear-free world will likely be no different. It will take all sorts of people, and all sorts of actions.
The
Archive of Nuclear Harm
is therefore designed to take an alternative pathway to a nuclear-free world. The Archive was founded in 2012 based on the belief that the creative arts can offer many new and critical insights and understandings about the nuclear age that must not be burdened by the expectation that they need bring about demonstrable change in our lifetime, but will rather give rise to the other efforts that do.
Without reaching our Pozible funding target, the Archive will not open its doors in 2016. Its activities will remain strictly online.
Activities scheduled for 2016-17 include:
- a film series titled "Markers", which screens films on nights that correspond with key dates in nuclear history (e.g. the 30-year commemoration of the Chernobyl nuclear disaster on April 26);
- the occasional public lecture; and
- a digital exhibition on the theme "Markers", which explores which pieces of art--if any--can communicate the dangers of our present-day nuclear legacy to far-future humans.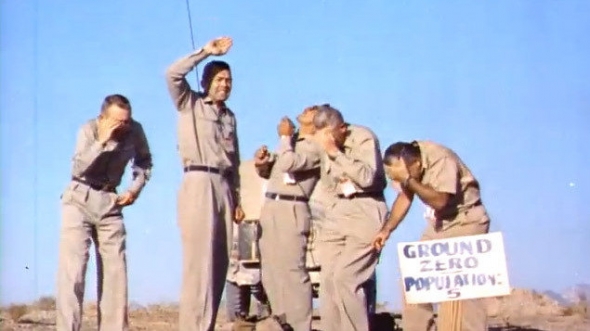 The Advisory Board
Cecilia Åsberg is professor of gender studies in the Department for Thematic Studies at Linköping University. She co-directs and founded the Posthumanities Hub, which serves as a post-conventional platform for research and doctoral projects, inventive collaborations between arts, sciences and society, and a host for visiting scholars invested in feminist theorizing, post-colonial science studies, media and cultural studies, human animal studies and the environmental humanities. The Hub was the launching pad, together with the Green Critical Forum and the GEXcel strand Feminist Environmental Humanities Across the Arts and Sciences (Feminist Posthumanities), for the Seed Box: An Environmental Humanities Collaboratory, the largest post-conventional eco-humanities initiative in Sweden. Her postdisciplinary research in gender studies (on genetics and popular science, nature, embodiment and human-animal relations, history in the present, international adoption and identity formation, pharmaceutical imagery, laboratory life and Alzheimer's Disease, posthuman environmental ethics and the many ways in which we are differentiated, in and of nature and the environment) translates into feminist forms of posthumanities that enliven, question and flesh out the human of the humanities.

Ellise Barkley is program manager and evaluator of the Nuclear Futures partnership initiative, a three-year arts and culture program sponsored by the Australia Council for the Arts. Ellise has management experience in community development, creative arts, education and sustainability. She conducts research at Queensland University of Technology on evaluation. She was Senior Education and Engagement Officer for Wyong Shire Council and Strategy Consultant for Blacktown City Council. She has coordinated a range of engagement and creative projects in business, education and community settings, including managing the Community Technology Centre in the rural community of Comboyne and a national design and innovation program at UNSW involving 900 high schools. She is completing her doctorate on evaluation at the Queensland University of Technology, in Brisbane, Australia.

Shampa Biswas is Paul Garrett Professor of Political Science at Whitman College. She currently pursuing two lines of research—the first invested in articulations of global nuclear abolitionist ethics from the perspective of the victims of nuclear power, with particular attention to the narration of untold nuclear histories from the global South, and the second, in pedagogies of nuclearism investigating how young people are recruited into or against nuclear consumption. She is the author of Nuclear Desire: Power and the Postcolonial Nuclear Order (University of Minnesota Press, 2014) and has co-edited volumes on Torture: Power, Democracy, and the Human Body (University of Washington Press, 2011) and Margins, Peripheries and Excluded Bodies: International Relations and States of Exception (Routledge Press, 2010).

Roland Bleiker is Professor of International Relations at the University of Queensland. Bleiker's passion lies with rethinking key dilemmas in world politics through inter-disciplinary and cross-cultural sources. At the moment his main focus lies with visual global politics. Respective activities include an Australian Research Council-funded project on "how images shape responses to humanitarian crises" (with Emma Hutchison and David Campbell) as well as work on emotions and world politics (with Emma Hutchison), Indigenous art and cultural diplomacy (with Sally Butler) and visual apologies (with Erin Wilson). A recent essay by Bleiker, co-authored with Morgan Brigg ("Autoethnographic International Relations") was awarded the British International Studies Association Prize for Best Article in the Review of International Studies. Bleiker founded and convenes the Visual Politics Research Cluster at the University of Queensland.

Jessie Boylan is a photomedia artist based in Castlemaine, Victoria. She explores issues relating to human impacts on the land and communities in relation to environmental and social devastation- like nuclear testing, mining and war. Over the years, Boylan's work has been fascinated with ideas of history and place in relation to contemporary Australian identity, community and activism, and has just completed her MFA on the topic of photography, the campsite and the anti-nuclear movement in Australia. Boylan is a member of the Atomic Photographers Guild, an international group who aim to render visible all aspects of the nuclear age. She is also a key artist in Nuclear Futures, an Australia Council-funded community arts project, which is exploring the legacy of the nuclear age through creative arts.

Mick Broderick is the Australian coordinator of the Global Hibakusha Project, and Associate Professor Professor of Media Analysis at Murdoch University. He has produced extensive creative work and scholarly writing on nuclear issues with atomic survivor communities, and research for the UN's International Atomic Energy Agency film library and the Australian National Museum—auditing the nation's atomic heritage. His exhibition Atomicalia was installed at museums in Japan during 2009-10, and he curated The Atomic Age in Film for Physicians for Social Responsibility to commemorate the 50th anniversary of the nuclear age.

Paul Brown holds an honorary professorship at the University of New South Wales in Environmental Humanities and is Creative Producer for Alphaville, a Sydney-based community arts company hosting the Nuclear Futures partnership initiative, which is a three-year community arts program sponsored by the Australia Council for the Arts. He was co-founder of Urban Theatre Projects (Death Defying Theatre) in 1980, and across three decades has combined arts practice with academic environmental studies and community engagement. He developed Australia's first full-length verbatim play Aftershocks which was also adapted into a mainstage play and a film. As recent editorial credits, Paul co-authored/edited Verbatim: Staging Memory and Community (Currency Press), Art and Wellbeing (Australia Council), and Conservation in a Crowded World (UNSW Press). He has published extensively on the relationships between creative arts, science and environment.

Julia Bryan-Wilson is Associate Professor at the University of California at Berkeley's History of Art Department. teaches modern and contemporary art, with a focus on art since 1960 in the US, Europe, and Latin America. She is the author of Art Workers: Radical Practice in the Vietnam War Era, published by the University of California Press in 2009, and editor of OCTOBER Files: Robert Morris, from the MIT Press. Her book on textiles since the 1970s is forthcoming from the University of Chicago Press, and she is working on a monograph about Louise Nevelson. Bryan-Wilson has held fellowships from the Clark Art Institute, the Henry Moore Institute, the Smithsonian Archives of American Art, and the Getty. Bryan-Wilson studies theories of artistic labor, feminist and queer theory, performance, craft histories, photography, video, visual culture of the nuclear age, and collaborative practices.

Anthony Burke is an Australian political theorist and international relations scholar. His published work ranges across the fields of security studies, war and peace, international ethics, the international relations of the Asia-Pacific and the Middle-East, and Australian politics and history. He is Associate Professor of Politics and International Relations at the University of New South Wales (UNSW), Canberra. He is the sole author of two books: Beyond Security, Ethics and Violence: War Against The Other (Routledge, 2007), and Fear of Security: Australia's Invasion Anxiety (Pluto Press Australia, 2001 and Cambridge University Press, 2008). He is also co-editor, with Matt McDonald, of the path-breaking collection, Critical Security in the Asia-Pacific, is a board member of Critical Studies On Terrorism, and was founding editor and continuing publisher of the Borderlands e-journal. Among his current research projects is a multi-year project titled "Nuclear Ethics and Global Security" funded by the Economic and Social Research Council under the Ethics and Rights in a Security Context theme, and led by Nicholas J. Wheeler and colleagues at the University of Birmingham.

Joseph A. Camilleri is Managing Director of Alexandria Agenda, Emeritus Professor at La Trobe University in Melbourne, and a Fellow of the Australian Academy of Social Sciences. In the mid-1970s he took an increasingly public stance in support of nuclear disarmament and opposition to the expansion of nuclear power. This was one of the key considerations that prompted him to provide evidence as an expert witness to the Ranger Uranium Environmental Inquiry, to convene the Movement Against Uranium Mining in the late 1970s, and serve on the Council of the Australian Conservation Foundation. As international tensions rose and the nuclear arms race between the United States and the Soviet Union intensified in the late 1970s, he became an increasingly vocal advocate of nuclear disarmament. In Australia he helped establish and was founding convener of People for Nuclear Disarmament, the umbrella organization which spearheaded the call for an end to the Cold War and organised the large Palm Sunday rallies in the early to mid-1980s.

Robert Del Tredici is a photographer and artist who has been teaching cinema history and the art of animated film in Montreal since the 1970s. He has also been documenting the nuclear age since 1979. His first book, The People of Three Mile Island, covered America's worst nuclear accident. His next book, At Work in the Fields of the Bomb, documented the US nuclear weapons complex. In 1987 he founded The Atomic Photographers Guild. Robert continues to document the nuclear industry, photograph film directors, and document the musical culture of Montreal. He has exhibited his portraits and documentary work in Vienna, London, Stockholm, Berlin, Hiroshima, Washington, Hong Kong, Chelyabinsk, Toronto, Montreal, and Ottawa.

Jenny Edkins is Professor of International Politics. She examines personhood, politics and aesthetics through studies of face politics, missing persons, and trauma time. Her interests in creative practice in international politics span performance, contemporary art, image, story and memory, and her work draws on postcolonial, post-structural, feminist and psychoanalytic methods among others. She has recently completed a monograph entitled Face Politics, to be published by Routledge in April 2015. She has published ten other books, the most recent monographs being Missing: Persons and Politics (Cornell, 2011) and Trauma and the Memory of Politics (Cambridge, 2003). She is also co-director of Performance and Politics International, a transdisciplinary University Research Centre.

Andrew Evans builds and administers arts and cultural spaces. Andrew is currently developing restoration plans for a $5.6m adaptive reuse project to house co-working spaces for young creatives, bespoke retail, arts spaces and studios in a 3200sqm heritage building. Prior to that he worked as an arts administrator at various arts and cultural institutions, including the Abbotsford Convent Foundation, the Centre of Contemporary Photography and Anna Schwartz Gallery in Melbourne, as well as at No Longer Empty and Performance Space 122 in New York City. Andrew also has a background in finance and education, working in the UK and Japan. He continues to serve on a number of gallery boards, and was a founding member of the Archive's Board when it was constituted in 2013.

Stefanie Fishel is an Assistant Professor in the Department of Gender and Race Studies specializing in women in technology. Her book, New Designs for Global Thriving: Bodies and Worlds in International Relations, is forthcoming with the University of Minnesota Press. Her research interests include the gendered and racialized experiences of violence; warfare, terrorism, and technology; theories of biopolitics and posthumanism; critical animal studies; and global environmental theory centering on climate change and the Anthropocene.

Jacob Darwin Hamblin is the Director of Environmental Arts and Humanities at Oregon State University. A historian by training, his work explores the nexus of history, science, and environmental issues. His book Arming Mother Nature: The Birth of Catastrophic Environmentalism (2013) challenges us to consider how our views of global environmental change came from collaboration between scientists and the military as they planned to fight, and to survive, a third world war. He also is the author of Poison in the Well: Radioactive Waste in the Oceans at the Dawn of the Nuclear Age (2008), the first international history of one of the least-understood environmental controversies of the twentieth century. An earlier book, Oceanographers and the Cold War (2005) explored the reasons for the explosive growth of the marine sciences after World War II.

Michael Hamel-Green is emeritus professor at Victoria University Melbourne. Previously, he was a parole officer who visited Pentridge frequently in 1967 to interview prisoners eligible for parole, and a former Pentridge inmate gaoled for anti-conscription anti-war protests during the Vietnam War. Hamel-Green's research field is peace studies. He has focused on regional nuclear disarmament and security issues, particularly in the Asia Pacific region. He is an international authority on the concept of nuclear-weapon-free zones.

Julian Hewitt represents high profile musical talent, managers, labels, publishers, events and start-ups, and with a large overseas network has been instrumental in setting up international deals for his clients. He has been a musician signed to major and indie labels, and has a post-grad degree in corporate finance. In addition to his extensive music law practice, Julian represents film and television projects, studios, creative agencies, celebrity talent, media and tech companies, events, designers, and NGO's.

Myra Hird is Professor in the School of Environmental Studies at Queen's University. Myra earned her D.Phil. at Oxford University, and has taught in New Zealand, the United States, Britain, Northern Ireland, Norway, and Canada. She has published eight books, as well as some sixty journal articles and book chapters. Her major focus of research is on waste issues. Waste is a way to think about the politics and economics of consumption; intergovernmental and industry-government relations; urban-rural divides; health; labor relations; gender and waste economies; science-public relations; risk; governance; and so on. In Myra's view, waste, in other words, tell us a great deal about ourselves, and our relations within communities, with the environment, and global society. She directs the research program, Canada's Waste Flow, which aims to make an original, innovative and timely contribution to a central twenty-first century issue facing Canadians and the global community.

Andrew Hustwaite is an artist and metalworker who lives and works in Melbourne, Australia. His most recent exhibitions include Space Junk and Launches.

Robert Jacobs is an Associate Professor at the Hiroshima Peace Institute of Hiroshima City University. He is the author of The Dragon's Tail: Americans Face the Atomic Age, the editor of Filling the Hole in the Nuclear Future: Art and Popular Culture Respond to the Bomb, co-editor of Images of Rupture in Civilization Between East and West: The Iconography of Auschwitz and Hiroshima in Eastern European Arts and Literature, and an executive editor of the Asian Journal of Peacebuilding. His research focuses on the social and cultural aspects of nuclear technologies, particularly through the Global Hibakusha Project which he coordinates.

Karena Kalmbach is a postdoctoral researcher with the Environmental Policy Research Centre of the Freie Universität Berlin working on a project on nuclear waste governance and acts as the coordinator of the Nuclear International Research Group (NIRG). She received her PhD from the European University Institute in Florence on the contested meanings of Chernobyl in Britain and France.

Redi Koobak is a postdoctoral researcher in the gender stream of the Department of Thematic Studies at Linköping University. Redi contributes to analysis of modes of power in contemporary political landscape, in particular in Eastern Europe, through a particular focus on the visual arts, culture and media. She co-convenes the emerging strand of research on on postcolonial and postsocialist dialogues within GEXcel International Collegium for Advanced Transdisciplinary Gender Studies. Redi pursues research along three trajectories: (1) intersections of postcoloniality and postsocialism; (2) visual and cultural representations of gender, war and nationalism; and (3) transnational and local feminisms.

Eve Andrée Laramée is Professor and Chair of the Art & Art History Department, and Director of the Dyson College Center for the Arts, Society and Ecology at Pace University. Since 1980, her creative work and research investigates the environmental and health impacts of atomic legacy sites, primarily in relation to indigenous populations. Her work is included in the collections of the MacArthur Foundation, the Museum of Modern Art, New York, the Museum of Contemporary Art, Chicago, as well as at Harvard, MIT, and UCLA. She is also the founder and director of ART/MEDIA for a Nuclear Free Future.

L.H.M. (Lily) Ling is Professor, Milano School of International Affairs, Management, and Urban Policy, The New School. She has authored four books: Postcolonial International Relations: Conquest and Desire between Asia and the West (2002), Transforming World Politics: From Empire to Multiple Worlds (co-authored with A.M. Agathangelou, York University, 2009); The Dao of World Politics: Towards a Post-Westphalian, Worldist International Relations (2014); and Imagining World Politics: Sihar & Shenya, A Fable for Our Times (2014). As of 2014, she is co-editor, with John M. Hobson (University of Sheffield), of a new series at Rowman & Littlefield International titled, Global Dialogues: Developing Non-Eurocentric IR and IPE.

Livia Monnet is Professor of Comparative Literature, Film/Media, and Japan Studies at the University of Montreal. She has published widely on Japanese environmental literature and film, Japanese thought and aesthetics, animation theory and philosophy, feminist fiction and theory, and contemporary art. Her translations and studies of the well-known Minamata writer and activist Michiko Ishimure have opened new areas of inquiry in ecocriticism and environmental humanities. Her forthcoming work includes a monograph on history and memory in contemporary time-based installations, and articles on temporality in dance films and on the nuclear imagination in Japanese animation. An essay collection on radiation ecologies and nuclear humanities is in preparation. Monnet's publications have appeared in peer-reviewed journals such as Japan Forum, Mechademia, Science Fiction Studies, and Asiatische Studien, as well as in anthologies published by Palgrave MacMillan, University of Minnesota Press, Stanford University Press, and other university presses.

Norbert G. Suchanek is a filmmaker and co-director of the International Uranium Film Festival, a festival about nuclear energy and radioactive risks. He has covered environmental and human rights issues as a journalist, filmmaker, and photographer since 1988.

John O'Brian is a Canadian art historian, writer and curator who has published more than a dozen books. He has taught art history at the University of British Columbia (UBC) in Vancouver since 1987. During his tenure as Ritsumeikan University Research Professor in Kyoto in 2007, and as Brenda & David McLean Chair at UBC from 2008 to 2011, he explored the engagement of photography with the atomic era in Japan and North America. He has published two books—Atomic Postcards: Radioactive Messages from the Cold War (2011) and Camera Atomica (2014)—and organized two exhibitions—Strangelove's Weegee (2013) and After the Flash (2014)—on the subject.

Trisha Thompson Pritikin is a Hanford Downwinder and internationally recognized advocate on behalf of populations exposed to Hanford's offsite radiation releases. She is well known within the community of individuals and organizations concerned for the welfare of populations exposed to the nuclear fallout in the United State and globally. Pritikin has served on both regional and federal advisory boards, and has given presentations in the United States and internationally on topics related to the health outcomes of radioactive fallout exposure. She is founder and president of the Consequences of Radiation Exposure Museum being proposed for Washington, in the U.S.

Peter Rickwood is founder of Atomic Reporters, a non-profit organization dedicated to supporting journalists covering nuclear issues, particularly in less industrialised countries. A former reporter with The Toronto Star, he served as a press officer for the International Atomic Energy Agency from 2001 to 2009 and subsequently assisted the Preparatory Commission for the Comprehensive Nuclear-Test-Ban Treaty Organization (CTBTO) and the UN Scientific Committee for the Effects of Atomic Radiation (UNSCEAR) in working with journalists.

Susan Schuppli is an artist and writer based in London. She is Senior Lecturer and Acting Director of the Centre for Research Architecture, Goldsmiths where she received her doctorate in 2009. Her research practice examines media artefacts that emerge in sites of contemporary conflict and political violence. Creative projects have been exhibited throughout Canada, the US, Europe and Asia. Recent and forthcoming exhibitions include HKW, Casino Luxembourg, Extra City Antwerp, Stroom Den Haag, Shanghai Biennale, Charlottenborg, and Bildmuseet, Sweden. Her written work has appeared in Cabinet, Photoworks, Borderlands, Cosmos & History, Memory Studies, Radical Philosophy, Ciel Variable, and has been published by Academia, Imprensa Nacional, Sternberg, Yale University, Cambridge Scholars, Black Dog, and Bloomsbury. She is author of the forthcoming book, Material Witness: Forensic Media and the Production of Evidence (MIT Press), which is also the subject of an experimental documentary.

Robert Williams is an artist and academic, Professor of Fine Art at the University of Cumbria. William's interdisciplinary practice encompasses an interest in epistemology and systems of knowledge from the hermetic to the scientific. For instance, Cumbrian Alchemy, brought together Williams and American artist Bryan Wilson in a collaborative project which seeks to explore the coincidental relationships between the nuclear, mining and renewable industries of the Energy Coast, the landscape, archaeology and folklore of North Lancashire and Cumbria; and scientific figures from the region including such luminaries as the originator of modern atomic theory John Dalton, physicist Michael Faraday and Sir Richard Owen, the founder and first keeper of the Natural History Museum in London.

Peter C. van Wyck is Professor of Communication and Media Studies at Concordia University in Montreal. He is an interdisciplinary scholar and writer with an abiding interest in the theoretical and practical relations between culture, nature, environment, landscape, memory and waste. His most recent book, The Highway of the Atom (McGill-Queens University Press)–winner of the 2011 Gertrude J. Robinson book award from the Canadian Communication Association–is a theoretical and archival investigation concerning the material and cultural history of uranium production in the North of Canada. In addition to a variety of articles, book chapters, critical reviews and creative texts, he is also author of Signs of Danger: Waste, Trauma, and Nuclear Threat (University of Minnesota Press, 2005), and Primitives in the Wilderness: Deep Ecology and the Missing Human Subject (State University of New York Press, 1997). He is now working on several new projects concerning nuclear repositories, atomic media and the Anthropocene, apology, justice and the future.

Friends of the Archive
ART/MEDIA for a Nuclear Free Future (New York City, U.S.)

Atomic Photographers Guild (Montreal, Canada)

Atomic Reporters (Vienna, Austria)

Center for the Arts, Society & Ecology, Pace University (New York City, U.S.)

Centre for Creativity and Social Change (New York City, U.S.)

In Place of War at The University of Manchester (Manchester, England)

International Uranium Film Festival (Santa Teresa, Brazil)

The Seed Box: A MISTRA-FORMAS Environmental Humanities Collaboratory (Linköping, Sweden)

Visual Politics Research Cluster at The University of Queensland (Brisbane, Australia)


How The Funds Will Be Used
Funds raised will be put towards the following items and works:
1. Projector. Epson TW-6600W at $3,000. For use to screen motion-picture films, but also digital exhibitions if needed.
2. Peripherals and partial fit-out at $999. Outstanding items to progress 19 Church Street Brunswick towards completion include: re-painting of floors and walls, completion of audio-visual setup, HDMI and audio cables, projector mounting, content insurance, ongoing maintenance, etc.
3. Screen. Second-hand Grandview 100" 4:3 pulldown screen at $500. For use both at 19 Church Street Brunswick and when the Archive is invited to other venues, such as art galleries, community groups, and schools.
4. Seating at $1,899. Muji chairs (20 units) discounted from $89 per unit. For use at 19 Church Street Brunswick only.
Total: $6,398.
A site at 19 Church Street Brunswick, in Australia, has kindly been made available by Dorothy and Andrew Hustwaite through 2017.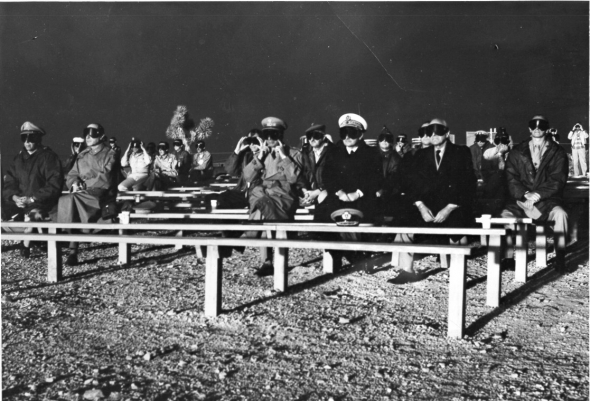 The Challenges
There are both macro and micro-level challenges that make the task of establishing an
Archive of Nuclear Harm
somewhat difficult.
The first challenge is the widely-held belief that the threat of nuclear war diminished--or disappeared altogether--with the end of the Cold War. This belief is a misnomer. More than 20,000 nuclear weapons are still in operation everyday and a good number of these remain on trigger alert, ready-to-fly in under ten minutes.
Related to the first, the second challenge in gaining public support for such an Archive is the belief that a nuclear-free world is not possible or even desirable. Many people who do wish to empty the world of WMD ask: "what can I--alone--do?" One answer might be simply: "Care". If you care about something, others--particularly those around you--may come to care too.
To be sure, these two macro-level obstacles combine with many other micro-level challenges that are shared with many other initiatives for those establishing a movie theatre or exhibition space. These include managing the audio-visual requirements of a small movie theatre with the available space and light, balancing the needs of an art space with the demands of a dedicated cinema, and curating an exciting yet meaningful programme of events.
There are also several significant micro-level obstacles that must be overcome that are unique to any proposed Archive of Nuclear Harm. These include but are not limited to: cultivating an audience that extends beyond the anti-nuclear, peace and environmental communities, and where possible, finding occasion to take the cinema on-the-road to remote communities and schools.