Hey, whats up gang? It' a pleasure to e-meet you. My name is Matthew Haynes and I am the curator, host and founder of 'The Design Conference' in Brisbane. Firstly, I want to start by thanking you for taking the time to read, share and back our Pozible campaign. Being an already established event, we decided to launch this campaign in order to inform you about the future of 'The Design Conference', while providing everyone with an opportunity to help us evolve into a world class event, featuring more internationally acclaimed speakers.
The idea to launch 'The Design Conference' was conceived in late 2009 after I won an all expenses trip to meet my network of design, business and pop-culture heroes. Starting in Australia, I ventured to the USA and spent 6 weeks on a full time adventure, where I learnt not only about the creative industry but how creative business works and how creative people live. It was hands down, the most eye opening and mentally engaging experience of my life.
With a renewed sense of ownership over my life and career, I returned from the six weeks abroad with the belief that the world would be a better place if everyone was fortunate enough to experience their version of my overseas adventure. With the ability to send my friends and colleagues abroad impossible to fund independently, I've instead made it my goal to launch an event that brings the worlds best thought leaders to the creative community of Brisbane.
Since 2009, our team has curated 10 events, featured over 90 speakers and hosted thousands of event attendees. We want to thank the design community for their support to date, we truly appreciate it.
With many of your domestic heroes already featuring in 'The Design Conference', we must look to international speakers to maintain our ability to deliver an authentic, original and influential experience. To realise this goal, we are offering a range of affordable Pozible rewards, designed to raise the capital required to deliver a world class event, featuring up to six international speakers in 2016.
The Design Conference 2015
Past Event Titles
Tweets from 2015
Zann St Pierre @zannstpierre May 16 — Massive thanks to @AD_Conferences and @firstcoat for bringing me down for their events. Met some awesome people and had a blast.

ebb&flow studio @ebbnflowstudio May 16 — @AD_Conferences time went so quickly. Still so many questions to ask! Thanks again for a rad event. #sunshinecoast #adbne15

Luchia Bloomfield @luchiamae May 15 — Feeling super confident in my process after having it re-confirmed by @mattfaulk at his UX workshop at @AD_Conferences.

Greg @BEERTRONICS May 15 — %23adbne did that just happen? Bigups matt n crew @AD_Conferences for an amazing event. Thanks for having me and @VNAmagazine

Jess Neate @gzammm May 15 — I love @AD_Conferences, some people go to music concerts, I go to AD! So truly inspired I don't know where to start! Bring on next year!! :)

Matt Faulk @mattfaulk May 15 — Had such an amazing time at @AD_Conferences hanging with @adwrighty @jaslittle @MADSTEEZ and Mattie Haynes. New friends for sure!!!!

spooky max trash @malanachachki May 15 Brisbane, Queensland — Thank you @AD_Conferences for a solid end of the week full of Wacoms, Sailor Jerry and inspiration abundant. %23adbne15

Ironlak @Ironlak May 15 — If you're a creative living in Brisbane and you didn't go to @AD_Conferences, you missed out hard. Congrats Matt and the team. Killer.

Liana @lianabyliana_ May 15 — @AD_Conferences FANTASTIC work Matt!!! Had a blast these last couple of days. So much goodness. THANK YOU %23adbne15 %23grateful %23funtimes

Carla Marangelli @CarlaMarangelli May 15 — Thanks Matt and @AD_Conferences for bringing the designspiration to brisvegas, it's been a rad couple of days %23adbne15

nicole a phillips @typographHer May 15 — Matt - you absolutely killed it @AD_Conferences was outstanding. First class creative inspiration and thinking %23adbne

Andy Wright @adwrighty May 15 — Have had to shoot to the airport, but thanks @AD_Conferences for by far the best conference I've ever been to! %23adbne15 Matt = legend
Special Thanks
Our very special fans followers and of course — Wacom, MailChimp, TAXI.tv, Adobe, Ironlak, AGDA, First Coat Festival, Brisbane Powerhouse, Greaser Bar, Alpha Mosaic Hotel, Stone and Wood, Platypus Graphics, K.W.Doggett Fine Paper, Australian Infront, Very Nearly Almost, No Cure Magazine and BADC.
Pozible Launch Party!
To celebrate a successful Pozible campaign. All Pozible supporters will receive 'premium tickets' to our event launch party at Greaser Bar in fortitude valley. Premium tickets come with priority entry and complimentary Stone and Wood. Your generosity should be celebrated and we have every intention on doing so.
Three BONUS International Presenters.
To celebrate hitting our new 25k target, we are thrilled to announce that artist and designer
Jonathan Calugi
(ITA) will be joining
D*FACE
(UK),
Jonathan LeVine
(NYC),
Timba Smits
(UK),
Jessica Hische
(USA) and
Todd Francis
(LA) at up the forth coming Design Conference in Brisbane this May.
We want to again thank everyone for getting us to this HUGE milestone and helping us to fund 6 (SIX!) amazing international speakers. This years event is truly going to be one to remember.
We've only got less than 12 hours left on our Pozible campaign, so make sure to let your friends know where they can pick up the hottest tickets in town!
New Website launched. Tickets on sale.
If you missed out on tickets during the Pozible campaign, fret not! Tickets are on sale now at the brand spanking new
The Design Conference
website. Have a look around the site and take the chance to grab yourself a ticket.
If you have any questions or feedback, shoot us an email at
hello@analoguedigital.com.au

Thanks again and see you in May!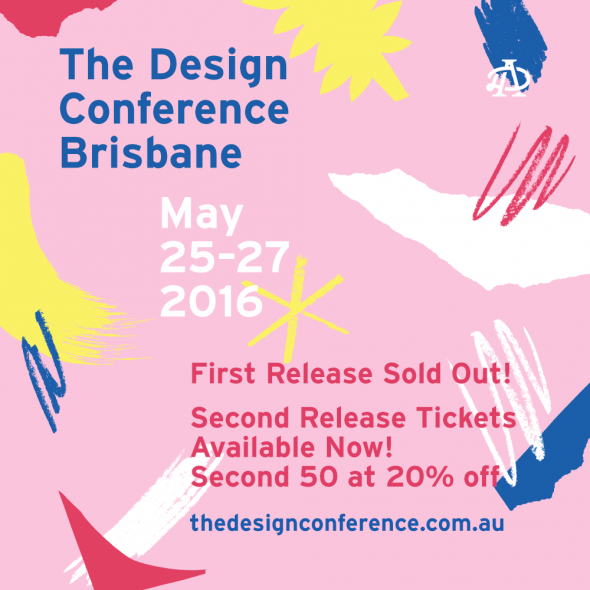 How The Funds Will Be Used
At past events we have offered a month-long early bird campaign through February and March. These funds are used to secure flights and accommodation, as well as the ability to pay deposits on equipment and venue hire. While this approach has been largely effective over the last five years, it doesn't allow us to book international speakers who require financial commitments upwards of six months in advance.

To raise the funds we're substituting our 2016 early bird ticketing in exchange with our first Pozible campaign. We're offering up to 300 attendees the opportunity to experience 'The Design Conference' in Brisbane on May 26-27 for the cost price of $99 and $129 respectively.

By supporting this campaign, you'll be jumping in early before the announcement of the full line up. As part of the financial trade off, students and concession will save up to A$100, with general saving up to A$200 off the 2016 two-day conference ticket price.

As it stands, we've set our target at A$15,000. To help us hit this first mile-stone, we have three internationally acclaimed creatives, already locked in for next years event line-up. It is without further delay 'The Design Conference' 2016 welcomes street artist
The Challenges
With international speakers requiring payment conformation at least six-month prior to the event, our major obstacle is raising these funds outside of our three-month ticket selling window (Feb-May for a May 2016 event)

We've chosen to launch a Pozible campaign because we believe it provides us with a great opportunity to secure a win/win situation for all parties involved. Not only will we be able to secure an internationally acclaimed line-up but 300 supporters will also be able to attend the event for a very special price.