'Cubing for CFS' is the story of Tony Boukis, a twelve year old kid in grade 6 at Green Oaks Primary School. He is on the football team, loves solving Rubik's Cubes, and generally enjoys school. However, he has a problem. His younger brother, George, has been ill for some time, and Tony is sure he's faking it. That is until George is diagnosed with myalgic encephalomyelitis, also known as chronic fatigue syndrome. Tony sets out to find out what he can about his brother's illness and then decides to use his Rubik's cube to do something to help.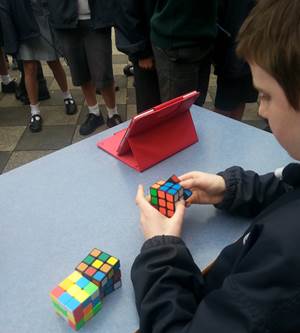 'Cubing for CFS' is based on a fundraiser my 13 year old did earlier this year to raise money and awareness about chronic fatigue at his school following his younger brother being diagnosed with chronic fatigue in February this year. He was feeling scared and helpless about his brother's illness, and decided to have a fundraiser to raise money and awareness in support of
Emerge Australia
.
The message in this book can be used by any family where a child is ill. First, answer the questions siblings ask and let them come to appointments so they know what is going on too. Second, find things they can do to help. It may not be something that they can do directly to help their sibling, but it can be doing something to raise awareness in their community.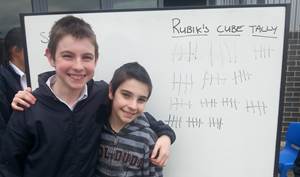 To continue with our support of
Emerge Australia
and the work they do, 10%of all money raised will be donated to Emerge Australia when the campaign is successful.
All the cubes offered as rewards will be purchased from
Speedcube.com.au
and the brands have been hand picked by my 13 year old.
How The Funds Will Be Used
'Cubing for CFS' will be published through Lilly Pilly Publishing early in 2016.

Funds will be used for:
- Editing
- Design and format
- Cover character design
- Cover design
- Chapter illustrations
- Printing costs
- Production of various rewards and shipping
- Pozible fees
- Donation to Emerge Australia

If the target amount is exceeded, the money will go towards printing additional copies of the book and rewards as needed, promotion of the book, and a further donation to Emerge Australia.


The Challenges
The text for this book is almost complete and is being edited. The cover illustration is also being produced. We are aiming for an early 2016 launch, in time for the new school year. All rewards will be sent as soon as the book is published.

The biggest challenge is time. We are coming to a busy time of year with Christmas and school holidays, however, we are confident that we can achieve publication in our time frame.