LET'S GET TO $10,000 SO THAT WE CAN CREATE A MUSIC VIDEO FOR A KIDS' TV SHOW!
Thank you for your support and for helping us to reach our first target of $5000. With a month to go, please help us share this campaign even further so we can take the project to the next level! Please note that we can accept donations in ANY CURRENCY, and post most rewards to ANYWHERE IN THE WORLD. If you're unsure, just drop us an email!
We've made this simple link to share if you want to help us spread it around social media:
bit.ly/permauke
-------------------------
Music is by far the raddest way to learn stuff! Our band
Formidable Vegetable Sound System
has been touring around the world for the past three years singing songs about permaculture (ecological design) at some of the biggest festivals on the planet (Glastonbury, BOOM) in the hope of inspiring people to start growing food everywhere and to take better care of the planet.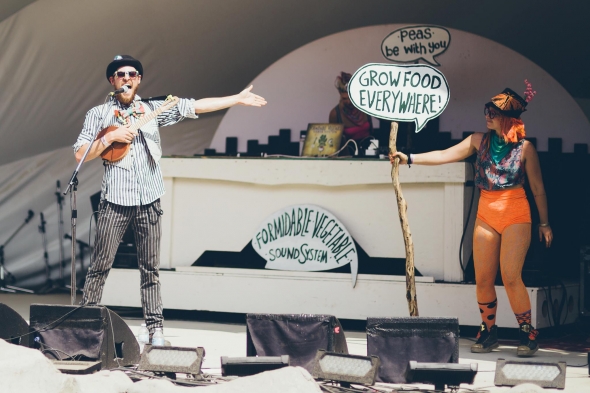 Shambhala Festival, Canada, 2013 (Photo: Patrick Latter)
After releasing two albums (
Permaculture: A Rhymer's Manual
(2013) and
Radish Beets
(2015)), we've decided that the people who most need to learn about this stuff are KIDS! Therefore, we've decided to gear a brand new bunch of electroswing/funk ukulele tunes around getting ideas about growing good food, good vibes and good fun across to children (and adults too!)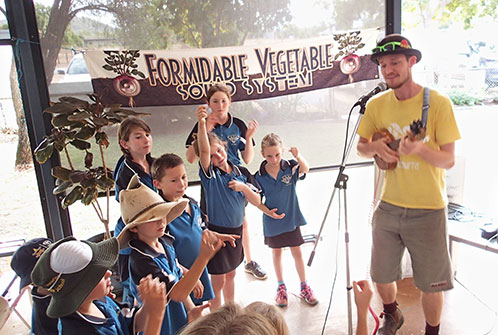 'Grow Do It!' pilot tour, Mt Surprise, QLD, 2015 (Photo: Daniel Stronggrove)
With song titles like "Break It Down (Compost Song)", "Free Range" and "Kimchi!" we're hoping to make a lighthearted, inspiring album aligned with the permaculture ethics of "Earth Care, People Care and Fair Share" combining practical nuts 'n bolts advice with deeper ideological lessons such as seeing oneself as a part of the whole.
We road-tested the new songs recently on a tour to schools in outback Queensland where the kids (and teachers) LOVED it! Ultimately, this is something we'd love to get out to schools, as there is a huge movement toward school gardening and sustainability education for kids at the moment and this could potentially become an awesome teaching tool if combined with the current curriculum.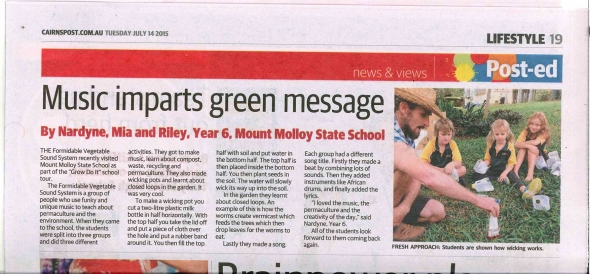 Take a look at this great little article in the
Cairns Post
written by the kids of Mount Molloy State School talking about their experience with the 'Grow Do It!' school show!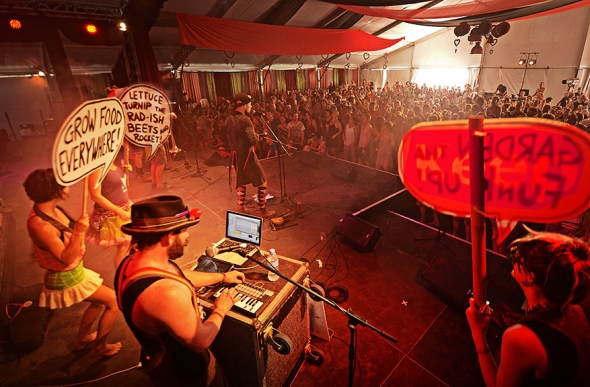 Formidable Vegetable Sound System at Woodford Folk Festival, 2014 (Photo: Richard Watson)
Don't get us wrong, this will be no feeble 'plinky-plonky' children's album! We've teed up with some of the finest musicians and producers we know to make sure that it's some of the best music your kids have ever heard!
Featuring on the album will be: Michael Barker (John Butler Trio, Split Enz) on drums, Mal Webb (Oxo Cubans & legend in his own lunchbox!) on horns & bass, Kylie Morrigan (Orchestra Victoria) on violin and quirktastic electronic production from Spoonbill, as well as a cornucopia of guest musicians, clowns and funambulists!
All we need now are a few sheckles to get the ball rolling. It won't take much to get the album recorded and mixed, but any extra we can raise will go towards marketing (let's get permaculture to kids all over the world!) and some super-fun-happytime animated video clips such as this one we made a few years ago with our exceptionally talented mate,
Dropbear
:
All going to plan, the album should be finished and out by January, 2016.
Thank you in advance for your generosity!
Love, Charlie & Formidable Vegetable Sound System.
People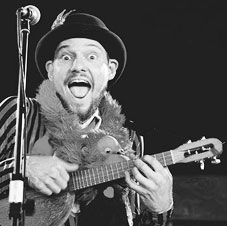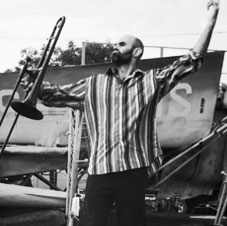 Charlie Mgee: Ukulele, vocals Mal Webb: Trombone, slide trumpet, bass, vocals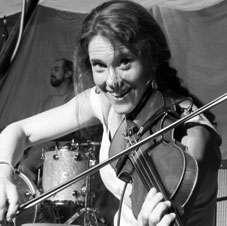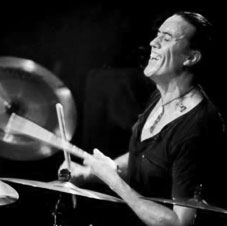 Kylie Morrigan: Violin, vocals Michael Barker: Drums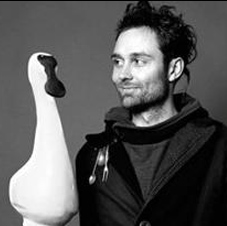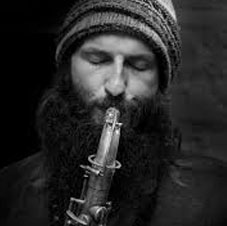 Spoonbill: Production Lee Hardisty: Saxophone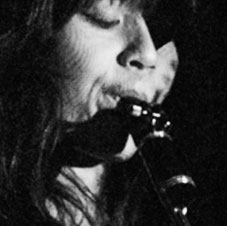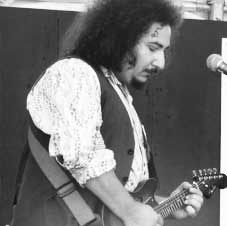 Mayuka Juber: Sax/Clarinet Alex Burkoy: Guitar
我们的项目
音乐是通俗易懂的,不管它以何种形式呈现,人们总是可以理解。我们的乐队
Formidable Vegetable Sound System
在过去三年的世界巡回演出中已经歌唱过多次,大多数都是以可持续发展农业(生态设计)为主题的歌曲。我们想让人们通过这些歌曲去振奋他们,使他们重振农业。
Shambhala 节日, 加拿大, 2013 (拍摄: Patrick Latter)
在发行了两张专辑后(
Permaculture: A Rhymer's Manual
(2013) 和
Radish Beets
(2015)), 我们觉得真正要学习这些的是孩子!所以,我们决定制作一个unk尤克里里的曲调从而使我们的孩子(成人)与音乐产生共鸣,并产生兴趣。
'Grow Do It!' 自驾游,大惊喜, 昆士兰州, 2015 (拍摄: Daniel Stronggrove)
随着歌曲的名字"分解 (混合音乐)", "自由牧场" 和 "泡菜!" 我们希望制作出一张轻松愉快振奋人心的专辑同时具有深刻的教育意义,以保护地球,保护人类,公平分享为主题。通过这个深层次的思想课使人们意识到我们也是这个世界的一部分。
我最近在去昆士兰旅游时,那里的孩子和老师对我的新道路测试歌曲十分感兴趣。其实我们也很想去学校外面,一个大型的运动场对于孩子和学校园艺在可持续发展教育上面有重大的意义。如果结合当前课程这个会成为一个很好的教育手段工具。
看一看这个莫洛伊山州立学校的孩子们写的文章,在他们中学毕业晚会上描述了他们成长的经验!
在Woodfolk Folk 节日上妙不可言的蔬菜音乐系统,2014(拍摄:Richard Watson)
不要重蹈覆辙,这将成为plinky-plonky孩子专辑强有力的支持。我们有最好的音乐家和制作家,他们会呈现出最好的作品给孩子。
上张专辑的特色是:迈克尔巴克(约翰巴特勒三人,拆分恩茨)鼓,玛韦伯(丁辛古巴人和用饭盒做出的传奇!)牛角和低音,玛丽凯莉(维多利亚乐团)的小提琴和quirktastic电子产品,以及音乐家,小丑和杂技表演!
我们需要一些铁链使这些球滚动。在专辑的录制和混合上不会花费太多,筹集的钱有一部分用于市场宣传(让世界各地的孩子知道它)以及非常搞笑的动画视频,几年前和我非常有才华的队友制作过Dropbear。
所有的计划和专辑在2016年一月之前完成。
非常感谢您的慷慨支持。
爱,查理&妙不可言蔬菜系统。
陪伴是最长情的告白。
资金如何被筹集?
我们的至少要筹集5000澳元才可能开启我们专辑的录制,但是我们希望筹集的资金在1万到2万澳币之间,这样我们还可以多做一些创意短片和相关的学校课程!如果我们筹集到足够的钱,不用担心,我们会有很多想法!

以下是我们的清单,您可以清楚的知道钱的流向,我们粗略的算了下成本:

专辑录制的基本花费:

工作室&音乐家:3000

混合&掌握:2000

艺术&设计:2000

CD制作:2000



额外的乐趣(如果我们筹集更多的资金):

市场营销&宣传活动:5000+

设计&课程制作/学校:2500

动画音乐录像设置:10000+

世界巡回演唱会/世界控制:天空的限制!


我的一些其它工作
如果你还是不知道'Permaculture Electroswing' 究竟是什么,你可以看看我们之前在悉尼做的视频,奇妙的蔬菜音响系统是气候可能会成为一个大麻烦(peter Vincent)

在过去几年的旅途中,我们一直非常忙碌,书写电子舞曲混音和我们的第一张专辑 Permaculture: A Rhymer's Manual这里是一个例子:
我们也有一些动画作品,在我们的歌曲中做了一些视频剪辑,看一看吧:

我们很高兴和这些家伙在一起工作,希望在您的帮助下,我们也可以做这一切!

视频请切换英语页面看。

挑战
每一件事情都看起来很棒,并且我们已经开始演示一些专辑。对于我们的项目还有一个关键性的东西就是欧洲&英国的旅途,我们在录制之外还要放一些注意力在这上面,但是不要担心!我们会将它直接带回澳洲!


制作团队
Charlie Mgee: 四弦琴,主唱 Mal Webb: 长号,小号幻灯片,低音,人声
Kylie Morrigan: 小提琴,声乐 Michael Barker: 鼓
Spoonbill: 制作人 Lee Hardisty: 萨克管
Mayuka Juber: 萨克斯/单簧管 David Lawrence: 键盘
How The Funds Will Be Used
We' thought we'd aim to raise a minimum of $5000, which will be just enough to cover the recording of the album, but what we're REALLY hoping to raise is somewhere between the 10-20K realm, so that we can do some extra-funky things like make more animated video clips and produce some curriculum packages for schools! If it's looking like we've raised enough money, don't worry, we've got plenty more ideas of where to funnel more!

To give you an idea of where your hard-earned shpondoola will be going, here's a rough estimate of what it's likely to cost:

BARE BONES ALBUM RECORDING:
Studio time & musician fees: $3000
Mixing & mastering: $2000
Artwork & design: $400
CD manufacturing: $2000

EXTRA FUN (if we raise more funds):
Marketing & publicity campaign: $5000%20
Design & manufacturing of curriculum/schools pack: $2500
Animated music video production: $10,000%20
World Tour/Permaculture World Domination: The Sky's the limit!

The Challenges
Everything seems to be lining up pretty nicely, and we've already started demoing a few of the tracks. The only things that could possibly hold up the project for a couple of months would be our upcoming tour to Europe & the UK, which might take a bit of focus away from recording for a while, but don't worry! We'll be straight back into it as soon as we get back to Aus!