Do you ever wish you could remind road users that a cyclist is someone's son or daughter, partner or parent?
This campaign has a personal message. It's a gentle reminder that we're all in this together.
After a fatal car dooring of a young man in my neighbourhood earlier this year, I wanted to connect with drivers. There's a lot of tension between cyclists and other road users, for good reason. But there's also support, it's just not always as loud.
So many cyclists also drive cars. Our friends and families do too. Let's show that we care about cyclists while we're on the road. Buy a sticker for yourself and your parents, your siblings or your friends. Ask them to show that they care about you.
We'd love your support!
Your pledges will earn you stickers, which you can then share with friends and family, helping to build the campaign. There are 8 stickers to choose from and once the project is confirmed, we'll ask pledgers for their preferences via email. You don't need to decide which sticker/s you'd like when you pledge, we'll ask you this only once the project is approved and money collected.
We've already had a request for 'My friend/wife/husband is a cyclist' so we'll add these three as options too.
Here's to safer roads and greater rapport between road users!
Emily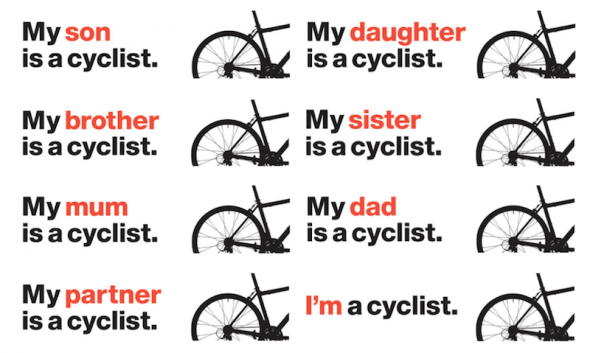 How The Funds Will Be Used
In March, I engaged a designer to produce a range of bumper stickers to suit as many different scenarios as we could manage in our first print run.

Using Pozible, we hope to share this message with as many road users as we can. Your pledges will help get the first batch of stickers printed, sent out (to you!) and seen in the community (through your family and friends). Here's the plan:

1. Test which stickers are the most popular through pledgers on Pozible.
2. Print 500+ stickers of the most popular designs and smaller quantities of the rest.
4. Mail out stickers to pledgers and a huge thank you for their support!
3. Organise distribution* of remaining stickers to cyclists (and drivers if possible).

*I'm speaking to organisations about distributing stickers through their channels. Any offers to partner or assist very welcome!

I've requested a few quotes and chosen a local sustainable business, Arena Printing to take care of the order.
The Challenges
If this project takes off, I'd like to think that there are organisations out there who will help share the message!