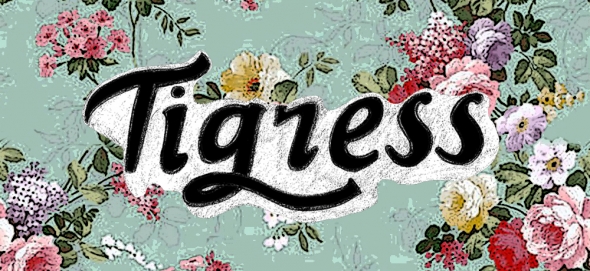 WHAT IS TIGRESS??
Tigress is a one of a kind, collaborative, and creative community in the form of an online magazine aimed mainly at teenage girls, but filled with content noteworthy for people of any age and gender identification. It is a place that allows girls to acknowledge each other for who we are: beautiful, strong, quirky, clever, unique, and everything in between. Tigress consists of creative work by girls (and some boys!) from all over the world, and we aim to give you a magazine filled with great stories, art, advice, and information in the hopes of leaving you feeling empowered, accepted, and worthy.
For the past year, Tigress has been a place for teenage girls to feel at home. It is a community of women where you can find solace and comfort in knowing that you are not alone in anything you experience. In Tigress, we wish you a breath of fresh air. We wish you to ask questions without a fear of judgment or repercussions. We wish you a place of respect, creativity, and love.
Tigress, as an online platform, has hundreds of visits a week from viewers all over the globe. We post multiple times a week, with articles covering everything from armpit hair to music shaming to defining feminism to sex therapy to depression to bad breakups. We feature book reviews, fantastic giveaways from small businesses, interviews of visual artists, and more. Our contributors come from over 25 countries and are ages 11 through 59 years. Please explore our
website
!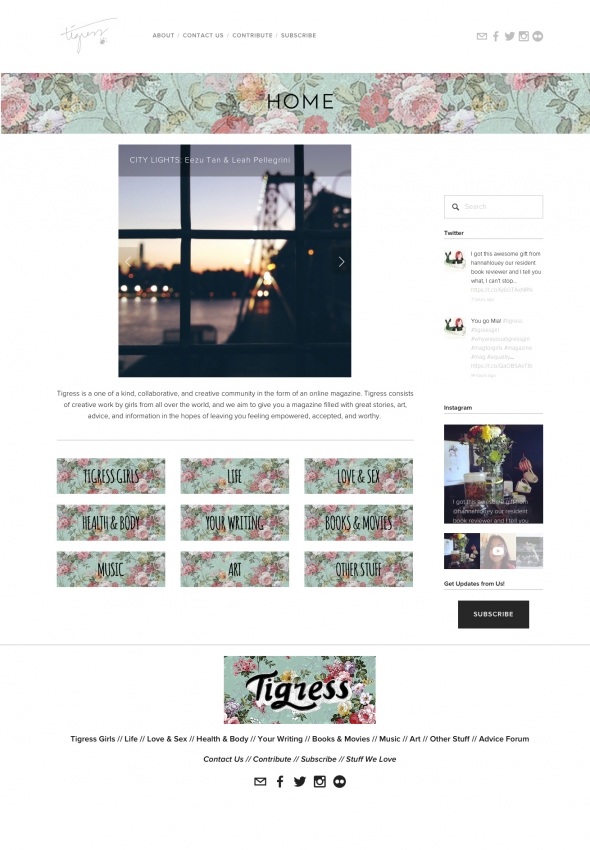 THE PROJECT:
Our next goal is to expand from our online platform and allow our contributors a chance to be published in a print publication, and to give the viewers something they can hold in their two hands. The print publication will feature about 100 beautiful pages of content previously published on our site as well as new and unseen content. Our long-term goal is to produce an annual print edition of our magazine that we can sell for an affordable price to our dedicated viewers. Copies of Tigress Magazine Volume One will be available December 2015 for only $20.
So why should you support us and what do you get out of this? We believe that there is a gap in the magazine market that Tigress can and will address. We want to continue to create a magazine that YOU want to read, one that we are all proud of. If you are a believer in community, feminism, artistic collaboration, and the talent and power of teenage girls, this is a fantastic place for your money to go.
THE CO-EDITORS: WHO WE ARE
Freya and Sophie "met" online in May 2013 when they completed a collaborative project of art and music for Freya's debut album, 'The Marvellous Reject Girl'. Despite the 12 hour time difference and 10,000 miles between them, the two became fast friends. Freya had wanted to create a space for teenage girls since she was a teenage girl herself, and asked Sophie to join as a co-editor of her new magazine. Learn more about us
here
!
A big THANK YOU to Danielle Teychenne who put together our video, our project manager Isobel Taylor-Rodgers, our new Graphic Designer Lee Porter and the ace Tigress girls for being a part of our video! :) We would also like to thank Mai Ly Degnan and Jordyn McGeachin for creating some beautiful illustrations just for us to help promote our project!
How The Funds Will Be Used
1. Magazine design: We are lucky enough to have Lee Porter on board as the graphic designer of our print magazine. We will be paying Lee for the extensive work she will be committing to helping us design our print volume! Because we want the highest quality and design, Lee will be working with us from mid-year until the completion of the magazine in December. $2000

2. Magazine printing: It is important to us to print with a high quality printer that has values that align with Tigress. Unfortunately, magazine printing is expensive! Much of the funds we raise will go towards printing 500 beautiful copies of Tigress Volume One, which will have over 100 pages of both older and brand new material. We need to print enough copies for contributors, campaign supporters, promotion, and sales. $6000

3. PR and project managing. It is important to get the word out about our initiative and this takes a lot of hard work. We will be hiring Isobel Taylor-Rodgers to be our PR manager for Tigress Volume One. $2000

4. Shipping/distribution costs: Some of the money we raise will go towards the shipping costs to mail Volume One and other rewards to our supporters. $2000

5. Promotion and advertising: We are hoping to run some successful Facebook advertising campaigns at $500 to really get the word out and reach as many people as possible. We also want to do the old fashioned poster, flyer, and postcard campaign (all recycled paper!). TOTAL $1500

6. Continual upkeep of website and newsletter: Everything costs money. And even running a simple website and newsletter has a high price. We want to be able to keep running the high quality website we have created. $1500

If we go over our goal by $1000 we would love to add a CD to the front of the magazine full of beautiful music by new artists!
These artists include: Sandy Hsu, Gretta Ray, Arctic Maps, Harry Andrews, Red Caravan, and more!

If we go over our goal even further, we plan to put this money away for TIGRESS MAGAZINE VOLUME TWO!








The Challenges
One challenge will be limiting ourselves to only 100 pages of content--we have so much fabulous material to choose from! We plan to include some of the most popular posts from online and to also include the largest range of material we can.
Of course, some other challenges will be time constraints and meeting deadlines, but with our fabulous team, we know we'll get it done!