This project is about raising funds so that I will be able to attend the Society for Disability Studies Conference in Atlanta this June to present Cracking the Silos; disability, displaced people, refugees and climate change.
This presentation will view this from the perspective of disability experience, activism and community scholarship.
15-20% of the worlds population has a disability
80% live in the poorest countries
In 2013, 53 million people were forcibly displaced AND 7.7 million were people with a disability.
Poverty is both the cause and result of disability
War and conflict are the greatest cause of disability
Climate change will lead to greater poverty, increased disability and more displaced people.
There are many organisations whose role I will be investigating such as the UN, UNHCR, WHO, International Migration Office, Women's Refugee Commission, Humanitarian Agencies, as well as many relevant international conventions and instruments.
Willingness to find solutions to inclusion are evident across these organisations, however the need for a just, integrated international plan and implementation is missing.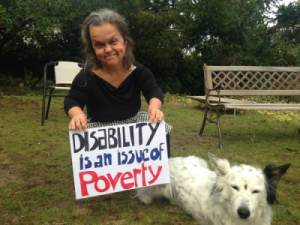 How The Funds Will Be Used
The $2,500 will cover my airfares and insurance
If the crowd gets very excited and more funds are raised, then these will go towards conference registration ($600) and
accommodation ($300)
Here is the
link to the conference.
Have a look because you will actually be able to live tweet presenters!!!
The Challenges
There are many, many players in this area. Humanitarian and environmental crises are creating a fatigue. We need a different type of action.

In the time available I won't be able to read all relevant reports and identify where the gaps in addressing disability are, however by attending the conference I will be able to make links with other researchers and encourage the activists and scholars to build on the interconnections between disability, displaced people, refugees and climate change, leading to better understanding, inclusion and empowerment of people with disabilities.