Firstly, hello all! Welcome to my story, and thank you for showing interest and taking your time to read all about my project!
My project is to release my debut album and to help kick-start my career as a solo performer.
My album features exciting new music written for classical saxophone, and is the result of five years of hard work and dedication.
I began laying the groundwork for this Album in 2010, during the final year of my undergraduate degree, where I was studying a bachelor of music in classical saxophone performance. In that year I began to commission original music for the saxophone, enlisting the aid of local composers, but also commissioning UK composer and saxophonist Andy Scott to begin work on a tenor saxophone and piano piece, Deep Blue, that appears on this album.
Since then I have continued commissioning composers to write new saxophone works for me. Initially these works were all for the tenor saxophone, but during my Masters at the Royal Northern College of Music (RNCM) in Manchester I also commissioned a soprano piece, and wrote my own alto composition, which also both feature on my album.
The opportunity to record my first album came to me whilst studying my Masters at the RNCM in 2013/14. As part of my degree I had to undertake a recording unit, where we were required to record fifteen minutes of music for a demo CD. This opportunity, combined with the music I had previously commissioned, provided the impetus to go beyond what was required, and to separately record another thirty minutes of music so that altogether I would have enough music to launch my debut album. I was very fortunate to be offered help from UK saxophonist and record engineer Rob Buckland, who allowed me to record all the music for my album, even though I didn't have the funds to do so. This has enabled me to get all the initial leg work down, and given me the opportunity to seek financial support to help me turn these fantastic recordings into a very exciting album, which I believe will help my career immensely.

I am currently at the stage where I have all the tracks recorded, and some of them mixed. The layout and photography for the album and booklet has been organised, and I have some promotional materials prepared.
Once my Album is printed the plan from there is to use the contacts that I have made during my time abroad and to tour my Album in July of this year through England, Wales, and ending at the World Saxophone Congress in Strasbourg. I currently have confirmed performance opportunities for these three countries, but need all your help to make this all possible!
What I am seeking support for in this project is funding to allow me to:
1. Pay to complete the mixing and mastering process for the tracks, along with payment for the initial recording of the tracks
2. Manufacture 1000 copies of the CD, including paying copyright costs for the various composers,
3. Fly to England, Wales, and France to launch and tour my Album, ending at the World Saxophone Congress in Strasbourg.
There are many ways in which you can help me get this Album up and running and they are all listed in the Rewards section of my project. Also if you have any further questions about my project or would just like to have a chat, please feel free to visit my website and send me an email, and I will get back to you as soon as possible.
Click here to go straight to my website!
If you would like a sneak peek of the tracks on my album please
click here!
Thank you all for your time and generosity and I hope that you can help me get my career off the ground!
Many Thanks,
Erin.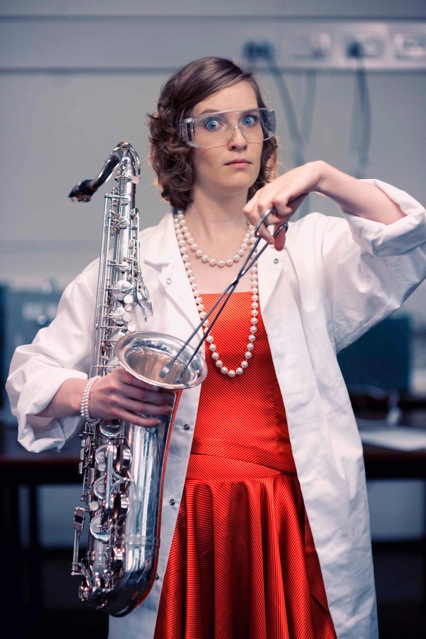 How The Funds Will Be Used
These the expenses I expect to incur in undertaking my project:

Flights - Perth to Manchester (return) $2,800
Full Colour printed CD, album cover, and booklet insert $1,960
Paying for the recording, mixing and mastering of the CD $3,500
Copyright Fees $695
Sax Congress Week Pass $212
Strasbourg Accommodation $700
Stand Hire and promotional material printing costs $980
Payment for Accompanying Musicians $1000

SUBTOTAL: $11,847
Pozible and bank fees (approx 10%) $1,156.70
TOTAL: $ 13,003.70


While some of these costs are by their nature estimations, I have acquired quotes for everything I can (eg. Manufacturing and Production costs of the CD, Sax Congress passes, Copyright fees etc). For the rest I have attempted to estimate as best I can, and to have things that may be overestimated being balanced out with underestimates ie. Flights will probably increase in price since I had them quoted, however I may be able to arrange to stay in Strasbourg at a reduced price.

Any extra proceeds will go towards the musicians involved in this Album. While some have been paid for part of their time, others have done it from the goodness of their hearts. In the event that this crowd-funding campaign exceeds its goal, or even if I manage to make slight savings along the way, any extra funding will go towards thanking the musicians that donated their time in recognition of the amazing efforts and the hours they have put into helping me create this Album; I couldn't have done it without them.

The Challenges
As far as the Album is concerned, I have recorded all the music, so I don't foresee there to be any issues in terms of getting the Album printed and mastered, my only issue in this regard is financial support, which hopefully will be rectified by this fantastic crowd funding grant opportunity.
I may run into some issues with funding to get my unsold albums back to Australia, as they will be printed in the UK. I chose to print them in the UK as my record engineer is based in the UK, and it saves me the expense of taking CD's over to the UK for my tour. However on my return to Australia I may have to ship the remaining CD's back home, and will need to pay import Tax on these. I am however prepared to cover these costs, and gives me great incentive to distribute as many CD's as possible whilst on tour.