Hanuman Spaceman is a trippy tropical rock opera... a psychedelic sci-fi fairytale fusing ancient epic tales with a funky, feisty take on contemporary Cambodia, and homage to the golden age of Khmer pop.
With your support, Hanuman Spaceman will bring together a team of artists and producers between Cambodia and Australia to create a shape-shifting music theatre work for the twenty-first century. The performance fuses the extraordinary personal story of Cambodian singer Srey Channthy Kak, with the mythic figure of the trickster monkey god Hanuman, from epic texts such as the Ramayana – in a story of escape, by building a rocket to travel to the moon. Hanuman Spaceman mashes rock'n'roll, funk, psychedelia, Cambodian folk and contemporary song with dance, digital visuals, and story.
Last year the team made a first draft version working in collaboration with
Khmer Cultural Development Institute
, which runs an amazing school teaching traditional music and dance to orphaned children in Kampot, Cambodia. Your contribution through Pozible and Creative Partnerships Australia MATCH funding will allow for the creation and presentation of the project in Australia.
In May 2015, they'll be working in residence at Casula Powerhouse Arts Centre in western Sydney, in collaboration with local Khmer musicians, to adapt and rehearse this first draft for a short public season under the title
Cosmic Cambodia, 15-16 May 2015
. The partners
The Cambodian Space Project
, producer
Intimate Spectacle
, and artists including director Carlos Gomes (Theatre Kantanka), hope to use this season as a showcase to secure funds and partners for the final development of this major new work Hanuman Spaceman later this year, before further season nationally and internationally in 2016.
Set against the backdrop of Cambodian history, Hanuman Spaceman evokes the Golden age of Khmer rock'n'roll in the liberal 60's, through the eyes of Cambodian Space Project founder, Srey Channthy, who was raised in one of the poorest Cambodian villages. This work conveys her life-long quest to channel the lost Khmer divas of the 60s, and sing them back to life, reviving a culture the genocidal Khmer Rouge attempted to extinguish.
The performance will be a fast-moving, energetic rock opera, driven by the band's powerful big beat sound, a four piece teamed with an ensemble of local Khmer community musicians playing traditional instruments such as the pinpeat, mohori, and tro. They're joined by the fabulous Spacettes: dancers Khen Vanthy & Khen Vanthon, fusing their classical Khmer dance training with sixties go-go.
It's an extraordinary visual spectacle, with director Carlos Gomes' lush tropical aesthetic, and video artist Samuel James' vibrant animations, footage of contemporary Cambodian life, and the rarely seen archival footage from Cambodia's golden age of cinema, as seen in the recent documentary film
The Golden Slumbers
.
Together, they tell a story in song, images and dreams, drawing on all our traditions: classical dance, go-go, epic tales & fairytales from east and west, Khmer pop, rocknroll, science fiction. A story of escape, adventure, of dreaming big things, and most of all, celebrating life.
The Band
They're a great band, the singer is amazing, really beautiful, the guitars really jump out at you, very affecting, great stuff.
Nick Cave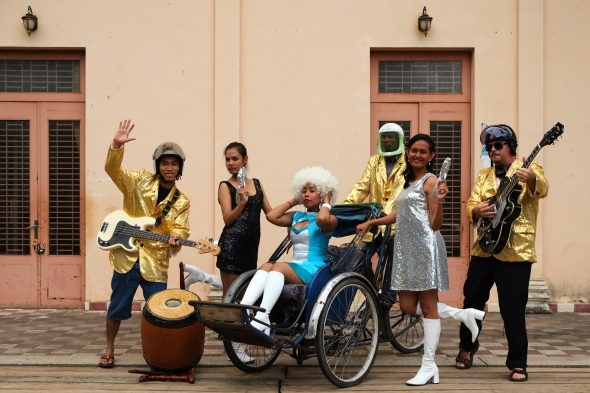 The Cambodian Space Project sound is definitely for the 21
st
century, mashing tradition with rock'n'roll, rare groove, soul, and trippy visual spectacle, with reimagined Khmer classics alongside new songs like Not Easy Rock'n'roll and Have Visa, No Have Rice. The Cambodian Space Project has wowed audiences in bars, rock festivals and theatres across Asia, Europe and Australia, and led to collaborations with the likes of Paul Kelly, Motown legend Denis Coffey, and The Herd MC Ozi Battla (Astronomy Class).
This extraordinary band has been at the forefront of an astonishing cultural revival in Cambodia, since singer Channthy Kak and musician Julien Poulson teamed up, to sing back to life the lost divas and rock legends of Cambodia's golden age of music, all but wiped out by the genocidal Khmer Rouge regime.
In December 2009, Julien formed the group The Cambodian Space Project with Khmer vocalist Srey Channthy. At first, their aim was simply to play a couple of shows at a friends bar, however, CSP soon became known as an exciting, cross-cultural music group leading an important cultural revival in Cambodia. Five years on, this small beginning has lead to some incredible opportunities, not least, exporting the new sounds of Cambodia to the world and championing local musicians there.
Along the way, The Cambodian Space Project has regularly donated time and money to support causes we believe in, particularly supporting social arts programs; we've performed in jails, public libraries, HIV clinics, Human Rights events, at schools and charities and have often set-up our own free concerts in poor and disadvantaged villages.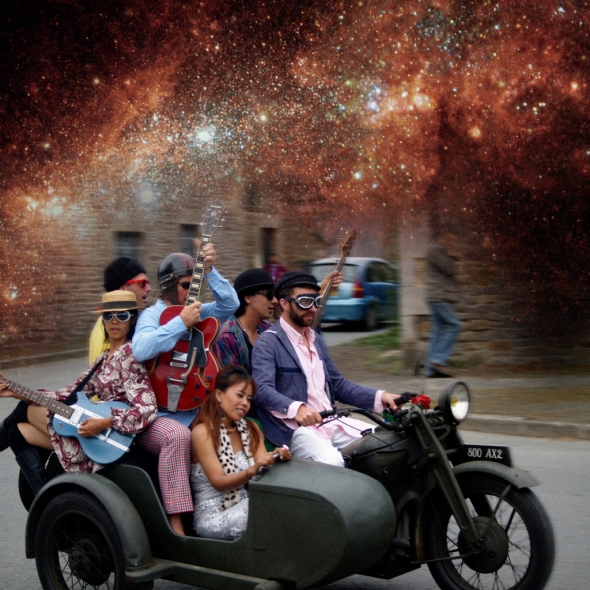 The Cambodian Space Project Soundcloud page

The Cambodian Space Project Facebook page

The Cambodian Space Project Vimeo page

Rewards Bonus
ALL CONTRIBUTIONS OF $20 OR HIGHER TO THE CAMBODIAN SPACE PROJECT POZIBLE CAMPAIGN WILL BE INVITED, FREE OF CHARGE, TO A SERIES OF INTIMATE PERFORMANCES AT THE BEARDED TIT BAR IN REDFERN ON SUNDAY 10TH MAY, 4 - 7PM.


Creative Team
Conceived by Julien Poulson and Channthy Kak
Director Carlos Gomes
Producer Harley Stumm (
Intimate Spectacle
)
Audiovisual Design Samuel James
Performers
Vocal: Channthy Kak
Guitar: Julien Poulson
Bass: Sophea Bass
Drums: Bong Sak
Dancers: The Spacettes (Khen Vanthy & Khen Vanthon)
Chapei Dong Veng: Master Kong Nay
Performers & Facilitators from Khmer Cultural Development Institute
Founder: Catherine Geach
Education Director: Nguon Sothy
Teacher Musicians: Uon Sambo (Pinpeat), Ros Samoeun (Mohori), Khuon Bem (Yike), Vy Lida
Student Musicians: Sorn Minea (Tro), Nov Seangheng (Khim), Sin Sokun (Takhe)
Student Dancers: Nhan Daneth, Soeun Tep, Ser Soeun, Born Deur, Phat Srey Dy, Pong Chanthea, Sarofany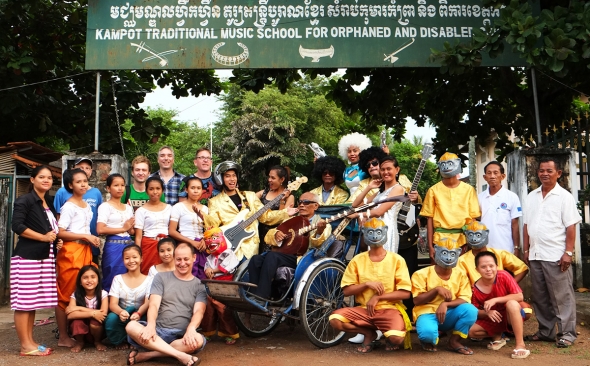 How The Funds Will Be Used
International collaborations are expensive. The costs of working together between countries add up: travel, communication. When Australians work with artists from developed countries, funds normally come from both sides - from funding agencies, and from production partners such as venues or festivals.
But Cambodia is one of the poorest countries in the region, and in the bottom quarter of countries by wealth per person. There is little or no arts funding support there, and none for a co-production such as this. While we are luck to have support from funders and partners in Australia, and in kind support from the fabulous Khmer Cultural Development Institute, there are still some things that unfortunately only money can buy.
All funds raised will go towards supporting The Cambodian Space Project and our artists to develop, rehearse and perform Hanuman Spaceman at the Casula Powerhouse Arts Centre, Sydney, in May 2015.
So please help fill the gap by supporting this campaign.
Production costs:
-Artist fees for the 2 week residency and Casula Powerhouse:
4 band members
2 dancers
Director
Audiovisual artist
Technical production manager/lighting designer
Sound engineer
-Sets props and costumes including:
Stylised Angkor Wat referencing projection screen/backdrop
Cyclo (cycle rickshaw is a small-scale local means of transport in Cambodia)
Rocket prop
-Fees for local Khmer community musicians and dancers
Travel costs:
-5 x return flights Phnom Penh
-Accommodation 5 artists during the 2 week residency
-incidentals and allowances
Thanks to Creative Partnerships Australia, every dollar you give will be matched up to $10,000 through their Match: Crowdfunding for the Independent Arts Sector initiative.

This project is assisted by the Australian Government through the Australian Council, its arts funding and advisory body, and developed with the support of Khmer Cultural Development Institute, Casula Powerhouse Arts Centre, and Arts Centre Melbourne.