Hi! We are the Australian Sepak Takraw Team and we will be competing in the 30th King's Cup World Championships in Bangkok 4-10th of May 2015. This is the very first year that Australia will be fielding a full team of 10 players, but we need your help to do it!
Our team has 10 players, who hail from Darwin, Cairns, Brisbane, and Melbourne and many of us have young families or are studying full time which means funds are very tight. The team is completely SELF FUNDED - we cover the costs of competing ourselves. Your support will ensure our players are able to make it over to Thailand to represent Australia and compete in the World Championships.
We aim to raise over $2000 to help us afford flights to go overseas and represent our country!
Over 7 days of competition we will be competing in 4 disciplines against nations from all over the world such as Thailand, Malaysia, Germany, France, USA, Brazil, Nepal, Japan, Korea - in total there will be over 25 countries competing in the biggest sepak takraw tournament in the world! The most prestigious sepak takraw discipline is the Team Event, where a team must have a minimum of 9 players to enter. Australia has NEVER been in a position to field a full team of 9%20 players, until now!
Here's a few photos of us from previous competitions :)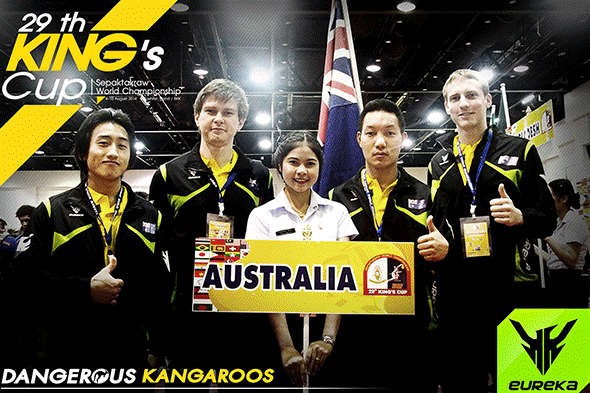 Donations or Sponsorship?
We greatly appreciate your donation, whether it is large or small - every little bit will help us get to Thailand!

For those looking to do more than donate, we would love to get some sponsors on board! For a $550 commitment to the team, we will print your logo on our playing shirts - and the cost of printing will be absorbed by us!
Want your company represented at a major international sporting event? Got you covered.
Want a picture of your dog on our playing shirts? We've got you covered there too....... (within reason)

Of course we'd love to talk to any potential sponsors or supporters about forming ongoing relationships, as we will be competing in other major international tournaments in the years to come.
So what is Sepak Takraw?
Check out this 30-second clip of us playing (in green) against Chinese Taipei at the 2013 King's Cup World Championships - best watched full screen in HD!
In short: It's Kick Volleyball with sweet back flips and aerial spikes!
In full: A centuries-old sport native to South-East Asia that is going global! Imagine 3-players per side kicking a small, hard plastic ball over a 1.55m high net using any part of the body except for the hands. This means the best way to spike the ball is to back flip at the net and kick the ball downwards into the opponents court; very speccy!
Want to know more about sepak takraw? Check out the
Takraw Australia website
!
How The Funds Will Be Used
100% of your donation will go towards paying for flights

The biggest expense for our players is flights to and from Bangkok, Thailand.
The average cost of return flights is around $800 per player for a total of approximately $8000 - we are hoping you can help us offset the financial burden and allow our players to represent Australia in the world championships!

PLEASE NOTE that this is an "all or nothing" crowd funding campaign, which means if we do not reach our target of $2000 your donations will not go through. However, every dollar over $2000 that is pledged still goes towards paying for flights and helping the team make it to the King's Cup World Championship.

The Challenges
Sepak Takraw is a massively popular sport in Asia, but is still relatively unknown to the Australian public which makes it difficult for us to attract financial support - which is why we're here on Pozible! So as part of our campaign we encourage you to check out some videos from our
YouTube channel
to get a feel for the sport and what the Australian team is trying to achieve.
Many of the players representing Australia this year either have young families, or are studying full time, which means funds are very tight. We also live thousands of kilometres apart and so rarely have the chance to train together - to form a cohesive team we need to get over to Thailand to train together for a week before the event, which adds cost! We are passionate about the sport we love and it would mean the world to us to field a full team of 10 Australian players at the world championships FOR THE FIRST TIME EVER!