WE ARE ACCEPTING PLEDGES VIA OUR WEBSITE UNTIL 28 MAY 2015.
PLEASE PLEDGE YOUR SUPPORT HERE:
https://yirrayaakin.com.au/support-us/donate-now/
ALL DONATIONS ARE MATCHED DOLLAR 4 DOLLAR BY CREATIVE PARTNERSHIPS AUSTRALIA AND ARE TAX DEDUCTIBLE.
Here at Yirra Yaakin we are passionate about 3 things: creating theatre, supporting our artists & our community and AFL!
So its fitting that our very first crowdfunding campaign is - 'Kick A Goal For Us'. We now want you to join our community and help us kick a few goals by supporting our emerging artists to create great theatre.....
Shakara Walley and Ian Wilkes are two rising stars from amongst the Western Australian Aboriginal community.
Both are WAAPA (Western Australian Academy of Performing Arts) trained with bright futures ahead of them. Here at Yirra Yaakin we would like to make them 'rookie recruits' for our leadership team and we need your support to do that.
Thanks to Creative Partnerships Australia's (CPA) Plus 1 Match Funding Initiative, we have the opportunity to raise the necessary funds and have them matched dollar-for-dollar by CPA. CPA received 268 applications nationally for funding and we are very proud that our Indigenous Cultural Leadership Initiative '
All Our Futures'
was selected as one of these projects.
WE CAN ONLY DO THIS WITH YOUR HELP, and It doesn't matter how small the amount because EVERY DOLLAR COUNTS!!!
PLEASE JOIN US NOW AND KICK A GOAL FOR OUR TWO STAR RECRUITS!!!!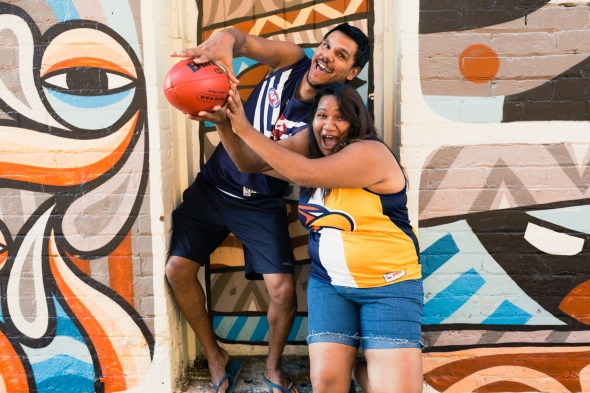 Ian Wilkes & Shakara Walley. Image Simon Pynt
'All Our Futures' is supported by Creative Partnership Australia through Plus1.

How The Funds Will Be Used
We are asking you to assist us to support emerging cultural leaders Shakara Walley and Ian Wilkes to achieve at the highest level, representing the next generation of Aboriginal Arts leadership. They are the future of our community.
We are one of Australia's leading Aboriginal performing arts companies and significant Cultural leaders in our field of expertise with a track record of creative and artistic excellence and innovation in all that we do. Our current resources are stretched to the limit as we struggle to maintain our core programs. We see this as us working with you to create an exciting opportunity for two young artists that supports their growth and development into the Australian performing arts industry. The funds we raise will go directly to Shakara and Ian and provide them with support while they pursue their individual development projects here at Yirra Yaakin.
Yirra Yaakin believes theatre can play a major role in promoting the culture and language of Indigenous Australia. By investing in our future artists and producers we are ensuring that Aboriginal theatre is culturally significant, inspiring, motivating and self-determined for generations to come. We believe pride, strength and cultural empowerment are the basis of a healthy, sustainable community and with the success of this project we will be building the skills and capacity in two of our future leaders Shakara Walley and Ian Wilkes. I invite you to consider making a contribution to this important initiative. Every donation counts, and when combined with the support of others we can make a significant impact. Together we can play a crucial role in fostering the education of future generations of young Australians in awareness of Aboriginal culture in all its diversity.
(Kyle J Morrison, our Artistic Director)
JOIN US in supporting and encouraging the development and strengthening of our young people. Its
'all our futures'
that we want to grow, so we can continue to stay strong, and 'stand tall'.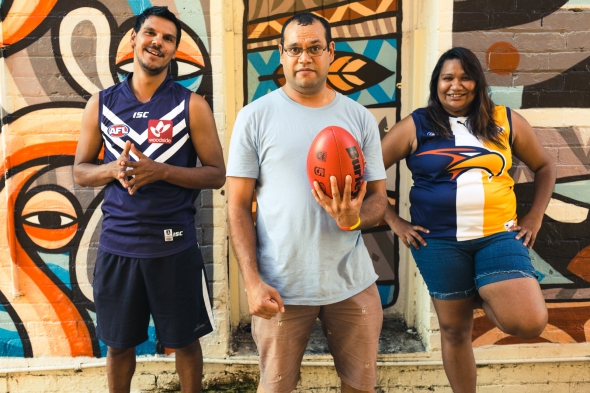 Ian Wilkes, Kyle J Morrison & Shakara Walley. Image by Simon Pynt
The Challenges
This project directly responds to the problem that Australia struggles to support and nurture Aboriginal creative leaders across all areas of the performing arts, with a critical deficit existing in the areas of producing, directing, technical, production & project management. This initiative also acknowledges that entry into the arts industry for any emerging artist is genuinely challenging.
We will continue to seek out opportunities for support from other sources, and welcome any ideas and suggestions you might want to share with us.
Please contact us
.
If we are unable to raise the necessary support we will need to revision the program of activities that Shakara and Ian will be undertaking, and the duration of that program.