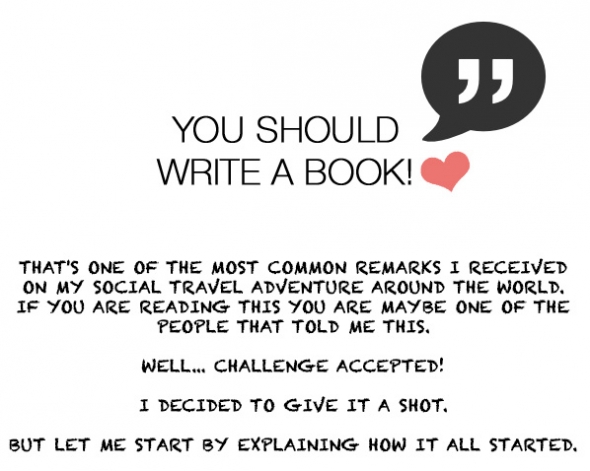 Everything I do on my travels has to be connected to people that connect online via social networks or in real life. They tell me where to go, what to do, how to get there, who to meet, where to sleep and last but not least they also give me challenges.
This way of traveling taught me a lot about the many countries I visited, its people and also about myself... I think it's safe to say that my belief in people, as well as my comfort zone grew a lot :-)
The video below shows you my TEDx talk about this adventure and how being social can enrich your travels and life.

The past 5 years I tackled 6 big ones with the help of friends and followers.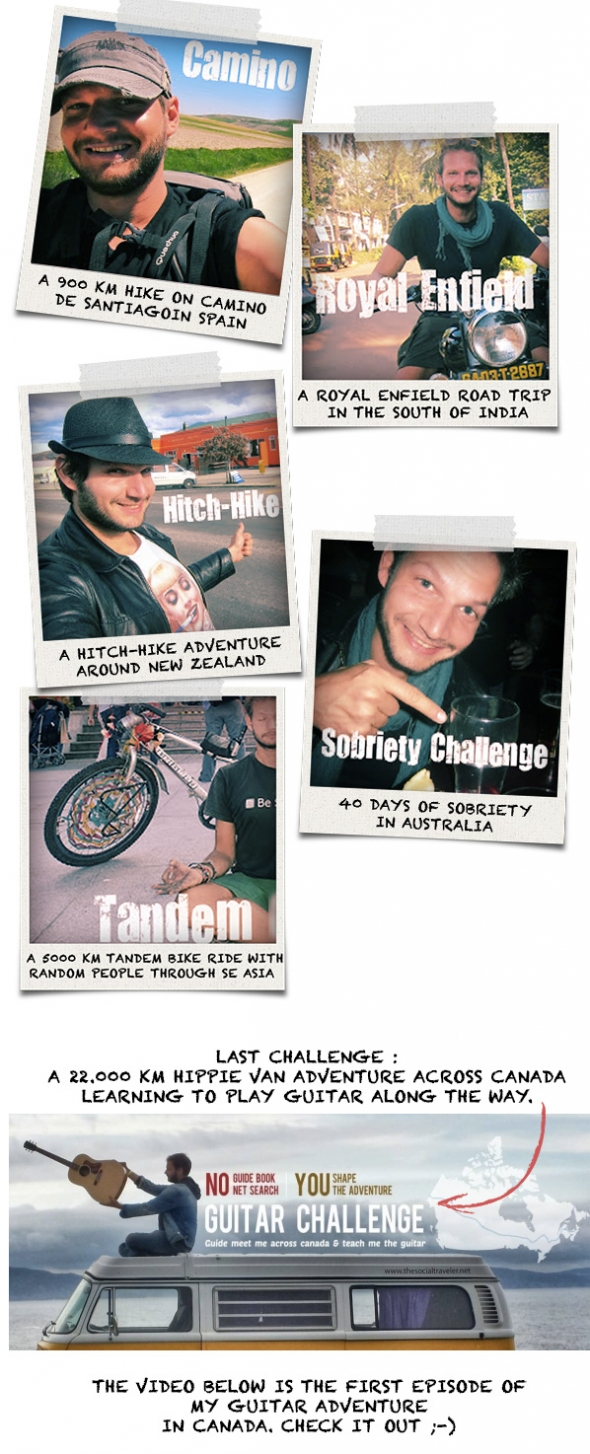 These past years so many people have been telling me to write a book. Well now that I have my 5 year social travel anniversary coming up I thought it'd be the perfect occasion for it. It's totally different from the challenges I did in the past but I'm ready again to take up the glove.

There are so many stories untold and I look forward to finally write them down.





The first book 'Social Across Canada' will tell the story of my guitar and road trip adventure across Canada last year.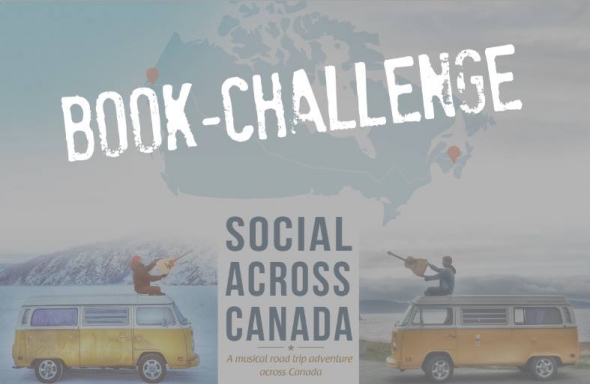 For this challenge I had to find an old VW type 2 (hippie) van, which was a challenge in itself :-)

Then I had to drive across the country from the far East of the country to the far West all the way to the border with Alaska. I drove 22.000 km in total and went from a +30°C summer to a -35°C winter in this legendary '78 van.

But it didn't stop there. Along the way I also had to learn to play guitar.

The journey took me about 6 months and in this time people joined in, helped me with car troubles, they offered me places to sleep, introduced me to their friends, taught me guitar, guided me, gave me tips to drive the van in freezing temperatures with barely any heating... It's been quite the adventure. :-)






This is my first fundraising campaign and to be honest it's quite nerve wrecking :-)
In order to be able to write the book I need funding for a place, the time to write, for the design, promotion and production.

By backing the book you make it possible and basically pre order the book.

You get of course a reward in return for your support. Read all about the different rewards on the right.

Since it's my 5 year Anniversary the GOAL is to get 500 BOOKS backed/ordered with your help.







As with all my challenge you can influence things as they happen on social media.
I'll post first drafts, short stories to choose from and you will also be able to ask travel and personal questions that I'll answer in the book.

So connect and be part of the adventure ;-)






Depending on how much you Back the Book you get one of the following rewards.




Everybody backing the book gets a mention in the 'Thank You' section of the book :-)




I'll send you a hand written postcard (very old school I know) made from pictures I took on my adventure across Canada.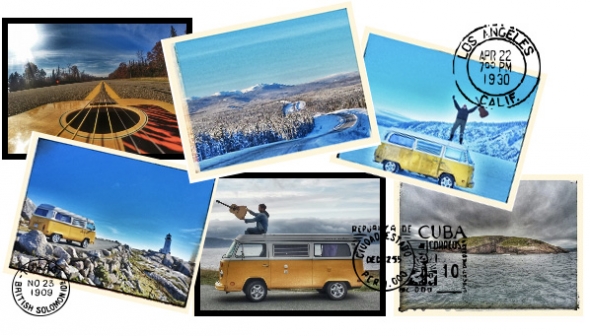 'Social Across Canada' will be a bundle of short stories about the entire journey, written by myself but also from the point of view of the people I met. I'll also focus on how everything is connected and how being social shaped my adventure on the go.
It's a beautiful mix of kind, adventurous and serendipity moments.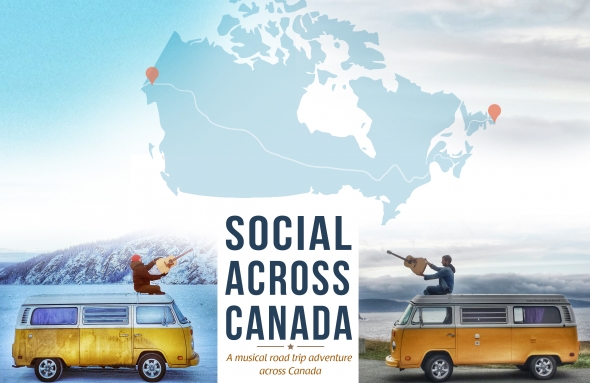 I've been wearing this shirt most of the time on my adventures and I learned that it's a real 'Friend-magnet' since it works as a great conversation starter. I made it myself and I got people asking me all the time where they could get one. Well this is your chance. I guarantee you that it will boost your social life. It's been tested around the world. :-)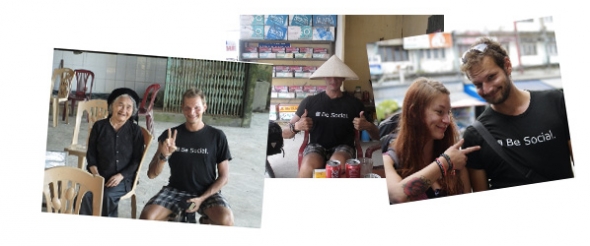 If you want you can get me to jump on a plane or a bus to come visit you and your friends, your organisation or company.

I could come visit you and your friends for a jam and a chat in your hometown. Then there's also the option for me to visit your organisation for an evening of story telling or you can book me for a social media workshop with your company's social media team, I have 9 years of experience in the field.

I'll bring books, social shirts and beers :-)

The visit option is unfortunately only valid in Europe.






6 - PROMOTION



There are also rewards that offer promotion via social media and of course in the book for companies, bloggers, organisations or brands. Via my social channels I reach about 1 million impressions/month.

You find all the rewards on the right side of this page. Check em out and pick your favorite ;-)






You can help me a lot by telling your friends about this fundraising project.
Just share this page with your friends and followers on social media.

I'm sure you know friends that are interested in feel good adventure travel stories or friends that would like to know more how to travel just by being social.

You might even know company owners or digital marketing managers that would be interested to support this project.

Thank you for spreading the word and being social ;-)

Let's do this... TOGETHER!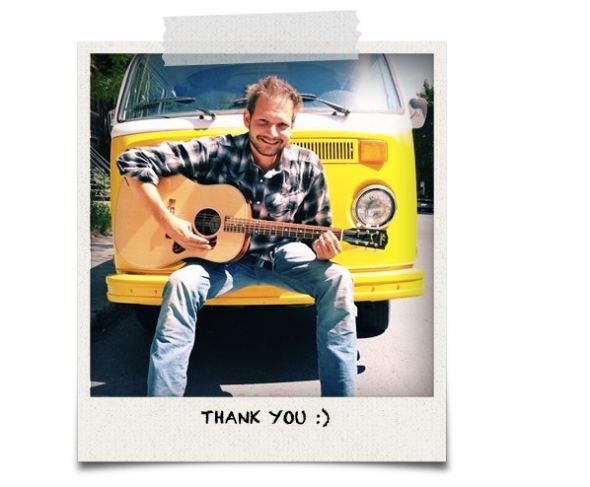 How The Funds Will Be Used
For a place and the time to focus on writing, for the design, promotion and production.