It's difficult to imagine running without music. But cables flapping against you or getting tangled up as you move can end up making listening to your favourite tunes more of a distraction than a help.
We made Eamey Primo3 wireless headphones to take the wires out of the equation, with a stable bluetooth connection, high sound quality and activity tracking features.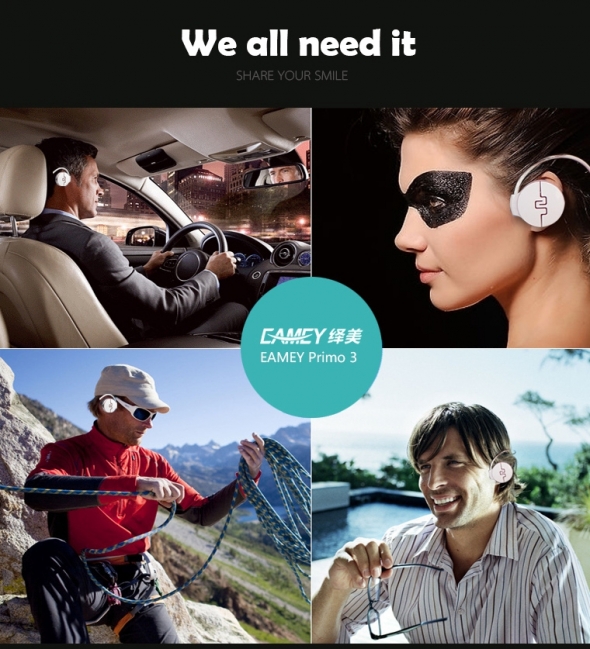 项目背景
很多人喜欢带着音乐一起跑步,当身体的律动和汗水,伴随着音乐旋律一起跳动,会有一种非常奇妙的愉悦感,我们看到,到处都是阳光和快乐,新的世界如同梦幻般的到来。 关于primo3这款产品, 也是伴随着智能的热潮来临,当我们带着运动监测设备,MP3,和蓝牙耳机跑步的时候,时不时被晃来晃去的耳机线勾到,音乐受到一些干扰,当然我们也希望和我们的伙伴们分享运动的快乐,
所以,我们把我们运动时最需要的愉悦,集成到了一起,它不仅仅可以给你带来乐趣,同时兼顾了最流行的社区分享,让运动更加有趣。

PRIMO3 是什么
用户说要有高品质的音乐,于是我们只做拥有高品质音乐的产品。
用户说,要能跑步的时候检测我运动的状况, 于是我们便加上了运动监测和卡路里,距离计算.
用户说,我们还要和小伙伴们分享运动的乐趣,于是便加上了运动社区,可以同步我们的运动数据,小伙伴们可以一起PK,分享自己的运动乐趣。
用户说.....
我们应用户的要求诞生,今天primo3终于来了——给你带来无限运动乐趣!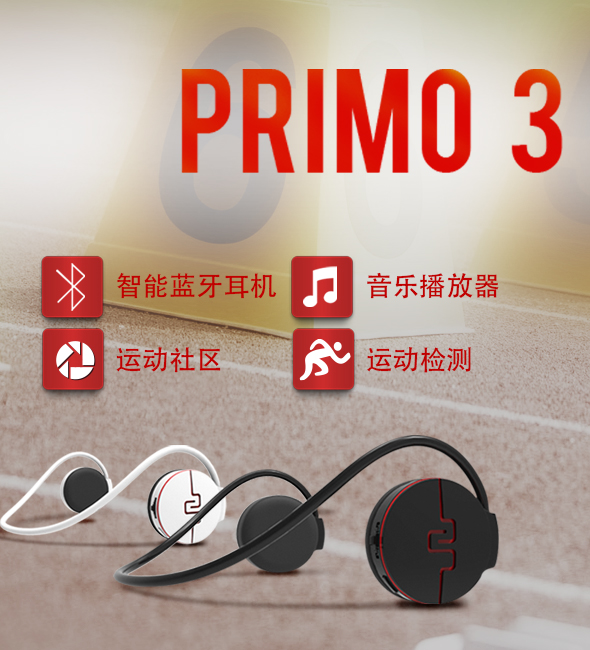 它,是一款智能蓝牙耳机
它,是一款高品质的音乐播放器
它,是一款运动监测设备
它,是一款可以社区交流的耳机
它,是一款属于你的智能运动便携产品
无线,自由至上
运动音乐一个都不能少,伴随着音乐运动起来。无线,便携,时尚就是我们的标签。 primo3 给你带来新的生活体验。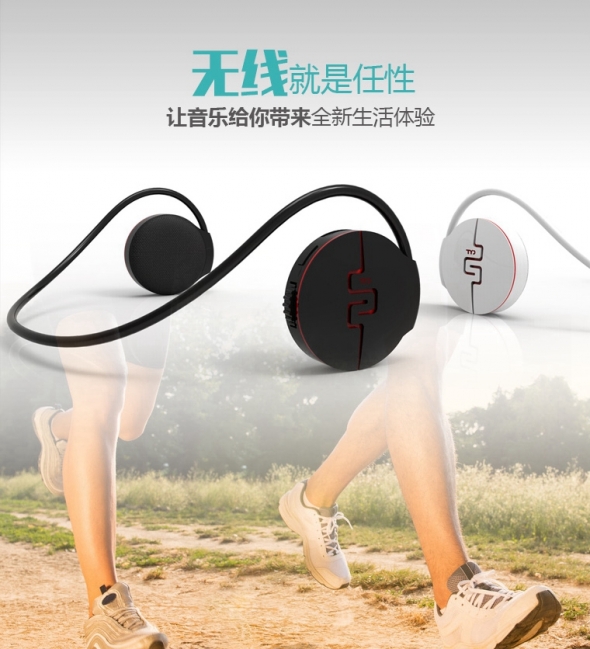 项目的困难和风险
1.功耗
当我们设计这款运动型耳机的时候,我们务必要保持它能够在我们运动的时间内,能够给我们提供美妙的音乐同时拥有运动监测的数据,还要完美的缩小它的身材。所以我们必须采用更小的电池,同时降低各种芯片的功耗,保证我们的最长待机时间达到 190个小时之多,连续音乐和运动达到12小时以上。克服重重困难后,我们做到了!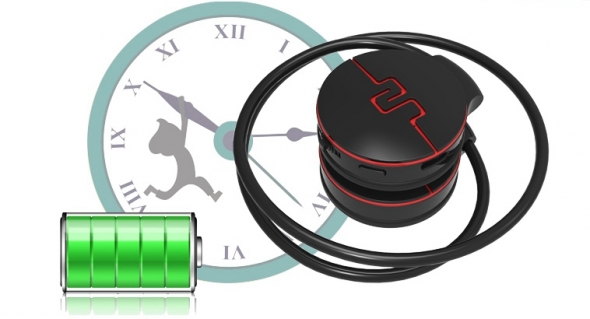 2.社区
我们花了很大的精力在努力细化我们算法的同时,也在做我们的运动社区。它是一个可以互相PK,互相交流,并且可以举行各种竞赛活动的社区。云服务可以存储你每一天的运动信息,并且可以分享给你的朋友们。在其中我们遇到了各种数据的问题,最终我们可以呈现到您面前的是一个可以不断扩展功能的云社区平台。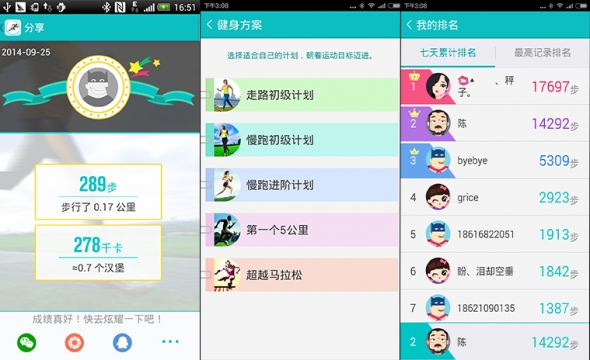 3.材质
我们选用了高弹性的合金,来保证它的不会变形的特性,然后用热缩管来保证它的耐用性和不敏感性,同时也防止各种肤质的过敏。而最终的PRIMO3已经完美成型,希望给你带来更多惊喜。
项目的进度
项目进度
2014年3月创意头脑风暴及确立设计原则
2014年4月ID设计
2014年5-6月硬件开发及APK开发
2014年7-8月工程样机内部测试2014年9月投模及功能完善
2014年10-11月内部小批量试产及内部员工真机测试,完善APK,开始APP的开发。
2014年12月量产计划,准备生产物料,APK上架
2015年1月底2月初上市发货,APP上架
关于我们
EAMEY专注于智能穿戴类领域,集研发、设计、生产和销售于一体的创新型公司,秉承打造穿戴行业最具风尚、最具潮流、最具前沿企业为目标,致力于引领智能穿戴行业的发展。
EAMEY亚洲设计工作室集结了香港、韩国、台湾等亚洲最前沿跨界设计新锐,他们是一群激情四溢的学者,是一群有着丰富人文素养的哲人,是浪漫主义大师,是时装界的跨界营销潮人。
EAMEY的目标:结合创新的产品概念, 高水平的工艺技术, 引人入胜的外观设计,并且运用高品质的材料进行独特的处理, 创造出我们独具特色新颖的产品,EAMEY Design的产品不仅是装饰,更是表达一种独特的乐活生活态度。
EAMEY鼓励并引领您迈向健康乐活人生,希望我们的产品设计和随之的健康体验能够渗透您生活里的每一个部分,让您拥有健康和快乐。
欲知更多关于eamey的产品,请点击:
www.eamey.com
当然也可以参与我们的产品讨论:QQ群:252619521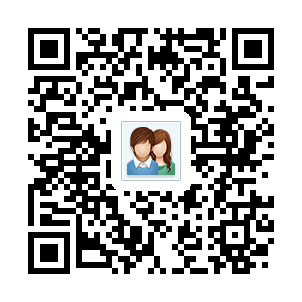 请关注我们微信公众号: EAMEY888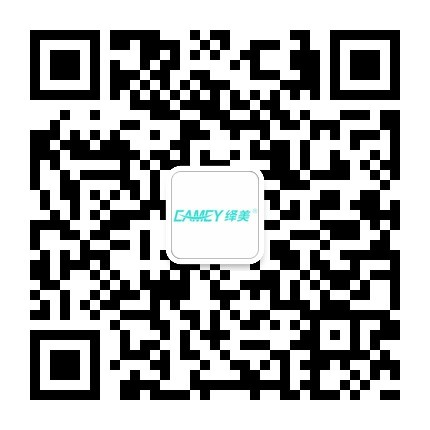 客服电话:400 – 880 - 8931
联合微信公众号: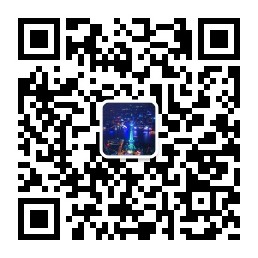 音质 超乎你的预期
在城市的每一个角落,都有着一群对音乐无比热爱的小伙伴们。对音乐的要求,他们有着自己的不同的见解和理解。
我们拒绝平庸,我们要做的只是原声音乐的搬运工,真实感受原声音乐的乐趣。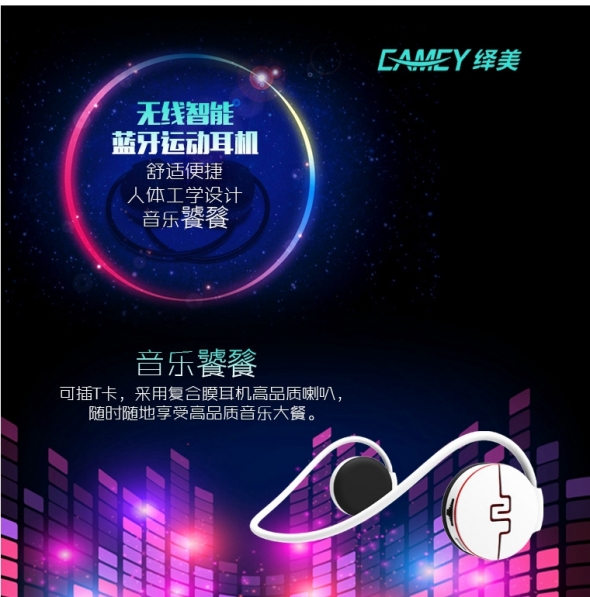 轻巧便携
音乐,FM, 运动监测,时尚,一个都不可少。仅仅34g的重量,让你完全没有负担。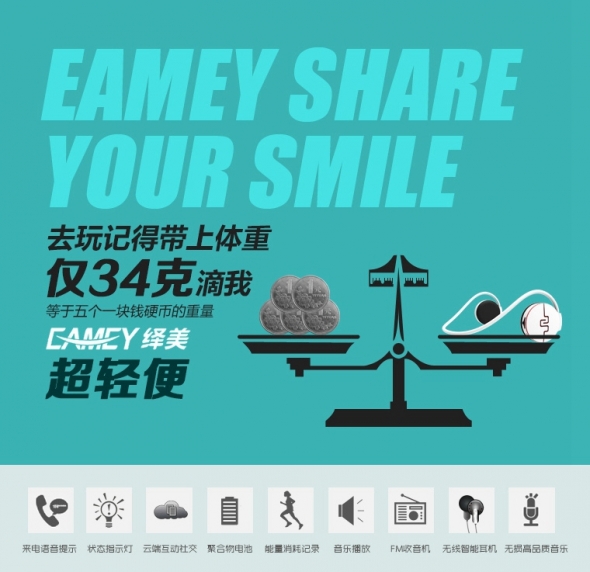 智能降噪 领先技术
产品采用了bluetooth 2.1 和 4.0双模技术,在提升传输速率的同时降低了功耗;同时强大的兼容能力,让你可以使用更多的蓝牙设备与primo3连接。
来电提醒,消息提醒功能,让您享受音乐和运动的同时不错过任何重要的信息。
领先的数字降噪技术,完全过滤杂音。
除此之外,primo3还支持插入TF卡,本地音乐播放,完美的原音输出,给你带来与众不同的体验。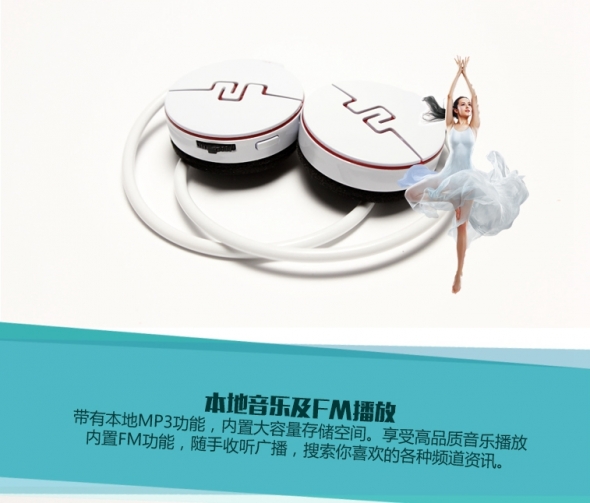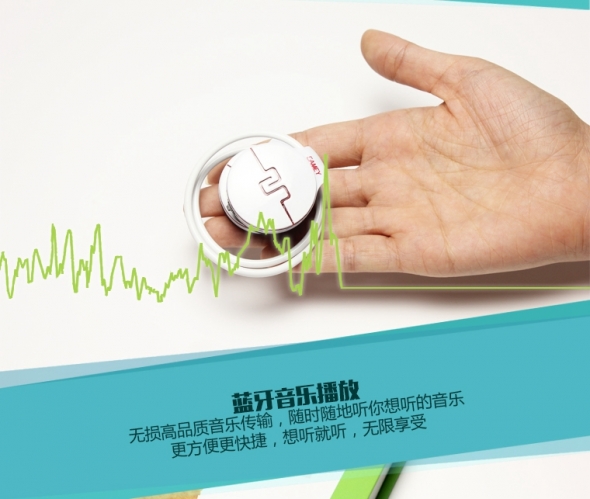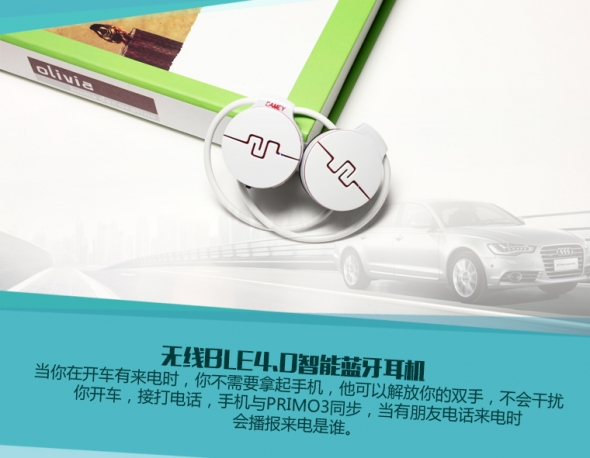 更多功能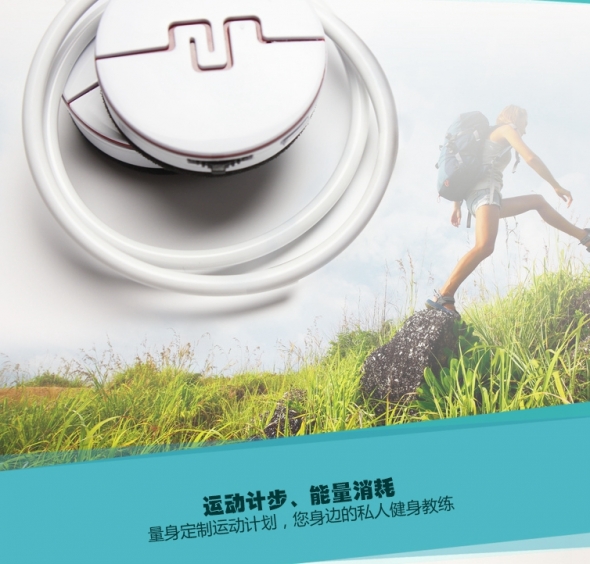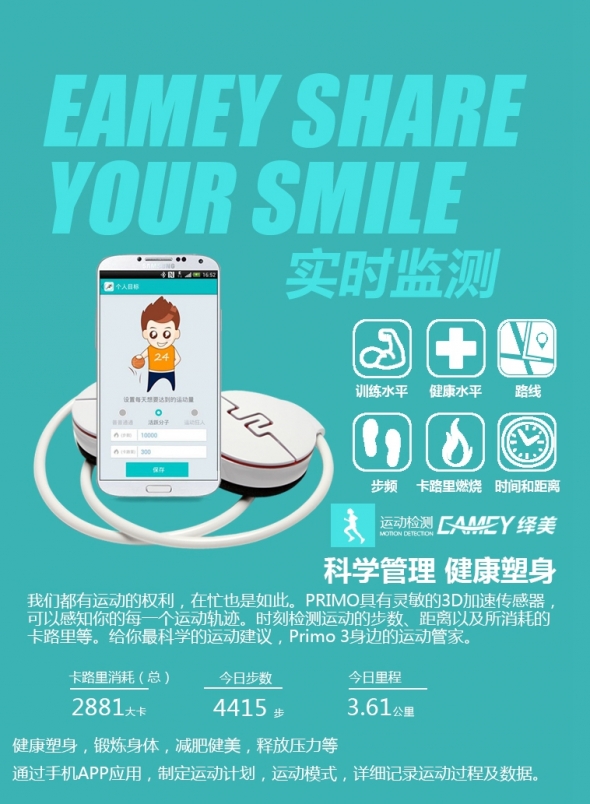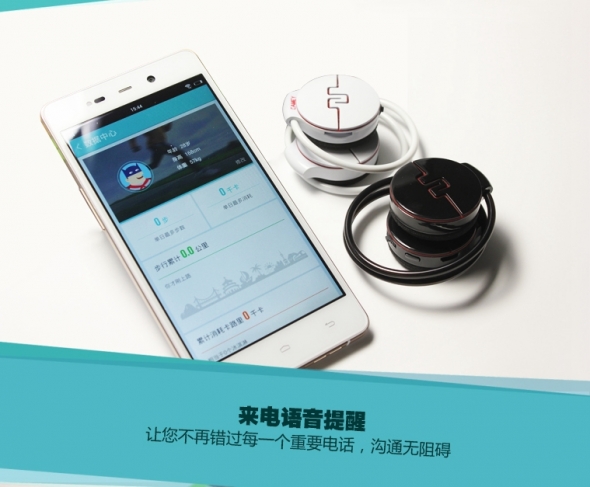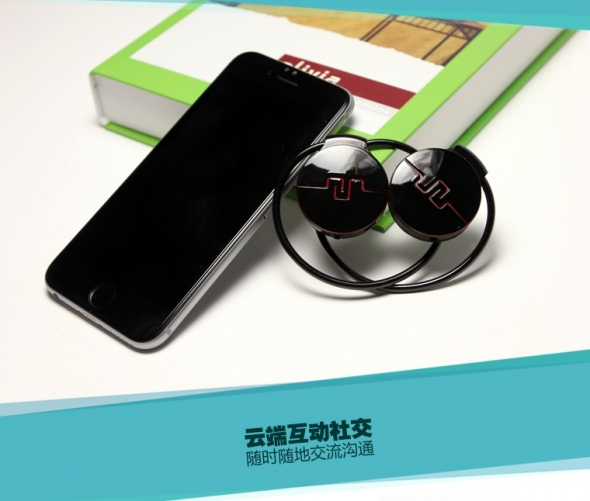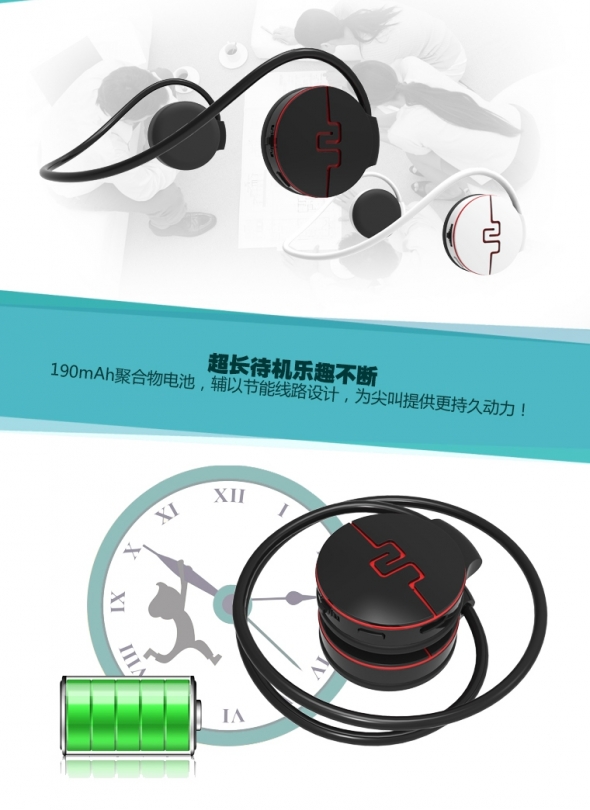 材质和参数
天生有爱, 呵护无处不在— 人体工程学设计,不会轻松掉下;医用级亲肤材质,呵护你的健康。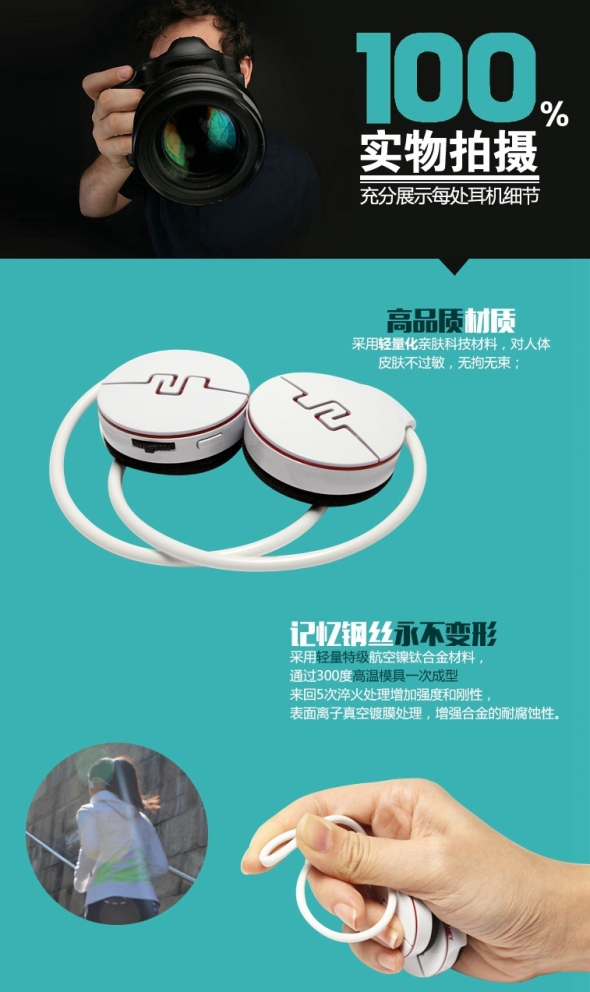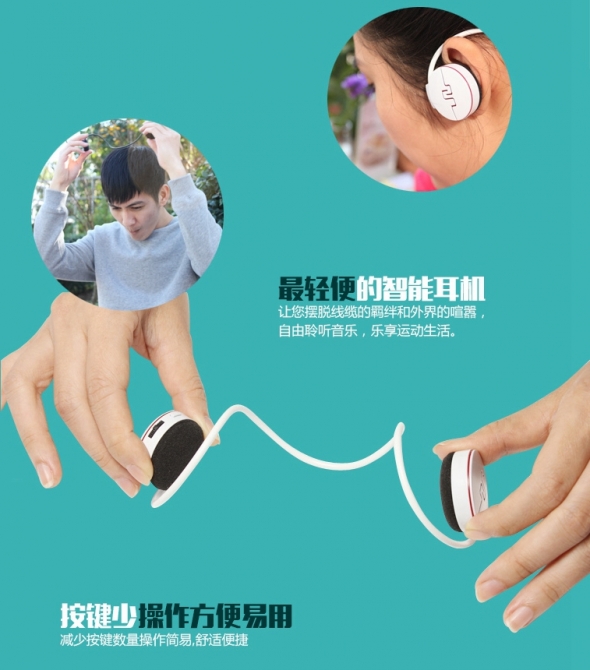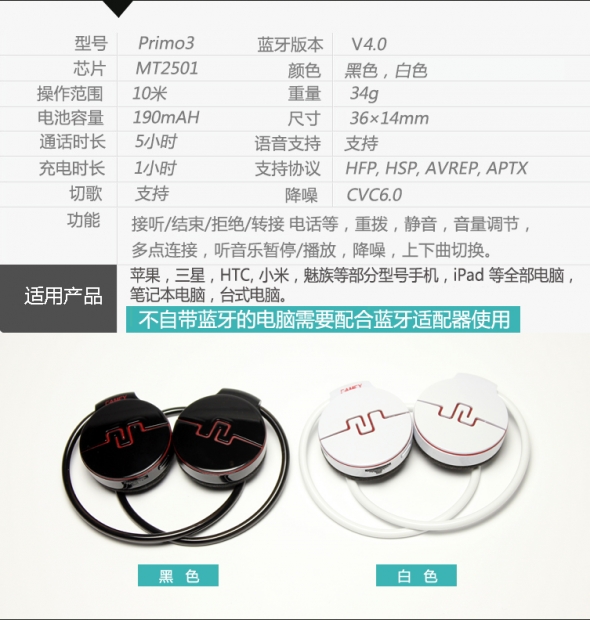 轻松上手
简洁按键配置,使用超轻松:
1、长按开关按键启动
2、轻点开关键,可以切换模式:蓝牙连接--本地音乐---FM;
2、如果有来电,直接点击接听键接听电话;
3、长按接听键,便进入运动模式,开始计步;
4、来回长按住拨轮,调节音量的大小,拨动拨轮切换歌曲, 而按下拨轮是暂停和播放。
操作过程中均有语音提醒,让你使用起来轻松无阻碍。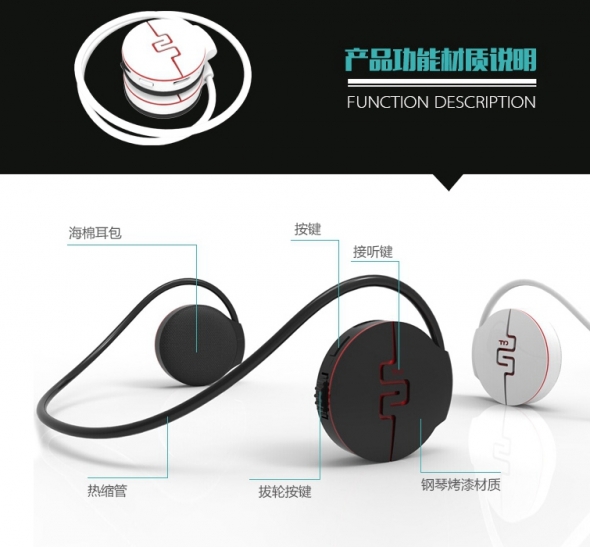 What does it do?
Primo3 is a Bluetooth headset with
- stable connection for disruption-free music
- TF/Micro SD card slot for playing music independently of a phone or player
- high quality sound playback
- sensors to track and record your activity
- access to an online community where you can share and compare your exercise achievements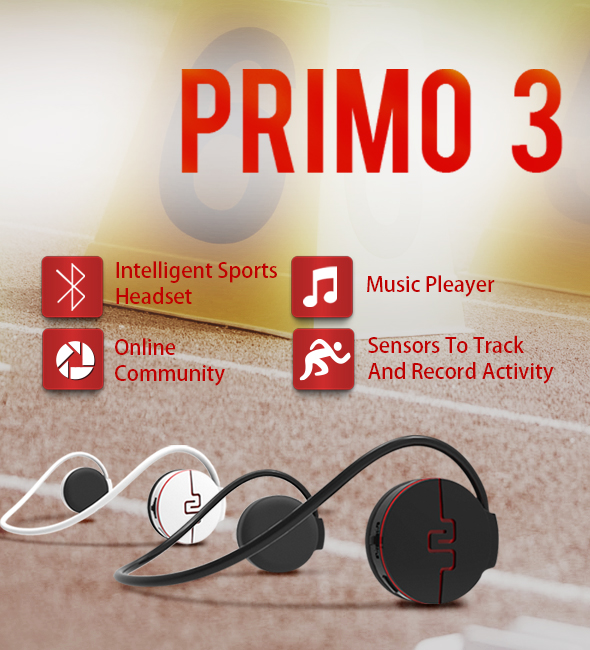 Go wire-free
No more tangles or sweaty wires (ew!) after a run. Primo3 connects with your phone to stream music to you on the go, completely wire-free.
Compatible with both Bluetooth 2.1 and 4.0, it works with new and older devices alike.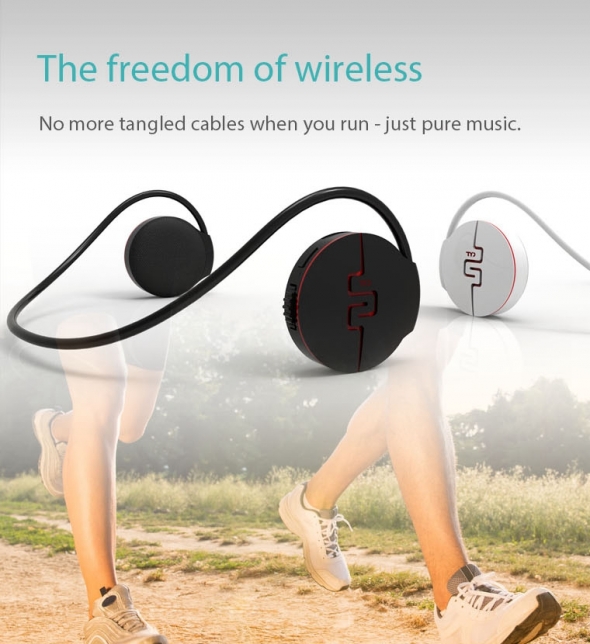 Excellent sound quality with noise reduction
Affordable but without compromising on sound quality, we designed our headsets with the music lover in mind, and added digital noise reduction technology.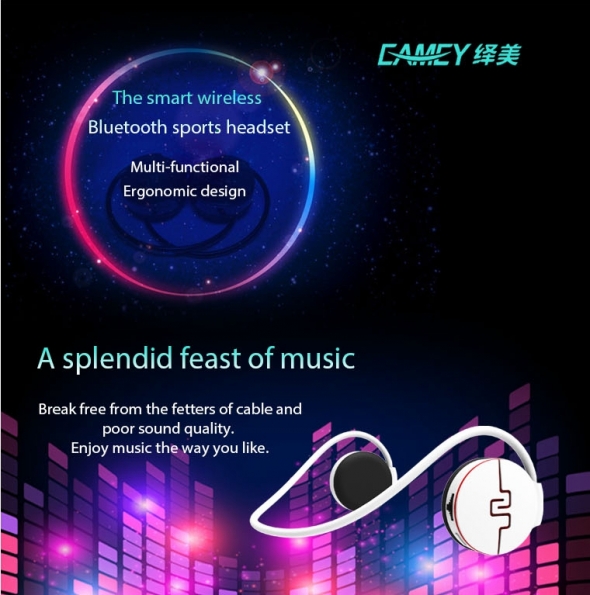 Incredibly light
Weighing less than a handful of coins, Primo 3 is meant to sit comfortably on your ears without weighing you down or pinching.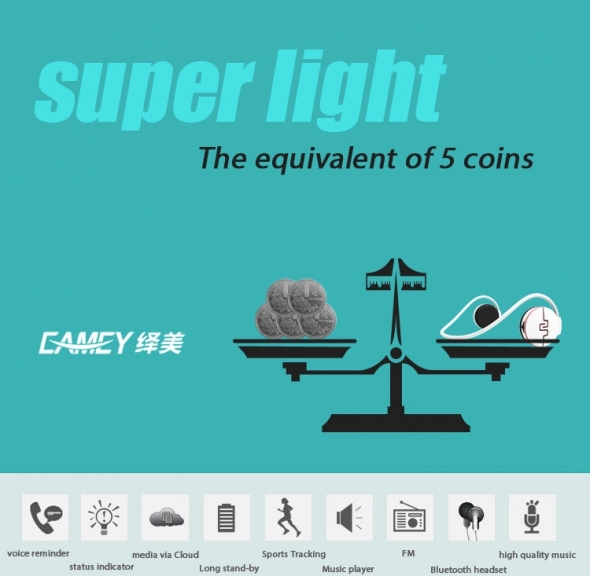 Use it wherever and however you listen
With an inbuilt microphone, the Primo3 can also be used as a phone headset. A TF/Micro SD card slot means you can also use it as a music player in its own right - perfect if your phone dies while you're on the go!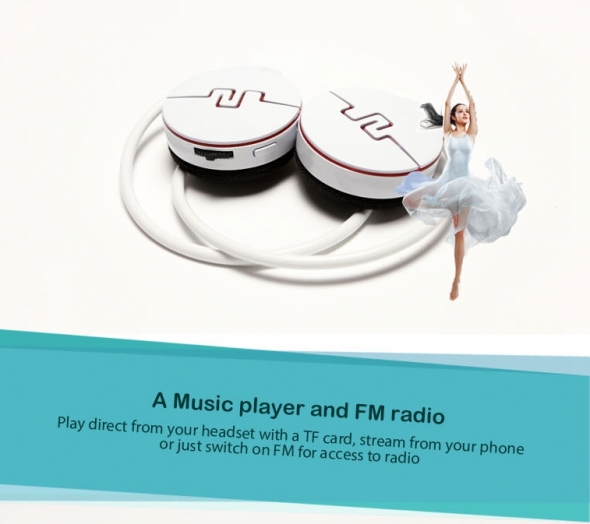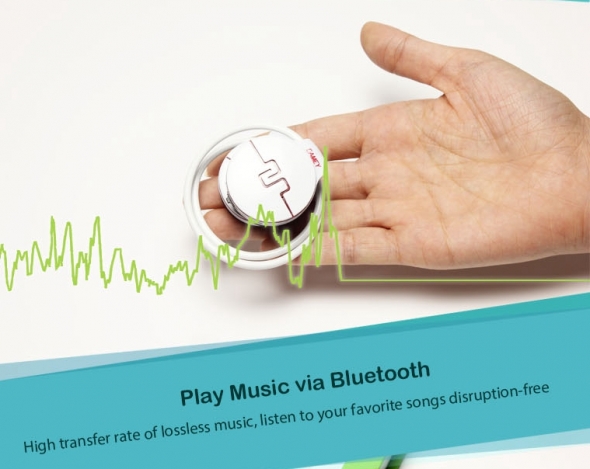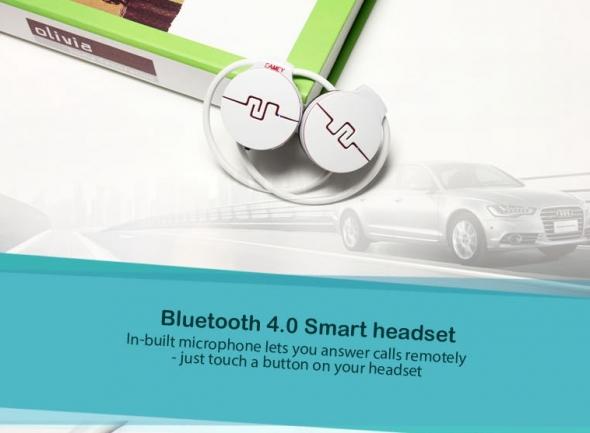 Connect with the app for even more functions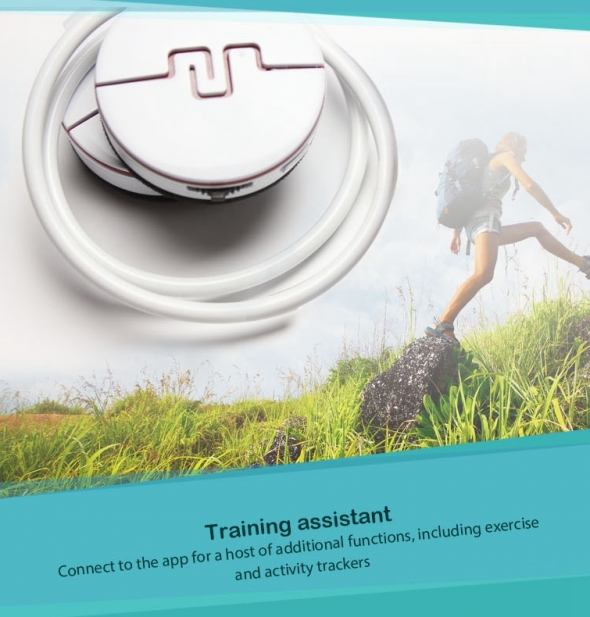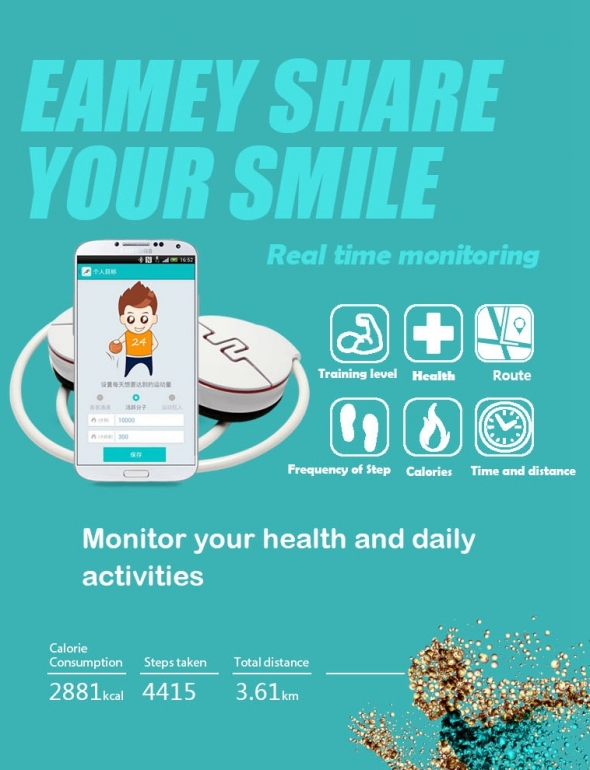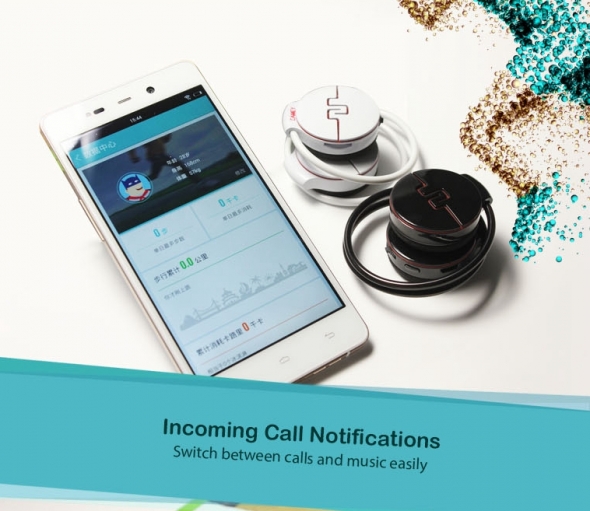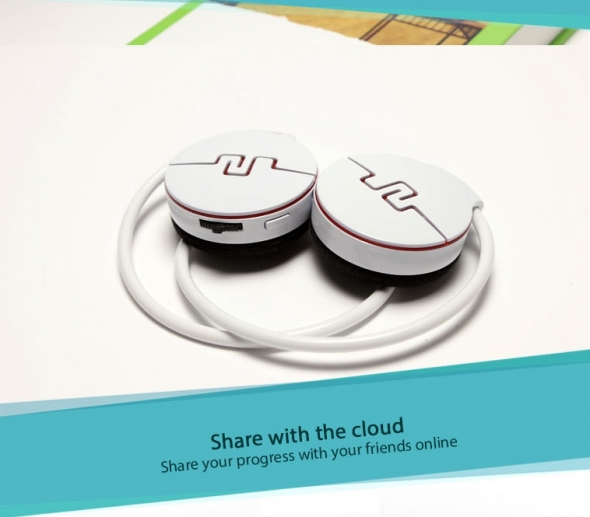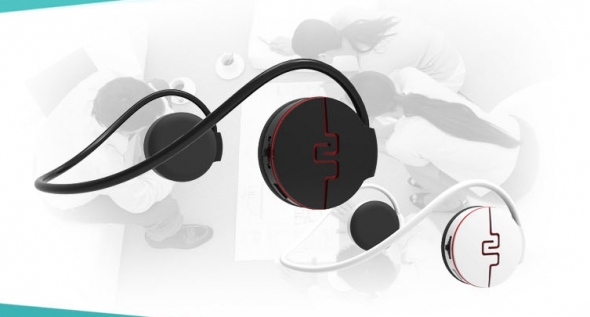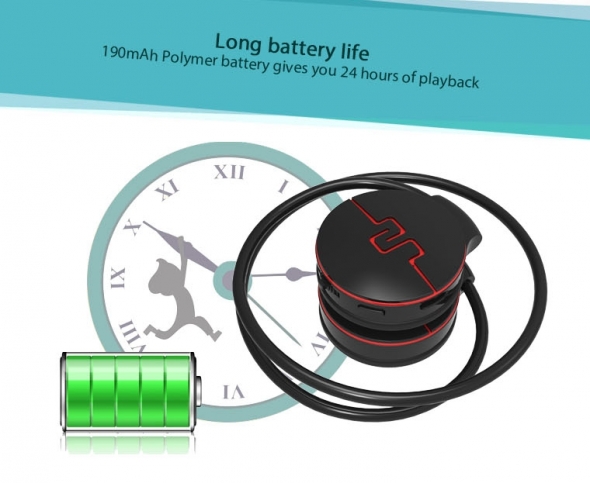 Materials & Tech Specifications
We chose medical-grade materials to make Primo 3 hypoallergenic - good for all kinds of ears!
The wires are made of Memory Metal, a highly durable material that allows for multiple bending and twisting without damage or deformation.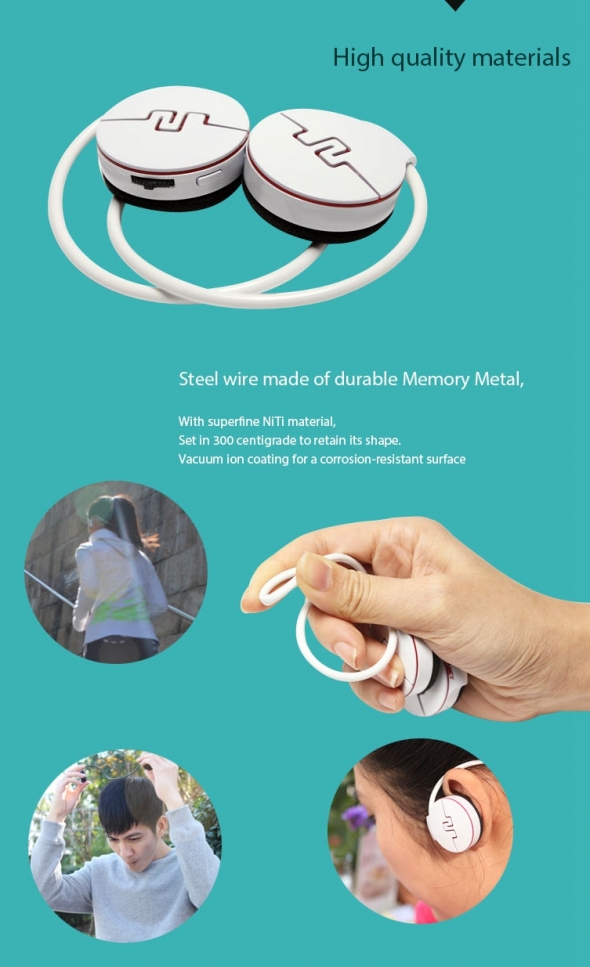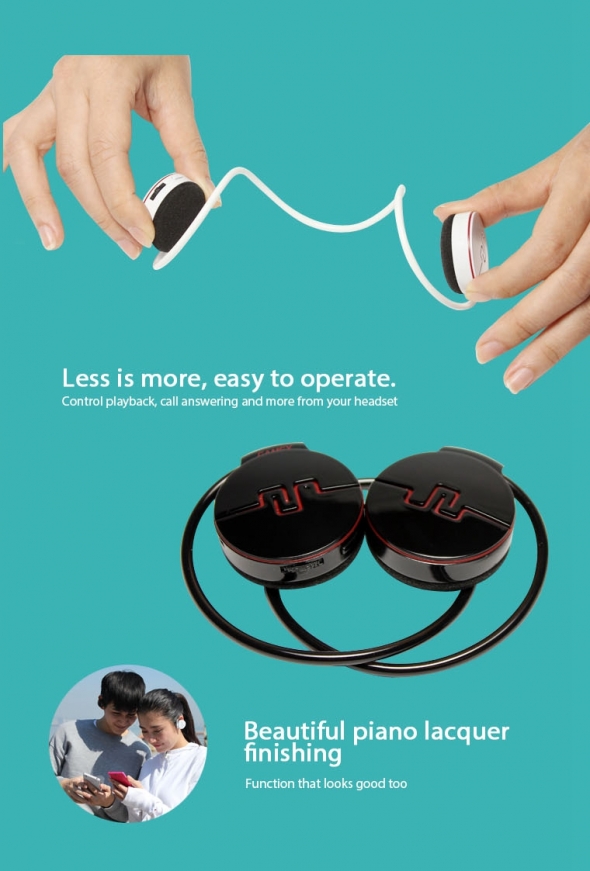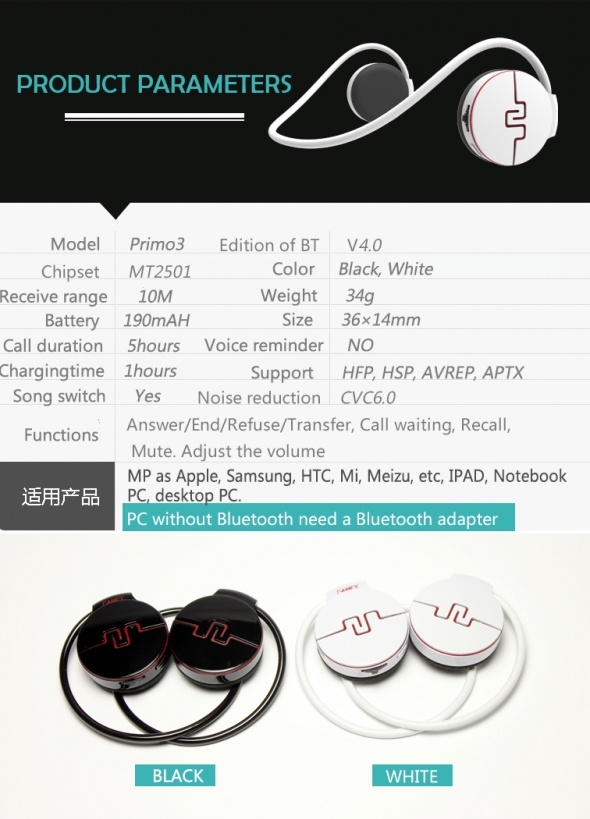 Easy to use with remote buttons
Adjust volume, change songs and answer calls - all without touching your player. We made sure our headset is easy and intuitive to use.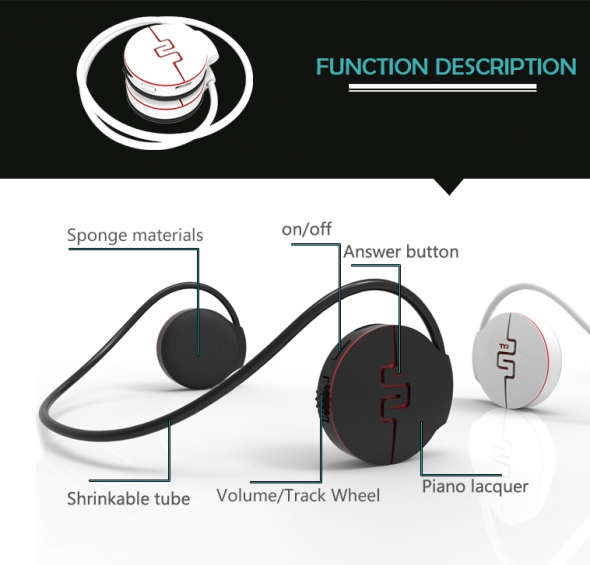 Contact us
We are prepared to offer help any time.
Customer service:
Tel: +0086-400-800-8931
Twitter: @Eamey_tyd
Email: zhangcong@tydtech.com

Business cooperation:
Email: huda@tydtech.com
How The Funds Will Be Used
Funds will be used for the production run of the Primo3, as well as to enable us to continue to improve the software and functions.

This is just the start - if we raise more we'll be able to fund the development of new and better products.


The Challenges
1. Material tests
As an intelligent wearable device for sports, the first stand-out feature was portability. We tested several different materials,include flexible plastic, medical silica gel and highly elastic steel for advantages and drawbacks. At last, we chose a highly elastic alloy and wrapped it with medical-grade rubber, for its durability and hypo-allergenic properties.
2. Getting the most out of our batteries
We needed a compact battery that could go the distance with our users. Through testing, we settled on a power efficient solution that would allow over 24 hours of use between charges.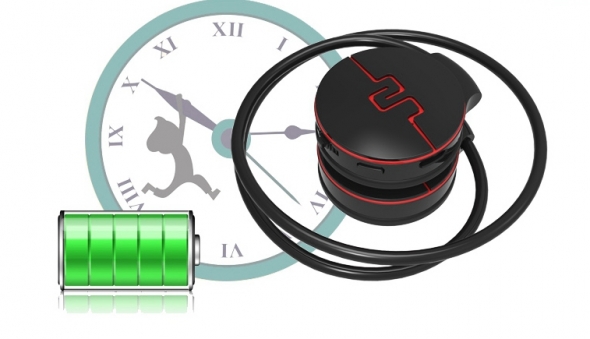 3. A current and active community
We worked hard to ensure our cloud service would be accurate and current in its data collection, so you can share real-time stats with friends and the Eamey community.