It's game on for Marriage Equality!
A bill has now been introduced to Federal Parliament that may give all Australians the freedom to marry the person they love in the country they love in 2015. To get this bill through, we need you!

We are undertaking our most ambitious nationwide campaign ever. Marriage Equality is achievable in 2015 but only with your help.
We have identified the 50 federal Members of Parliament and Senators we could win over and we only need another 25 votes to achieve marriage equality.
We've already started travelling to their electorates and activating their communities with fantastic results.
To get to as many electorates as possible and start our effective local campaigns we need to raise $50,000 by the end of the year. If we don't our opponents will continue to call the shots and do and say whatever it takes to block progress.
Help fund the fight and join #TeamEqual today!
How The Funds Will Be Used
We are travelling to electorates all around Australia to empower local communities to win over the hearts and minds of their members of Parliament.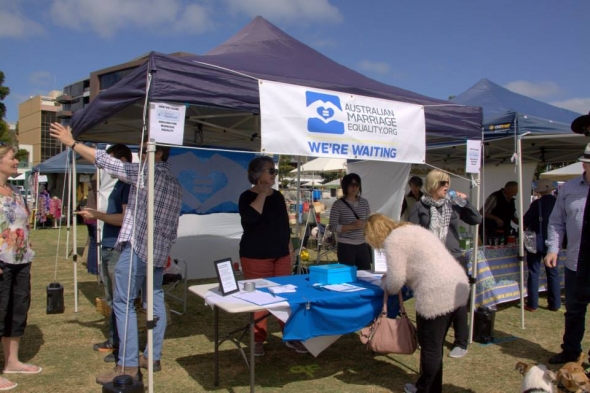 We only need 25 more votes in the lower house and we've identified 50 electorates that that could be critical.
While our volunteers continue to donate their time we still need help to cover the cost of transport, accommodation and materials for each visit.
Each visit costs us about $2,000 so we'll need $50,000 to visit at least half of the 50 electorates. We think that would be a fantastic start.

The Challenges
Our biggest challenge continues to be the political reach of the opponents to reform.
They may only represent 14% of Australians who strongly oppose reform, but they're well funded and continue to have a major influence in parliament.
On hearing the news that the Senate will be able to vote on a Freedom to Marry Bill, a prominent opponent said,
"Libertarian Senator David Leyonhjelm's bill to redefine marriage abolishes a child's most basic freedom – to be loved, known and raised by her or his biological parents."
We can't have this being the loudest voice to MPs considering the bill. We need to educate and activate all of our supporters across the country to speak up in favour of respecting all families, regardless of their structure.

So, we need your help. We need to travel to each electorate and educate marriage equality champions who can build momentum for reform within their own communities to show their local MP that it has strong support at home.