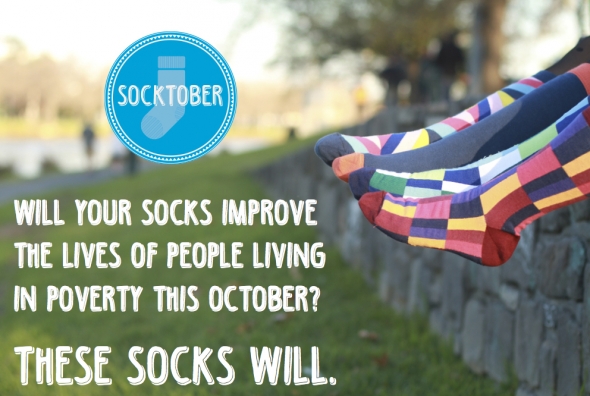 WHAT IS SOCKTOBER?
Socktober is your chance to make a difference in the world by simply buying a pair of socks.
This October, we are inviting you to refresh your sock drawer and help improve the lives of people living in poverty across South Africa, Kenya and Papua New Guinea. All you have to do is pick up a pair of our socks (or a few pairs) to help raise money for Spark* Changemakers!
In this year's campaign, we are trying to change the lives of 1000 people in Africa and the Pacific, and we can't do that unless we raise $10,000 during October.
SO WHO IS SPARK* ANYWAY (AND WHAT'S A 'CHANGEMAKER')?
Spark* International is non-profit organisation that finds local social entrepreneurs in developing countries, and gives them the tools they need to launch and grow projects that improve the lives of people living in poverty.
We call these social entrepreneurs 'Changemakers' and we believe that these local heroes have the best solutions to poverty in their communities. They know what works (and what doesn't), they are there for long run, and they are more passionate than anyone.
So far, with the support of Spark* and individuals like you, our Changemakers have significantly improved the lives of 38,952 people living in poverty by creating a job, keeping a kid in school, providing clean water or another massive outcome.
AND HOW ARE MY NEW SOCKS GOING TO IMPROVE THE LIFE OF ONE PERSON LIVING IN POVERTY?
On average it costs Spark* $6.50 to significantly improve the life of one person living in poverty.
Why does it only cost 6.50?
- Spark* operates lean (we don't drive around in fancy landcruisers or have big expensive offices)
- Spark* invests in local individuals with innovative, creative and sustainable solutions to social problems.
- Spark* covers all of our administration costs by running clever social businesses in Australia.
So, let's talk real examples. When Carol Odera became a Spark* Changemaker she had helped some Kenyans get solar panels on their huts. Now, she has an awesome model that is making money, getting solar energy and clean cooking stoves to homes at a price cheaper than kerosene and that has already impacted 900 people. All of these people now have more money in their family budget each day, less smoke in their homes and more light to stay safe and for kids to do homework. There are another 38,052 people who have had their lives changed in equally powerful ways by all of the other Changemakers. Awesome, right?
With your investment (after we cover the cost of your lovely new socks) the Spark* Changemakers are likely to change the life of one person living in poverty. So literally by putting your socks on, you can help us change a life.
SO TELL ME ABOUT THESE SOCKS!
This year in partnership with
Loco Socks
, Socktober by Spark* is bringing you beautiful Australian-made goodness in six new styles!
Our socks are beautiful quality, ethically produced and "one size fits most". We've got some crazy patterns for the wild one in you, a lovely thick winter sock, and a simple style for your workplace.