Get in on the secret
This November, leading new music group, Ensemble Offspring will be joined by a cast of dancers and actors to explore the secrets of hidden sound in a hybrid arts production inspired by music that is deliberately shielded from public life.
As part of the audience, you will be invited to join this exploration over a series of fantastical scenes referencing forbidden ceremonies, legally extinguished music, covert music-making and private love-songs. You will move through the catacomb-like maze of Sydney's Lower Town Hall uncovering secrets and hidden messages in this intimate performance, a cross between music, dance and installation.

As one of our Pozible supporters, you can choose your own Secret Noise adventure and become involved in the performance in different ways, whether it's through a personalised performance at the show with your ticket purchase, a personally engraved copy of the limited edition Vinyl EP and CD, or exclusive preview shows and listening experiences.
Created by composer and co-Artistic Director of Ensemble Offspring, Damien Ricketson, The Secret Noise is full of hidden references from Haydn to Shostakovich to Led Zeppelin. Damien has also created new musical instruments, along with a series of ways to interact with the piece including the performance experience, a collection of recordings and a website – the more you engage across these platforms, the more secrets you can discover.
The Secret Noise has something to offer for everyone – from those who love intimate performance experiences of new sound worlds, to anyone fascinated by work crossing the boundaries of music, dance and performance. And for those who can't resist uncovering mysteries, the work is like the ultimate music trivia, where you can delve into the experience and try to uncover the more than 35 hidden messages and music references.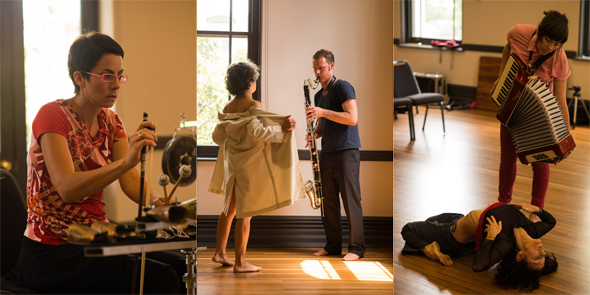 The premiere season at the Lower Sydney Town Hall features some of the leading names in contemporary performance, including musicians from Ensemble Offspring Claire Edwardes, Jason Noble and Bree Van Reyk, dancers Narelle Benjamin and Kathy Cogill, actor Katia Molino (who has learned to speak and sing backwards for the work – a skill now shared with Mozart), and Director Carlos Gomes, with lighting design by Fausto Brusamolino.
Don't miss your chance to get in on the secret. There are only four performances, with limited audience capacity at each performance.
See the Secret Noise:
Thursday 20 November - 8pm
Friday 21 November - 8pm
Saturday 22 November - 3pm
Saturday 22 November - 8pm
Photos from the 2013 creative development of The Secret Noise. Photography Ollie Miller.

Some of our other work
Ensemble Offspring is a dynamic Sydney based organisation dedicated to innovative new music at its best (Sydney Morning Herald). Led by Artistic Directors Claire Edwardes and Damien Ricketson, the virtuoso team of musicians embrace a broad and progressive repertoire, from seminal chamber works of the past 50 years to improvisation and the creation of striking interdisciplinary productions with a varied array of collaborators.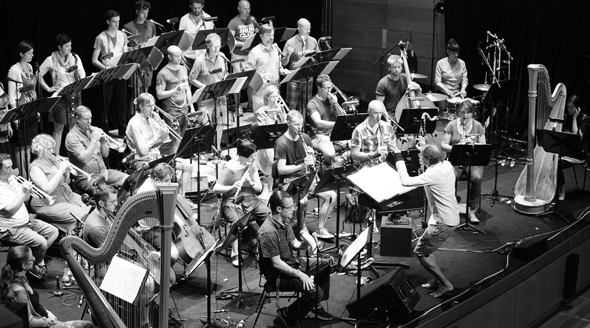 Ensemble Offspring perform with Mike Patton, Sydney Festival 2014. Photo by Chris Frape.
Recent highlights include performances at Kings Place (London), Brugge Concertgebouw (Belgium), a sold out Sydney Festival show with Mike Patton and Lee Ranaldo and our regular Sizzle series at Petersham Bowlo. In 2015 we celebrate our 20th birthday.
Fractured Again, Sydney Festival 2010

Ensemble Offspring is assisted by the Australian Government through the Australia Council, its arts advisory body and the NSW Government through Arts NSW. The Secret Noise is supported by the City of Sydney.


How The Funds Will Be Used
Funds will contribute to the performances of The Secret Noise at the Lower Sydney Town Hall in November, including performer fees.

Most importantly, contribution toward this campaign means that you can choose your own Secret Noise adventure, by choosing the reward that will give you a completely personalised experience of the project - whether it's through a personalised performance at the show with your ticket purchase, limited edition CDs and vinyl EPs so that you can research to discover more hidden meanings in the work or the other unique experiences on offer.