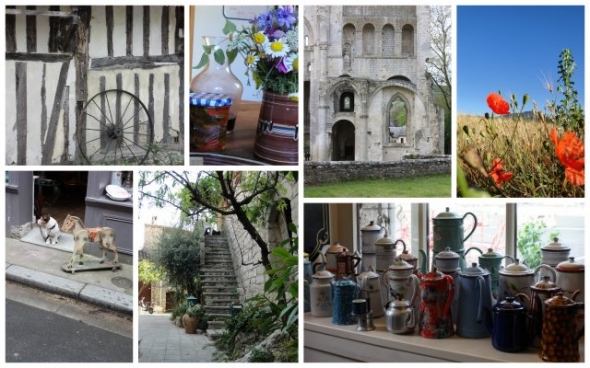 France fulfills so much of what I love about life, art, history,nature, food and wine and a certain soulfulness which is hard to describe. In the last three years I have been making textile pieces in which I have tried to encapsulate those feelings.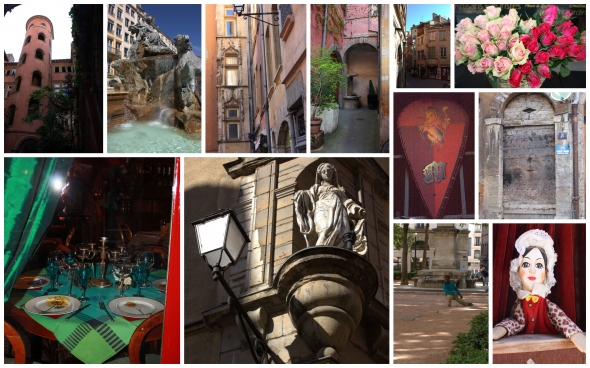 I am often asked what inspires my work, and there is no easy one line answer. The only way I can really explain it is to show you. The inspirations, the thinking , the tools, the stops and starts and the finished pieces.
I am laying bare how I work, what I see and what inspires me. I want this book to be visually inspiring and hopefully to encourage others to explore ways of looking, ways of understanding and expressing.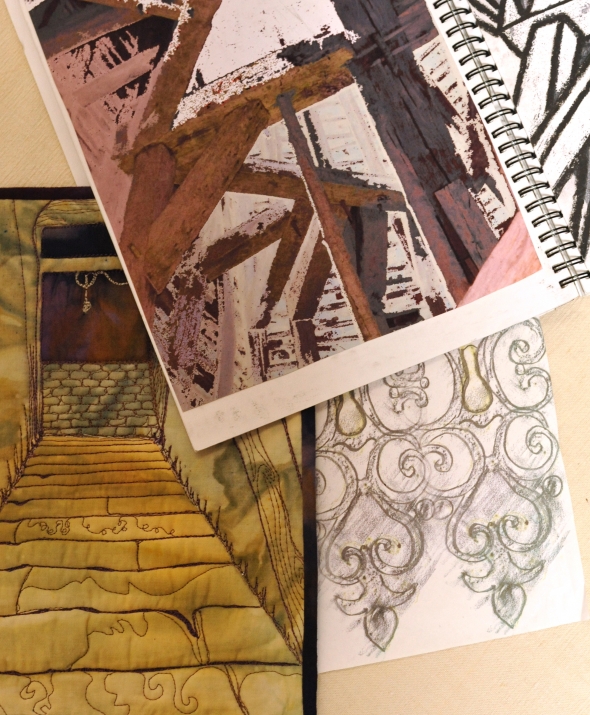 I have decided that self publishing is the best route to show this process. So I am launching my creative process out into the world in the hope that you will join the Musings in Textile team to cover the costs of production, design,editing, pre press and printing, by placing an order for the book or by purchasing one of the very special reward packages that we have created for you.
Our Team- I have been a practising textile artist for 20 years and have embraced many techniques in expressing my art. Nothing makes me happier than making colour, printing, constructing and stitching textiles. The fact that my creative process is often fired by travel has made me look more closely how travel can inspire new work. I have also been a freelance teacher for many years.
Celeste Galtry, the book designer is a final year student in Visual Communication and Design at RMIT Melbourne and her brief is to design the book and convey my ideas in a beautiful inspiring way. The fact that she is my daughter adds to the personal feel of the project and we hope this is the beginning of more publishing collaborations. All French translations are thanks to our hard working translator.
My aim is to release Musings in Textile: France in early December 2014. Below we have provided pictures of some pages, still in draft form. Please note in the image below, the second portion of text will be a French translation but for the draft we have not yet received the translation.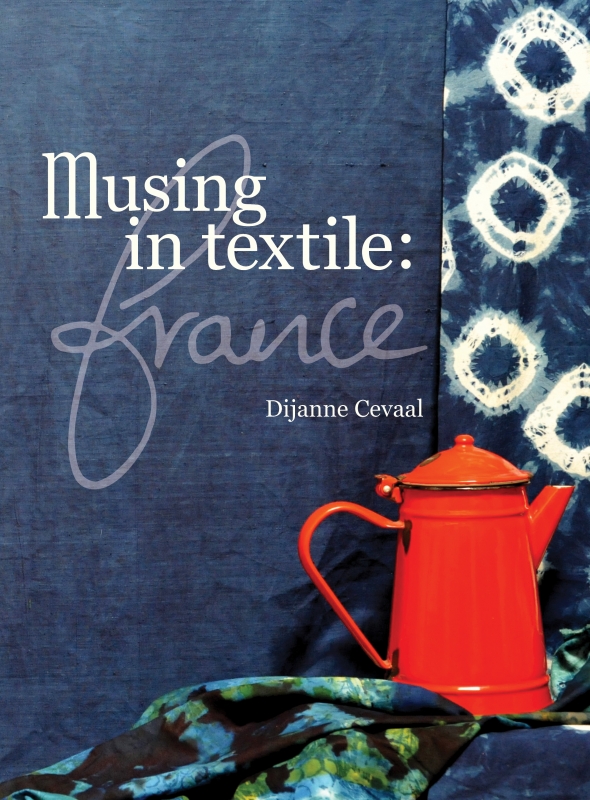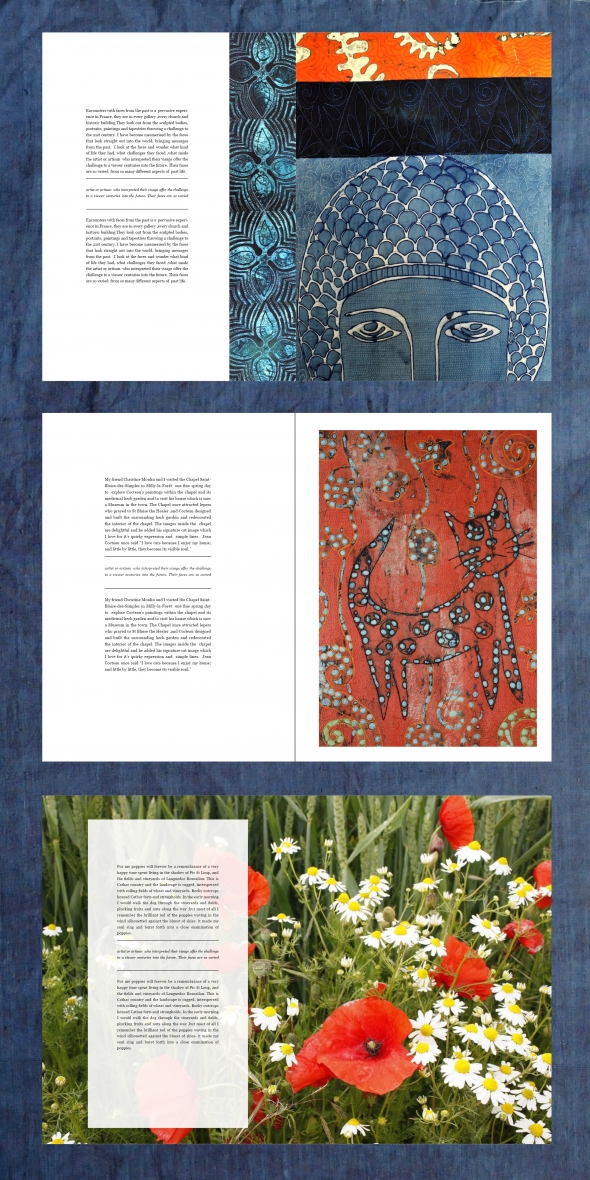 If you would like to learn more about me or My Musing in Textile : France project you can stay in touch with my
blog
or Facebook ,Twitter and Pinterest
Please feel free to blog or share through other social media ,about the book in the coming days as preordering the book through this fundraiser is the only way to ensure that the book will be published and there are some wonderful rewards available only as part of this campaign.
I want to thank you for your support over the years and the only way forward is to keep creating and sharing what I do.
Without your support this project will not be realised.
Preview of Musing in Textile:France
A preview of the Introduction to our book. The french translation is not final but we do not want our translator to spend a lot of time and effort if our project is not funded.
Preview- Introduction
Some Of My Previous Work
I have previously written books and had books published but none of these have been self-published Arthouse style publication.

The books published are...

Le piqué-libre : Appliqué & matelassage machine, 72 blocs d'inspiration (French) Paperback – 21 Mar 2008
Le piqué-libre : 72 nouveaux blocs (French) Paperback – 9 Sep 2010
Ravissant Lutradur (French Edition) (French) Paperback with Marion Barnett
Tifaifai Renaissance. Paperback – January 1, 2002

How The Funds Will Be Used
All funds received will go to design, translation into French, producing and promoting of the book and dvd. Here are some of the specifications for the book.

The book will measure 285mm x 210 mm and will be hard cover case bound with a jacket.
The book will contain 240 pages and be in full colour .
The book will also contain a DVD insert with videos and pdf files of techniques used by the author.
The retail price will be $49.95
The book will be in English and French. This funding will be the cost of printing 1000 copies.

If we get over funded, the funding will go towards producing another book this time about Italy.

The Challenges
To anyone new to self publishing projects, there are always learning curves but due to experience with having books and brochures published we feel we can overcome these obstacles. We have also created a flexible timeline to allow time for unforeseen issues.
Thank you so must for your time and support.