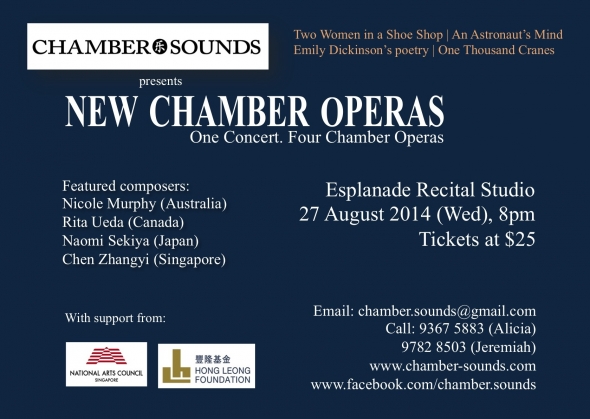 chamber•sounds is a Singaporean chamber group which aims to introduce our local contemporary music to the regional and global music scene. Keeping in line with our vision of providing an interactive and multi-disciplinary environment between the artists and audiences, we have consistently produced an innovative programme every summer since 2012.
Now into the 3rd instalment of our concert series, our most ambitious project yet involves the commission and staging of modern chamber operas. This is our next step in raising awareness of the contemporary music of our region to the international stage. in one evening, we gather a pool of local and international music talents, including singers from Singapore, South Korea, Amsterdam and the United States.
Following a successful call for proposals, four composers were commissioned to compose for the ensemble. Featured on the programme are Rita Ueda from Canada, Nicole Murphy from Australia, Naomi Sekiya from Japan and Chen Zhangyi from Singapore. All four chamber operas are wildly different; from shopping for shoes to an astronaut's mind, and Emily Dickinson's poetry to the tragic earthquake at Tohoku and its aftermath.
10 singers, 6 musicians, a music director, an opera director and a support team are committed to making this concert yet another success for chamber•sounds!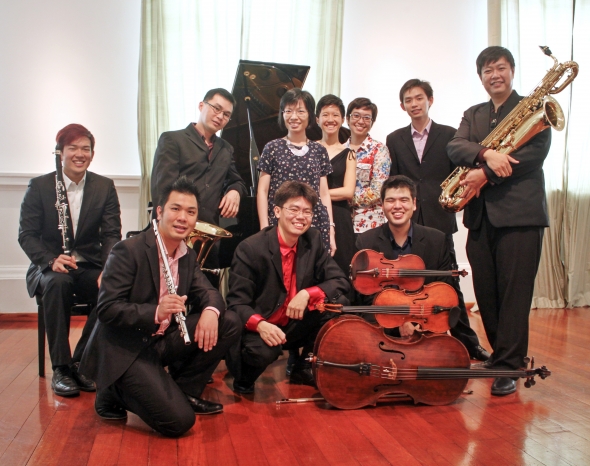 Some Of My Previous Work
chamber•sounds has, in recent years, presented many works by Singaporean composers, and is proud to say that we will continue doing so!
Our
YouTube channel
has videos of some of our past performances
Do check out our
official webpage
, and like our
Facebook
page!
How The Funds Will Be Used
Funds will be used to cover:

Commissioning fees to composers (S$10,000)
Singers, repetitur and chamber musicians (S$13,000)
Music and opera directors, Administrative team (S$3,000)
Production Team (S$12,000)
Costume/Set Designer (S$500)
Venue hire and rental (S$1,600)

Other costs include:
Printing of publicity materials and programme notes
Videography and photography
Transportation of instruments

We are grateful to have received support from National Arts Council and Hong Leong Foundation, but we are still short of funding. Looking forward to your support!