In today's hectic urban lifestyle, many of us find it difficult to maintain a healthy lifestyle while juggling what life throws at us. In this age of multitasking and instant gratification, there are constant distractions, disruptions, temptations that throw us off our fitness plans.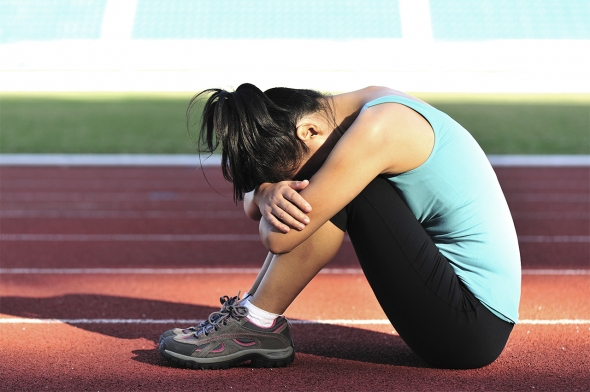 The promise of activity trackers to improve our fitness has not yielded significant results. Most fitness trackers on the market record daily activities and provide statistical data to the users; most apps employ leaderboards letting users compete against each other. Wearable fitness trackers are failing to gain traction with users. As soon as the novelty wears off and progress becomes stagnant, users do not continue to wear the fitness trackers.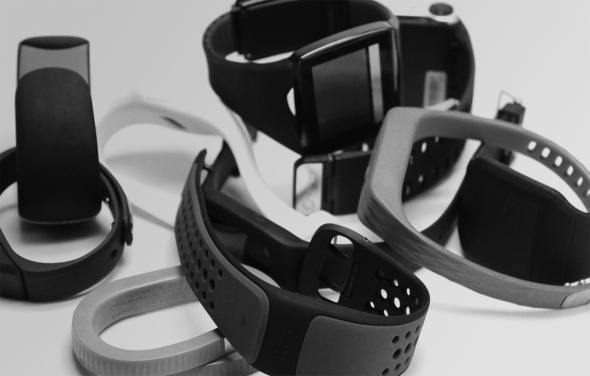 Star.21 与众不同的智能健康手环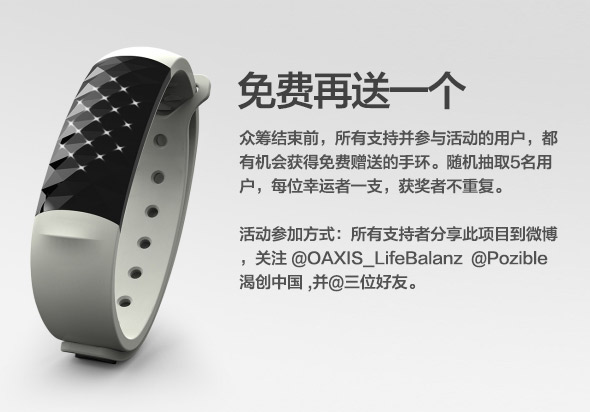 (注意:此活动微博和Twitter共同进行,一共5名幸运者,微博抽取三名,Twitter抽取两名。)
你对自己的健康情况了解吗?
你知道如何设定最适合自己的健康生活方案吗?
你的健康生活方案总是停留在脑海?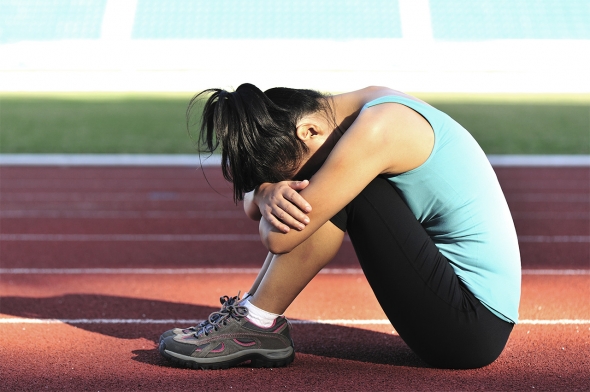 戴上健康手环就能改善你的健康吗?
市场上的健康手环仅仅做到记录每天的生活作息。
手环带给你的应该不仅仅是数据的监测,还需要有实质性的行动指导!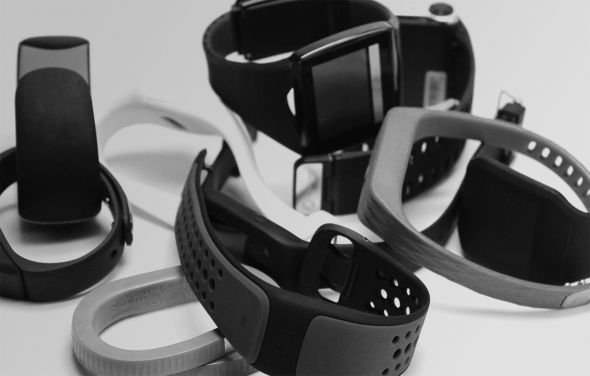 我们认为,应该有一款产品不单是每天的数字汇报,而是通过每天的运动量来智能及科学合理的建议你,帮助你养成一个良好的生活习惯。于是乎,我们在这个满是手环的年代,做出了一款特殊的Star.21。
你需要一个Star.21 智能健康手环!
智能穿戴设备在硬件功能的区分上其实可以产生差异的地方很少,它是更私人化的产品,装饰性更强,所以用户会在品质要求的基础上追求更多闪光的特色。
OAXIS 品牌创始人
G-Jay 杨冠哲
2014 07 21
不一样的产品设计理念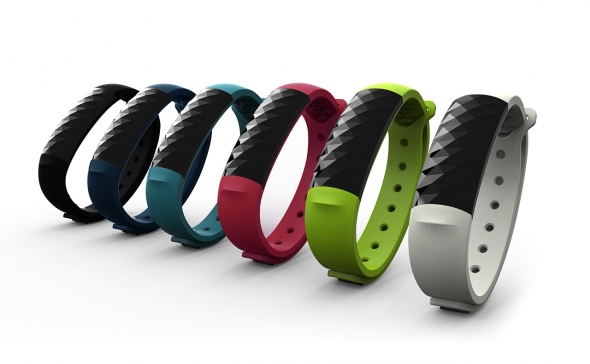 Star.21 产品理念:坚持适合自己的行动方案数据采集,21天养成健康的生活习惯
Star.21 以星空的概念为设计出发点。
Star—中文星的意思 ,
星由(日&生)而成,代表每一天都充满生机活力。所以设计为星形。
21
据研究表明一个人要养成个基础习惯需要21天,在21天里每天重复的去完成某一种行为,该行为将会成为这个人的基础习惯。
我们把这个21天,用21颗LED灯来展示,点亮后犹如空中繁星,照亮你的世界,为你指引正确的方向。全天侯活动追踪,让用户使用Star.21 后能真正养成一个良好的生活习惯。
Star.21 引用21天效应法则,从不愿意尝试到刻意的提醒,再到自然表现。通过连续21天重复运动,养成一个良好的生活习惯。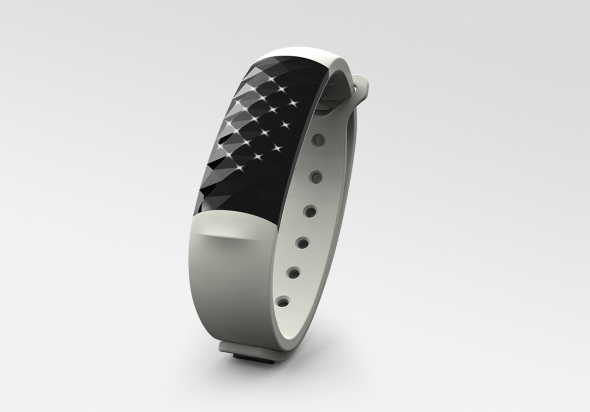 设计理念:手环必须时尚
手环表面我们采用高光钻石面为星空背景,使它无论在什么光源或是角度下都会引人瞩目。整体造型纤细/轻薄,重量仅为18克,在任何情况下都可以舒适佩戴。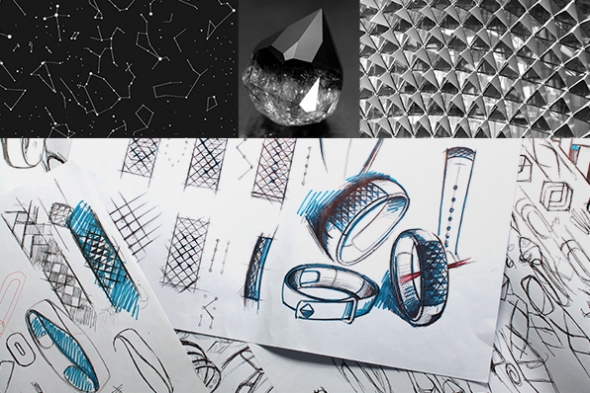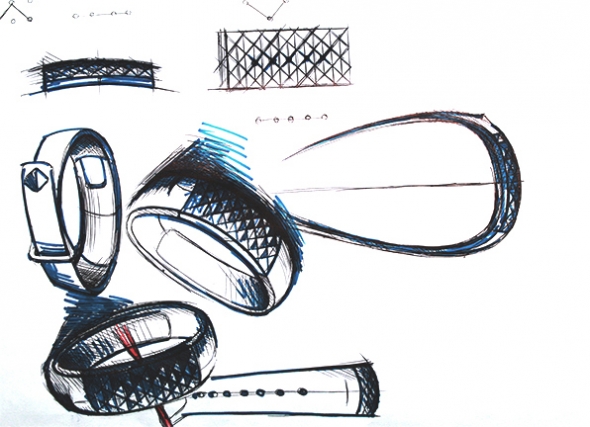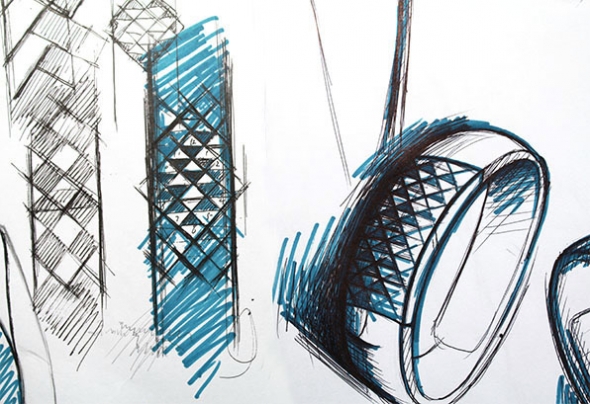 产品理念:手环必须易于使用
Star.21 和市面上许多手环不同,很多产品都是显示冰冷的数字或完全没显示。而我们的是由21颗LED来体现各种不同的功能, 既可以看时间,也可以看运动目标百分比及卡路里目标百分比,目标会随着不同的阶段提升调整。
Star.21 功能
活动全天候追踪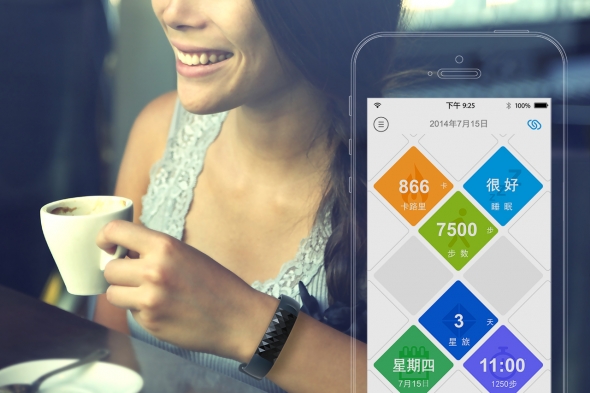 热量消耗监控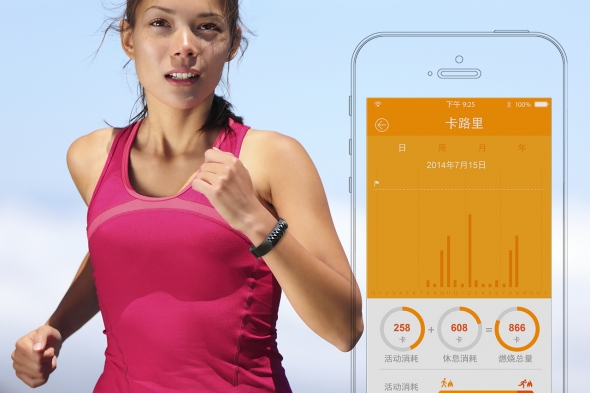 睡眠质量监测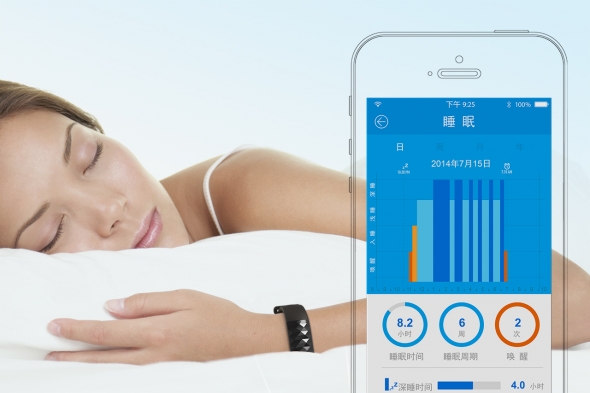 计步功能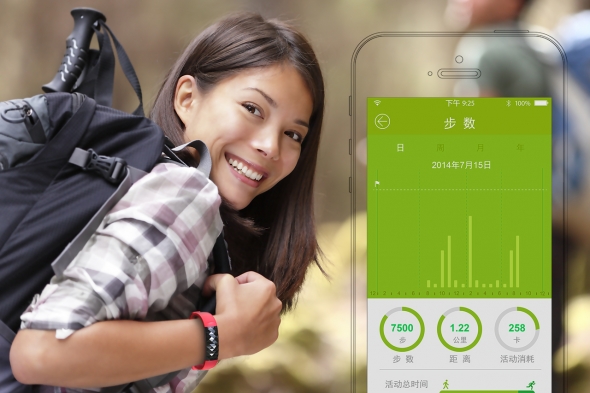 科学目标系统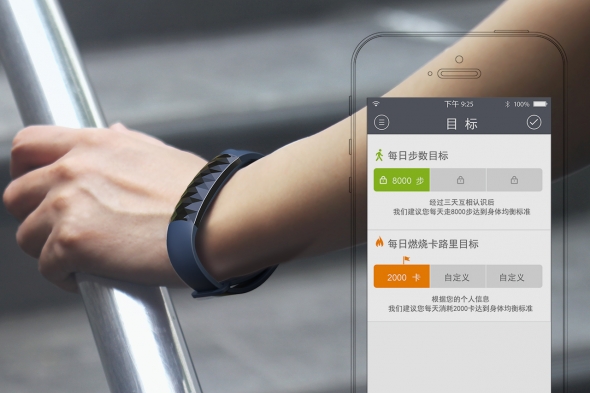 无声闹钟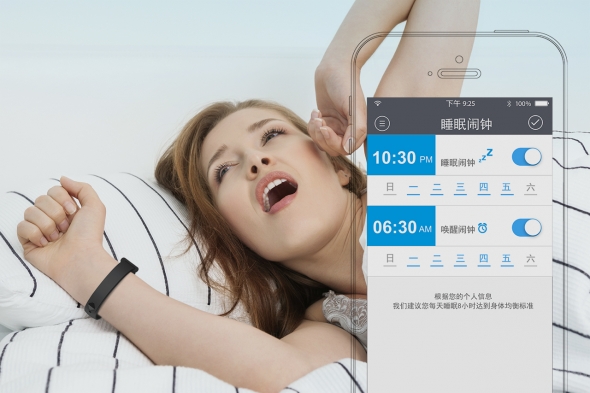 星旅
Star.21 带你体验不一样的生活,通过完成运动目标来带你环游世界91天以后,帮助你养成均衡健康生活好习惯。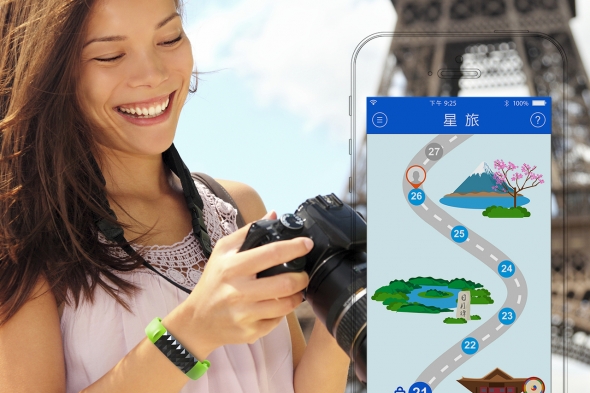 无线自动同步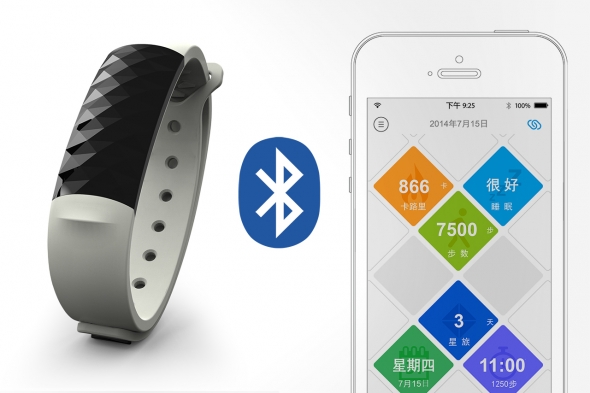 7天数据保存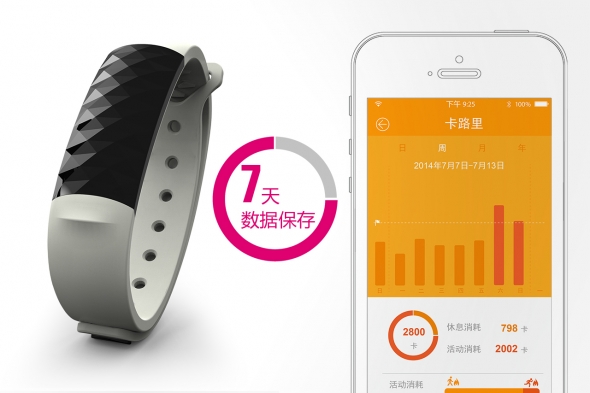 生活防水 IPX6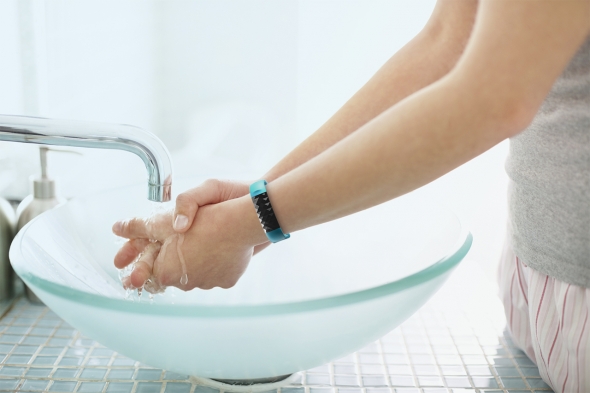 待机15天以上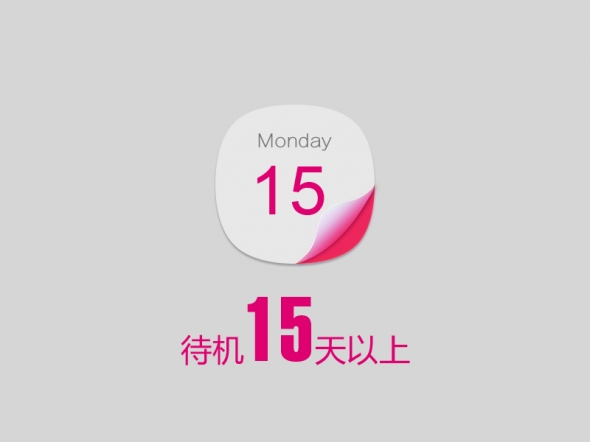 USB充电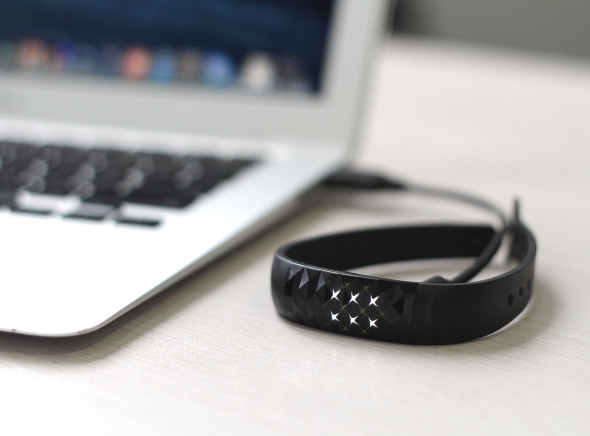 Star.21 APP支持IOS6.0及以上和Android 4.3以上系统,支持蓝牙4.0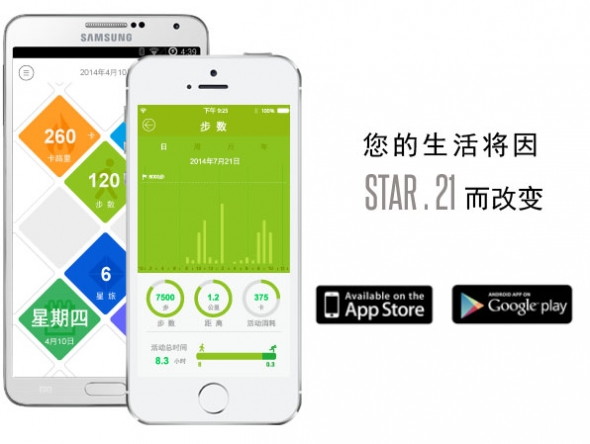 产品包装
在繁星点点的空中,疏密有致,最明亮的那颗STAR.21,将引领您获得一份健康的承诺。来,拥有它,从此开启您的健康星程。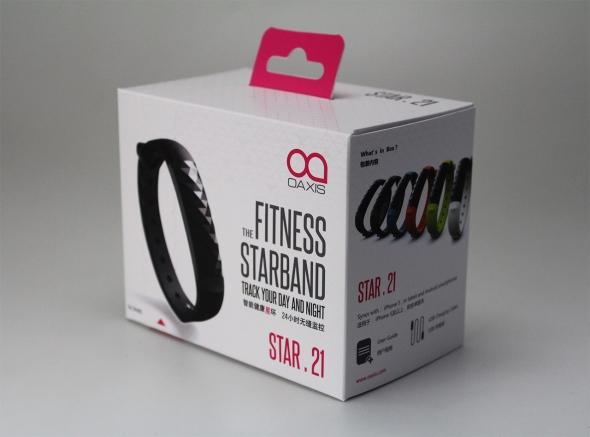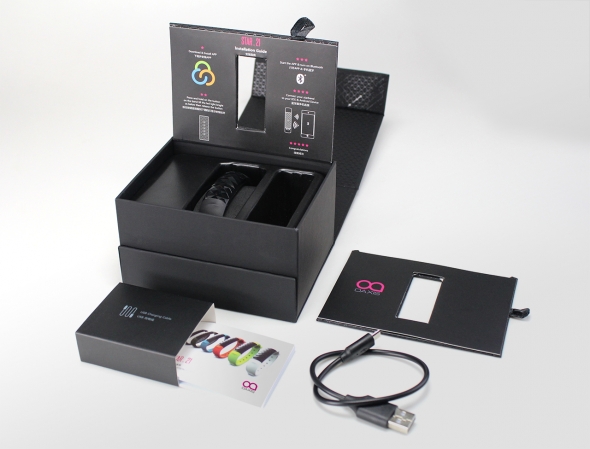 Star.21 为大家带来的帮助及改变
Star.21 : 集满21颗星,养成真正的健康习惯
每个人要从不习惯到习惯,从不自然再到自然,都是一个比较痛苦的过程。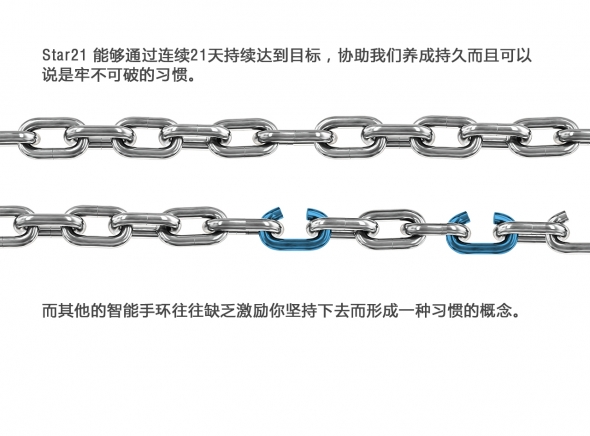 Star.21 根据21天效应法结合趣味游戏一起,以环游各国的旅行方式帮助你连续21天养成均衡健康生活习惯。用信息反馈和交互来替代冰冷的数字图表展示。

戴上Star.21 的前三天,它会记录你的常规运动数据,均衡用户三天的运动习惯,结合年龄、身高、体重等数据,科学地建议你的运动目标。星旅开启以后,须每天完成系统给出的目标,达标一天,星旅将点亮一天,当天偷懒或不达标,星旅就会倒退一天。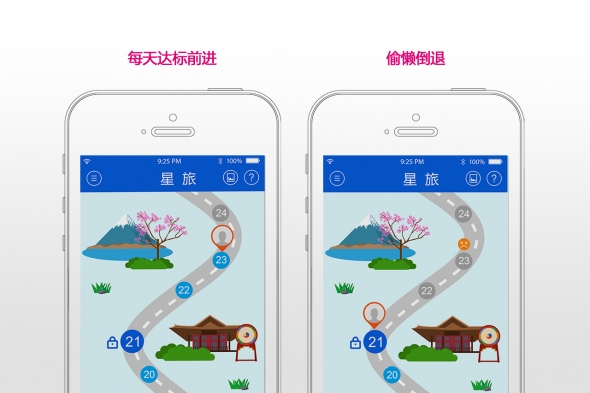 Star.21 还会根据你的常规运动习惯慢慢做目标调整
如开始第一个关卡连续7天属于尝鲜期,设定的目标会相对容易,当完成一个关卡目标即开启下一个关卡目标,根据用户完成星旅达标情况慢慢为你科学合理的提升每一个关卡目标,我们的终极目标是连续21天,当你完成所有星旅时,你会发觉其实你已经养成了均衡健康生活的习惯。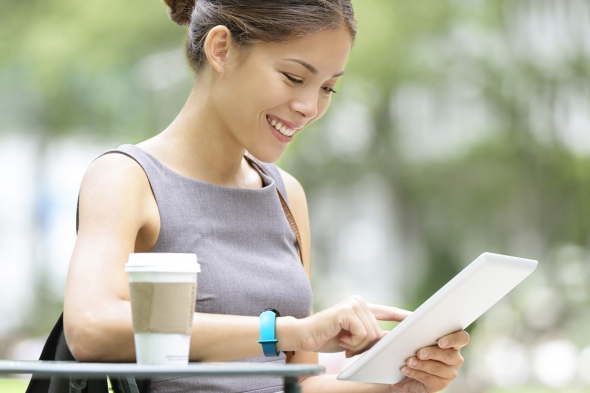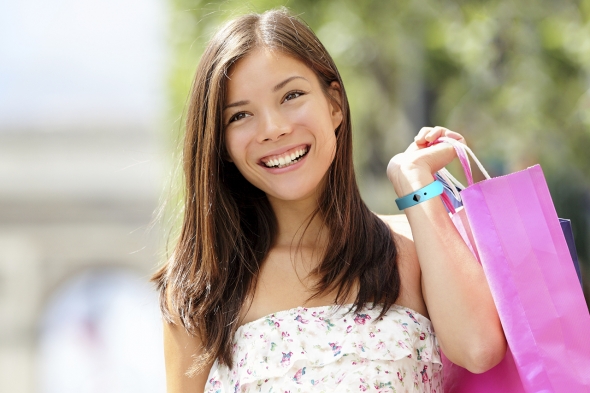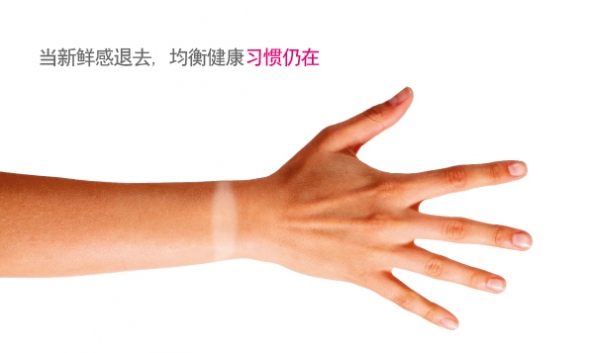 在项目过程中我们遇到的困难及度过的难关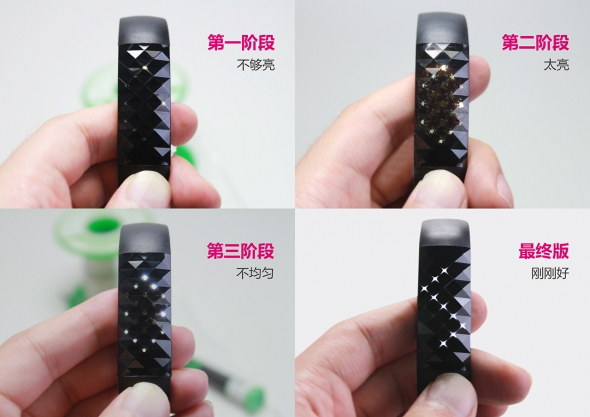 结构工艺(灯光效果…)
表面钻石纹光罩导光效果:尝试多种透光材料,配合底部灯光,进行无数次测试才达到设计预期效果;
LED亮度及功耗平衡:为了保持LED灯的亮度,又确保功耗不会太大,验证了8种不同的LED。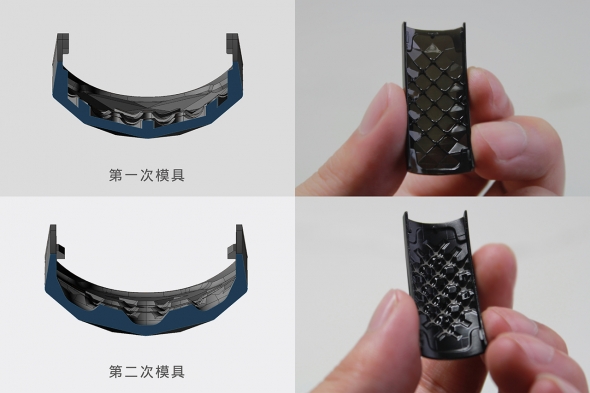 总共开了两套模才最终实现我们要的效果。

材料选定
市面上很多产品佩戴及使用不方便,更担心流汗多等等一系列问题是否会给人带来不适。为了让用户0负担佩戴,我们不断了解及寻找合适的材料,也在表带弯曲处做了防汗设计。还有起初担心表带硬度太硬,无手感,抗过敏等等问题,经过层层筛选及验证全部得到解决。可以单手佩戴即方便又省时,安全放心24小时佩戴无需担心会掉落及妨碍办公。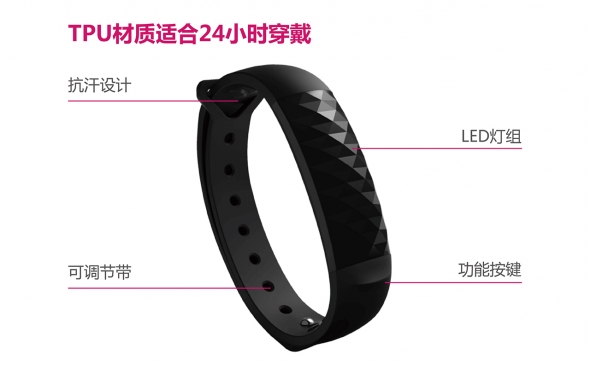 电池待机
迷你的机身及狭窄的空间导致电池体积限制,同时增加了制造电池工艺的难度;为了保证续航时间,我们不断测试各种电池,最终通过1个月的测试验证与对比,选择了超低功耗的方案和优秀的电池供应商,达到15天以上的超长待机时间。
防水功能
很多人都担心戴在手上如果下雨、洗手等是否要取下手环,觉得麻烦。所以我们考虑既要排除用户担心又要保证防水等级,还要做到生产方便。
USB线及插座
为了用户充电方便,把最常见的Micro USB充电接口嵌入在有限的空间内,不需要特定的充电线,及充电座。大多数的同类产品,为了做到防水,要么是使用触点充电,要么使用的是笨重的无线充电等。
我们为什么需要你的支持
我们在中国初次尝试众筹,希望和大家一起互动,直到这个项目完成。
我们希望得到大家的鼓励与支持,也希望您能与我们一起共同传递健康的理念,让大家都能拥有美好的生活方式。
此次众筹的资金我们将全部用于量产。


项目进度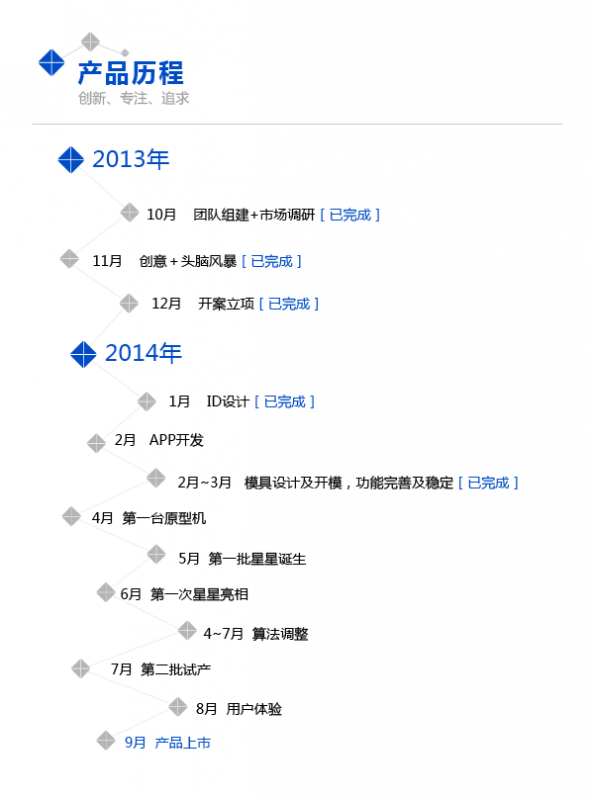 Timeline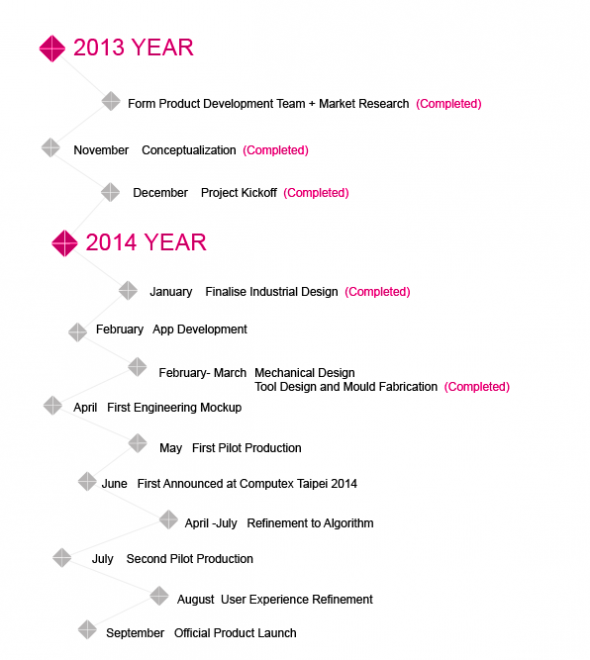 Star.21 Fitness Band
Star.21 is a Fitness Tracker that helps you kickstart your healthy lifestyle and cultivate long lasting healthy habits through a unique gaming experience. Based on the 21 days habit formations concept, completing a guided list of milestones, we are able to turn tasks into habits that will become second nature.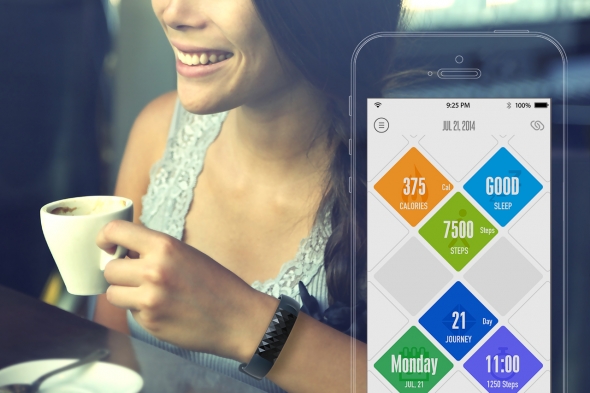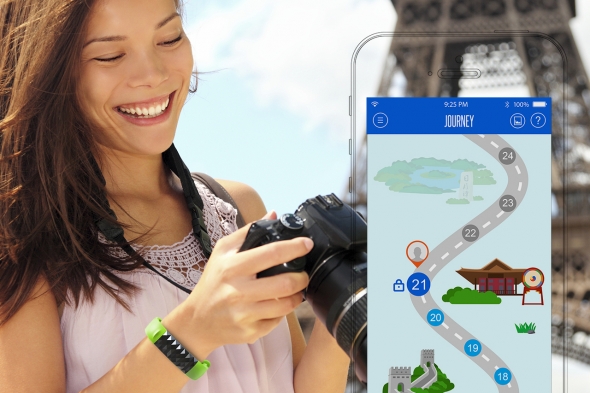 Giving Users the Psychological Edge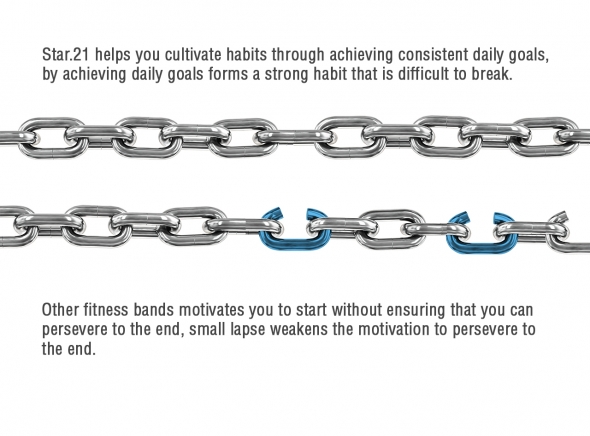 From Day 1 to 7, users require constant reminders to keep to their resolutions, the resulting behaviors are deliberate and unnatural. The initial novelty of wearing the fitness trackers allows users to overcome this period easily.
From Day 8 to 21, users require conscious control to steer away from urges and temptations; behaviors become deliberate but natural at this stage.
From Day 22 to 91, users behaviors become unconscious and natural, users no longer require reminders and conscious control.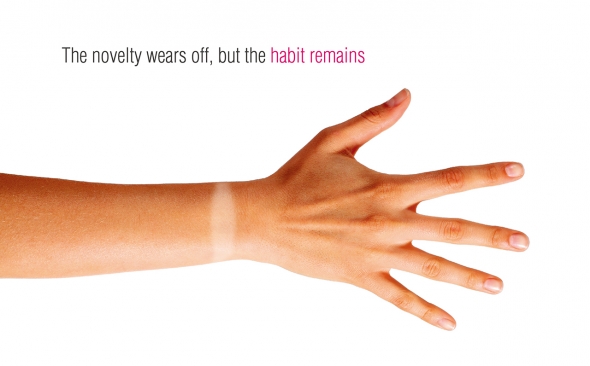 Bluetooth Wireless Synchornization
Star.21 consists of a fitness band and a mobile application that works on both iOS and Android. The fitness band measures and records motion which is transmitted to the smartphone via Bluetooth BLE. These data is then presented graphically on the smartphone for easy visualization. Alternatively users can look at the daily progress from the LEDs array on the fitness band.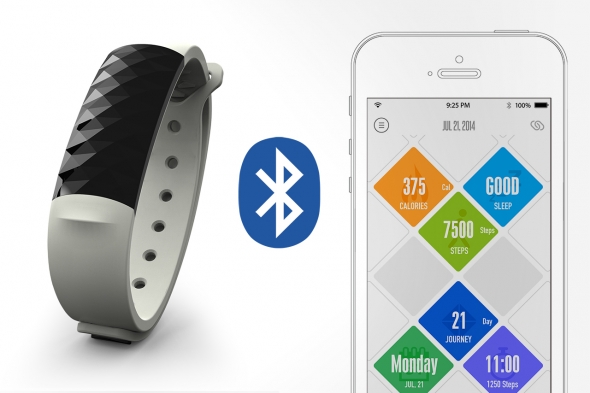 Daily Steps Counter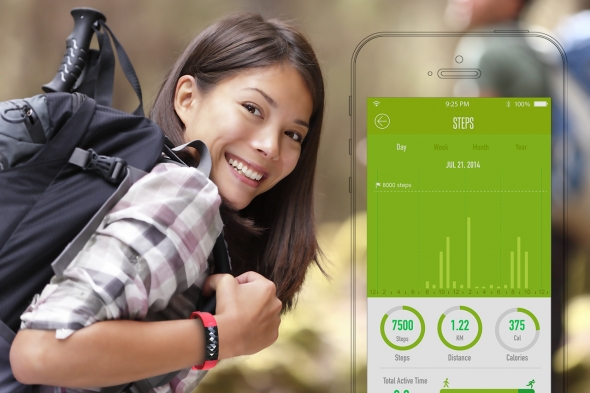 Star.21's all-day steps trackers let users understand how active they are throughout the day, keeping the daily goals within sight. It helps users stay inline with the goals, achieving one goal at a time. Star.21 provides achievable daily goals that help users to stay on track in the first 21 days and cultivate a long lasting healthy habit naturally.
Sleep Pattern Monitor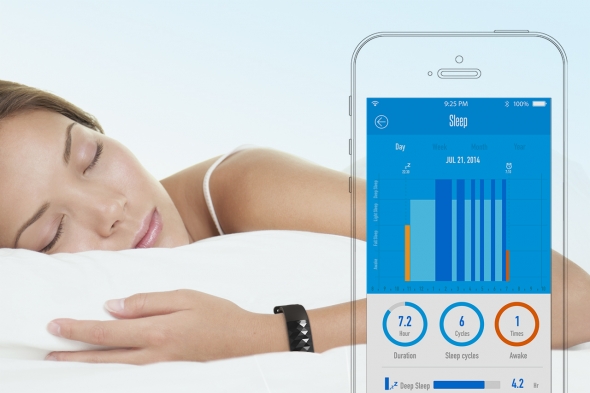 Star.21 monitors your sleeping patterns and provide insights to the quality of your sleep. Helping you develop better sleeping habits.
Calories Consumption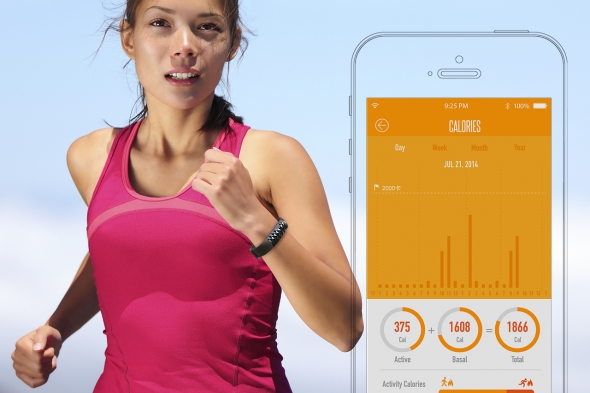 Star.21 provides users with insights to their calories consumption that they exhaust throughout the day and taking into consideration of the Basal Metabolic Rate (BMR).
Gamification
The built-in game helps users visualize the milestones; tracking the progress to ensure users achieve goals that are inline with the 21 days habit formation plan. The incremental goals layout in the game allows attainment of the easier goals before moving on to harder ones This helps to cultivate the habit built on a firm foundation and confidence.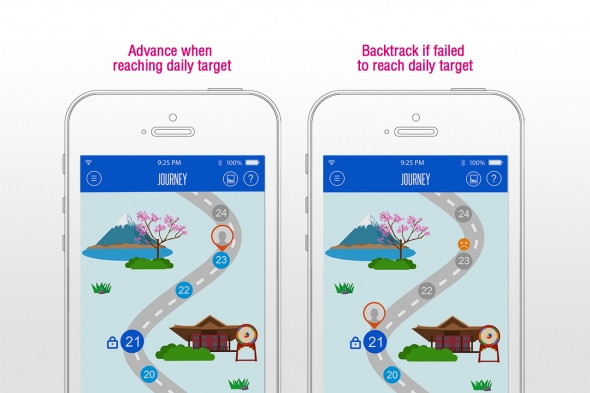 Specifications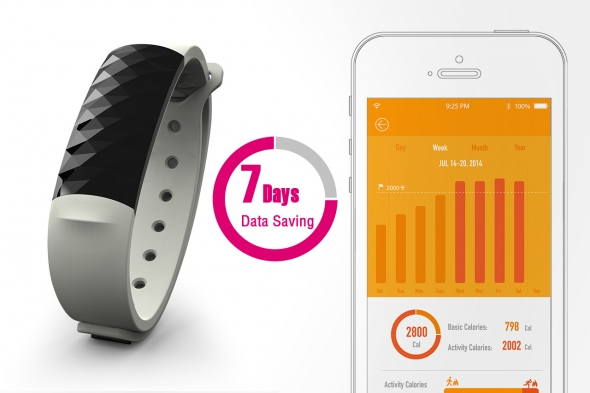 7 Days Data Backup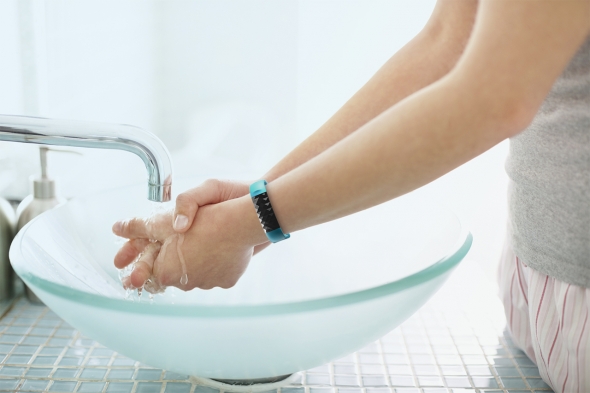 Splash Proof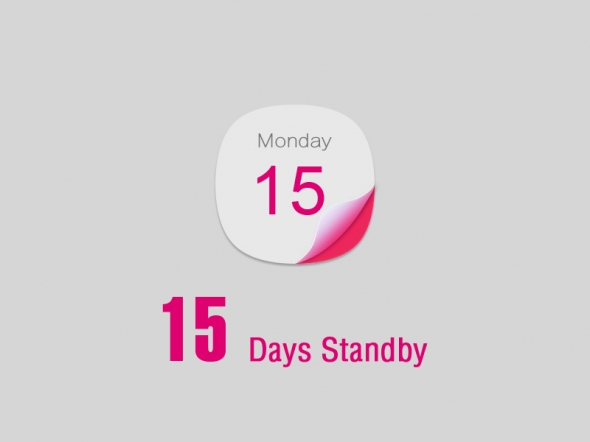 15 days battery life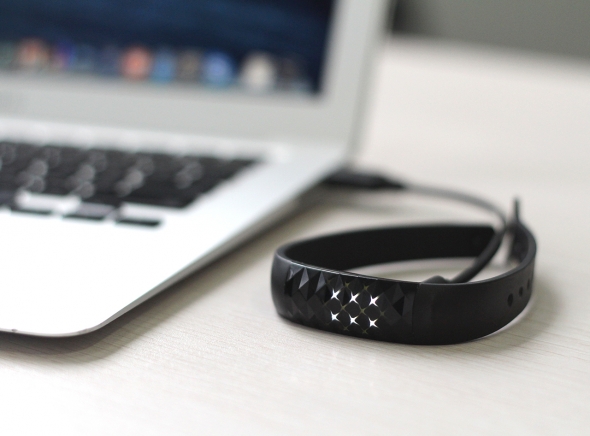 USB Charging, charging via the most universal charging option used on most smartphones
Design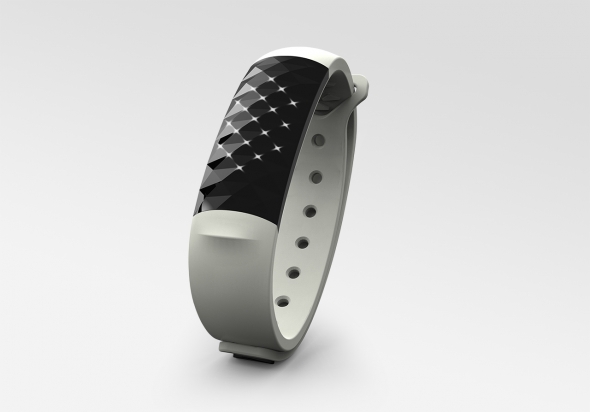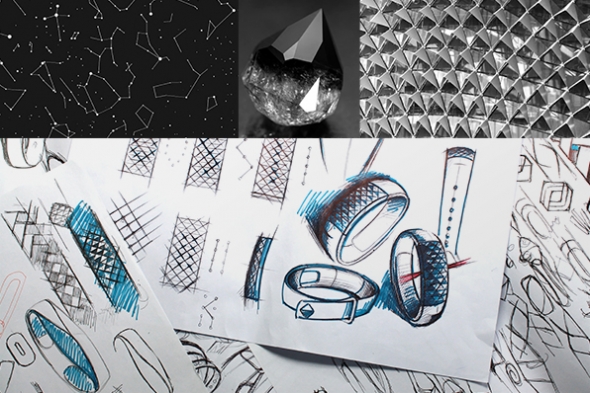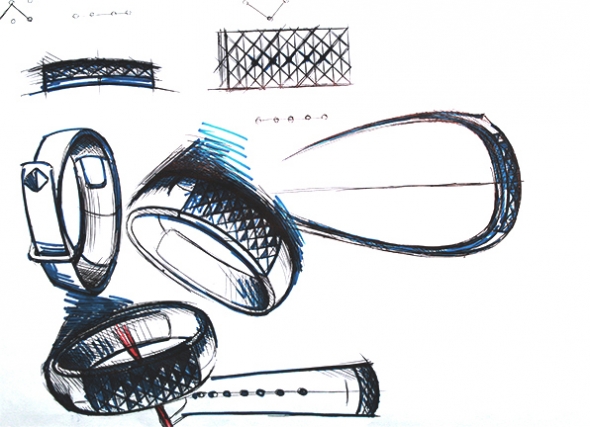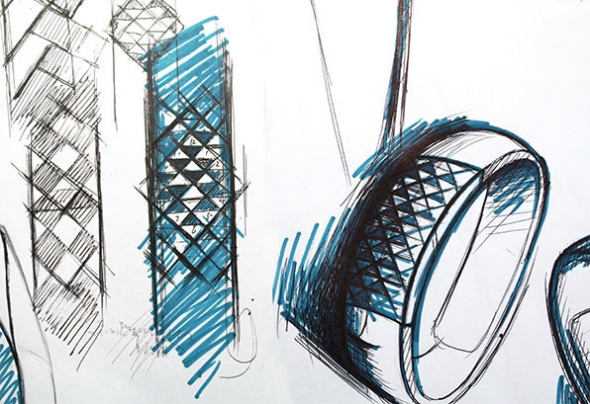 Star.21 is designed for the chic and fashionable in mind. Its multi faceted design gives a dazzling glow to the bracelet; beneath the faceted surfaces are 21 LEDS that shine like stars indicating daily progress. The slim and lightweight design makes it indiscernible to the wearers.
In addition, the bio-compatible thermoplastic polyurethane material makes it suitable for wearing it daily without causing skin allergies.
回报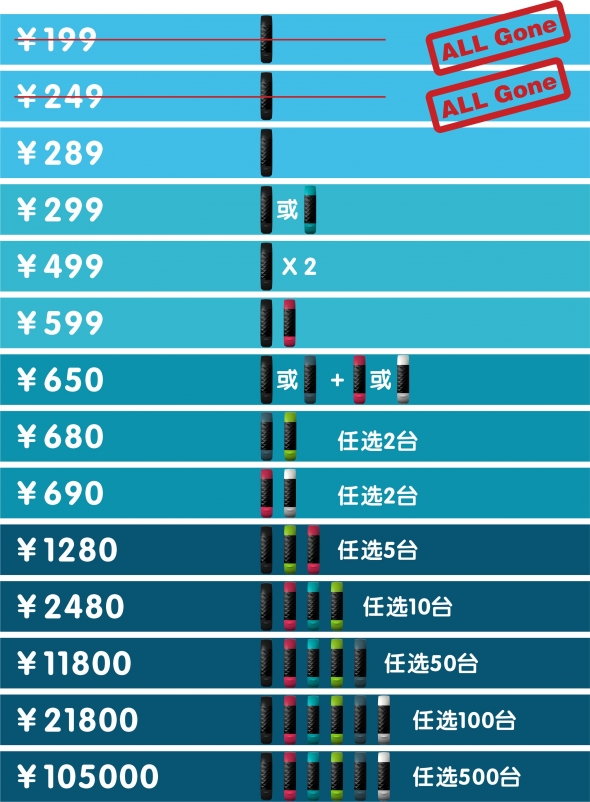 Rewards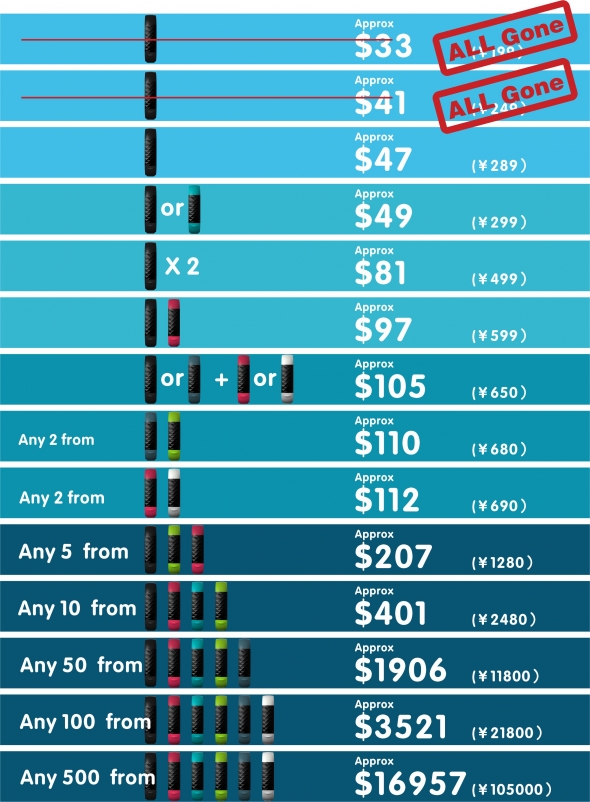 不一样的团队
国际视野与本土化相结合,造就不一样的团队!
我们是一群具有全球视野的创业者;我们来自新加坡,扎根在深圳;
我们有国际化的设计理念和深圳完整的产业链资源;
我们竭力满足全球用户的需求;
我们的合作伙伴与客户都是遍布全球的行业翘楚,借助于他们的全球化思维可以让我们的服务与产品更加具有前瞻性与实用性,更能让我们的用户享受到极致的体验。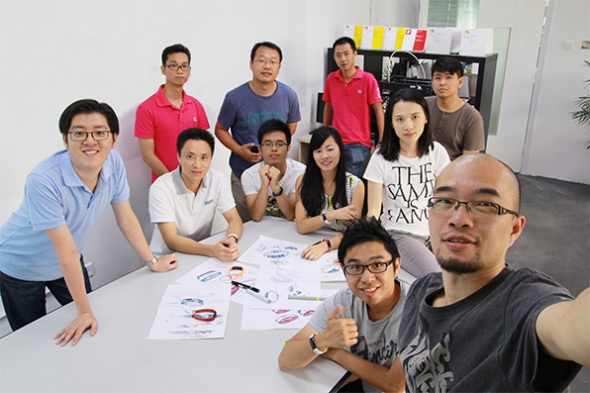 Contact us
Star.21 Concept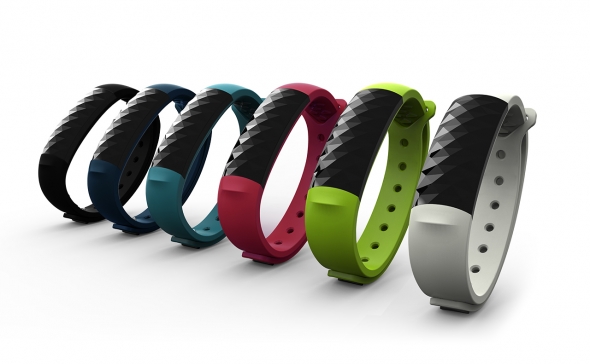 Star.21 is designed to deliver a positive impact to users, by helping them cultivate fitness habits that are long lasting. Based on the 21 Days Habit Formation concept, the Lifebalanz App attempts to guide users through the first 21 days with progressive milestones. By achieving these milestones, healthy habits are hardwired into the user's behavior. The human brain is capable of rewiring itself in 21 days to establish new neural pathways through repetitive actions, hence long lasting habits can be formed.
Hardware Features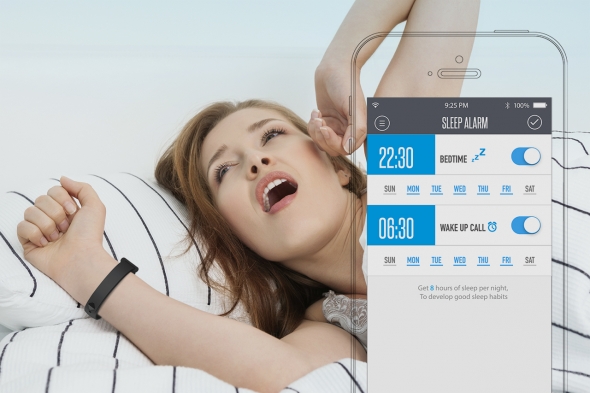 Sleep Alarm - Star.21's sleep reminder function provide a reminder to sleep.
Wake Up Call - The silent alarm will vibrate to wake you up in the morning.
The product design team avoided using numbers to show daily statistics; instead we opted for a LEDs array. By using the LEDs array to show their daily progress in percentages, we help the users visualize their personal progress in a simpler form without direct comparison to the other users. We minimized discouragements and unnecessary pressure from competition.
As Featured In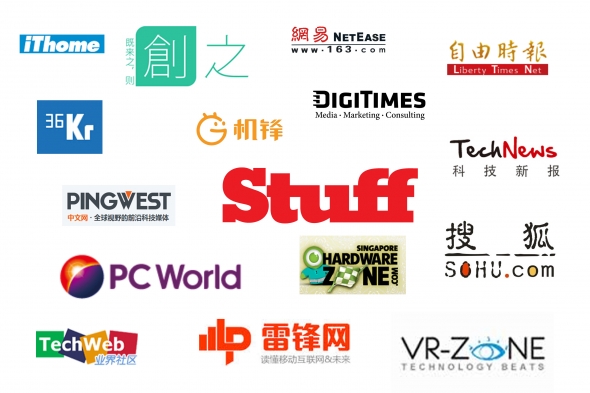 联系我们
官方网站:www.oaxis.com
官方微博:公司官微:绿洲奥思;
Star.21官微:LifeBalanz;
官方微信:微信一:奥思;微信二:LifeBalanz;
QQ群交流平台可搜索以下三个加入:
Star.21用户QQ交流一群:125523381
Star.21用户QQ交流二群:120400171
Star.21用户QQ交流三群:376627657



报道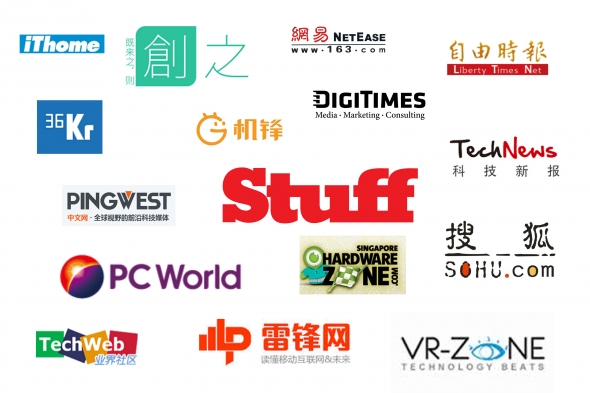 Share and Win - Last chance for Pre-Order!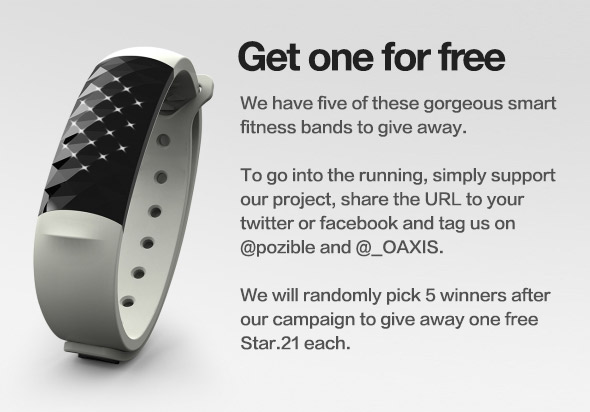 Some Of My Previous Work
The team behind Star.21 shares a collective vision to help individuals improve by shaping their habits and believe technology can help bring this change. The multi-disciplinary team comes from Singapore, Malaysia, Hongkong, Korea, and China; located in the thriving technological hub- Shenzhen, China. The product development team have been working together for over 8 years at OAXIS' parent company, Gajah International. They have created award winning products for many of their international clienteles, delivering best in class user experience.
G-Jay Yong
G-Jay founded the Group back in 2004. He has been instrumental in the overall development of the Group, primarily in terms of customers' acquisitions, product development and management of contract manufacturers.
Tim Lee
As a consumer electronics product manager with eight years of experience, Tim has created and developed many popular products. He also has a background in Electronic Engineering with five years' experience in hardware and software design.
Cedric Ng
Cedric is an industrial designer by training and an innovator at heart. An award winning designer who is passionate about creating delightful product experiences that embody aesthetics, technology and interactivity. He possesses a delicate mix of imagination, acute aesthetic sensibility and keen sense for usability.
JiaSen Low
He is leading the software architecture and firmware development. He has a wide range of experience in hardware, mobile app and web development. In his spare time, he is passionate about the latest software technologies and solving tough challenges.
How The Funds Will Be Used
We need you support in this crowdfunding campaign to reach out to more users, to help more people cultivate long lasting healthy habits. We need your support to validate the concept and build a community of positive habits cultivators. This increase the user base for collecting user feedback, to continuously improve on Star.21.

This crowdfunding project is important to bring the project from pilot production to mass production. The funds will ensure we meet the target timeline for mass production.

The Challenges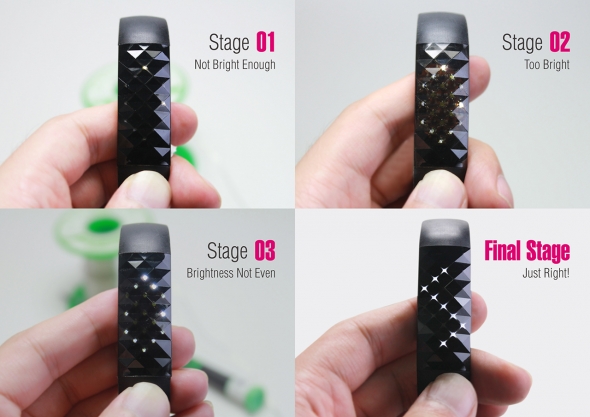 During product development and various prototyping stages, we have tested numerous materials and different levels of transparency to achieve the desired lighting effect per the original design intention. The mechanical engineers and industrial designers experimented with different light guide designs approach. In fact two plastic injection moulds were fabricated to determine the light guide design required to achieve the star-like lighting effect.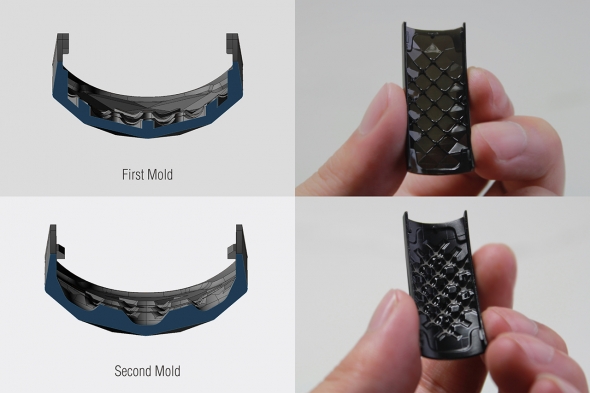 The Star.21 fitness band puts a constraint on the battery size; our electronic engineers optimized the power consumption of various components to provide power to light up the 21 brilliant LED lights. 8 different types of LEDs were tested to determine the one with the right balance of brightness and power consumption.

Choice of materials
Comfort was the most critical consideration in the material selection. To ensure Star.21 is suitable for all day wearing. We seek to find a material that is dermatological safe, dirt resistant, light weight and have the right hardness. We went through intensive testing during the injection moulding and pilot production to find the right mix of thermoplastic polyurethane.
Although we managed to achieve 15 days of battery life from a single charge, the development team went a step further striving to make charging more convenient. The choice of charging via a micro USB cable makes it more convenient. Most fitness bands have propriety charging connectors or wireless charging that requires users to bring additional charging apparatus. The micro USB allows it be charged via the computer's USB port or smartphones adaptors which are easily available.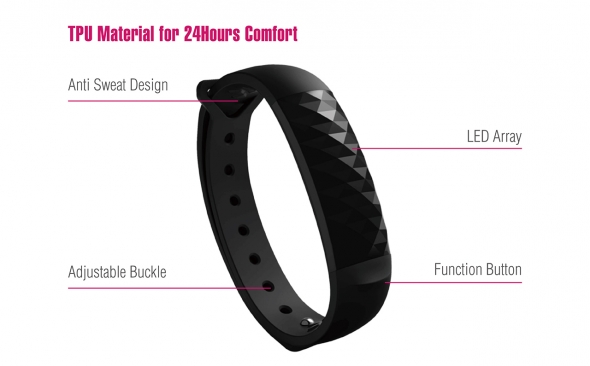 The micro USB posed additional problems to the mechanical design; the mechanical engineers have to overcome the waterproof issue that comes with micro USB port. Through elaborated design in the plastic housing and USB Port cover, we are able to achieve a dust and water resistant rating of IPX6.
Water proofing
The mechanical engineers thoughtfully designed the softer thermoplastic polyurethane around the gaps to prevent moisture from slipping through them. This design eliminated the need for additional sealant gasket as the same softer thermoplastic polyurethane used in the band acts as the sealing gasket as well.
This makes Star.21 capable of handling everyday elements; users would not need to take additional care of the fitness band, making it truly inconspicuous.
Battery
Battery life was a major concern to the development team, as we do not want any lapse in tracking to affect the cultivation of habits. The small size of the fitness band forbids larger battery.
The electronics engineers went to great lengths to optimize the power consumption in every component to achieve an ultra low power optimization.
We tested numerous makes of lithium polymer battery over a month to find one to meet our stringent requirements.