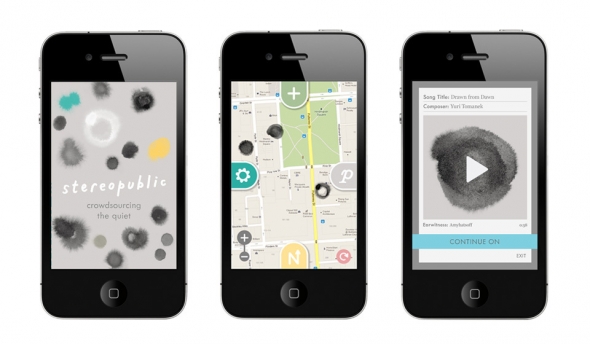 As a way to combat his own anxiety of noise and crowds of cities, Jason Sweeney embarked on a worldwide quest for quiet in 2013 in our modern urban jungles. He created the TED Prize winning
Stereopublic: Crowdsourcing the Quiet
–
www.stereopublic.net
- a participatory art project that asks people to navigate their own city for quiet spaces using an iPhone app and interactive website, share these spaces using social networks, take audio and visual snapshots, experience audio tours and request original compositions made using the recordings. The project addresses what can easily get lost in our quest for 'vibrancy' – spaces which accommodate people who are looking for quiet inspiration and time for reflection, in addition to excitement and action. It has gone on to engage up to 50 cities across the world.
Jason's team needs to find a way to keep the project alive beyond 2014 - and we are seeking your help!
If you have participated in the project in the past, a small donation will get us a very long way ... quietly, of course.
Some Of My Previous Work
Here's Jason presenting his TEDTalk in NYC in September 2013.
Some other recent quietly achieving projects by Jason include:
Sound Introversion Radio - a 24/7 ambient radio station that streams online, all day at
Sound Introversion Radio


The Dead Speak Back - Jason's first experimental feature film that is currently travelling the cinemas of the world
The Dead Speak Back
How The Funds Will Be Used
All funds raised will assist in keeping the app and website maintained, hosted and up to date.

Your donation will play an active part in keeping alive this global quiet seeking venture.

The Challenges
Ideally, Jason and his team would love to see a great future to keep finding the quiet in the world beyond 2014 ... but, like so many things in life, it takes money to keep it all happening. He and his team will find the best ways forward but many hands make light (and quiet) work...