With hobbies of traveling and filming on the road, we are likely to leave things like heavy cameras and lenses at home but then regret it when a beautiful scenic opportunity appears. Smartphones solve part of this problem, but have their own shortcomings like cheap lenses, short battery life and very little storage space. As well as this, when taking photos or filming with a phone, other phone functions are not available. Although some small scale cameras are more portable, fixed lenses, short battery life and complicated controls never fit my needs.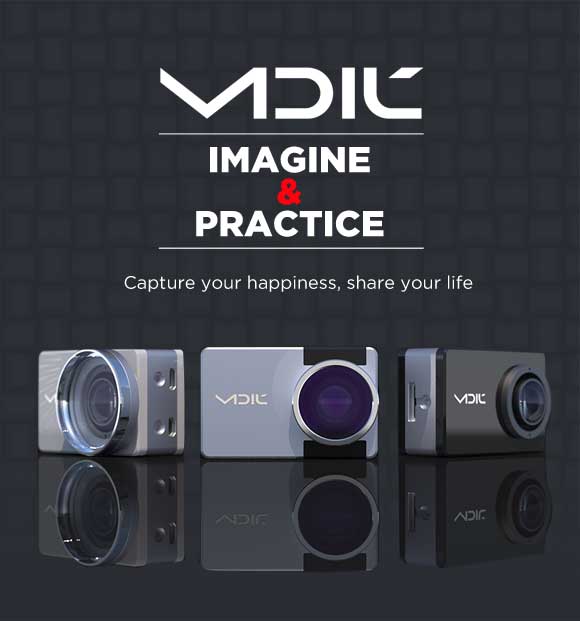 As a guy who enjoys sharing wonderful experiences in my life, I needed to transfer huge amounts of data to my computer then edit with complicated editing programs, waste a lot of time to find the preferred shots and then edit, export and upload the videos. This long process is always exhausting which is quite frustrating.
As a camera designer, I wanted to design a portable, reliable and lens adjustable camera. In addition, editing and uploading needs to be more convenient. After working with my friends for a couple of months, the VIDIT was designed.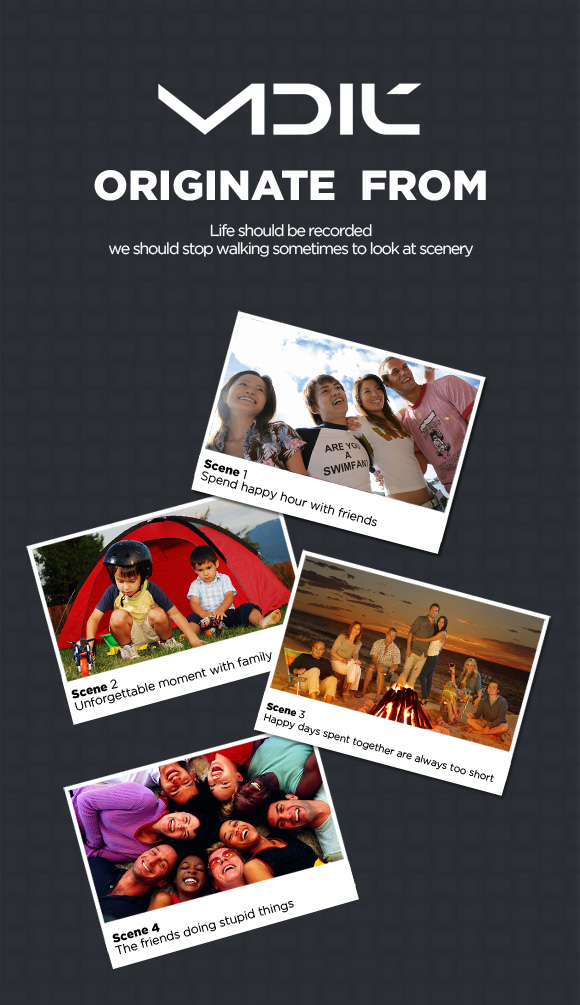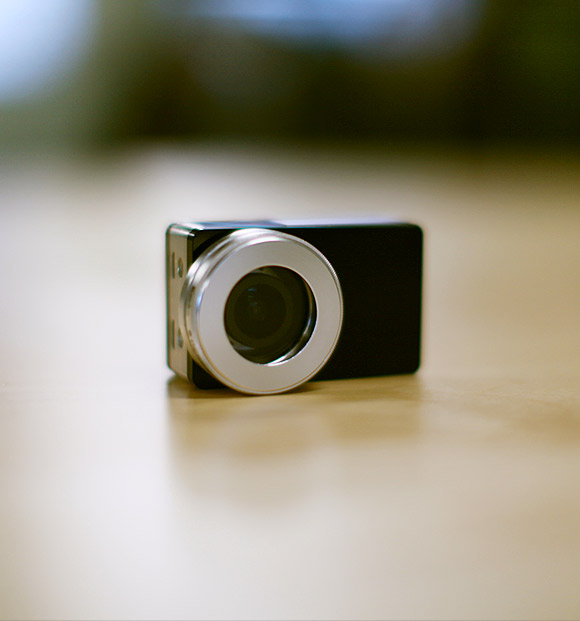 VIDIT 缘起

作为一个很懒的摄影旅行爱好者,总把笨重的单反和摄像机丢在家里,却在碰到美景的时候后悔不已。幸亏智能手机的出现,部分缓解了这个矛盾的问题。可智能手机的镜头太差,存储容量太小,电池又太不经用。举着手机或摄像机拍摄的时候,其它的事情都做不了。虽说小型的运动摄像机可以放开双手拍摄,可固定焦距的镜头,复杂难用的操作,永远短缺的电量都没法满足我的要求。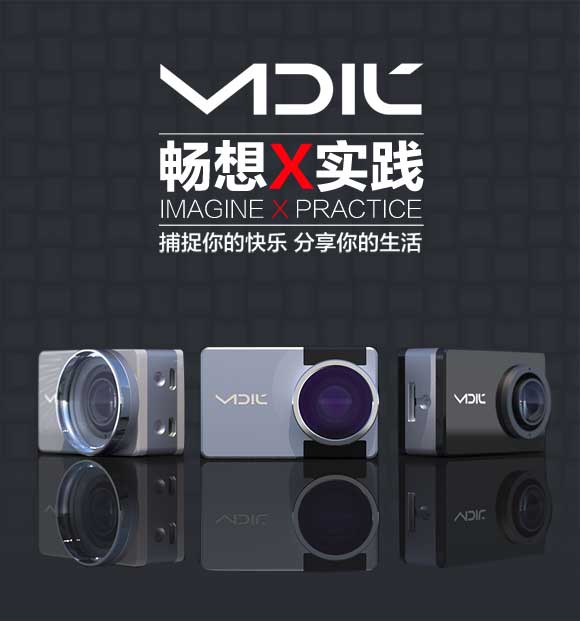 作为一个乐于分享快乐的人,每次在拍摄视频之后,把拍摄的海量视频数据转移到计算机,打开复杂难用的视频编辑软件,花费费大量的时间来搜索拍摄的视频,找到有趣的片段,剪辑,导出,然后上传。这个漫长操作会耗尽我的热情,让我望而却步。

作为一个摄像机的设计者,我希望设计一个小巧、精致、可更换镜头的摄像机,并且能够方便地编辑视频和上传分享。在与朋友们工作了几个月之后,终于,我们的VIDIT诞生了。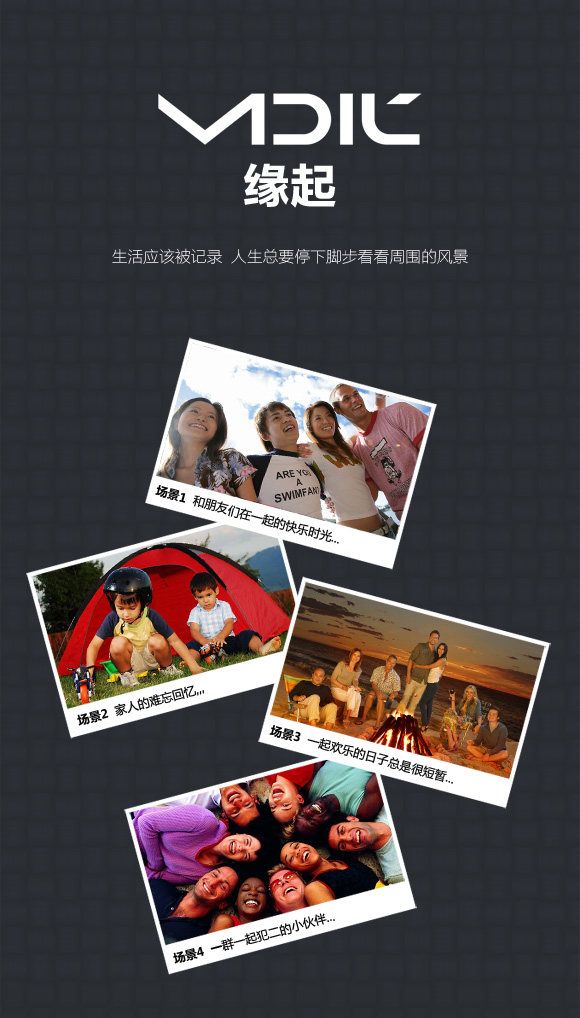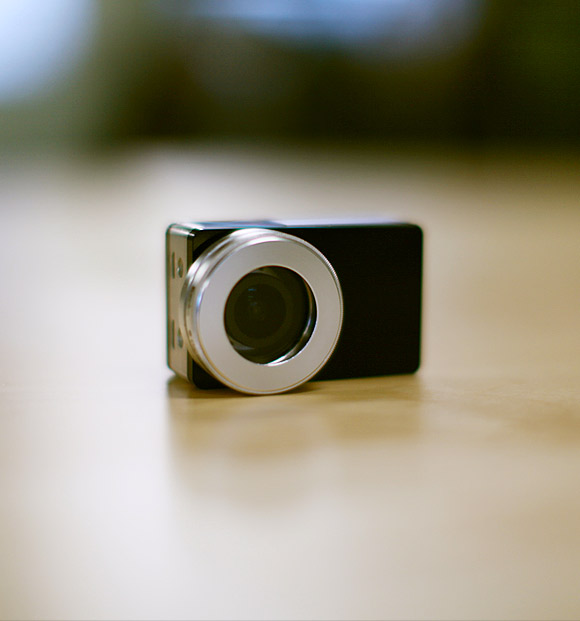 VIDIT是什么

是微型伴随式摄像机,支持录制1080p的高画质视频。在旅行,登山,单车,徒步,逛街的时候,您都可以用它来捕捉所经历的精彩时刻。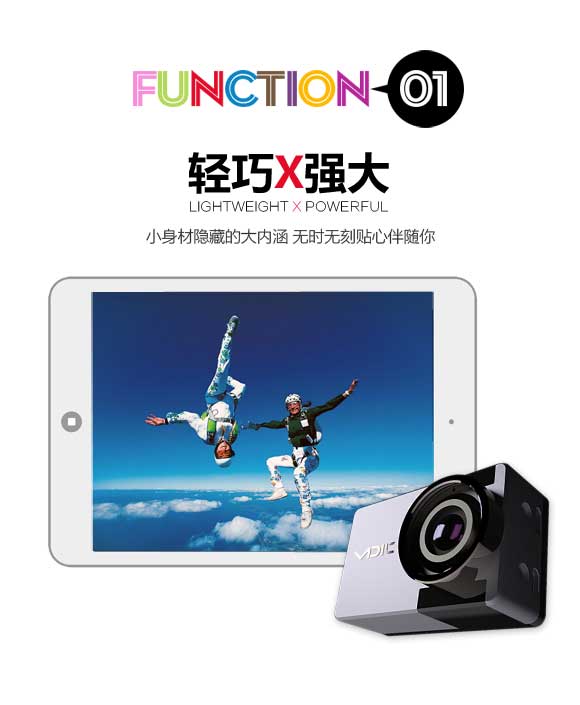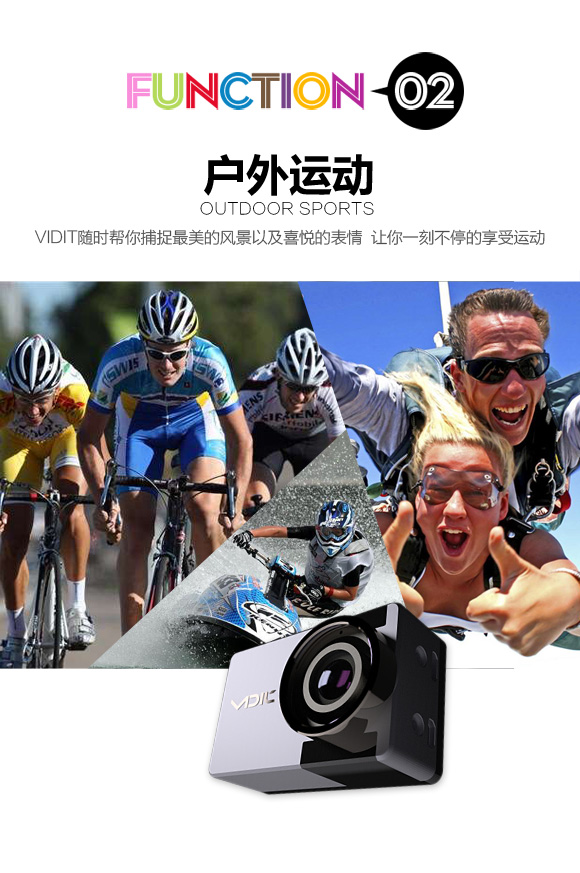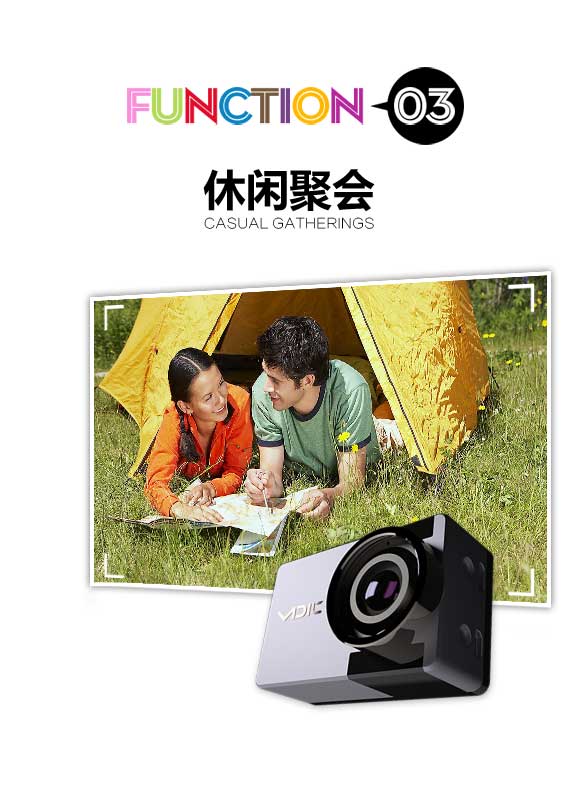 高质量的影像记录还远远不够,在VIDIT的小小的身体里,安装有GPS,G-Sensor,Gyro Sensor, 蓝牙BLE,WIFI等设备。在记录影像的同时,VIDIT记录下影像拍摄时所在的地理位置,摄像机的运动状态,或者从其他蓝牙传感器收集的各种数据,比 如,心跳记录。VIDIT尝试记录下您的所有感受。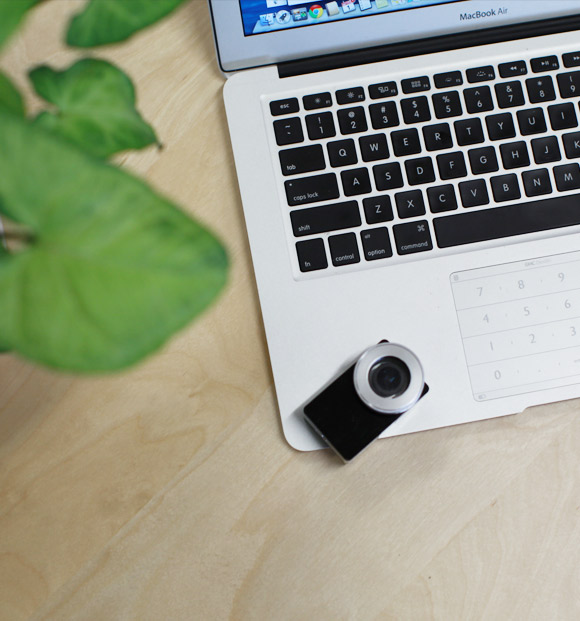 为了方便您的操作,我们支持iOS和Android手机或者平板的无线连接。我们开发了功能强大的移动应用软件拍来拍趣(android版暂时未发布)。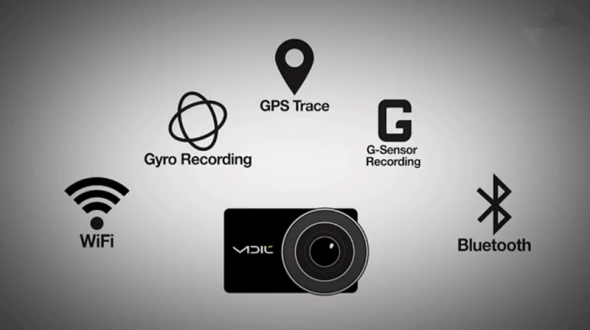 在wifi有效范围内,可以高清预览,设置选项或控制录制进程。更妙的是,我们支持一人同时控制多台设备,或者多人同时控制一台设备,或者,多人同时控制多台设备。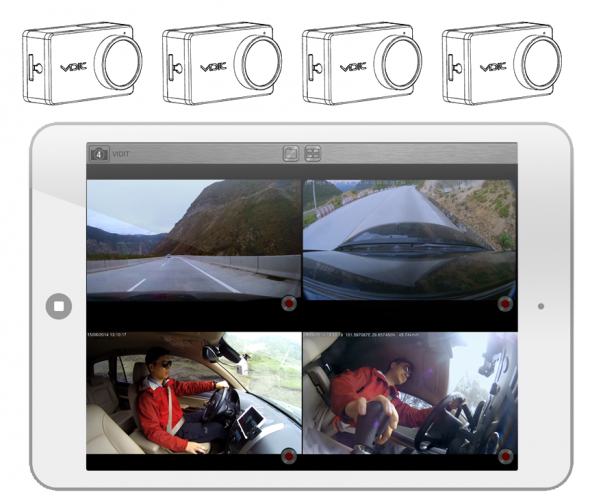 拍来拍趣支持您把VIDIT相机记录的所有数据,包括视频影像,地图位置等同步在移动设备的屏幕上同步回放。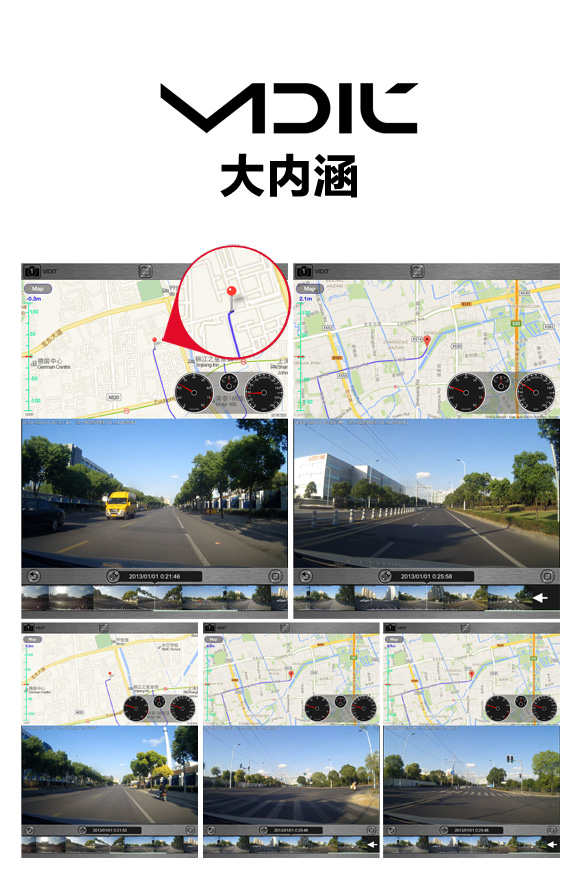 下面是GPS同步快放的演示视频:
VIDIT的模样

我们选择航空级铝合金一体铣床加工的坚固机身,保证可靠耐久的使用。我们遵循简洁的结构设计,方便拆解维修及资源回收。我们不惧繁复的工艺,只怕不完美的产品。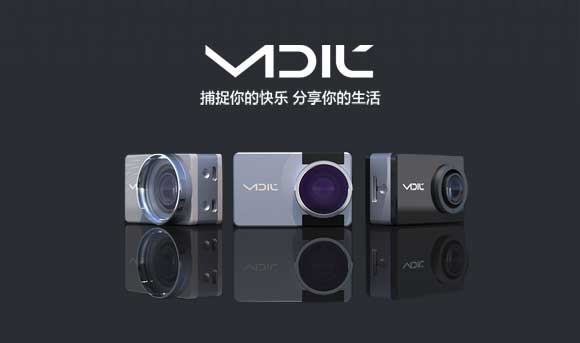 VIDIT家族目前有黑白银三个颜色,黑白两色为金属机身,亮面前后盖。银色为金属机身,金属前盖。您可以选择任意一款您喜欢的颜色。如果您有兴趣,也可以稍后购买组件自行更换机身颜色。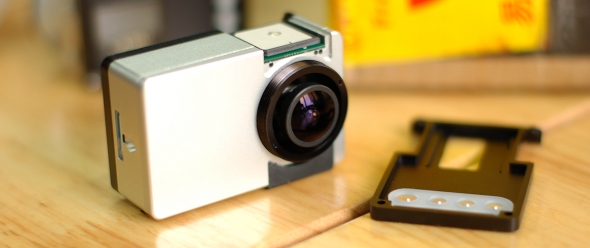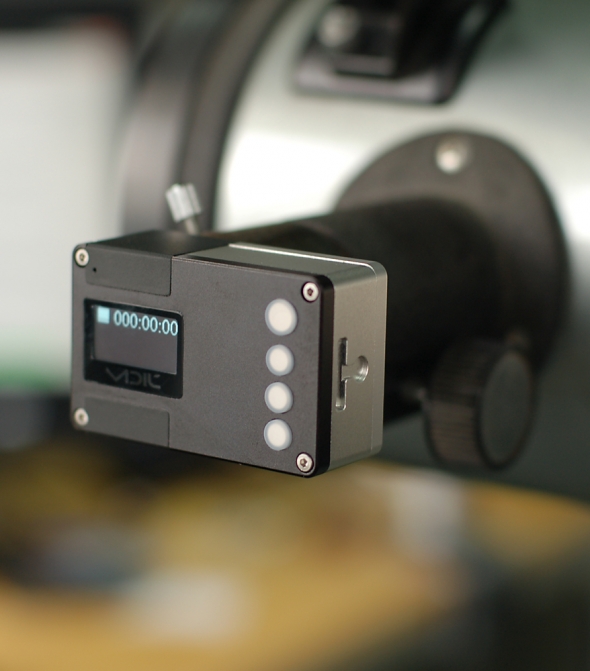 如果您对其他颜色感兴趣,请在我们的产品问答里提出,我们会按照支持者的多少优先安排相应颜色的配件的生产。
What is Vidit?
VIDIT is a compact 'goes with' camera, means 'goes with you'. It supports 1080P HD video recording. You can capture all the fantastic moments when traveling, hiking, riding or even shopping.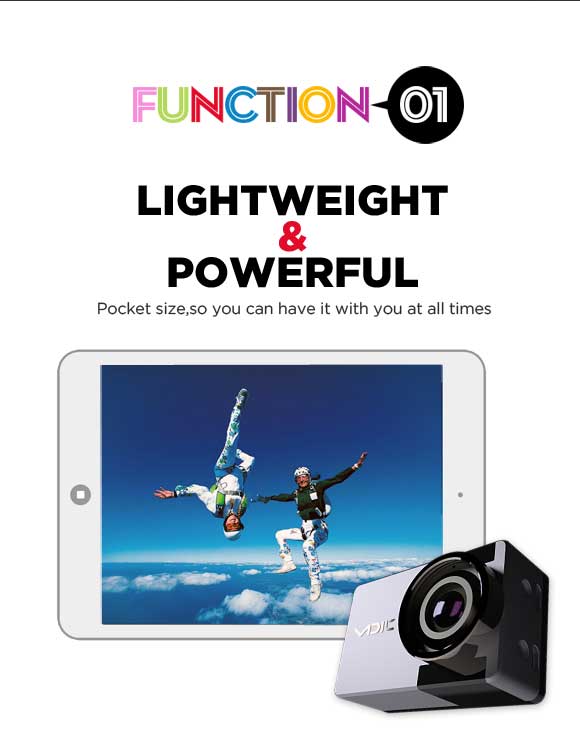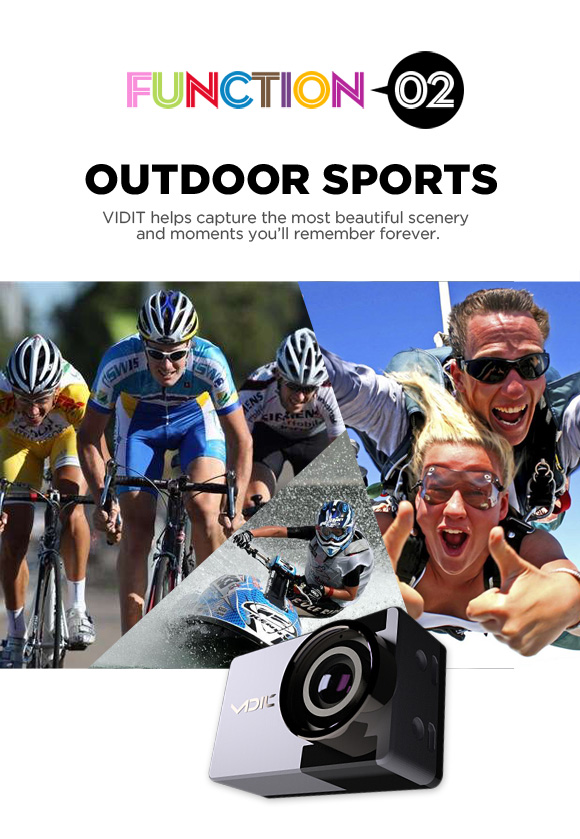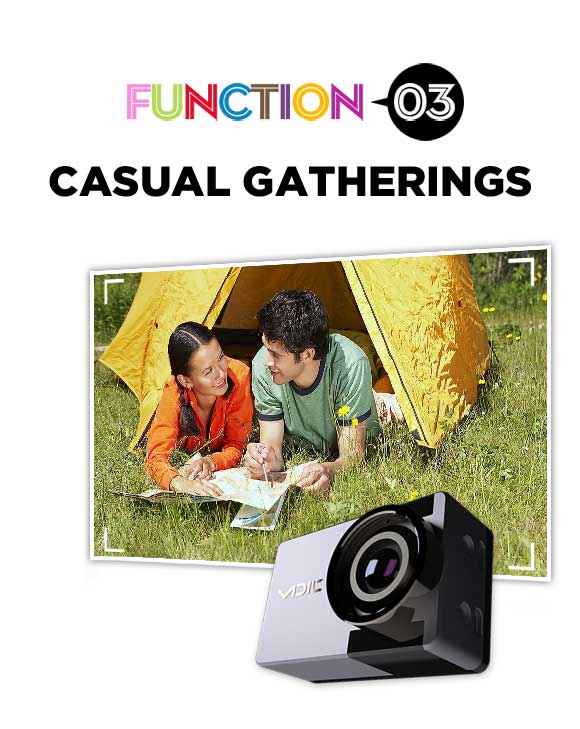 HD quality recording is far from enough. In the VIDIT's small body, we installed a GPS tracker, G-Sensor, Gyro Sensor, Bluetooth and WIFI modules. When recording, VIDIT also tracks geographical positions, saves the camera's motion status and collects all kinds of data from the Bluetooth module including heart rate data, etc. VIDIT tries to record everything you are experiencing.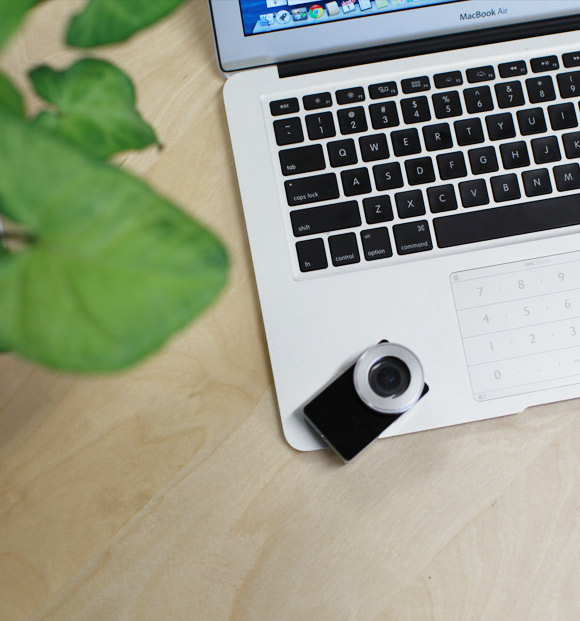 As for convenient controls, we support wireless connections with iOS and Android devices(android version not yet released). We developed a strong mobile application named "VIDIT". With this application HD previews, options and recording controls are all available via a WIFI connection. What's more interesting is that we support controlling multiple cameras with one device or multiple devices. And also multiple devices can control one camera.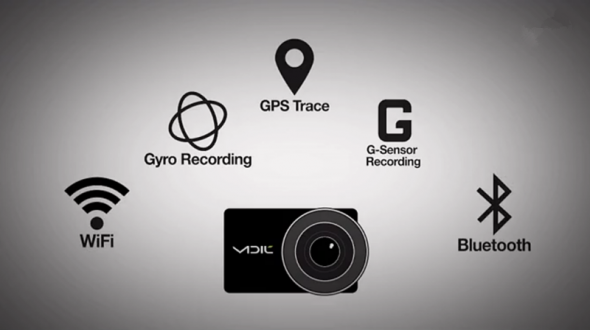 The VIDIT app helps you track all the data with your mobile phone or tablets from VIDIT Camera including video and geographical position.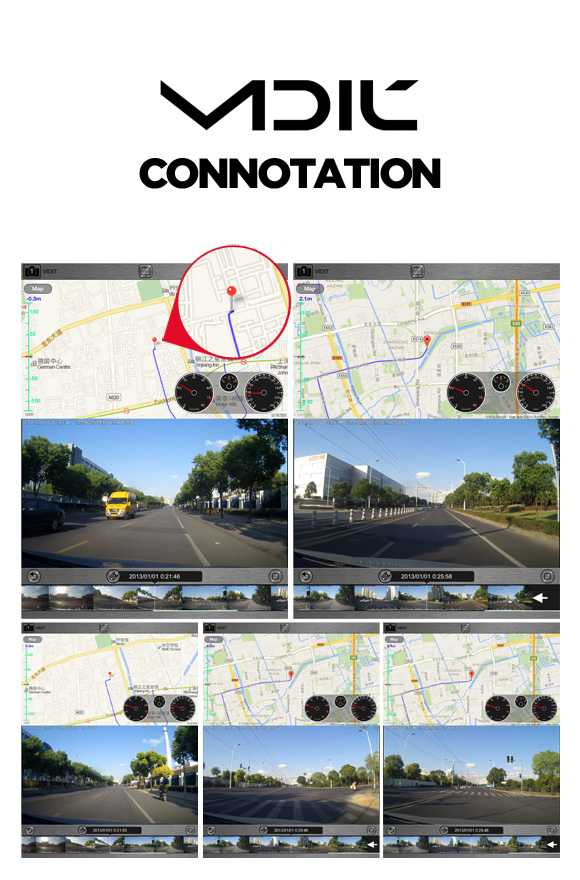 Shining moments are usually buried within long and boring periods. And complicated video editing programs are a headache
Finding the perfect moments always consumes a lot of time and passion. Our application lets you quickly review all your videos, find clips and edit them into short films.
lication not only helps you cut clips quickly, it also uploads and manages what you film and edits them onto platforms. In that way, you are able to share your video online through Wechat, Wechat moments, Weibo or Facebook with your friends.
Here is a demo video about VIDIT.
What does the Vidit look like?
We choose an aeronautical grade aluminum alloy as the body material to ensure durability. We also used a simple body design for convenient disassembly and for material recycling. We are not afraid of complicated craftsmanship, but we are afraid of imperfect products.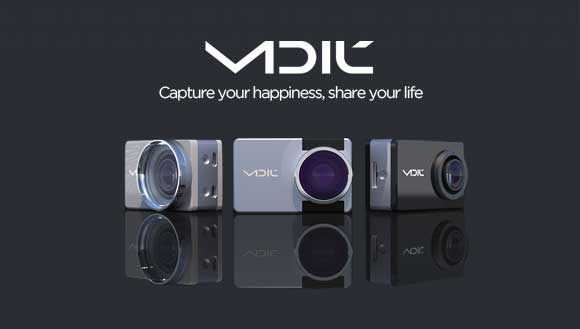 The VIDIT family of products now have black, white and silver colors. Black and white ones are made of a metal frame and chassis with bright plastic front and back covers. Silver ones are all made of metal parts. If you are interested, you can purchase accessories to change the colors.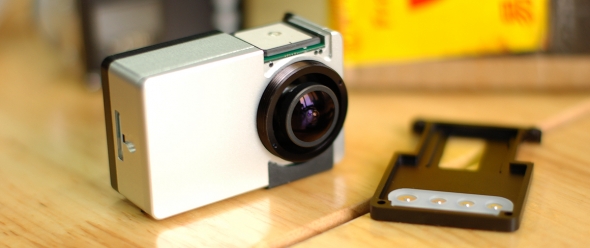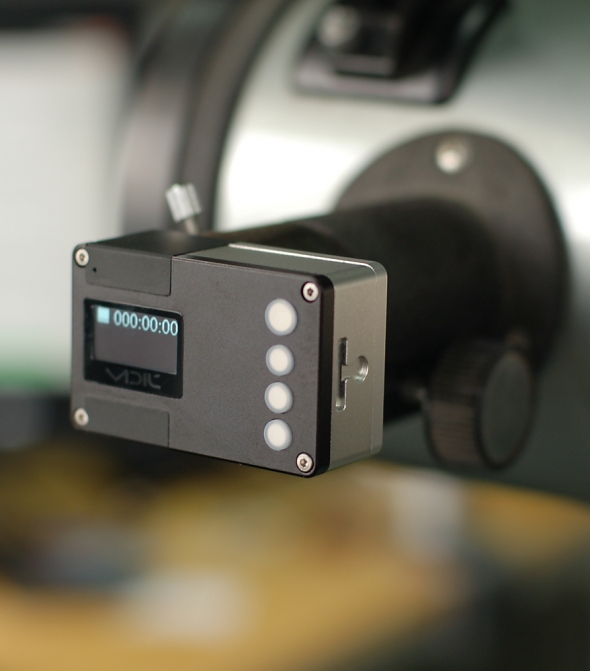 If you are interested in any other colors, please tell us in product Q&A sessions, we will adjust production in advance according to the request of supporters.
Vidit Accessories
We know that wide angle lenses make a lot moments a little bit more interesting. So we designed a lens adjustable structure which is even capable of connecting telescopes. We help you see whatever you want to see at all times.
Riding, hiking, driving and diving all need different accessories, so we designed different accessories to fit your needs.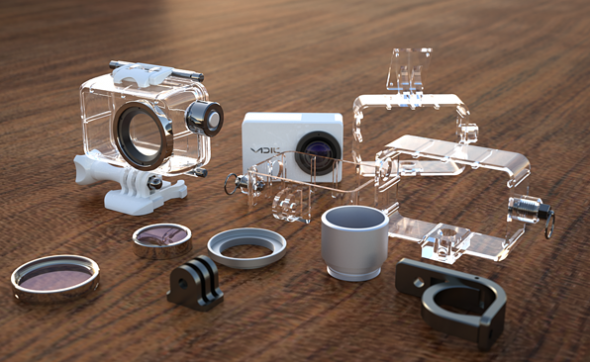 If you have special requirements, please contact us, we would really like to help you find a personal solution.
For more information, please visit the official website:
http://www.cam2cloud.com/
VIDIT的小伙伴

如果只使用广角镜头,很多情况下就会尴尬,所以,我们设计了可更换镜头的结构,甚至设计了用于连接望远镜的适配接口,这样,在更多时候,我们能帮您记录您想看到的一切。
下面的视频是VIDIT+20CM反射式望远镜拍摄的。
我们需要您的帮助

我们目前已经完成的产品原型机的设计开发,下面是工程机的图片。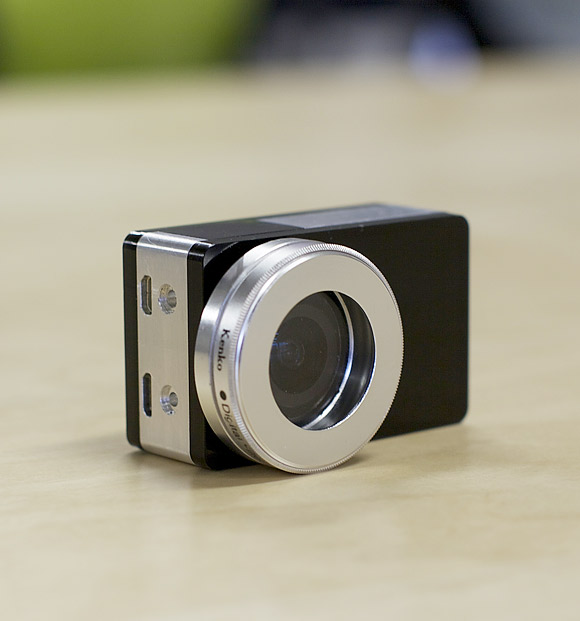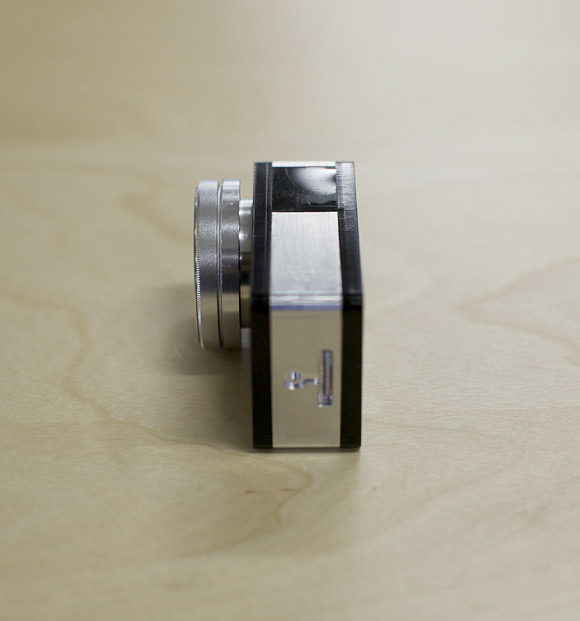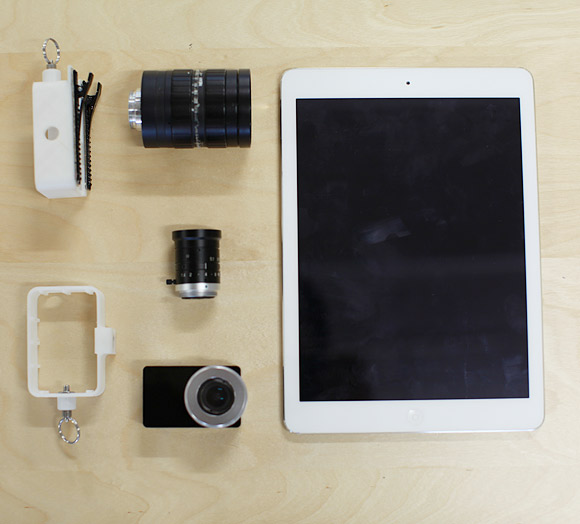 我们计划在众筹开始时同步开始模具生产,预计在众筹期结束后半个月内开始第一批发货。如果得到您的支持,我们就能更快更好的完成产品的量产。

我们也希望您对我们的产品提出意见,帮助我们尽可能地改进我们的产品。
关于VIDIT的设计团队

VIDIT创始团队在视频设备开发领域合作了十多年,对于视频的编解码、图像处理、应用软件等方面都积累了丰富的经验。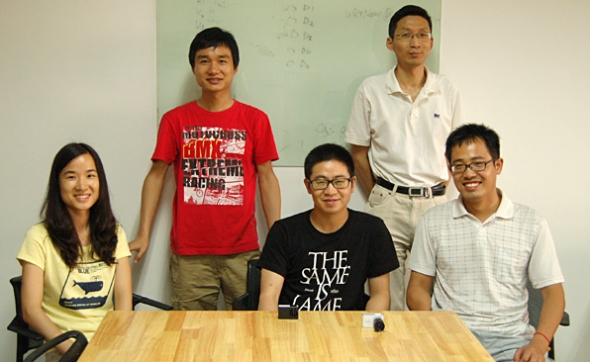 微博:ViditCam 微信:ViditCam 官网:
http://www.cam2cloud.com/
关于回报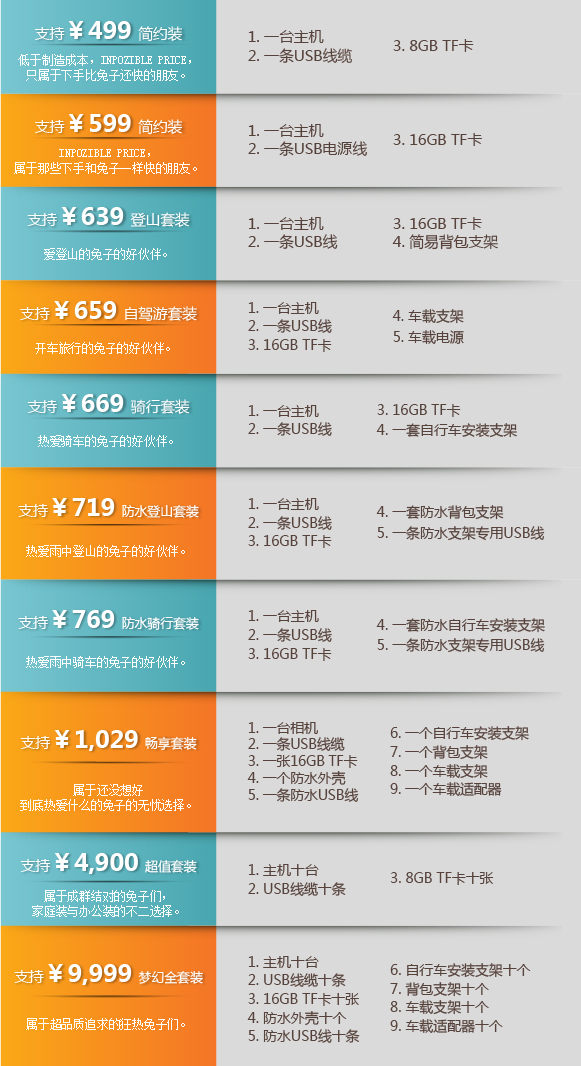 The delivery price is CNY140.00. (1 CNY = AUD 0.1849 = USD 0.1630 2014-09-25 14:00)
V粉们,VIDIT的市场零售裸机价格新鲜出炉!
1、塑料壳:1090RMB;
2、金属外壳:1290RMB;
3、土豪金:1390RMB;
众筹期间,还有大幅度优惠,预购从速度哦。
另外,为了感谢第一批用户对vidit的喜爱和支持,前500名订购成功的忠实粉丝将收到自动升级为质感超赞的金属外壳VIDIT.
Reward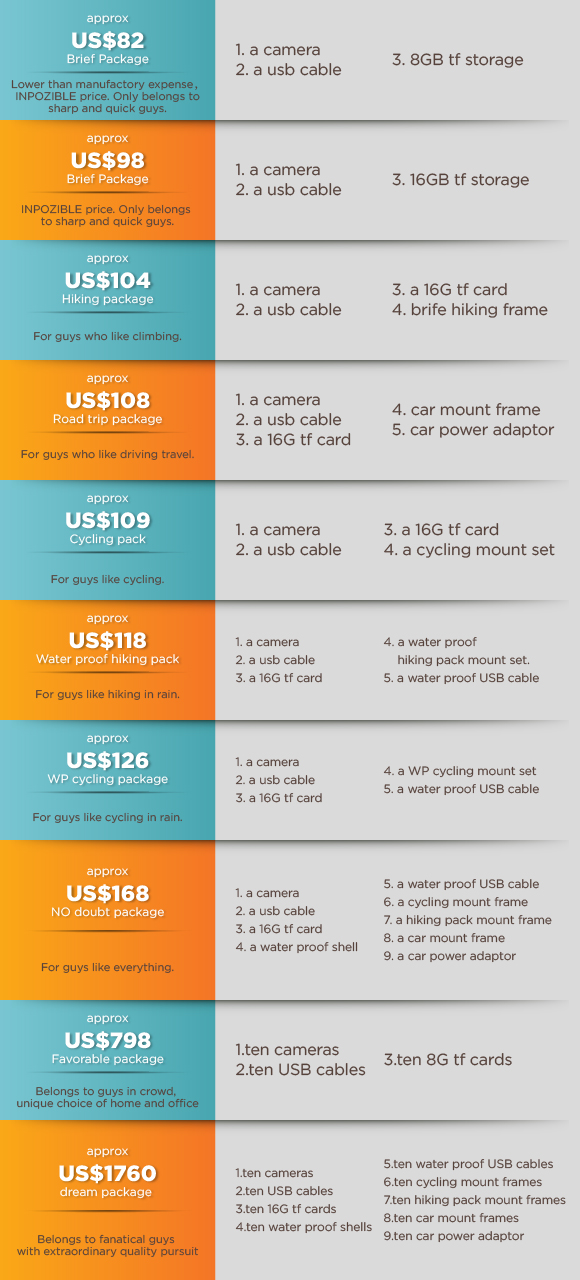 The delivery price is CNY140.00. (1 CNY = AUD 0.1849 = USD 0.1630 2014-09-25 14:00)
The Retail Prices of VIDIT Announced
1.Plastic Outer casing 1090RMB;
2.Metal outer casing 1290RMB;
3.Luxury Gold outer casing: 1390RMB;
With the appreciation for your support to VIDIT, the first 500 purchasers will get extra special metal outer casing VIDIT.
VIDIT/拍来拍趣 功能一览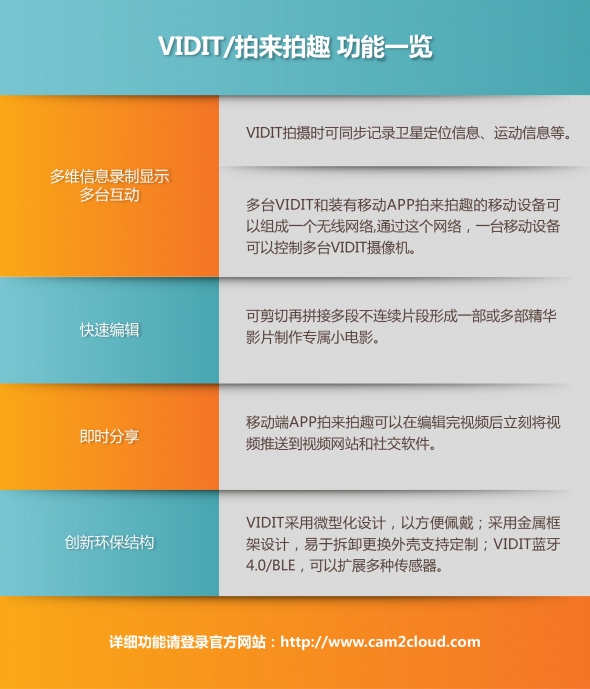 VIDIT FUNCTION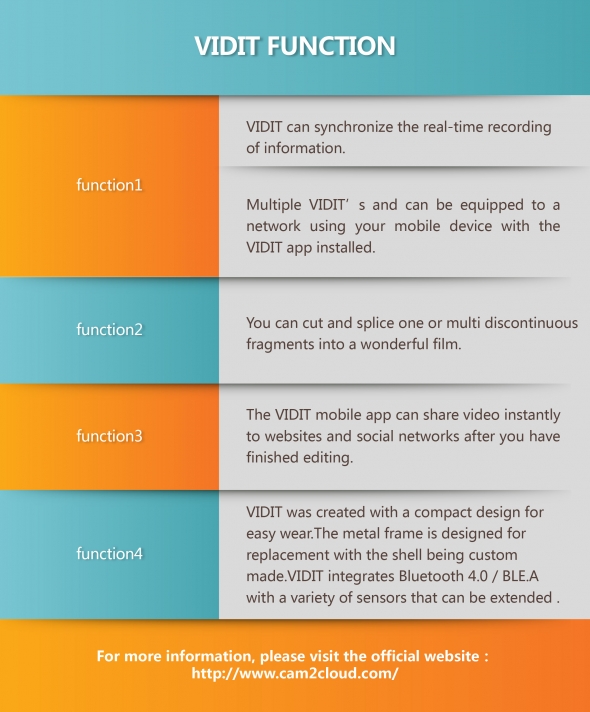 Parameters

关于VIDIT的参数

关于VIDIT的测试与体验
下面这段视频是团队创始人关于VIDIT进行的抗摔测试:


2014年7月18日,旅行达人烁头带着VIDIT(测试机)攀登欧洲最高峰-厄尔布鲁士山。用VIDIT记录了近5个小时的艰难而又刺激的旅程。用拍来拍趣(VIDIT APP)将这5个小时中的精彩片段分享给大家。因为VIDIT,世界变小,你我更近。



The experience video of VIDIT

Shuo Tou, a travel enthusiast took VIDIT to the highest peak Elbrus Mount in Europe on 18 July 2014.The 5 hours long but thrilling journey was recorded by VIDIT camera .The wonderful moments was edited and shared among friends by VIDIT app.VIDIT makes the world smaller, bringing us closer together!


Some Of My Previous Work
The VIDIT team has been involved in the video device development field for more than a decade. We are very experienced in decoding video, photo post production and application development.




Weibo:ViditCam Wechat:ViditCam Website:www.cam2cluod.com

How The Funds Will Be Used
We have just finished our prototype design.Here is a picture of engineering machine.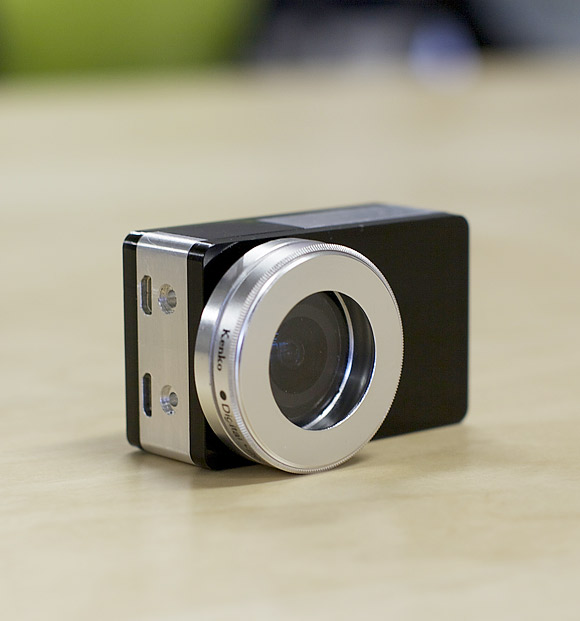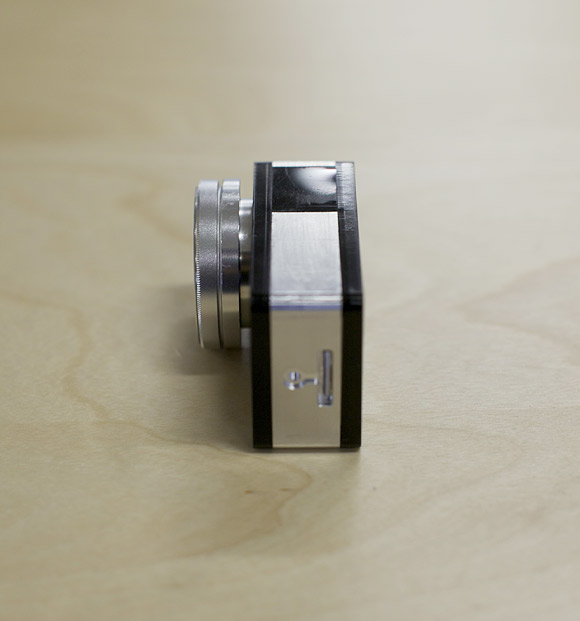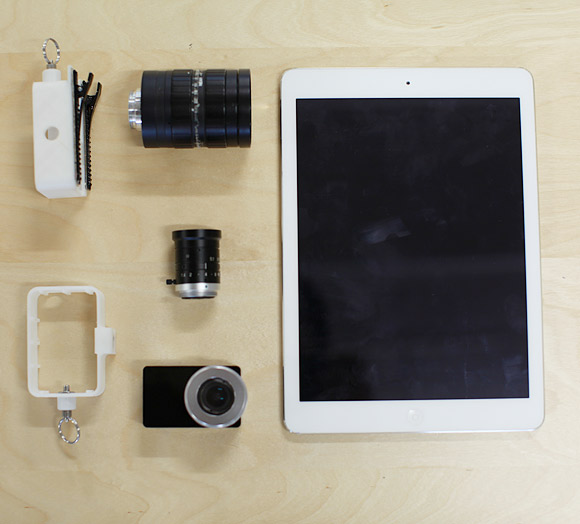 We plan to roll out our manufacturing when crowdfunding starts. The first batch of products are expected to launch 15 days after crowd funding ends.
If we have your support, we will finish our product production better and faster. We also hope you can give us suggestions to improve our products to make it even better.