Smoked Bacon Bourbon by The Experimental Spirits Co.
The Experimental Spirits Co is a boutique drinks business focusing on creating hand-crafted, unique & high quality spirits. Founded by Sven Almenning, a bar owner and spirit industry consultant, the Experimental Spirits Co. applies the art and skill found in the very best cocktail bars around the world to create unique and intriguing flavour combinations.
Our Smoked Bacon Bourbon will be our very first product to go to market and should we be successful, the aim is to also launch a Spiced Rum and a new-age gin with a twist later this year, with more interesting products in the pipeline.

Why Smoked Bacon Bourbon?
Bacon & Whiskey? What's not to love?
We buy high quality bourbon whiskey which we then 'wash' with 100% Australian Smoked bacon. It's quite a laborious process which includes a rigorous filtration process before it's hand bottled, hand labeled and hand waxed. This is beyond small batch people!
We bottle it at 40% ABV
The final product is – we believe – amazing! And we're super keen to share it with you!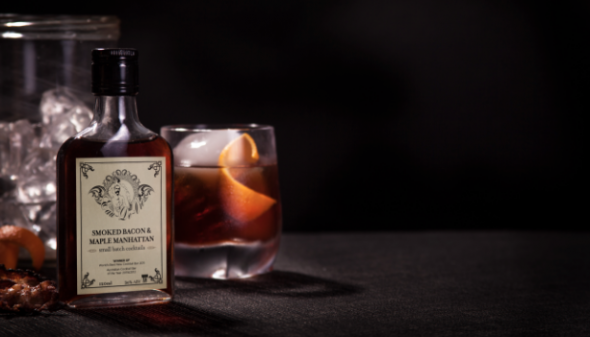 Upcoming Experimental Spirits Co. Products
Should we be successful in this campaign we aim to launch our next product shortly. This is a recipe we have been developing for some time at The Roosevelt and that is currently being used in our Roosevelt Pina Colada.
Initially created by our house mixologist Philip Gandevia aka Dr. Phil we have further tweaked the idea of our initial coconut rum into creating a Salted Coconut Spiced Rum. This is incredibly delicious and forms the base for our Eau De Vie Coconut & Banana Rum Old Fashioned which is one of our three expressions in our Small Batch Bottled Cocktail range that can be found nationwide in Vintage Cellars and in boutique bottle shops in the Eastern Suburbs of Sydney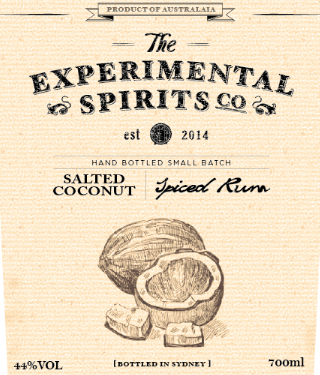 The Legal Stuff
Under the Liquor Act 2007, it is against the law to, or to obtain on behalf of, a person under the age of 18 years. All deliveries of Smoked Bacon Bourbon must therefore be received and signed for by a person over the age of 18 years. We are unable to post to PO Boxes.
NSW Liquor Act 1982: It is against the law to sell or supply alcohol to, or to obtain alcohol on behalf of, a person under the age of 18 years. VIC Liquor Control Reform Act 1998: Under the Liquor Control Reform Act 1998 for Victoria, it is an offence - To supply alcohol to a person under the age of 18 years (Penalty exceeds $6,000) - For a person under the age of 18 years to purchase or receive liquor (Penalty exceeds $500).
LICENCE NAME:
Vanguard Luxury Brands Pty Ltd
LICENCE NUMBER:
LIQP770010184
Due to licensing restrictions we are unable to ship The Experimental Spirits Co. Smoked Bacon Bourbon internationally.
Some Of My Previous Work
Prior to establishing the Experimental Spirits Co. I was the founder and director for Behind Bars Industry Services. Australia's largest bar industry consultancy outfit. Over a 8 year period we trained some 70,000 bartenders on all things spirits and bartender related, helped launch brands such as Johnnie Walker Platinum Label, Ketel One, Tanqueray No. TEN, Ciroc Vodka, Bulleit Bourbon, Don Julio Tequila etc in the Australian market, and created, ran and managed a variety of bartender competitions and tasting programs such as Australian World Class, Johnnie Walker Adventure in a Glass, The Ketel One Bartender Fraternity etc.
I currently also own and manage 3.5 cocktail bars: Eau De Vie and The Roosevelt Bar & Diner and our recently launched Eau De Vie Apothecary here in Sydney (this being the point five in our 3.5), as well as Eau De Vie Melbourne; all of which have received both national and international recognition at various awards. Eau De Vie has in addition to being named Australian Cocktail Bar of The Year twice and winner of Time Out Sydney Bar of the Year & Cocktail Bar of the year plus Gourmet Traveller Bar of the Year was also named World's Best New Cocktail Bar in 2011.
The idea behind the creation of the Experimental Spirits Co. is to take my learnings from these two different businesses and incorporate them into something brand new and refreshing, and I have some of the best bar talent in the country to help me on the way. I am fortunate to have some of the country's most passionate, knowledgeable and skilful bartenders working across the bars and they will all no doubt have a hand in what we create and how we do it going forward.
How The Funds Will Be Used
Primarily the funds will go towards purchasing whiskey and the down payments on all the equipment that is required for creating the product.

We hope that this campaign will assist us in covering some of the costs for new production equipment such as more high-volume filtration systems as well as the rental of a small 'lab' where we can base our work and the new business.

We believe that should enough people out there support what we are doing, it will help us achieve national distribution in both bars and bottle-shops which ultimately is the goal. Your support here will be crucial for our quest to achieve ongoing distribution across the country!

Help us get this off the ground and hopefully you'll see more awesome new products from the Experimental Spirits Co in years to come – all thanks to you and your support!




The Challenges
There are a number of challenges for the business as a whole, but as far as this singular product goes: the creation of the Smoked Bacon Bourbon; we do not see too many obstacles popping up:

* We have already created the bourbon and have access to the whisky and the bacon required to make it
* We have sourced the bottles, done the design, created the labels, the boxes for shipping etc
* The liquid has been tested and re-tested and is good to go.

We should be able to start shipping the early-bird whiskies as soon as the campaign is completed and aim to have everything made, bottled and shipped within 6-8 weeks of completion depending on how well the campaign goes… And from there - hopefully you can find your next bottle of Smoked Bacon Bourbon in your local bottle shop or at least via our direct mail website (coming soon)