My Life in Boxes unpacks the story of a pathological hoarder on the brink of being uprooted from her carefully constructed existence and placed into palliative care. Coveted items are unearthed, animating memories with magical realism as they take on new meanings in her final stages of life. Unfolding in, around and above the audience in an imaginarium, coloured by circus, movement and spoken word.

The piece was originally conceived as a one person show for assessment during Tarah's final year of study - for those playing at home that was about 6 years ago! After realising that she couldn't express the dimensions of her idea as a one person show, she put the development on hold, waiting for the opportunity and right collaborators to see it come to life - that time is NOW.

The inspiration for this piece stems from a curiosity surrounding the things we refuse to let go of. Where intangible things such as ideas, feelings, lifestyle, identity, self-image or habits, become irreplaceable. How we endow people, places and photos with those ideals to form, what can become, an insurmountable army of souvenirs all systemically thwarting the process of letting go.

Although originally based of a personal experience, difficulty of letting go and moving seems to be a reoccurring theme as of late. Where people are struggling with identity, not in the typical sense but struggling to adapt when their ideas of what their life would be like don't go to plan. Do you give up on the idea - the dream – and accept changes to your identity or deny it and battle on. It's not an identity crisis or not knowing who we are, it's having very clear ideas but struggling if the life we are living doesn't live up to that.

My Life in Boxes is an exploration of how long and how intensely you can hold on until, inevitably, you accept fresh air or suffocate at the hand of your own strangle hold.

Some Of My Previous Work
Gravity Dolls is a collaboration between circus performer Tim Rutty (NICA graduate and international performer) and actor/ writer, Tarah Carey (Neighbours and Best Actress nominee – QNF Awards). After developing respect and appreciation for each other's work, the pair investigated the possibility of collaborating to blend their passions for theatre and circus. This passion sparked a vision to create stories that encompass the entire performance space, challenging the laws of gravity and invoking a sense of magical realism in their play, and thus, the name Gravity Dolls was born
Tarah Carey & Tim Rutty (pictured)
Image by Sarah Walker
Growing up in the small town of Maryborough, QLD, Tarah spent most days in a gymnastics leotard, until Theatre Residency Week with QLD Theatre Co redirected her passions towards a career in the performing arts. After graduating from USQ's acting program, Tarah started training with Vulcana Women's Circus, drawing on her 10 years of competitive gymnastics and sparking a strong interest to fuse her actor training with extreme physicality.
Despite the rumours, Tim was not raised by wolves, he has however spend most of his life upside down training circus for 16 years. He recently completed the Bachelor program at the National Institute of Circus Arts with career highlights including performing in Paris for the opening act at Cirque De Demain and placing third in Australia's inaugural aerial competition.
Photos,
http://www.gravitydolls.com/gallery-2/gd-shoot/
video links to showreels
http://www.gravitydolls.com/gallery-2/video/
How The Funds Will Be Used
This is a story about letting go we want to encourage you to let go of 5, 10, 20 or maybe even 100 dollars to help with....
Budget Breakdown:
$1500 will go towards paying our director Maude Davey
While we are not inventing the wheel, this is a hybrid with little precedence so we need someone to guild us through this unfamiliar territory. For this show it is paramount that we move away from traditional conventions of circus that employ tricks to impress the audience and instead merge the extreme physical nature of circus with the artistic story telling of theatre. Maude (film, television and stage actor, director and creator of cabaret, circus and performance art including My Life in the Nude, Yana Alana and Finucane & Smith) has the necessary understanding of circus to steer away from employing tricks for tricks sake and place storytelling at the core of the creative process.
$1500 will go towards the design and build of our set/costume.
We have an ambitious vision for the world we want to create, with the performance happening in, around and above the audience!
As the set transforms throughout the performance, the space shifts from a claustrophobic fortress of clutter to a clean slate, ready for a new beginning. Former installation artist, Kim (Underground Cinema, Pixel Theatre and recent graduate of VCA Postgrad Diploma in Design) will create a design to facilitate the parallel use of the space as both a viewing and performance arena.
$500 towards paying Guy Dowsett for sound design
Having worked extensively across both text and movement based performance, Guy (MSO, Bagni di Lucca Art Festival and 'Helmi' in Helsinki), has the experience to overcome the unique challenges and demands involved in combining both art forms.
By building the sound design and the show simultaneously, we will essentially have an audio fingerprint that adds to the unique experience of this show. There's nothing worse then being engaged during a performance only to be pulled out of it because the song takes you back to your first love/ your last booze up/ or just somewhere else entirely. This will also save us $$ by reducing APRA fees during performance seasons.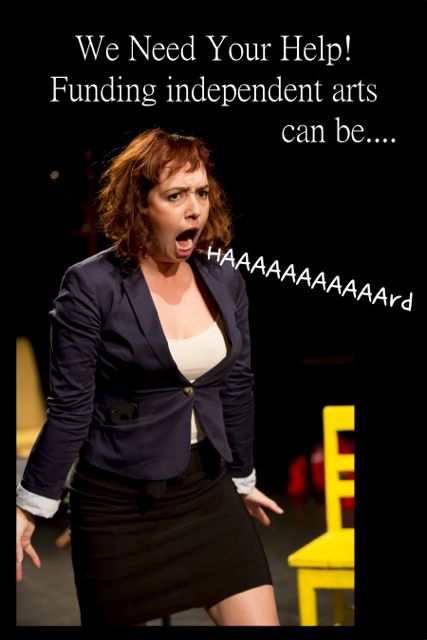 Tarah Carey (pictured)
Image from Theatre In The Red
Image by 3 Fates Media
This is our absolute bare bones budget (the tightarse Tuesday edition). The funds raised by this campaign will supplement a bigger budget that includes our own contribution and, if successful, other sources of funding. If we raise more than our target we will be able to invest more into our set, have more time with our director and be able to print posters and flyers to help us market the show.
We have big plans for this show and the creative development and debut in Melbourne Fringe are just the beginning! We are confident that our time, energy and money invested into getting this show up will be returned and with that in mind we are prioritising paying our collaborating artists properly over including a fee for ourselves.
The Challenges
Our biggest creative challenges are how to perform the physical and spoken components of the text AT THE SAME TIME! There is no denying that physical activity shows. It affects the breath, prompts sweat and a similar lineup of responses in the body that you would think would work against being able to deliver the dialogue. In the spirit of letting go, we decided to let go of the idea that you could hide these from the audience, so, rather than trying to deny the body's responses to physicality we will use these to enhance the performance.

While we are not the inventors of this hybrid, our distinction rests in creating a narrative uninterrupted by the performance mediums of circus and theatre. Equally important, is that the quality of either art form is not sacrificed in the pursuit of innovation.
Both Tarah and Tim have been in a self run 'bootcamp' styled training program since the start of the year in preparation for this development. Days are split between acting/ voice work and circus training. Every afternoon Tarah goes through rigorous circus training with Tim, acquiring an impressive number of bruises from a range of disciplines, while every morning Tim is put through equally challenging acting session with Tarah, often copping the same number of bruises, but to his ego rather than his body.

We have taken great care is picking our creative team, ensuring we are in the best possible position to overcome the challenges we will face. The planning has been done, we have the manpower, we have the time we have the space, we just need a little help to get us over the line and into that development room!