UPDATE:
THE UNIVERSE WILL PROVIDE
Bosko & Honey's new album of original songs has been successfully funded and is now complete!
You can order the CD
on our website
...
Or download it from
iTunes
or
CD Baby
!
A huge THANK YOU to all our Supporters - you made it possible for the Universe to Provide!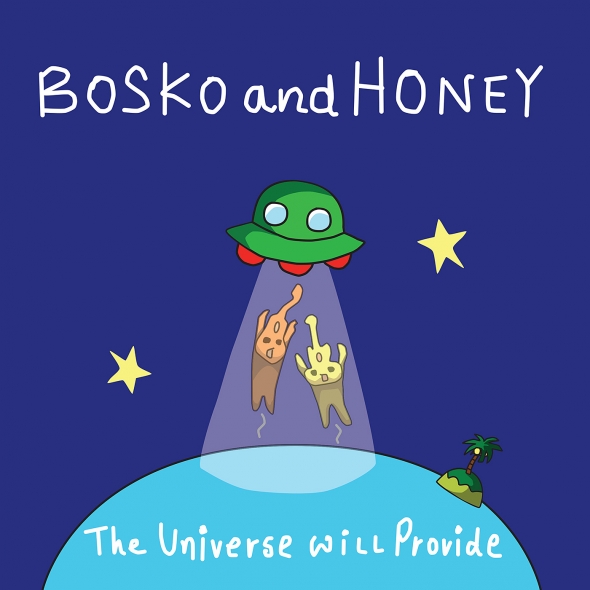 ---
Hello!
Thank you for visiting Bosko & Honey's Pozible crowdfunding campaign!
"YOU CAN HELP THE UNIVERSE PROVIDE!"
We're asking for your support to help us produce our second album of original songs.
It's been 3 years since our 8-song release, PRETTY PLEASE, and now we have a whole bunch of new material... enough for a full-length album of at least 12 songs.
"The Universe Will Provide" is the title track. We've already recorded a rough mix of it and you can hear a snippet in
the video at the top of this page
.
WE'RE RECORDING AT PEGASUS STUDIOS
As with "Pretty Please", this album will be recorded at
Pegasus Studios
in Cairns with the legendary
Nigel Pegrum
.
Nigel is a musician and sound engineer of great reputation who has played in countless bands including Steeleye Span, Uriah Heep and the Small Faces.
He has recorded and produced many successful works over the years, including
Seaman Dan's Aria Award-winning albums
.
B&H with Nigel Pegrum at Pegasus Studios: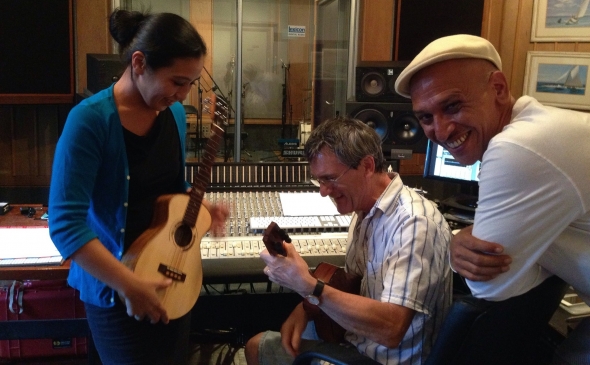 Some of our other work
First up here's a sample of each track from our last CD,
PRETTY PLEASE
, also recorded at Pegasus Studios with Nigel Pegrum:
As with "Pretty Please" we want this new album to express the sound and energy of our live show... just a little slicker.
Here's a
playlist
of a complete show from 2012 at the Newkulele Festival:
And a
playlist
of various live performances from over the years:
Still want to know more?
Our aim
Nigel managed to record, mix and master our last CD in only 18 hours!

We need more time for this album... so we'll be working on it through July and August for a November 2014 release.

THE UNIVERSE WILL PROVIDE will be a full-length album with at least 12 songs, so we need extra funds to be able to afford the additional studio time.
We also want to spend as much time as we can on each track, especially at the mix-down stage.

Our aim is to do the best job possible on this one - which is why we're asking for your help!

We're hoping the $4,000 target will be exceeded
Because of fees and the cost of the Rewards, we'll need more than the target amount in pledges to actually have $4,000 available for the album.
The more the target is exceeded, the better the album will be... plus we'll eat better while we're doing it!
If it's well and truly exceeded (any "Universal Providers" out there?) we might also be able to take the time to finish other projects, like the
Ukulele Safari Oz
videos!
The Bosko & Honey story
We began our musical journey together when Bosko gave Honey a ukulele for her birthday... It was 2005.
We'd been married for a year and we were living where we still live - in Kuranda, a little tropical rainforest village in Australia's Far North Queensland.
Without the internet and totally unaware the ukulele was entering a global explosion, we taught ourselves to play and began performing locally with our band
"Ukulé Flambé"
.
Later we began performing as a duo... and "Bosko & Honey's Ukulele Love-In" was born!
We finally "got connected" in 2006 and uploaded our very first "Love-In" to YouTube.
It was
a cover of Miles Davis' "All Blues"
.
Back in those days, basically anyone who uploaded ukulele videos to YouTube knew of each other and we started to make friends and fans with our "Ukulele Love-In Online" videos.
Here's a
playlist
of BOSKO & HONEY's UKULELE LOVE-IN from over the years:
Bosko & Honey's Ukulele Safari
In 2007 we were invited to play at the New York Uke Fest, and jumped at the chance to meet other ukulele players... which we certainly did!
This experience changed everything for us... and gave us an idea:
What if we travelled for a year meeting other ukulele players who we knew from YouTube?
We could do a video together and upload them as we travelled!
So, in 2008 we set off on
"Bosko & Honey's Ukulele Safari"
We travelled the world for 11 months, staying with ukulele players in Japan, the USA, Europe and the UK.
It was a grand and naive project which was self-funded but relied heavily on the generosity of people we had never met... kind of proto-couchsurfing combined with the near-instant sharing of personal experiences with the wider public that facebook and twitter has now normalised.
Here are the
video results
of our travels:
Ukulele Safari Oz
Following the Ukulele Safari 2008 project we were exhausted and broke, however by 2010 we felt ready for an even more ambitious project:
Ukulele Safari Oz
.
The idea was to fly 2 of the people we had met in 2008 -
Yan Yalego
from France and
Gensblue
from Japan - to Australia for a 3-month road-trip around the country... performing, visiting schools, giving workshops and documenting the journey.
This time we needed more support so we were able to secure some
sponsorship
but also used over $20,000 of our own money, saved and borrowed.
Yes, now we know we were crazy!
We even ran an
international ukulele video competition
to fly the winner from anywhere in the world to join us for part of the trip.
So, starting in Kuranda, we drove clockwise around the country (sometimes with up to 10 people) until we hit Perth in Western Australia, where our trip ended... having covered over 10,500 kilometres!
It was an incredible adventure but an unfinished one. To this day we have not completed editing the countless hours of video.
We are still in debt from this project and have become less inclined to enter into such gigantic undertakings!
However, the hiatus has enabled us to concentrate on making music instead...
Nevertheless, as soon as we are able, we intend to finish the mammoth task of editing Ukulele Safari Oz!
Here's a
playlist
of UKULELE SAFARI OZ so far:
That's it! Thank you and congratulations if you've read this far... and may The Universe Provide!
Bosko & Honey in the community
We've done a lot of community and ukulele community-related stuff over the years.
Best known are our
UKULELE SAFARI
travel videos (scroll down for the whole story!)
More recently we've enjoyed hosting:
- A series of
house-concerts
at our home in Kuranda
- the annual
Ukulele BBQ
at the Kuranda Amphitheatre after the Cairns Ukulele Festival
- the annual
Ukulele Table Tennis Tournament
after the Melbourne Ukulele Festival
And performing at various charity and fundraising events.
Rewards
You can help by simply Pre-Ordering the album or choosing Rewards ranging from the ridiculous to the sublime!
If there are any other combinations of Rewards you might like, or if you need a different T-Shirt size, just let us know...
How The Funds Will Be Used
Up to 50 hours at Pegasus Studios for recording, mix down and mastering, although we'd like to allow for some flexibility if more time is needed...

Recording/Mix/Master - around $6,000
CD Design - $500
CD Replication - $1,500

Total = $8,000

We've already paid for recording the title track, and are working very hard to save as much money as we can.

So, we're asking for a minimum $4,000 crowdfunding target, contributing up to $4,000 ourselves (although with fees and Reward costs our contribution is actually much higher).