Hi Everyone,
My name is Mr Tim and I am a Performing Arts specialist and song writer of fun rock music for kids aged 5-12yrs.
Many years ago I had a vision. I rediscovered a 'classic' Sesame Street album and was blown away by the talent of the musicians and the quality of the music itself. It made me wonder, "Where is quality kids music now?" Working closely with children, I noticed that once the early childhood nursery rhymes and 'little' kids music was outgrown there was little for them to move onto.
I remember growing up with the 'Muppets' and 'Classic Sesame Street' that had amazing musicians playing great music with lyrics that related to me. The world of children's music need the Kermits and Ernie and Berts and all those amazing characters who sang straight into your soul and made you wonder about the world and where and how you fit in.
This is where Mr Tim comes in...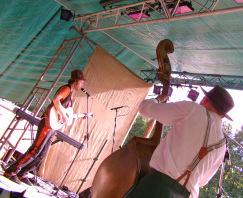 I recorded my first album "Bartumus Fum's Rock Mission" in 2008, which was highly received by children, parents and teachers alike. Many parents came to me afterwards and said, "It's all they play over and over. Please, tell us, when is your NEXT album!?"
Well, it is NOW.
I have been writing prolifically since that first recording and now have a large bunch of excellent new songs ready to inspire, educate and generally ROCK OUT to with this upcoming album "I CAN FLY".
This album will have an 8 piece band made up of Drums, Bass, Guitar, Piano, Saxophone, Trumpet, Trombone and amazing back up singers of the highest professional quality. There will also be a children's choir to back up the back up singers!
The reason for choosing so many talented musicians is that I believe it is vital for children's music to have live instruments. It is important to keep the balance in today's world between electronic and live sounds.
Children should not be forgotten in this. They should have the chance to experience quality live music sounds.
My album is not only for kids but teachers as well so they can use the material to explore topics such as geology with the song "Rock Rock", the importance of life's little truths with "Scabs are irresistible" as well as just singing great tunes with a big smile on their faces. In the second part of this project next year I am planning to make a teacher's resource kit that will have live music backing tracks from the album for them to use in the classroom.
I need your help. it is very important for the next generation of young people to experience what quality music is all about; to give the parents something to enjoy listening to, as well as an outstanding resource for teachers to inspire kids in the classroom!
More info at
www.mrtim.com.au
Some Of My Previous Work
As a performer, educator and composer, I have been making music since I was 6 year old and working with children of all ages for over 15 years. I have a Bachelor of Music majoring in classical piano and a Diploma of Education in music teaching.

Here is a clip of a song from the last album, 'Bartimus Fum's Rock Mission' - A response to the obesity epidemic aka 'The Broccoli Song'.



You can listen to a few songs from 'Bartimus Fum's Rock Mission' album here:




I also perform live at schools, festivals, openings, functions and the occasional birthday party. Here is a performance I did at the Cotter Dam Extension Opening with a couple of awesome friends I made on the day!

I have used all my skills to create Mr Tim Enterprises, a performing arts business that brings the joy of creative arts to children and adults alike! One part of the business is the 'Mr Tim Extravaganza Program' which gives schools the chance to have an end of term concert like never before! With up to 400 kids, I put an original show together with them in only 4 days!!!

People don't believe it is possible until they see it happen. Here is a video of what transpires:








How The Funds Will Be Used
This is a grand project involving a lot of musicians and time. The past album was fully funded by myself and was an amazing experience. I learnt a lot and know how to do this. However to make this project a success I am needing help to get the product completed and launched into the big wide world!

In order to make this happen we have laid down a personal deposit to the project from our savings. The total cost of the project is $16 500, the $8000 figure we are asking for is only half of the total costs and we will be supporting the rest ourselves. This figure does not include any of my time for writing, rehearsing, recording or managing! This is my passion and I really believe in this project.

Your money will be going straight into the project towards recording, mixing, editing, producing, mastering, pressing, art work and the musicians fees.

The forecasted overall budget is as follows:

Studio, Producing and Mastering $8500
Musician fees $3800
Pressing, Artwork, Marketing $2600
Launch including video, musicians, venue, sound and lighting crew $1600

TOTAL = $16 500.

Any additional funds will go towards stage two of the project: a teachers' resource and Professional Development workshop package to help teachers bring more music and spontaneous creativity into the classroom.

The Challenges
This year and the next are huge ones for Mr Tim Enterprises. My wife (and manager) and I have decided to dedicate lots of our time and resources to building our vision. We want to bring joy and light to people of all ages with the music and programs we have developed.

Regarding this project, we have already faced the challenge of getting the project up to this stage: ready to record. All the material has been written thoughtfully with lots of love and heart. The coordination of musicians, sound people and my own timetable has been well thought out and everyone is now booked and ready to roll. The choosing of the actual material has taken considerable thought, as I wish to take the album to another level once completed. This has involved talking to people in the education area and exploring the needs of the everyday classroom teacher as well as what kids need to have in their home, car, stereo, phone and music devices!

We are very well prepared. The musicians are booked and organised. The music is ready to go. The studio is booked and ready. We are ready. We just need your help to fund this amazing project. Please donate to bring joy and happiness to all children!

If we are unable to get the financial support via crowndfunding, we will have to dig deep into our remaining funds and ask our parents for a loan...(don't worry Mum, we have faith: it is not going to be needed :-) ). This project must go ahead. It is an important stepping stone to getting this music out to kids and teachers who need it.

Thank you for your support. Please share with your friends and family and anyone who is interested in raising the bar for kids music today!