Fresh herbs make your cooking taste great. But when you buy them from the supermarket or greengrocer they cost a truckload and the bunches are usually way too big so you end up wasting most of what you've bought.
It's kind of crazy, especially when there is a bountiful supply of herbs already growing all around us: in parks, outside restaurants, along people's front fences. Everywhere.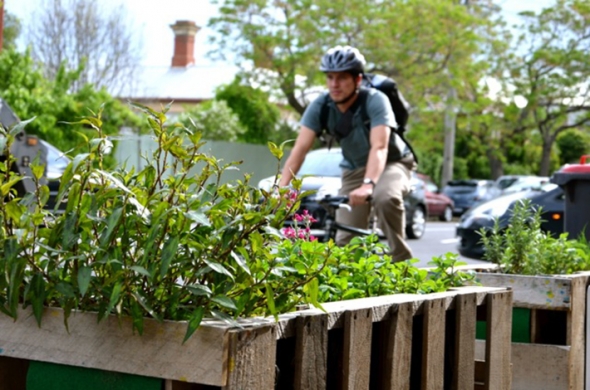 This untapped abundance of neighbourhood herbs got us thinking. What if there was a way you could find these herbs up the street and around the corner and pick the right amount, knowing that the people who grew them were okay with you doing it?
And that's HerbShare in a nutshell. It's an online, searchable map of fresh herbs in your community. Your neighbours list the herbs growing on their fenceline (or other places accessible from the street), and if you agree to share your herbs with them, they share theirs with you. It also shows you where there are herbs in parks and other public places.
Simple.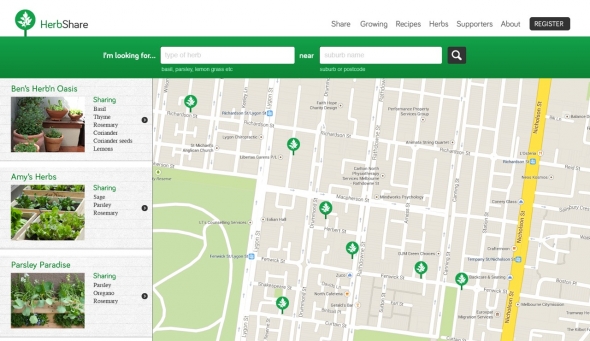 We think it makes a lot of sense. It spreads the effort of herb growing across a neighbourhood so everyone doesn't have to grow everything themselves. You can grow the rosemary and sage, Harry down the road can be the parsley man and the Morgan family next door can be in charge of mint and basil.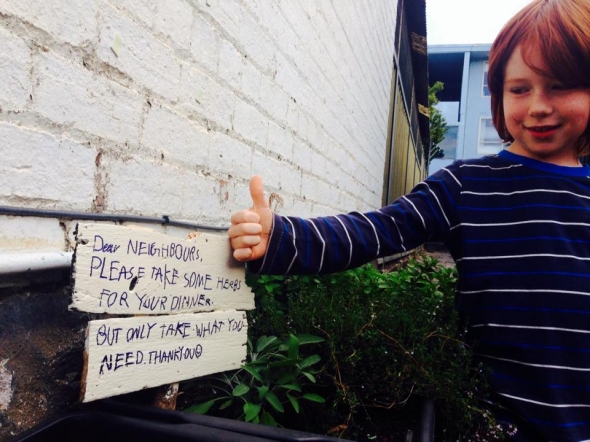 You don't have to pay $4 for a plastic container of chives ever again so over the long term you save a ton of money. You only take what you need, leading to less waste. And if you're sharing food with your neighbours, that means your talking to them as well, sharing growing tips and recipe ideas. That's got to be a good thing for any neighbourhood.
Being part of the HerbShare community will be simple and free. All you'll have to do is a quick registration on the website, listing your name, address and what herbs you're growing. That's it.
You'll be able to manage your herbs on the website, telling others whether your herbs are for sharing (okay to pick) or are growing (need a rest). There will also be reversible HerbShare plant markers, that tell fellow HerbSharers coming past your garden whether your herbs are good to go or not.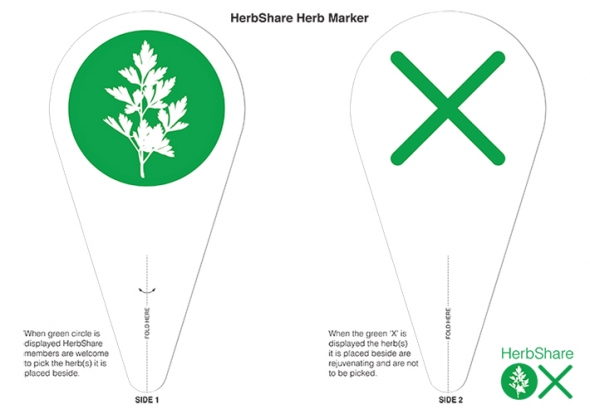 HerbShare will harness the joy of sharing food you have grown. When someone snips a sprig of your rosemary, then uses it for their lamb roast, they'll be able to 'tag' you into their meal. You'll get a message letting you know you've made a contribution to their cooking.
If this campaign is successful, we're hoping to be up and running in Spring, in time for people to start planting their herbs and putting them on the website.
A lot of people seem to like the idea. We've got almost 1000 'Likes' on Facebook from people around the world. We're regularly contacted by people wanting to know how they can get help make HerbShare happen.
Finally we have an answer. Give us some money, in exchange for some awesome rewards … and the knowledge you were there at the beginning.
Some Of My Previous Work
Oh dear. We're talking about ourselves? Excuse us while we switch to third-person.
HerbShare is a collaboration between brothers Ben and Flynn Hart and Flynn's colleague Dan Nunan. Flynn and Dan run a landscape architecture studio called Pollen Studio in Northcote. Pollen specializes in community-driven projects in public spaces. (Ben has no such expertise but grows herbs out in his laneway that he loves to use and share with his neighbours.)
Pollen recently worked with the City of Greater Shepparton to develop a masterplan for a new
community food precinct
in the area. Pollen Studio has also been the driving force behind a number of public art projects, including
Everything Except Walk
, an installation for the True North Festival in Darebin.
How The Funds Will Be Used
When we first had this idea, we naively thought that some noble, well-resourced person or organisation would walk through our front door brandishing an oversized check to allow us to get HerbShare off the ground. Obviously, that hasn't happened.
We have, however, been blessed by the generosity of a wide range of people who have donated their time and expertise because they believe in what we are doing. This includes (but is not limited to) the filmmakers who made our awesome Pozible campaign video for nix, Melbourne University Law School students who will be assisting us with our legals and the website design which is being donated by a local firm.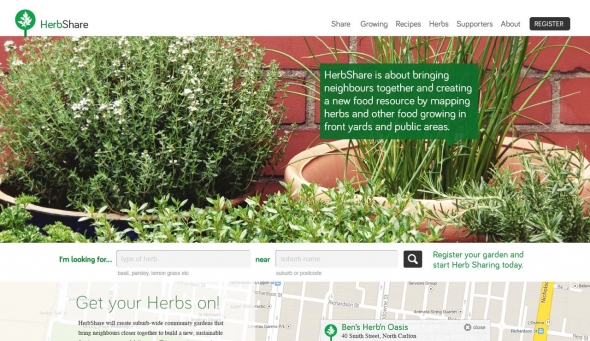 But building the website itself is a big, expensive job. We want this HerbShare to be functional, easy to use and also able to be used on smartphones. This all costs money.
We've looked at a range of options and we believe the minimum we can spend getting the website built is $15,000, once the costs of the campaign are taken into account.