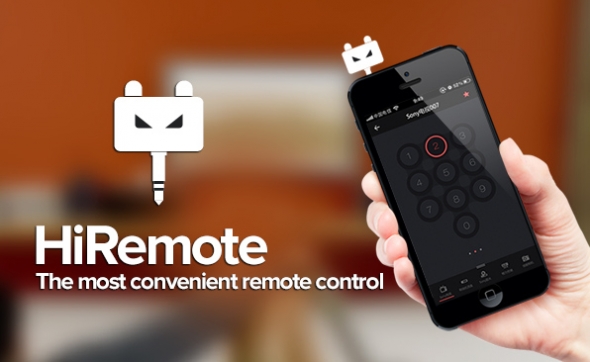 HiRemote is the newest smart device replaces all your IR remote controls at present.
It is small, plug in directly to your phone and it will adapts well with all sorts of devices. So you can kick back, relax and enjoy your life without the hassle of remote controls.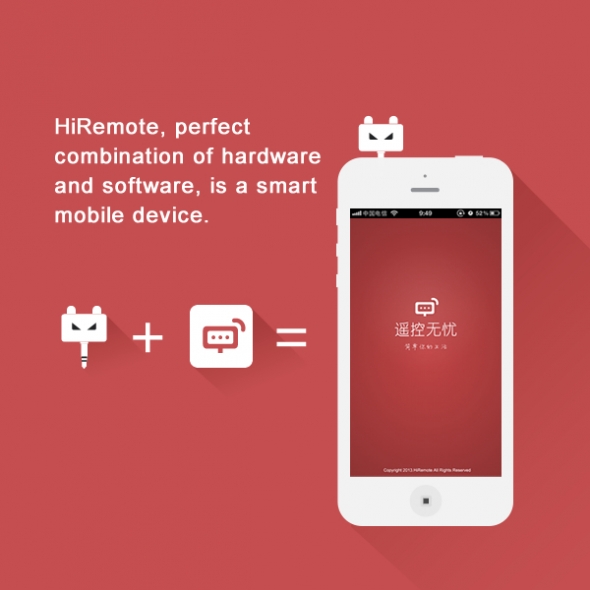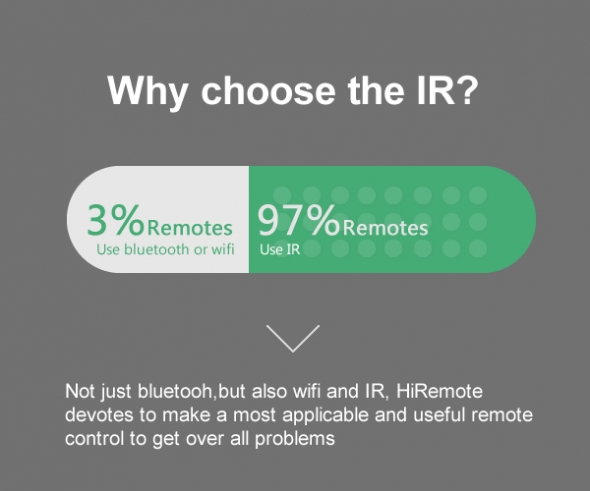 97% remote controls on the market use IR technology, that's why HiRemote will work well with most of the models.

Just few easy steps to match your devices! No subsequent matches required!
It can even be used without power connection. Data updates every seconds!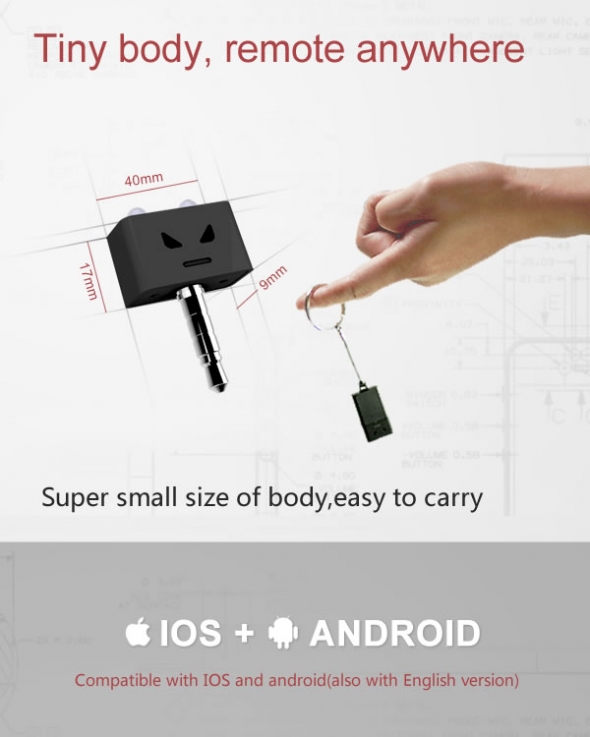 Multi-lingual, works well with various platforms! Control is all in your hand!
Product details: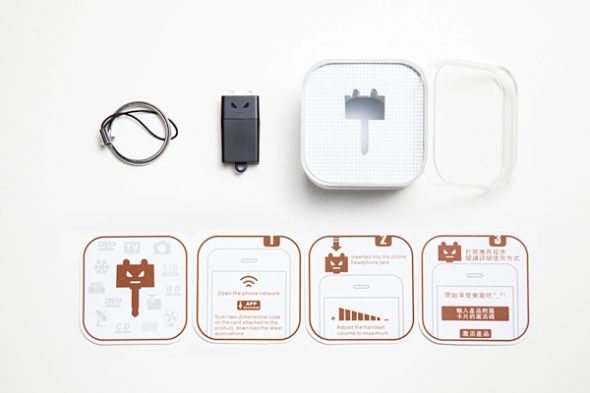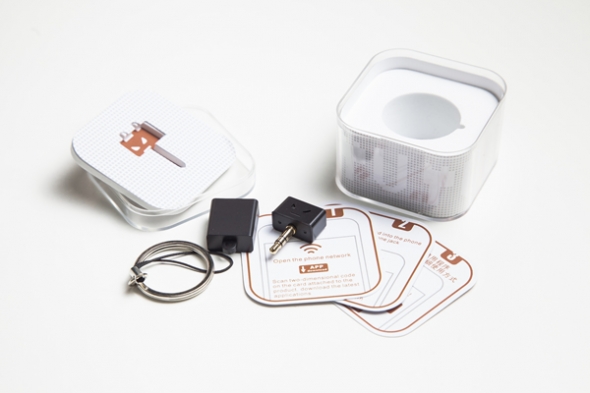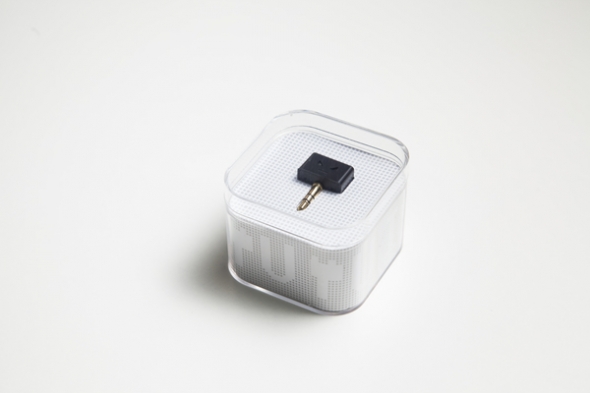 Orange Blue Limited Edition photos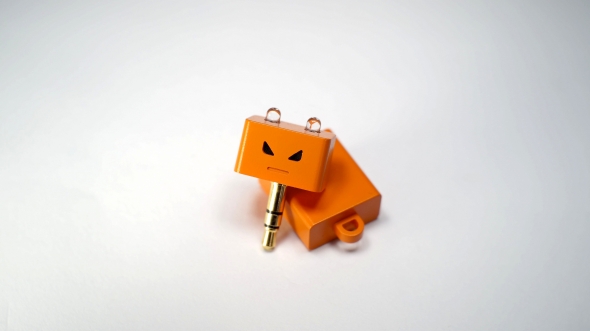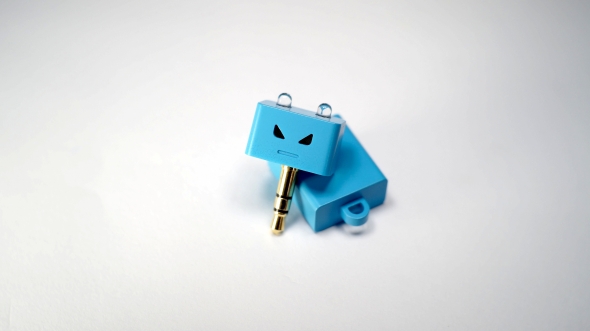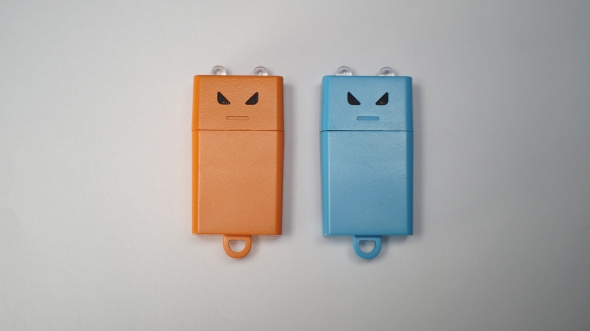 项目介绍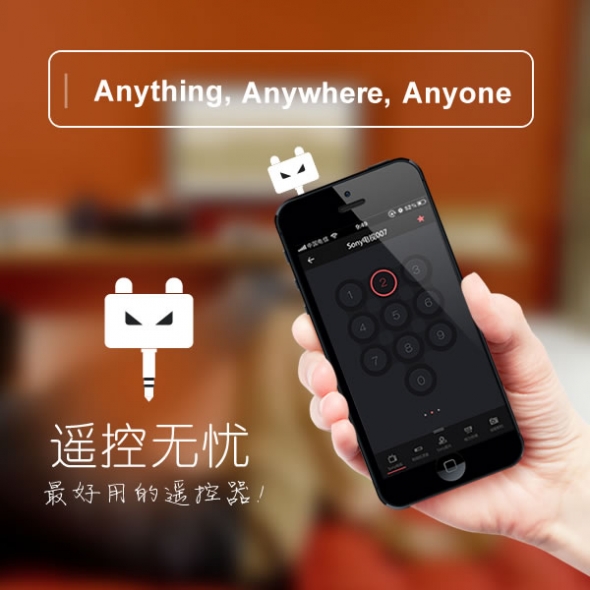 遥控无忧是什么?
她是一款精巧可爱的手机遥控小助手,
小巧的外形下,蕴含着强大并且有趣的功能。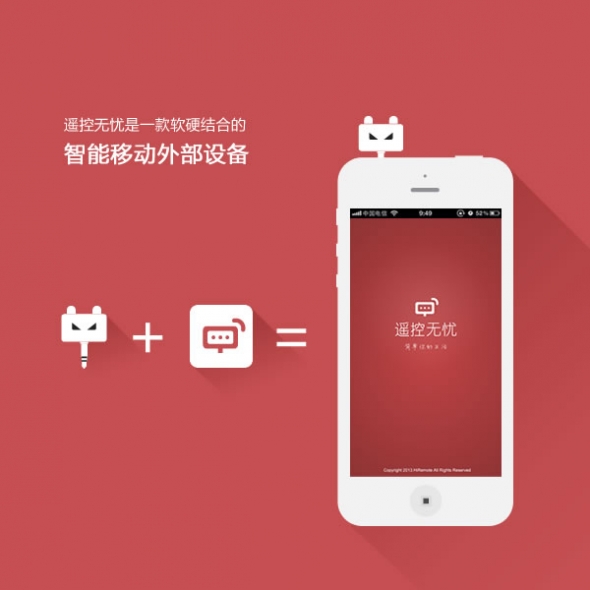 当你在找不到家里电器的遥控板时,
她的出现,会使所有问题迎刃而解。
当你外出旅行,却没带坑爹的单反遥控器件时,
有了她,你想怎么了拍就怎么拍,
这就是遥控无忧,你的娱乐便携小救星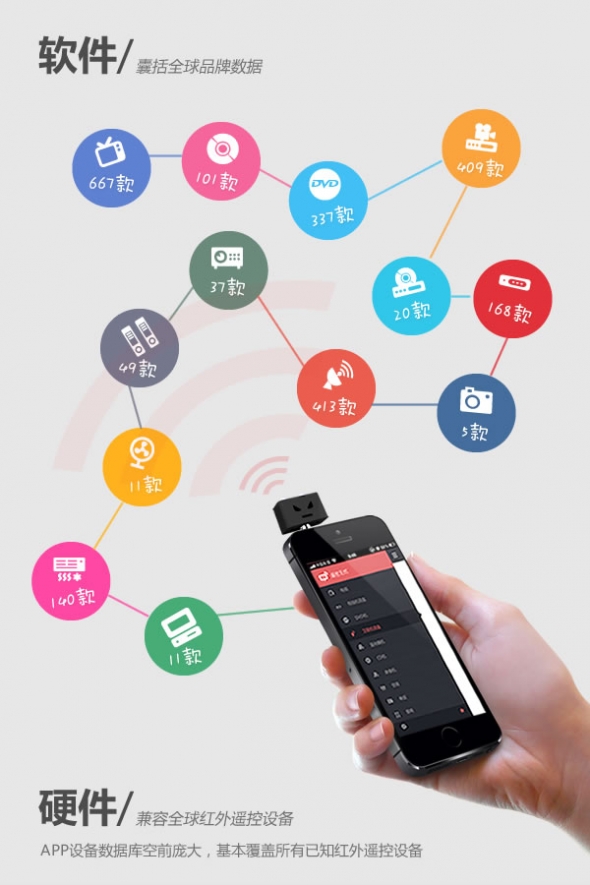 身材虽小,用途不少
你不用担心操作界面没有品位配不上你的土豪金,
或者使用过程太过复杂繁琐!
她内涵丰富,拥有巨大到你难以想象的数据库,
这些数据库包含的信息能使你操控你知道或者不知道的可遥控电子产品。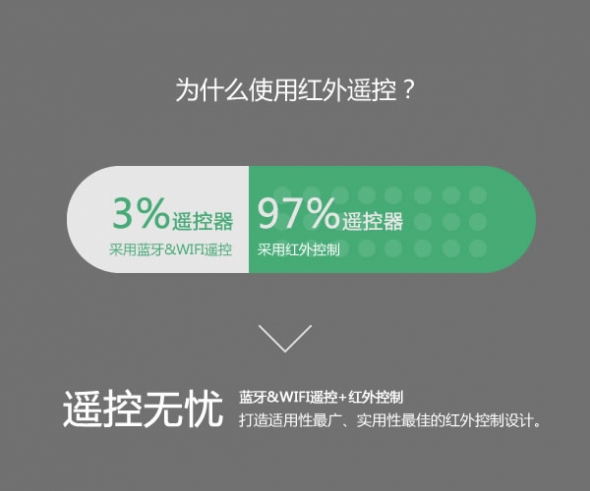 其实不用看数据我们也能够知道
红外遥控才能真正符合我们的使用习惯

轻轻几步,即可匹配
一次配对,永久使用
无需电源,方便快捷
最新数据,及时更新
全球首推一站式管理
遥控器操作从未如此简单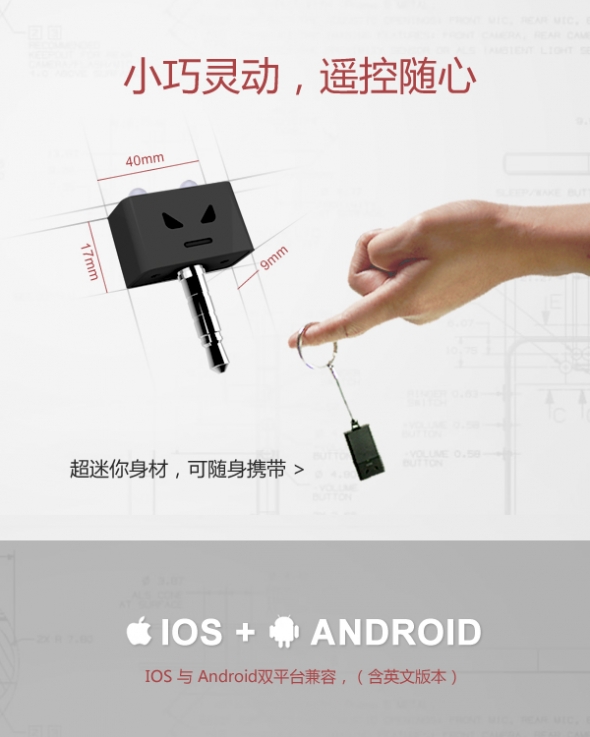 超迷你身材
贴身更贴心
同时兼容多语言,多平台
有了她的存在,其他的遥控器都可以退休啦
产品细节展示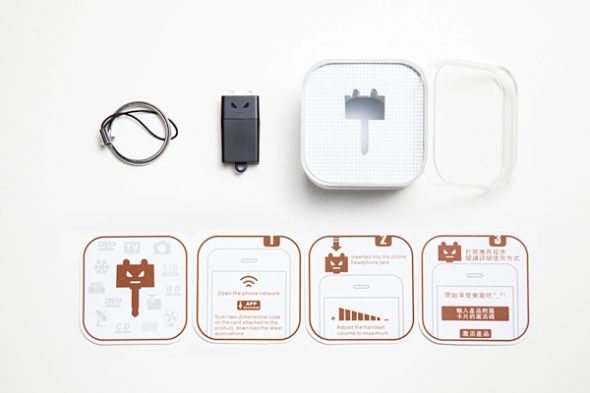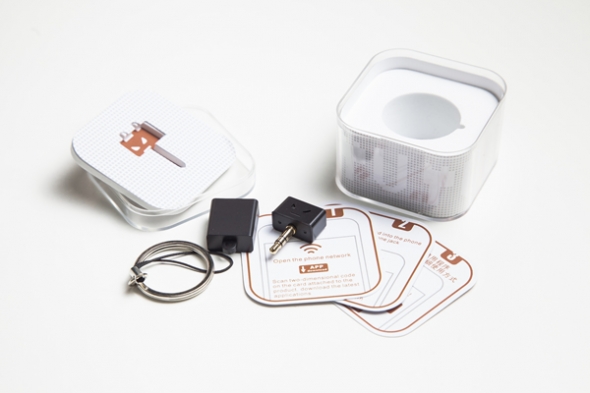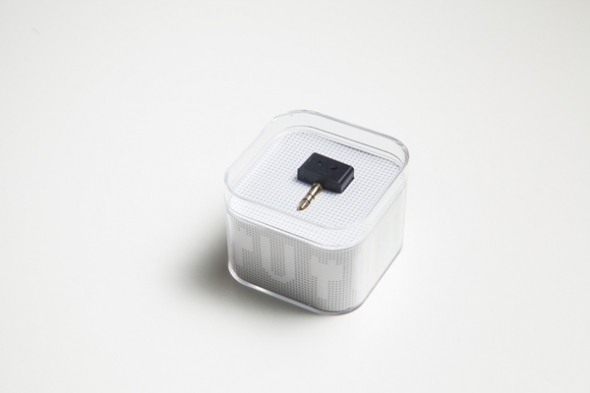 橙色蓝色限量版靓照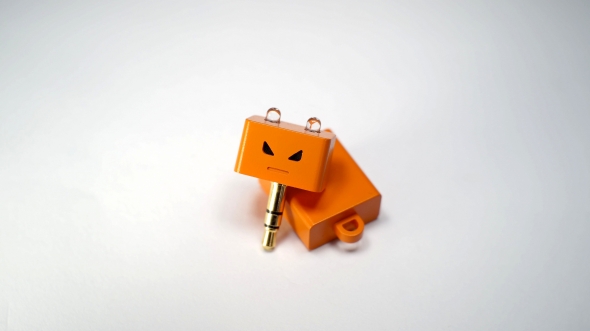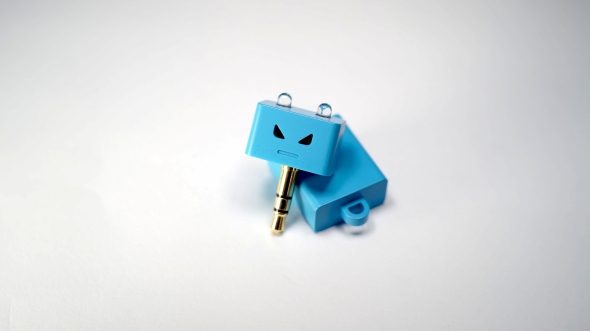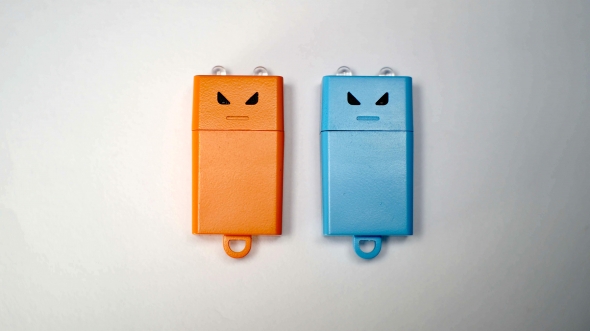 众筹的资金用途
1、用于批量生产成本和服务器租金;
2、用于后续软件升级和服务器维护。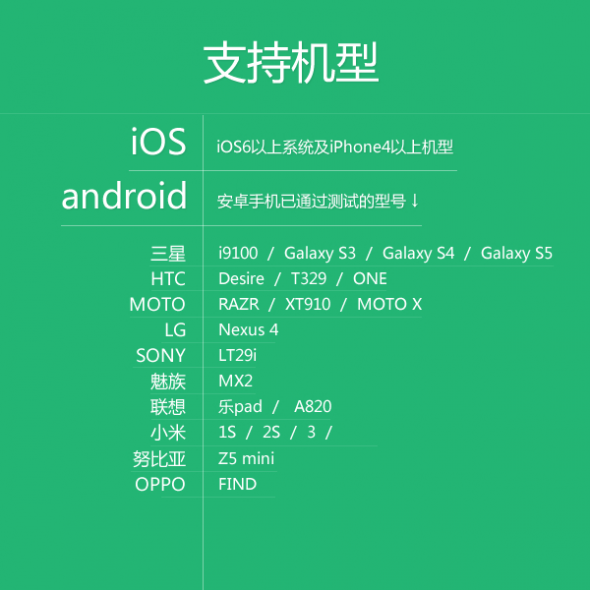 app 下载地址:
https://itunes.apple.com/cn/app/yao-kong-wu-you/id...
二维码: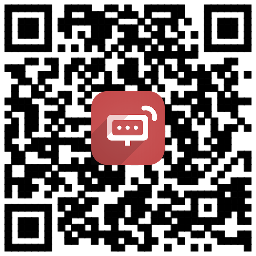 项目进展:
2013.3月 创意萌发+头脑风暴
2013.4月 产品功能原型搭建+功能验证
2013.5月 遥控无忧iOS软件Alpha工程版发布
2013.6月 Alpha工程机样品试生产+世界上最小的手机遥控器诞生
2013.7月 Alpha工程机发布+安卓软件Alpha工程版发布
2013.8月 Beta工程机产品外观设计+结构手板
2013.9月 Beta工程机产品模具试生产
2013.10月 遥控无忧Beta工程机正式发布
2013.11月 得到工程机用户反馈后,我们决定:为全面提升用户体验,重新设计我们的软件和包装。
2013.12月—2014年2月 APP UI重设计+软件重构+新产品包装设计
2014.3月 遥控无忧iOS软件正式版上架(工程机用户不能使用正式版软件)
2014.4月 遥控无忧安卓软件正式版进入测试阶段
2014.4月 遥控无忧成品机产品进入量产准备阶段
2014.5月 量产、遥控无忧正式版产品发货
不断优化产品,数次推翻重设计,只为了给你带来一个完美的遥控无忧。
关于发货:
1. 我们将于众筹(持续60天)结束后7天内开始发货;
2. 中国大陆的用户包邮;
3. 海外客户需要额外支付邮费;
4. 大陆快递时间为3-4天;
5. 海外物流的时间为20天左右,如需清关则时间会更长;
6. 海外客户如遇到清关问题,相关关税需要客户本身承担;
产品创新也往往伴随着风险,我们已经尽可能排除问题,但依然有极小几率发生以下使用上的不便:
1.我们重构产品,努力提高遥控无忧的用户体验,但是由于现有家电和数码产品不能反馈遥控操作是否成功的信息,所以也限制了我们产品体验的进一步优化。如果软件只有部分按钮可以控制你的家电,可能是出现了误匹配问题,请再次匹配遥控并完全测试后再保存。
2.如果你的电器是最新上市的产品,有可能我们的数据库还未覆盖到,你可以给我们提交反馈并等待官方数据更新(我们的数据每天都在更新),或者通过我们的第一代软件自己DIY学习新的遥控器,并上传分享。
3.由于安卓家族手机型号实在太多,我们没有充分的资源对每一款android设备进行兼容性测试,极少部分机型会有遥控距离较短的问题,甚至不能够遥控。如果你遇到了此类问题,希望您能积极反馈,帮助我们了解兼容性缺陷,我们一直在努力解决这些问题。
关于我们: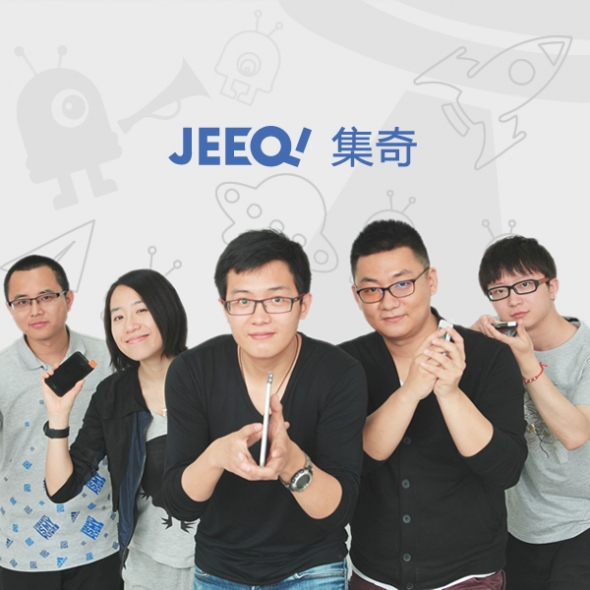 我们是一群充满想象力,爱生活爱创造的不折腾会死星人。
技术狂热份子,以设计出超体验产品为使命的一根筋患者(已弃疗),崇尚分享,鼓励协作。
少即是多,简约至上,是我们不懈追求的产品理念。
遥控无忧,就是我们的诚意之作。
因此我们建立了集奇网,在这个奇客小圈子,你可以提出点子,评估创意,参与项目,实现你的产品梦。
我们是创意梦工厂路上前行的集奇团队,我们为自己代言,也为你的创意买单 :)
特别感谢:
1、深圳工业设计师老胡对我们的支持
2、我们UI设计师的孙婕美女
3、我们的视频小组的黄同学和韩硕
我们的网址:
http://www.jeeqi.com
我们的官方微博:
http://weibo.com/jeeqi
我们的官方qq群:300710357
欢迎大家加入交流!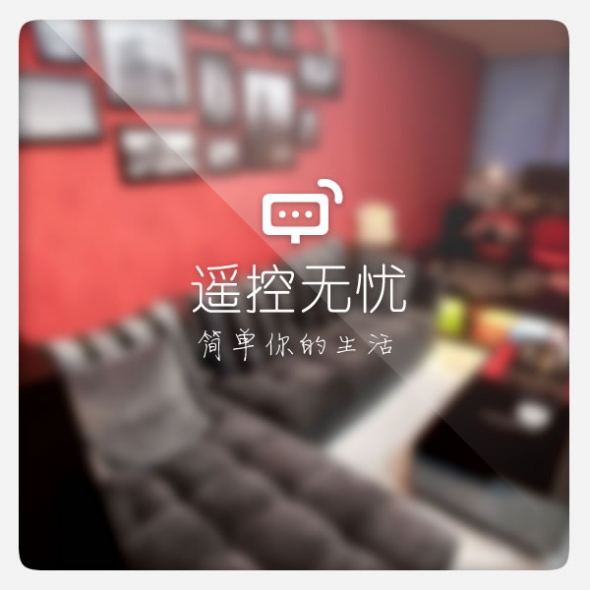 Some Of My Previous Work
App download :
https://itunes.apple.com/cn/app/yao-kong-wu-you/id...
Process of project
2013 April . We had an idea and began brainstorming.
2013 March . The first functional model completed, tested and verified.
2013 May . The first generation iOS app has been published.
2013 June . The industrial design for the first generation product completed.
2013 July . We had the first customer try out our product and the first Android app published.
2013 August . The design of the second generation completed.
2013 September . Second generation of pattern produced, ready for shipment.
2013 October . The second generation of HiRemote has been completed and tested by customers.
2013 November . Redesign of the software UE and the packaging completed.
2013 December to 2014 February . Redesign of app and new packaging design completed.
2014 March . The iOS app of HiRemote has been published in App Store.
2014 March . The Android app of HiRemote has been tested among a small group of testers.
2014 April . We moved onto mass production.
2014 May . Continued production and delivery took place.
……………………………………………About shipping fees………………………………………………………………
How to add shipping fees to pledgeScenario One:
When it is your first time making the pledge
After you logged in, select which reward you would like first.
By clicking the reward amount, it will take you to the following screen.
Before clicking 'continue', don't forget to chose the delivery range.
In this case, the total pledge amount will be ¥83(¥48 + ¥35 shipping fee).
Then, please scroll back down to the selected reward and click 'continue'.
…………………………………………………………………………
Scenario Two:
When you have already made a pledge
If you have already pledged but have forgotten to pay for the shipping fee, please follow these steps.
Log in first. Then click 'Pledge Now'.
It will take you to the following screen.
In the pledge amount, enter the additional shipping fee for the corresponding reward.
In this case, ¥48 reward was selected and pledged earlier and now all you need to enter is ¥35 for the shipping.
Please remember to select 'no reward'. Then click 'continue'.
…………………………………………………………………………………………………………………………………………………………………………………………………………………………………
Notes on good delivery:
1. We will deliver goods in 7 days after the crowdfunding (last 60 days)
2. Delivery within mainland China will be by post.
3. Overseas customers will need to pay an premium for each post.
4. Product delivery will take 3 or 4 days by post.
5. Overseas delivery will take about 6-15 days, and may be longer with customs clearance.
6. Customers will be liable to pay any additional duties applied.
How The Funds Will Be Used
The purpose of pozible funds:
1. For large-scale production costs and server rental;
2. For follow-up software upgrading and server maintenance.


The Challenges
Challenges
We believe that obstables will exist in the process of innovation; therefore, we are motivated at all times to prevent the unexpected to happen. The following are some issues we believe we could still improve on.
1.We are currently unable to have a matched flag displayed for successully matched appliances. If users experience circumstances when the buttons on HiRemote are not responding the appliances, we encourage users to re-match for optimal performance.
2. There is a possibility that in the circumstances of new appliances, our database do not yet cover the new appliance. We ensure that our effocial database is being updated everyday to provide best compatibility with new appliances.
3. Due to the complexity of the current existing Android products, we seldom experience a weaker connection to some of these devices. We encourage users to send us feedback to assist us in understanding the issues and coming up with the best solutions.
About us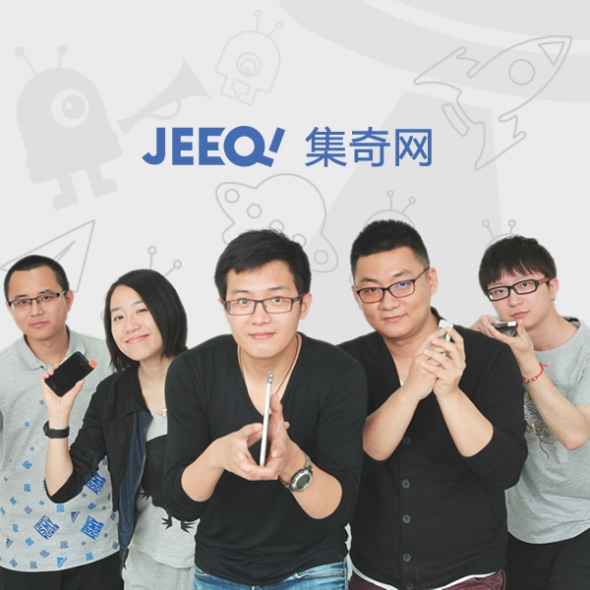 JeeQi is founded by and is comprised of a group of tech-fanatics whose goals are to design simple-to-use gadgets that could bring convenience to everyday life. We belive in the idea that less is better and we are determined to deliver that belief through our designs.
Innovation cannot be achieved alone; therefore, we welcome ideas and any types of suggestions. Your feedback and opions are of great importance to us. We are looking forward to working with some brilliant ideas!