In November 2013, the Australian government published an eighteen-page comic strip aimed at people seeking asylum in Australia. In the week starting the 10th of February, 2014, the comic found wide circulation among news media and online commenters. The comic, which features a depressed-looking man sitting alone in a detention centre after attempting to seek asylum, was created to send the message that anyone coming to Australia by boat to seek asylum will not find a home here. The comic can be viewed in its entirety here:
http://newsroom.customs.gov.au/channels/Operation-...
. Recognizing that the comic seems to take delight in explicitly detailing the unfair and highly dangerous way asylum seekers are currently treated by the Australian government; we feel that the comic is not only deeply offensive towards anyone considering seeking asylum in Australia, but to anyone who previously has sought asylum in Australia, and anyone who disagrees with the government's hardline policy of refusing to settle asylum seekers within Australia and refusing them dignified and fair treatment while in detention centres.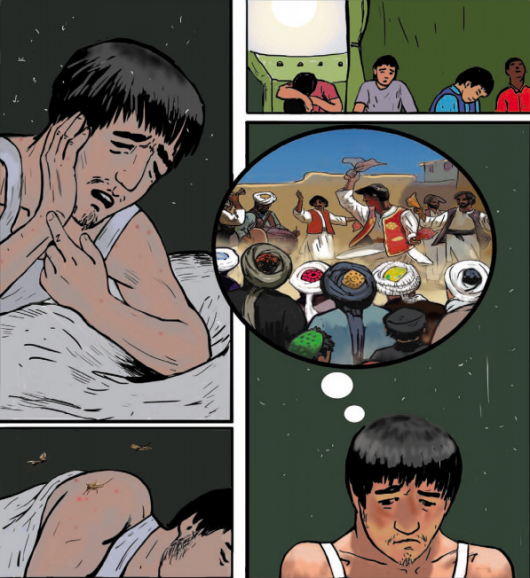 (Image courtesy of the Australian government.)
We would like to publish a comic in direct opposition to what the government has published. We have no plans to directly encourage people to seek asylum within Australia; instead we are aiming to create a comic explaining that seeking asylum in any country that has signed the UN Refugee Convention (as Australia has) is not illegal, that there are many Australians who disagree with the government's treatment of asylum seekers and who are fighting for their fair treatment; and that there are a large amount of resources available for asylum seekers who are already settled in Australia, such as the ASRC and
RISE
.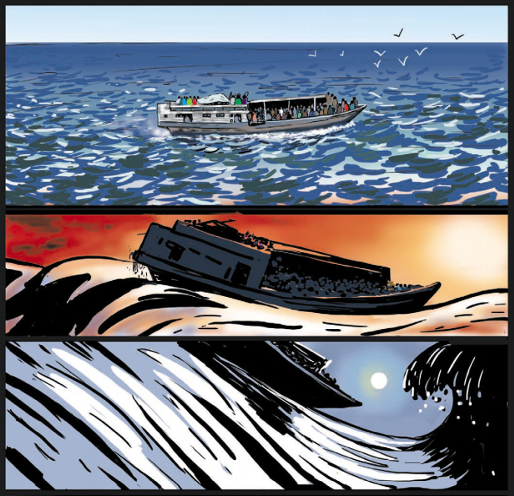 (Image courtesy of the Australian government.)
We really believe that a message of love will always go further, and engage more people, than a message of hatred. Although we can't do anything to help the people who are kept in offshore detention centers; we can try to spread a message of acceptance and community that will hopefully reach, and inspire, just as many people as the government has reached with their message of intolerance. We want to send a message to Australian citizens and asylum seekers alike that racism is not a national value, and that there are many people in our country who want to accept and welcome people seeking asylum in Australia.
Some Of My Previous Work
The project is run by Kate Iselin and Thomas Blatchford. Kate Iselin is the editor of online magazine
Vanity Project
. Vanity Project aims to empower women by turning the format of a traditional women's magazine on its head and discussing everything from fashion to feminism. Thomas Blatchford is a writer and artist based in Victoria. He is one of the co-ordinators for Melbourne's zine shop and resource
Sticky Institute
, and is a regular contributor to
The Thousands
.
How The Funds Will Be Used
We are asking for $10,000 to fund our project. $2,500 of this will go towards printing costs - we will be printing a comic of approximately twenty-four pages, on A5 paper, and the quotes we have requested from printers reflect a cost of around $2,500. This amount means we can print around 3,000 comics which will be sold online for $15 each, and also distributed to recently-settled families free of charge. We plan to donate the profits of our comic towards the Asylum Seeker Resource Centre, which provides a huge amount of assistance towards asylum seekers settling in Australia.

$7000 of the funds will go towards producing the art for the comic. We are currently seeking expressions of interest from Australian political cartoonists and illustrators, with the hope that one of them can take on the job of drawing up the art for our comic. We believe very strongly in reimbursing artists for the work they do, and this amount will cover the time taken to draw each comic page, along with the materials needed. Any funds leftover from paying the artist will be used to print more comics.

The final $500 will be used for any other administration costs that arise. This could be anything from distribution costs, to insurance! Any extra money raised, above and beyond the initial $10,000, will be used to print extra copies of the comic to distribute to schools, libraries, and community centres free of charge. If possible, we will look in to printing single pages of the comic on A3 pages to be used as posters wherever the comic is sold or distributed.

The Challenges
We can't see many challenges arising over the course of this project. The main risk would be us being unable to raise enough money to cover the costs of the project, so please dig deep and give as much as you can comfortably afford to help us in spreading a message that we hope all Australians will believe in!