Late in 2013, Australian writer and editor Liz Barr blogged about Tsaritsa Sophia Alekseyevna of Russia, dubbing her one of history's great "cranky ladies". Being the editor I am, I immediately thought of several fantastic writers I would love to see write short stories about history's cranky ladies, those women who bucked the trends of their time and took on cultural norms to challenge society's rules and ideas about how women should behave. Within just a few days, I had the project idea fully formed, had brought historian, editor and multi award-winning writer Tansy Rayner Roberts on board as co-editor, and we had begun the process of soliciting authors to submit. The speed at which projects can come into being is perhaps one of the biggest advantages a boutique press like FableCroft Publishing has, and we use it well!
Within weeks, the feedback and response from readers and writers everywhere proved so positive that Tansy and I started looking at ways we could take the project to the full heights it deserves, and we conceived the idea of crowdfunding for the anthology, in order to be able to pay our authors, artists and designer the pro-rates they really deserve.
We have been so fortunate to have an astonishing selection of authors express interest in writing for us, from all over the world. We are a long way from being able to tell you who will eventually make up the final table of contents of the "Cranky Ladies of History" anthology, but we CAN show you the authors who have submitted pitches for stories or accepted our invitation to submit.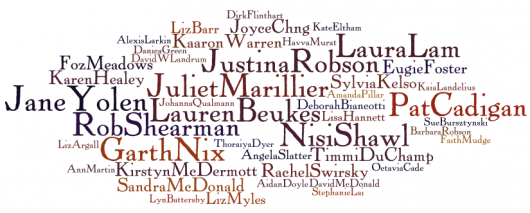 Isn't that just an awesome group of people?! We are so delighted to have multi-award winning author Jane Yolen confirmed for the anthology, and stories already in hand from some authors. While we have established and award-winning novelists and short story writers keen to be part of the book, we are also dedicated to supporting emerging writers, and are very excited to see what all our writers bring to the Cranky Ladies table (of contents).
Which Cranky Ladies might they be? Well, we don't know for sure, but here are the ladies spoken for so far…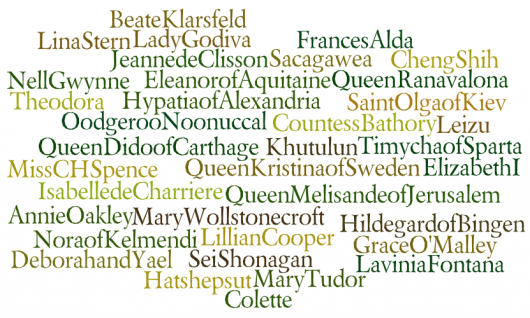 Part of the brief for writers was that we were aiming for a diverse range of cultures, historical periods and reasons for historical notoriety, and we think we're doing okay on that front – it was great fun reading the story pitches for the anthology and discovering wonderful women from history we wanted to know more about!
Stretch goals!
Updated Sunday 16 March @ 9pm

Tansy and I spent a lot of time discussing stretch goals, in the happy event we should fund early, and now just halfway through the campaign, we've reached our target! We're simply delighted, and can't thank enough all the wonderful people who have pledged and signal-boosted our Cranky Ladies. And since we still have 16 days to go, and several people have asked, we thought we had better post our stretch goals…

1. At $9,500 we can add more internal illustrations to the book. We have a Patron of the Arts reward tier which gets sponsors a choice of cranky lady to be illustrated by our incomparable artist, Kathleen Jennings, along with a print of the piece, and of course the exclusive Cranky Ladies calendar and the book! Reaching the stretch goal will mean we can have more stories illustrated beyond the commitment to that reward, which will be gorgeous.

2. Should we reach $12,500, we can add another 25,000 words – that's more stories, more authors, more amazing cranky ladies to read about!

So the journey continues… Thank you again to everyone who is supporting Cranky Ladies of History, through pledge or promotion – we appreciate it!
Some Of My Previous Work
I started editing in Australian boutique press in 2002. I cut my teeth in the field with
Andromeda Spaceways Inflight Magazine
, editing several issues and over time learning the ropes of all the publishing processes, from slushreading through to layout, proofreading, art solicitation marketing and promotions. I moved on from ASIM to work with Twelfth Planet Press, co-editing the shared world anthology
New Ceres Nights
with Alisa Krasnostein, and working on several other TPP projects.
In 2010, I started
FableCroft Publishing
, and produced two anthologies that year,
Worlds Next Door
(short speculative fiction for 9-13 year olds) and
Australis Imaginarium
(a reprint collection of alternate Australian mythology).
Since then, FableCroft has published a growing number of books, including original anthologies
After the Rain, Epilogue, To Spin a Darker Stair
and
One Small Step
, reprint anthology
Focus 2012
, Joanne Anderton's debut collection
The Bone Chime Song and other stories
, and two original novels,
Path of Night
by Dirk Flinthart and Tansy Rayner Roberts'
Ink Black Magic
, as well as several reprint ebooks by Glenda Larke, Tansy Rayner Roberts and the anthology
Canterbury 2100
edited by Dirk Flinthart. Work I have published has been shortlisted for and won several Australian awards, and appeared on international shortlists as well.
My co-editor
Tansy Rayner Roberts
is the editor of
AustrAlien Absurdities
(with Chuck McKenzie),
Andromeda Spaceways
, and in January 2014, took on an issue of the SFWA
Bulletin
. She is also the author of several award winning fantasy books, including the Creature Court trilogy (HarperVoyager), the Mocklore Chronicles (Bantam and FableCroft Publishing),
Love and Romanpunk
and
Siren Beat
(Twelfth Planet Press) and the children's novel
Seacastle
(ABC Books).
Tansy's short fiction has appeared in original and reprint anthologies in Australia and overseas and she has written essays for several print and online publications. She is now also writing crime fiction as "Livia Day", and co-hosts the Hugo-nominated
Galactic Suburbia
and the all-female
Verity!
Doctor Who podcast.
Tansy won the Hugo award for Best Fan Writer in 2013, to add to her lovely collection of Aurealis, Ditmar and Washington Small Press Short Fiction awards.
How The Funds Will Be Used
FableCroft has published several anthologies and original novels over the past four years, and we have a pretty good handle on the costs involved in the process. As we planned to publish the book before we decided to work towards a crowd funding campaign, we are only seeking funding to improve the contributors payments. All other costs are written into FableCroft's annual operating budget.
To this end, we are aiming for funding that will enable us to pay authors 5 cents per word (to a total of 125,000 words), and to pay professional rates for our artist, the incomparable Kathleen Jennings, and designer, ever-innovative Amanda Rainey. We have also factored in the Pozible fees in our budgeting.
We have been fortunate to receive approval for a
Tasmanian Arts Crowbar grant
, which means we will receive an extra $2,000 if our campaign funds. This is a HUGE bonus for us, as it means we will be able to expand our marketing and promotion campaign for the anthology, in order to get the stories out to as wide an audience as possible, to pay better rates for our brilliant proofreaders, and print more copies up front, for a better per unit cost. All other costs, will be paid for by FableCroft.
The Challenges
We have been fortunate to attract many amazing authors from both Australia and overseas who are keen to write about their favourite Cranky Ladies – many of these writers are established and very well-known, while others are emerging authors, as per FableCroft's charter to support new careers. We are prepared for the risk that some of these authors may not be able to submit stories within the timeframe due to other pressing deadlines or unforeseeable life events, and while it will be regrettable if this occurs, the proposed lineup is so amazing that there won't be a need for any disappointment.

While we have carefully budgeted our campaign to ensure fair distribution of costs, there is always the risk that some expenses may be higher than anticipated. Fortunately, as a going concern, FableCroft Publishing has a contingency fund to cover unexpected increases, so this will not affect delivery of the project.

Many of our rewards are already in hand, so many backers will receive these within weeks of the campaign funding, and we have carefully considered our time frames to ensure we deliver the finished anthology on time in February 2015. We will be working within established communication channels with artists, designers, proofreaders and printers, so do not anticipate delays on those fronts either.