OUR STORY
Camp Out is an annual camp for gay, lesbian, bisexual, transgender, intersex, queer, sex and/or gender diverse and questioning teens. We are one of only a few camps like this in all of Australia !
Pretty incredible huh? We sure think so, that's why we, the people who form the Camp Out crew, volunteer countless hours over the year to make Camp Out happen. All of us in the crew needed a camp like this when we were teenagers, a place to talk openly and honestly about our emerging identities and to be around other LGBTIQ teens without the fear of being bullied or discriminated against, but we can't time travel, so we are doing the next best thing, making our dream a reality for the younger generation !!
We believe in, and have already witnessed, the potential of Camp Out to deeply change young LGBTIQ youths' lives for the better! We are doing it for the love!!! This year will be our 4th camp and we hope that it has the same impact it has had on the teens who have come in previous years – in one word – PHENOMENAL!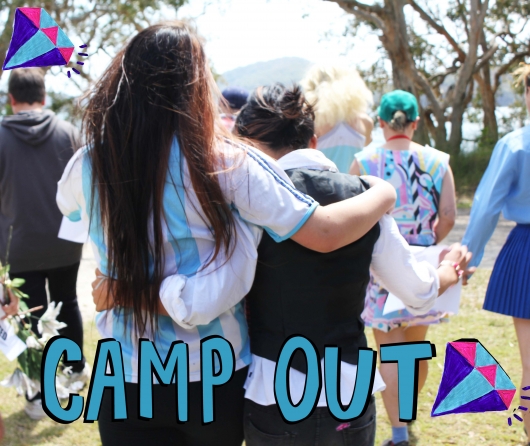 Camp Out is a place for diverse youth who share common experiences to come together and form a community that is truly their own. The camp week is filled with art, music, sports, games and other fun stuff, as well as hangouts like movie nights, beach trips and bonfires. As well as these more typical camp activities, there's open workshops and informal discussions on things like identity & what it means to be LGBTIQ identified or questioning your gender &/or sexual orientation, dealing with homophobia &/or transphobia, coming out in high-school, coming out to parents or friends, and how to be a supportive queer ally. For the majority of these young people, this is the only time they can talk about these issues openly and honestly, in a safe and supportive environment.

Put simply, it's the chance to hang out in a place where you're not judged for who you are, or who you like.
Here are some testimonials from previous campers:
"Camp is like home. A place you can feel safe, respected and cared for."
"Camp Out is one of the best experiences I've ever had. There's so many fabulous people I would never have met without camp."
"Camp is a place where you can figure out your headspace. And then decorate it with glitter and feather boas."
"CAMP OUT changed my life... it made me feel I can be who I am."
"Words Can Not Describe how amazing it is"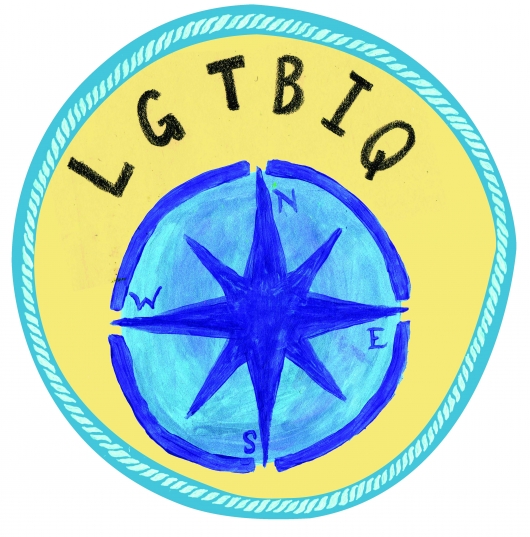 It is experiences like this that we believe are going to create a future generation with lower LGBTIQ youth suicide rates. As the CampOut word is spreading across the community with larger number of campers attending camp each year our dream of having an amazing annual camp is becoming a reality. But we are relying on grants and the love of the community to get enough money to make the camp happen again! If we can reach our fundraising goal we will be able to meet all the costs of camp this year without being in the red.
If you are an LGBTIQ person, think about how incredible it would have been as a teenager to have experienced this kind of support! If you're an ally to the LGBTIQ community, sending a message to young people that there are other people out there that care about their well being is so powerful!
We are turning to the community to ask if you would like to see the next generation of LGBTIQ people grow up empowered, self accepting, and ready to take on the world !
We can't do this without you, so spread the word! Camp Out needs a hand !
Some of the 2010 camp crew !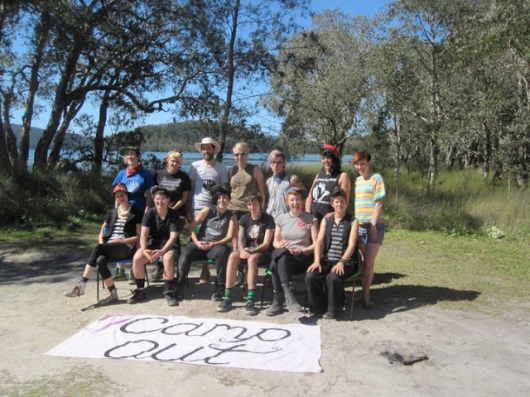 How The Funds Will Be Used
Camp Out Inc. is a registered NON-PROFIT organization.
Camp Out is staffed and run entirely by unpaid volunteers. As a non-profit organisation, all donations, fundraising, grants, and other contributions that Camp Out Inc. receives go towards maintaining accessibility and high quality programming at camp, and keeping our camp fees as low as possible for all campers and their families. Camp Out has a sliding scale fee system from $0 to $175 for a 4 night camp and NO-ONE is turned away for lack of funds.
We rely completely on grants and fundraising to make camp happen.
At the end of each year our annual financial report shows a breakdown of how the money we receive makes the camp dream real !
2012 Camp Out Timetable !! SO MUCH FUN !!!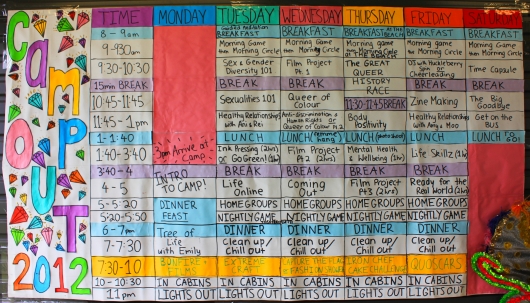 SO ??? What Do We Need:
We anticipate that the cost of Camp Out for 2014 will be approximately $16,000.
We were lucky in successfully receiving an Aurora Grant for $5000 for Camp 2014 and a $5000 Marrickville Council grant for training our volunteer crew, providing training to the broader community and delivering amazing workshops to campers in 2014. Every year we receive variable amounts from camper fees and every year have many campers attending via our accessible sliding scale system. The rest of our money comes from donations and fundraising !!!
Your donation will help pay for :
FOOD - We are super lucky to have an amazing small group of volunteers who are called The POPCORN PALACE. Every year these dedicated volunteers who are The POPCORN PALACE develop an amazing menu of ethically sourced, delicious, organic wholefoods and prepare it with love for 35 campers, 10 crew and workshop facilitators over the week of camp! Think freshly cooked massive feasts like Harry Potter !
VENUE HIRE - We are so lucky to have secured a great venue for Camp. Camp Out is held on private grounds 4 hours north of Sydney. The site is surrounded by beautiful bushland and includes cabins, communal hangout areas, hot water showers and gender-neutral toilets. It is a private, safe and beautiful space. There is even some kangaroos around!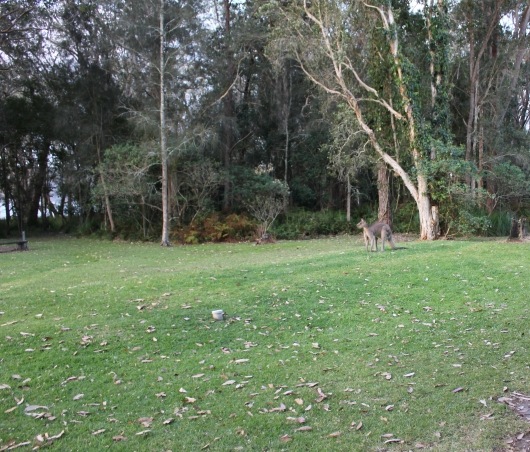 TRANSPORT - Bus hire to take all campers and crew from Sydney to our Camp Site 4 hours North and back again. Petrol ! And subsidizing rural and regional campers' travel to attend camp!
INSURANCE - YES it is boring but public liability insurance and bus insurance are one of the integral foundational elements that lets camp happen!
SUPPORTING CAMPERS & MAINTAINING ACCESSIBILITY - Camp Out operates on a sliding scale fee system. No camper is turned away for lack of funds. The camp fee is anything from $0 - $175 for a 4 night camp and includes everything.
Our values of equity and social justice are why we have sliding scale camp fees. Camp Out is accessible to all campers regardless of financial status or background. Your contributions to this campaign directly contribute to keeping camp accessible!! And that is AMAZING !!
There is also a million other costs involved in putting on camp, from workshop supplies, workshop facilitator travel costs, printing, postage, LGBTIQ youth resources, zines and booklets, art and craft supplies, phone credit for the Camp phone, torches, tiaras, the list is long. But what is listed above are the BIG costs.
Other Ways You Can Help:
We have a wish list of other ways to help Camp Out if you cannot give financial support.
Perhaps you know someone in the 13-17 year old age range who might want to come to camp - as we're still only in our 4th year; we need your help in getting the word out about Camp Out!
Or perhaps you, or your workplace, or your friends, could help by donating food, sporting equipment, art supplies, makeup and dressups or other goods for the camp week - please get in contact at info@campout.org.au to find out how to lend or donate any equipment or supplies.
Lastly, please check out our website for updates and more information on Camp Out !! Tell everyone !! Spread the word !!!
www.campout.org.au
www.facebook.com/campoutcrew
www.twitter.com/campoutcrew


The Challenges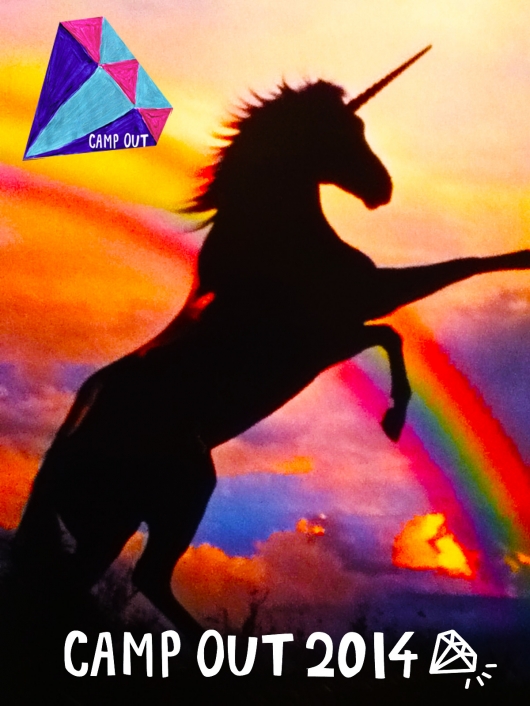 THIS HAS TO HAPPEN !
HELP MAKE THE DREAM REAL !
XOXO