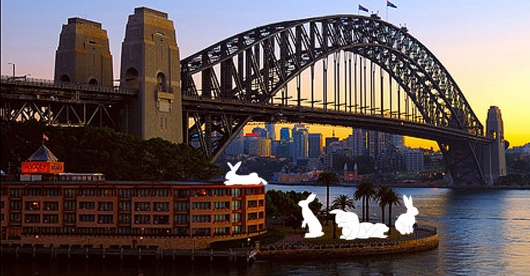 I have recently found out that my artwork installation has been accepted for a major festival held in May this year. The artwork comprises of five seven meter high inflatable illuminated rabbits that seemingly look like they have hopped into Sydney and made themselves at home.

INTRUDE
- THE CONCEPT OF THE RABBIT INSTALLATION
Rabbits first traveled to Australia on the ships of the First Fleet and were brought ashore in cages in January 1788 at Sydney Cove - the site of my proposed installation,
Intrude
.
These adaptable creatures quickly made themselves at home and eventually spread to almost every corner of the land. More than 200 years later rabbits are still out of control, leaving a trail of destruction wherever they go. They are the most destructive of all the feral animals we have introduced.
The Harbour Bridge backdrop of the
Intrude
installation represents how man has shaped the landscape of Australia, while the rabbits on Hickson Point symbolize their arrival and the indelible impact they have had on this fragile island continent. They are unwitting
intruders
that have changed the face of the environment forever. The pieces for the installation now need to be constructed.
Some Of My Previous Work
This is a prototype of the pieces. It is a five meter tall internally illuminated rabbit. The pieces designed, are two meters taller and in a variety of poses.
Introduced species have been a major theme in my work which has been exhibited in variety of media and a number of galleries in Tasmania, Victoria and NSW. I have also been selected as a finalist in a number of national at competitions including the Blake prize in Sydney and the Glover Prize in Tasmania.
I also have an exhibition of my artworks scheduled for early 2014 in Hong Kong.
My official website is:
www.amandaparer.com.au
How The Funds Will Be Used
The funds raised will be used to make the artwork and to cover the costs of installing and dismantling the installation during the festival which runs for 19 days. Below are technical drawings of three of the forms to be made. Further information is available upon request.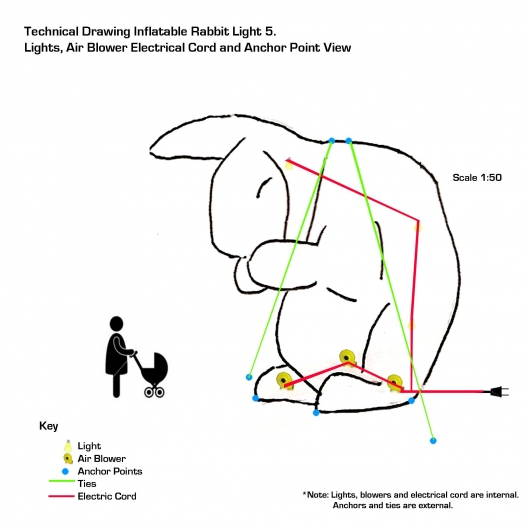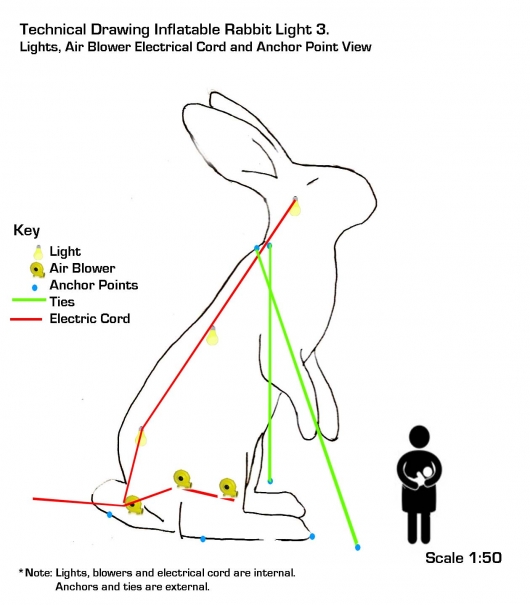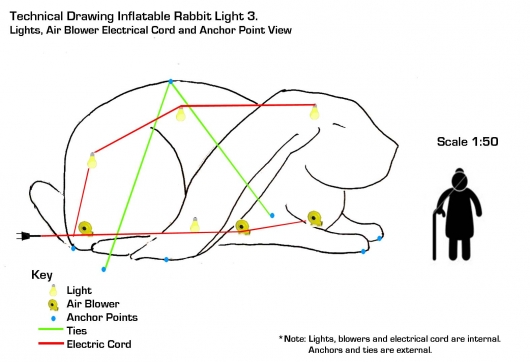 The Challenges
An outdoor festival is often at the mercy of the elements. The sculptures are being produced using strong weather resistant material with sealed resources for lighting. Professional engineering advise is being prepared to ensure the stability of the pieces on all weather conditions.

Security around the pieces to protect them from tampering is being provided by the festival. That same security also provides protection for the public. The festival provides public liability insurance.

Erection and dismantling of the pieces will be by trained staff only.