Australia had a dramatic birth as a modern nation. It was first settled by Europeans in 1788, with the arrival in Sydney of the First Fleet from England, carrying around 1,500 men, women and children. About half were convicts.
In 1790 the hellish Second Fleet arrived, bringing more convicts including Paul Bushell aboard 'Surprize'. He was one of the lucky survivors of the worst of all the convict shipments to Australia. This photo is thought to be of octogenarian Paul, taken around 1850, and is the only known image of a male convict arriving on the Second Fleet - a rare find.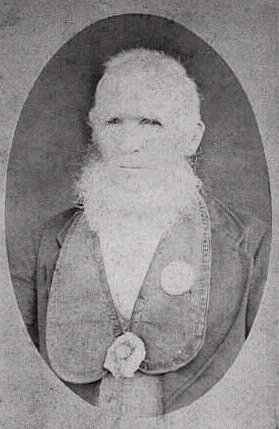 In his new homeland, Paul Bushell distinguished himself as a very worthy citizen. He was vigorous, independent, generous-spirited, community-minded, principled and hard-working. He prospered himself but also championed the rights of others. He helped to establish two schools and two churches. His ecumenical views and his respect for women's rights were ahead of his time.
Paul had a long first marriage to another convict, Jane Sharp, who died in 1820 without bearing children of her own. In 1822 Paul married his second wife Isabella Brown, and they had ten children. Isabella was the eldest daughter of the convict David Brown, who was transported aboard the 'Pitt' in 1792, and Eleanor Fleming, who arrived with the Third Fleet in 1791 as the child of a NSW Corps soldier. David & Eleanor, Paul & Isabella, and six other members of their family, are buried in a double gravesite at Wilberforce, about 60km north west of Sydney. The Wilberforce Cemetery, an important survivor among this country's earliest cemeteries, is the burial site for 34 people who arrived on the First, Second and Third Fleets and is so significant in Australian history that it has received Heritage listing.
The Brown & Bushell gravesite originally held two altar monuments (looking like a stone coffin), with the top and side slabs containing inscriptions naming the persons buried beneath. We have a poor-quality image of one of these altar monuments, filmed in the early 1960s.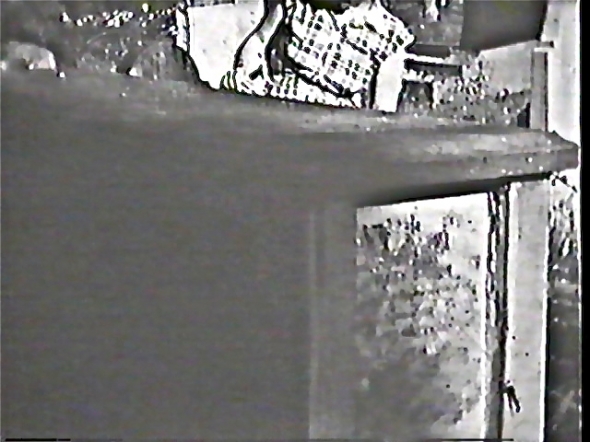 By 1990 both had collapsed, and without the necessary funds at hand, family members could only retrieve and sort all the scattered pieces and stack them into two piles, hoping that one day they could be rebuilt. Most of the earliest gravesites at Wilberforce have been significantly degraded, to the point of collapse, by water erosion on a steep slope. The problem has now been fixed by drainage works at the cemetery. The soft Hawkesbury sandstone monuments and headstones which once marked the last resting place of Paul Bushell, David Brown and other pioneer settlers of Australia are badly weathered. Vandalism was a huge problem before 2004-5, when a protective fence was built around the perimeter of the cemetery, thanks to the hard work of the Friends of Wilberforce Cemetery. For their ongoing voluntary work protecting the Cemetery, the group has just been recognised in the Australia Day's Cultural Heritage Awards for 2014. Public funding supports its general protection and upkeep. However, individual families are responsible for restoring the graves which fall into disrepair. Government grants are NOT available for this purpose.
For more than 20 years, there has been a desire to repair the Bushell and Brown graves, but working out a way to reach even some of the thousands of descendants living all around Australia and overseas was the first of many issues to be overcome. Hooray for the advent of the internet. Renewed interest in the idea was prompted by the publication of Louise Wilson's book 'Paul Bushell, Second Fleeter' in 2010. The book highlighted the condition of the graves and, although steps had earlier been taken to protect the site by stacking the broken stones together, family members reading the book were shocked. They felt a strong need to honour and respect their pioneering forebears. And the effort makes sense today, now that the fabric of the cemetery has been fixed via proper drainage and an attractive protective fence to deter vandals.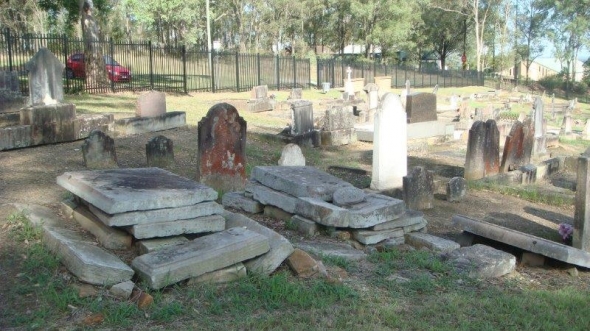 A committee of ten, with Australia-wide membership, was set up early in 2013 to oversee the 'Paul Bushell and David Brown Heritage Grave Restoration Project'. Family members rallied to contribute old photos of the gravesite. Various attempts made over the years to decipher and transcribe the eroded epitaphs were combined into a coherent whole. A Facebook page began collecting messages of support from far-flung members of the family.
Committee members have met onsite with two employees of the Hawkesbury City Council, the body responsible for the overall maintenance of the Wilberforce Cemetery and associated Heritage NSW issues. Numerous legal, financial and administrative obstacles have gradually been overcome, with progress reported on the Facebook page.
We have now settled on the quote from Grant Skinner and Sach Killam, specialists in their field, who work principally at Rookwood Cemetery in Sydney. The picture shows part of their work-in-progress for the restoration of another altar monument grave, at Wiseman's Ferry. The Bushell and Brown graves involve this type of reconstruction.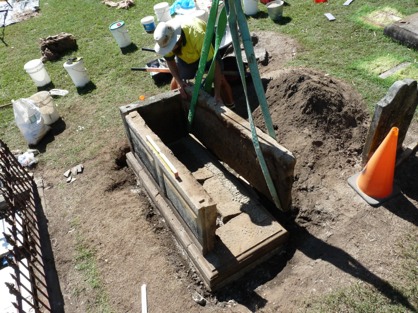 Most projects like this never get started because of the legal and financial impediments to fund-raising campaigns. The door is virtually 'shut' to new applications for registering as a charity. Obtaining permission to raise funds across every legal jurisdiction in Australia is cumbersome, time-consuming and costly, and involves the committee members with the responsibilities of Trust funds. Crowdfunding is now a pathway for, and a solution to, the collection problem. Trust funds are a burden to maintain and to help us, the Hawkesbury City Council has very kindly agreed to open a new account in its own ledgers, a Trust account, as the collection point for the funds raised.
We are excited that our project has overcome the various stumbling blocks very innovatively. Our approach to important grave restoration projects will hopefully create a template for similar activities around Australia.
Now - we must raise the $16,000 needed to restore these graves.
Will you help? Remember, you don't have to be a descendant of the Bushell and Brown families. The significance of the Wilberforce Cemetery makes this project worthy of support by anyone, living anywhere, with an interest in protecting Australia's heritage for future generations.
Some Of My Previous Work
Louise Wilson chairs an Australia-wide Committee of eight people, all of us new to Pozible but old hands at life experience. She is a descendant of David Brown and Eleanor Fleming though their daughter Isabella, who married Paul Bushell. The other Committee members are all passionate Bushell & Brown descendants from around Australia - Patsy Templeton, Catherine Broady, Rachel Hargrave and Marj Clarke from New South Wales, Stephen Bushell from Victoria, Barry Brown from Queensland and another Barry Brown from Western Australia. Six of the eight Committee members are listed as our Team on Pozible.

How The Funds Will Be Used
As outlined above, all funds will be used on grave restoration work. Using an innovative approach, funds will be paid to a specially-designated account operated by the Hawkesbury City Council at Windsor, NSW. For the Bushell Brown Grave Project, Council will act as the Works Manager, supervising the work and releasing progress payments directly to the contractors. Council, as the body legally responsible for the Cemetery, will also handle OH&S issues. We have agreed with Council that if we exceed our fund-raising target of $16,000, any funds excess to our requirements will be retained by Council. Such funds will be used for future grave restoration projects within the several heritage cemeteries for which Council is responsible, so it's obvious that public generosity well beyond the immediate target of $16,000 is highly desirable.

Please note - this is not a registered charity and donations are not tax deductible.
The Challenges
The main obstacle is not achieving our fund-raising target. The work will not even start if we fall short of our target. The graves will remain an anonymous pile of stones.

Once we launch our appeal, we will need to run a very active publicity campaign to encourage potential donors to pledge funds towards the restoration work. You don't need to be a descendant - just a person interested in preserving the evidence of our early European history. Will you help us to spread the word in print and social media?