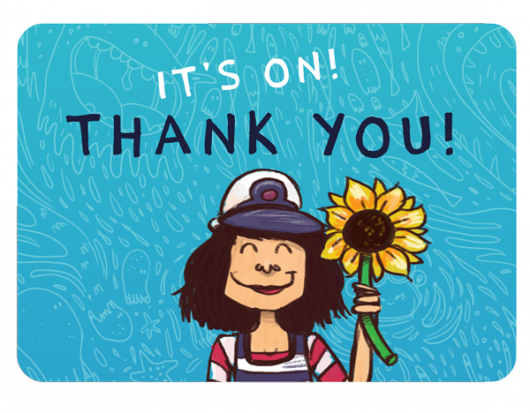 Hi everyone!
Thank you so much to all of you! We have reached the target and the book will be going to print very soon now. I hope you will enjoy it.
Meanwhile, the campaign is still on, there's 25 days left to go. I am hoping we can get to $9000. The extra money will help to increase the quality of the explorer edition and print more of them. It will allow me to get an even better paper stock for the cover and the inside pages. The budget I had created was super tight (I wasn't sure I would reach the target!) so I hope we can make this even better.
You guys rock!
------------------------------------------------------------------------------------------------------------------------------------------------
The Monsters of Tasmania is a picture book written for children – and adults! I have been working on it for the past year and I'm 99% there. The illustrations and text are complete, it's laid out and ready to publish. This Pozible will get the book into the real world by helping cover the cost of printing. Thanks for checking it out!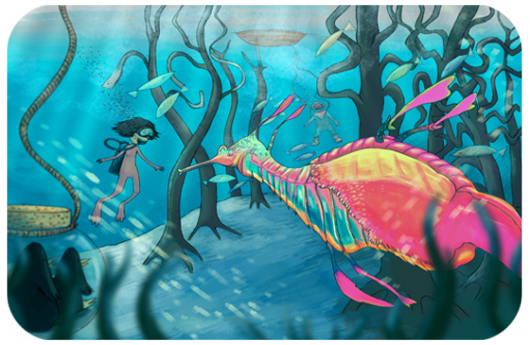 The Monsters of Tasmania is a quirky tale that brings sea monsters and mythical creatures to life. The story follows Captain Blueberry and Albert the monkey's journey to and around Tasmania by boat. Look out for the sleeping dragon of Maria Island, the lion-turtles of the Tasman Peninsular and the giant stoneworms of Freycinet!
If you know Tasmania, I hope you will enjoy recognising the places the Captain discovers. If you don't know the island, then I hope this book will help you discover it a bit, and even better, you might want to check out those monsters for yourself!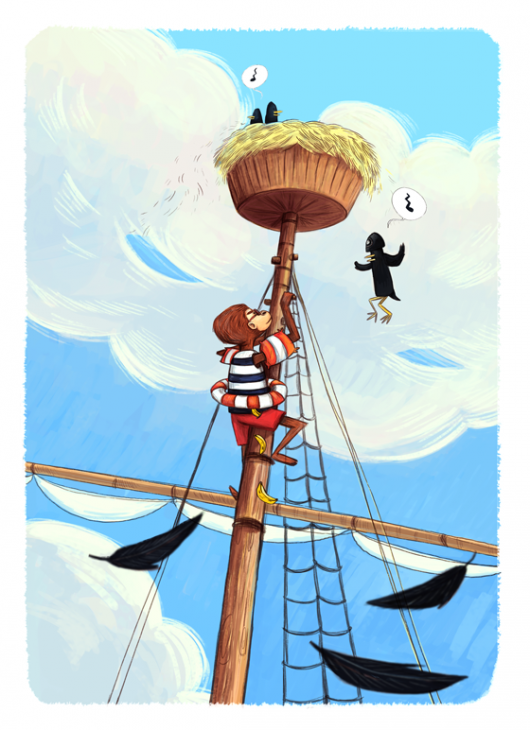 I'm publishing two versions of the story. A 40 page, full-colour hardcover version and a limited edition Explorers Edition. The hardcover version will be like a standard picture book, printed on recycled silky coated paper. The Explorers Edition will be printed locally on a beautiful recycled & natural paper that's good for drawing on. It will have everything the hardcover version has but it is notebook-sized (to fit in backpacks) and will have room for kids (and adults!) to draw and collect information on the monsters they find themselves. Both versions are print-ready right now.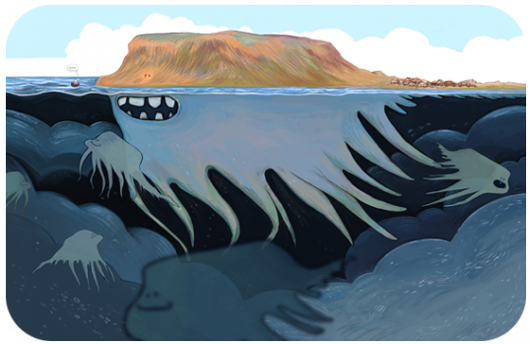 Translating my vision and love of nature into something engaging and fun is important to me and I hope you will enjoy it as much as I enjoyed the making of it. I am inspired by the evocative landscapes and raw beauty of Tasmania and when I look at nature I see moods and personalities in everything. Mt Wellington, for example, is a very moody mountain and in Maria Island I see a sleeping dragon. In fact -- it is a dragon, and it looks like an island. There's an untold story in landscapes and you don't want to let it eat you!
I like the idea of mythical creatures in Tasmania and of a mysterious and dangerous place where Kraken and other sea monsters are part of people's beliefs. Let's bring old folk tales into the present!

Project Team
Rachel:
I am not Captain Blueberry and any resemblance is just a coincidence.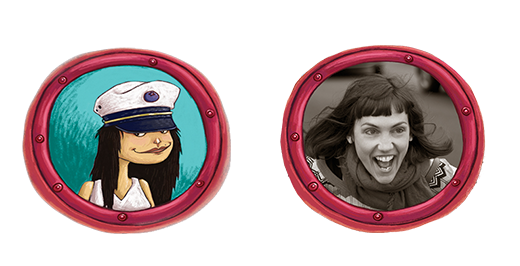 I was born in France and now live in the space between Hobart, Tasmania and the monster world. I am a graphic designer/illustrator by trade and that's what I do during the day. You can check out my website if you would like to see some of my work:
www.racheltribout.com
My big love is graphic novels, myths and the legends of old. I have been playing with the Captain Blueberry project for the past 4 years and it allows me to explore that side of my imaginary.
Captain Blueberry has been pretty popular down here, and until now I was only showing and selling snippets of her adventures. It's very exciting for me to finally be so close to release this book and tell her first tale!
Dan:
Daniel Patman is not Captain Blueberry either. Nor is he Albert.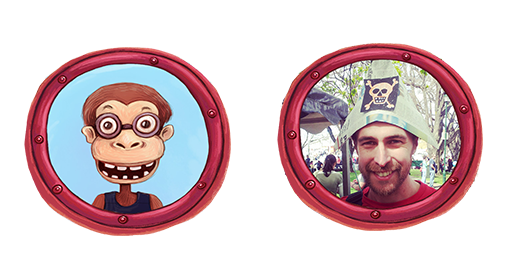 Daniel is a qualified engineer who is into grammar, spreadsheets, politics and oats. But what he really likes is a warm cup of coffee and a nice book with monsters inside.
He is also my partner in life and in crime, and a big part of Captain Blueberry too. He is an idea bouncer, and more than that, a lot of the funniest details in the book have been extruded from his brain. He is a general project helper and the text of the book is a million times better with his input.
Some Of My Previous Work
I work as a freelance illustrator & designer during the day, and you can see some of my work on my website:
www.racheltribout.com

How The Funds Will Be Used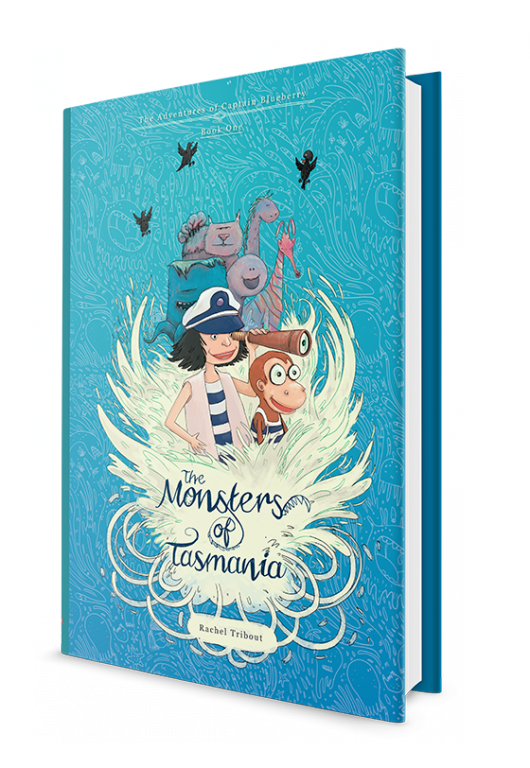 I am self-publishing this book so all of the money raised through this Pozible will go into printing and the costs like the ISBN, the postage to send it to you guys, and the Pozible fees. I'm getting 1000 full colour, high-quality hard-cover books printed on recycled paper. (1000 might sound like a lot, but it is much better value; I have done a lot of research and it is the best way to go about the project!)
About 200 copies of the limited edition EXPLORERS version will be printed locally in Hobart on recycled, natural-feel paper that is a pleasure to draw on.
If I exceed my target with this appeal I'll be able to print more copies of the limited edition one, and put the funding toward an ebook that I have planned as the next step.
Why self-publish?
It's a question I'm often asked, and it's something I thought about for a long time! Basically, I'm self-publishing because I want to have the freedom to make exactly what I want to make. I haven't approached any publishers with this project and I want to have full control of the project, from concept to printing, and then distributing.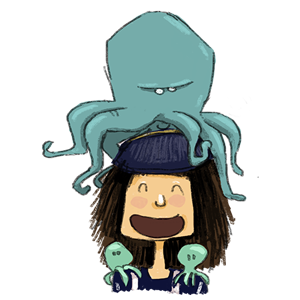 Once the book is printed, I am ready to do the distribution and marketing. I have a stall at the Salamanca Market in Hobart and this will be my main way of getting the book out there. The book will also be available for purchase online. I will sell the book via lots of the bookshops and tourist shops in Tasmania, and the book will have an ISBN and will be registered with libraries in Australia. I am pretty keen to take it to the mainland once I have it all sorted in Tassie.
But I do want publishers to notice me! In the future I would like to work with a publisher to get my work out there. But this one's MINE ALL MINE!
The Challenges
I have been through a lot of the challenges already!

Creating a compelling story, working on the book in my spare time, after work hours, during "holiday times" and week end has been a long journey, but I must say I have loved it. I have learnt a lot in this process as it is my first book, and looking back a year ago, I am amazed by how far the project has come.

The design process is also a challenge: designing a book is a lot harder than designing a brochure! I have had a lot of support from a lot of people (other illustrators, designers, authors, printers, friends with kids, etc) and I haven't been afraid to start over and over until I was really happy with the result. I have researched the best way to design but also to print it, and there's so much to think about: the layout, the format, the paper stock, the printing process, the binding, etc. I believe I have overcome those challenges and I took a lot of time to make the decisions. Things are good!

The coming challenges will be in being organised. The marketing and distribution of the book are going to be a key to the success of the project. I have a good marketing plan, and luckily, having a stall at Salamanca Market will mean that I will have an excellent and straight forward way to sell my books. Salamanca Market has a massive amount of people visiting each week end. The book will appeal to tourists and locals.

I also have made contact with some retail shops and selling the book via them will be another good avenue.

Most importantly, the field research is complete but if I have to come face to face with any more sea monsters, I know how to deal with them!