*PROJECT UPDATE*
Look at that! We have already achieved the target of $4500 in pledges that we were aiming for. Thank you so much for believing in us and what we do here at Fictive Fingers. We still have 5 days left to the end of the campaign so you CAN still pledge and grab hold of some of the sweet rewards available. The extra funds will support future events at the collaborative studio such as an out-of-this-world opening that will spread across a weekend and hosting exciting pop-up events that people of all ages will enjoy! Once again, thank you for making this project a success, we couldn't have done it without you. If you're looking forward to the studio as much as we do, continue to spread the word!
Much love,
Hani & Aisah
-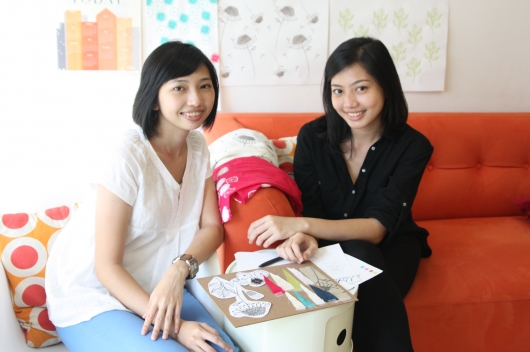 Hello! We are Hani and Aisah Dalduri - a sister duo team behind independent textile and lifestyle label,
Fictive Fingers
. When we quit our day jobs last February, we were determined to introduce an authentic, honest label to a society familiar to mass-production, cost cutting and on-demand culture.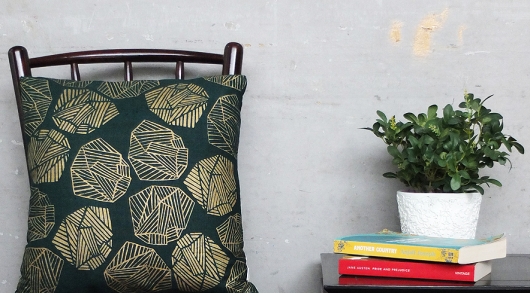 How are we authentic and honest? We make products that serve a purpose and build on sustainability. We're inspired by everyday beauty and we embrace simple fabrications that contradict trends so our products can be used for many years without appearing antiquated. We handpick every durable material used and produce our designs in-house (watch us in action in the video above!) using traditional methods because we believe that our hands are capable of yielding raw, artistic results, which are unobtainable by digital methods. We don't make promises we cannot keep.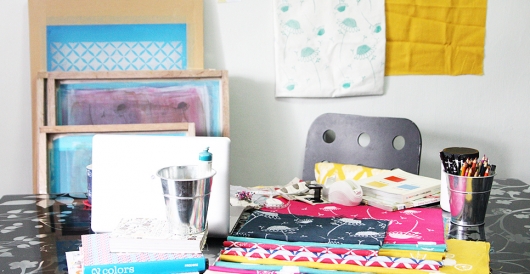 How has the response so far? Running a creative business that takes pride in quality materials and careful craftsmanship puts us at the very bottom and sometimes we have to take cautious measures such as moving our studio back home and putting the label ahead of ourselves to sustain financially. Nevertheless, Fictive Fingers have grown so much through our tireless dedication and the support garnered from various media outlets and people who believe in what we do from all over the world. As the first homegrown textile label of its kind in Singapore, we hope to keep the craft alive for many years down the road.
What now for Fictive Fingers? We are humbled by the support we receive and encouragement to keep moving forward. We are also thrilled that there has been an increasing demand for our products from local and international retailers. However, being a self-sufficient sister duo team at the moment, there's only so much we can do. We may not be able to produce the volume of products that are being demanded but we do our best to progressively get the help and facilities that we need. We want Fictive Fingers to continuously be a label driven by the same passion that started it and the community who believe in it.
This is us saying - we need your help!
How can you help? The main objective of this Pozible Project is to raise funds to help us kickstart our vision of a collaborative studio where we will have the proper facilities and space. Rental is ridiculously high here and it is tough for small, independent operations like us to keep up on our own. That is why we decided to have a studio that will also reside other awesome homegrown creatives we know with the notion of coming together to inspire, collaborate and engage with the community through open studio sessions and workshops. With this space, we will also be able to open up internship positions and pass down our skills and knowledge.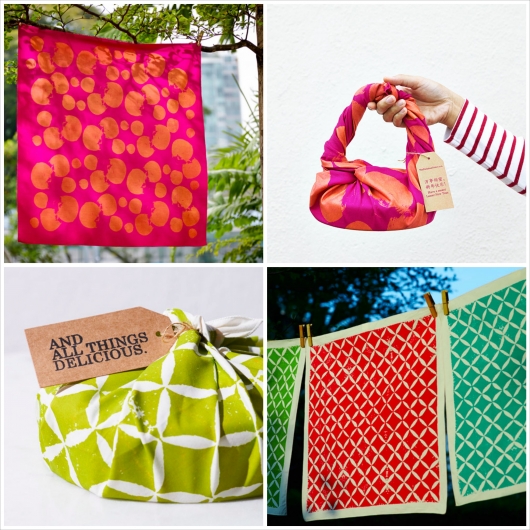 What sort of collaborations? Here are some projects we've worked with
And All Things Delicious
to give you an idea! Images by CJ Sameer Wadhwa
This is an ALL or NOTHING campaign, which means that if we don't meet our goal, we'll get none of the money raised. This is where YOU come in!
In pledging you'll be part of our adventure to bring the art of hand-printed textiles to light in Singapore and support the community of small business owners who are driven by nothing else but passion for what we do. You will also help us make our designs more accessible globally and decide what goes on to our Signature Range which will be available throughout the year by selecting a product that tickles your interest!
Every little bit helps keep our craft alive. There are more ways to support us than to contribute money. Spread the word about this project by sharing a link to this project on your social media channels and remember to tag us so we can send you some love in return!
Follow us on
Instagram
and
Facebook
for regular updates on this campaign and what we're up to. Feel free to
drop us an email
if you have any questions. Thank you for your support!
The best part - rewards!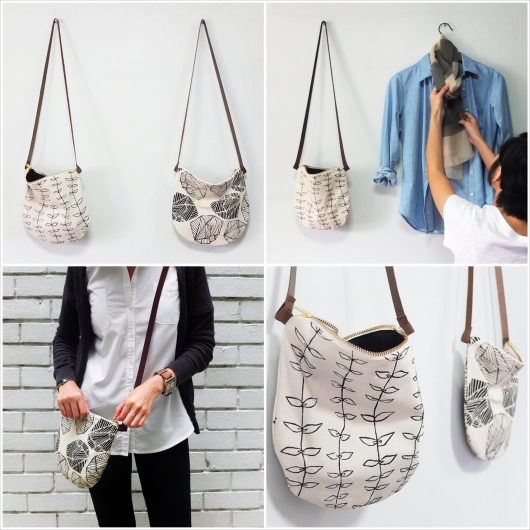 Designed to be your companion while running errands and travelling the world. Measuring 10-inch wide and 8-inch deep, these pocket slings will fit necessities from your mobile to sunglasses. The standard straps are 22.5 inches from the shoulder but you may customise the length accordingly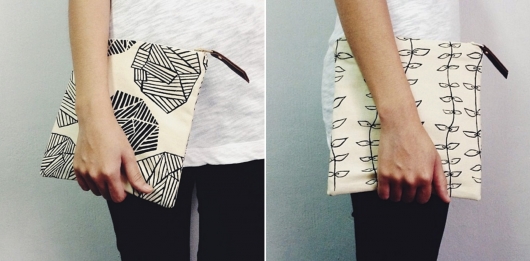 Raga & Knots Square Pouch: Customers love how sturdy and versatile these pouches are for a casual day out. Measuring at 8 by 8 inches, this pouch is hand-printed using black nontoxic inks on Japanese cotton. Its durable twill lining ensures the structure remains regardless of the necessities you put inside!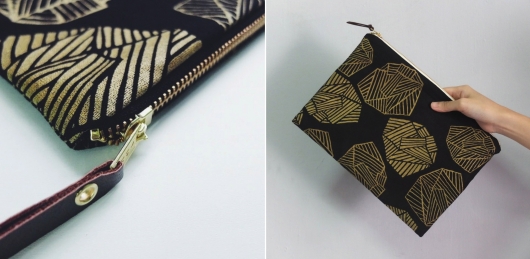 Black/Gold Oversized Pouch: We all need a large pouch. This pouch will turn heads when carried as a clutch and secure your belongings when you're travelling the world. Measuring at 12 by 8.5 inches, this pouch features a sand coloured twill lining which is not only durable but stylish too.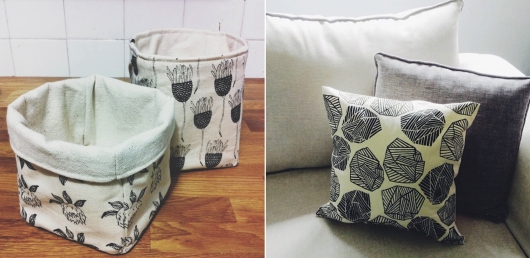 Oni and Olly Fabric Baskets/Raga Natural Cushion: Brighten up your home with our expressive designs without making it any less cosy. Made with linen and canvas, our fabric baskets are reversible and sturdy. Perfect for keeping bits and bobs or dressing up your pots. And our popular 16 by 16 inch natural Raga cushion pairs up nicely with other cushions of any range of colours and textures.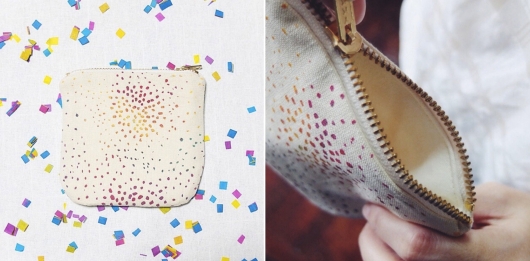 Confetti Pocket Pouch: Sold out in a day and again when we did a second print edition! Measuring at 5 by 5 inches, this pouch is hand-printed using raspberry, turquoise and yellow nontoxic inks on Japanese cotton. It features our durable twill lining and industrial gold zipper, making it a tough chick despite its delicate guise.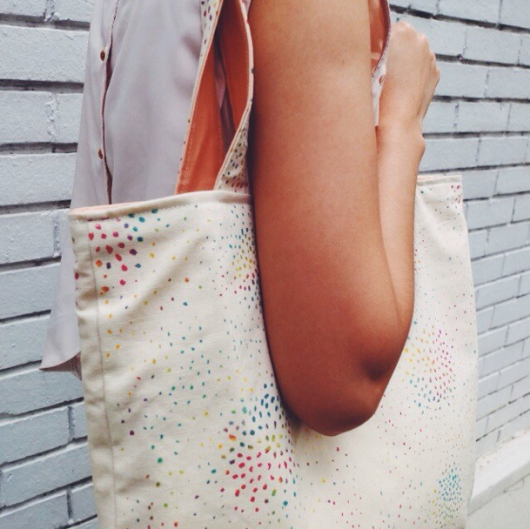 Confetti Summer Tote: Our summer totes are well-loved for many reasons - they are lightweight, the handles are comfortable and of the right length and they are pretty. Measuring at 15 by 14 inches, these totes will keep you in good spirits with its undeniably cheery print married with a refreshing peach twill lining.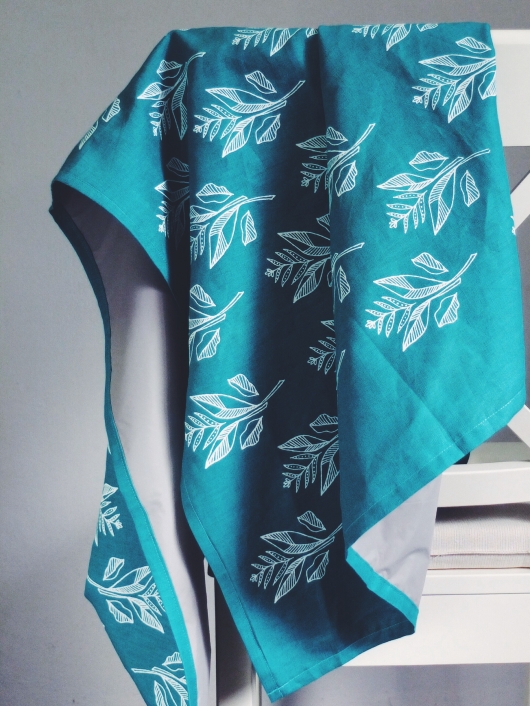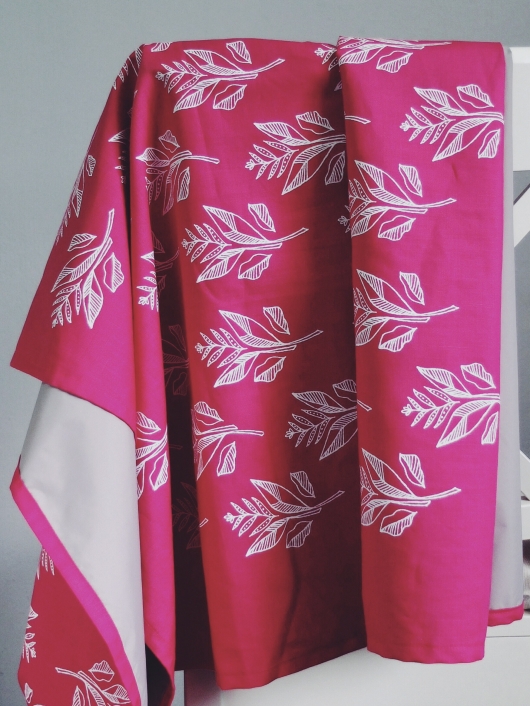 Dhon Picnic Mats: Singapore has the best weather for picnics, well, except when it pours at the end of year. We specifically designed these mats to be lightweight and lined with a waterproof base so they can be cleaned easily. The standard size of 55 by 50 inches is perfect for couples and small family gatherings.
Some Of My Previous Work
Throughout the year, we made it a point to hold workshops to educate the public so they gain better appreciation of what can be achieved when creativity and craftsmanship come together.
We conducted various printmaking workshops privately at our former studio in Chinatown as well as large-scale sessions with public and private bodies such as National Library Board, WWF Singapore and National University of Singapore. We even conducted classes for children as young as 3!
Back in 2012, we were part of the organising team of a non-profit initiative called
Handmade Movement Singapore
, a platform for local artisans to reach out to the community and encourage appreciation for unique items that are handmade with love and attention. The main project is running Singapore's first and only large-scale indie craft fair. The first craft fair was on 19 January 2013 at Fort Canning Green, where we garnered over 1,400 attendees who braved the heavy rain to be part of its debut.
How The Funds Will Be Used
$1,500 – To kickstart our vision of a collaborative studio where we will have the proper facilities and space. We'll be sharing the space with awesome studio mates we know you'll love. This is a start-up amount that will be included in the fund as we look out for a conducive and affordable space.

$1,500 – To open internship positions! As we continue to grow and take on exciting new projects and partnerships, this is our first step in passing down our self-taught skills and knowledge to talented individuals who will receive one-on-one training while assisting us in various aspects of running the label. We believe that the best way to bring this industry to light is to share what we know through experience.

$1,000 - To stock up on our favourite base fabrics, screens and inks. Our current production quantity ranges from 10 to 25 pieces per design. With the increasing demand from local and international retailers and buyers, we hope to make more editions so more people can get a chance to own our products.

$500 - To cover the supplies needed to make your rewards! We've put on our aprons now, bring it on!

The Challenges
Although we never know what lies ahead of us, we are determined to smooth out the bumps in the road, even if the process to do so is no smooth ride. It has been close to a year since we started - working extremely long hours and losing much needed sleep, and we will do it over again if it means feeling satisfied with what we have achieved at every course.