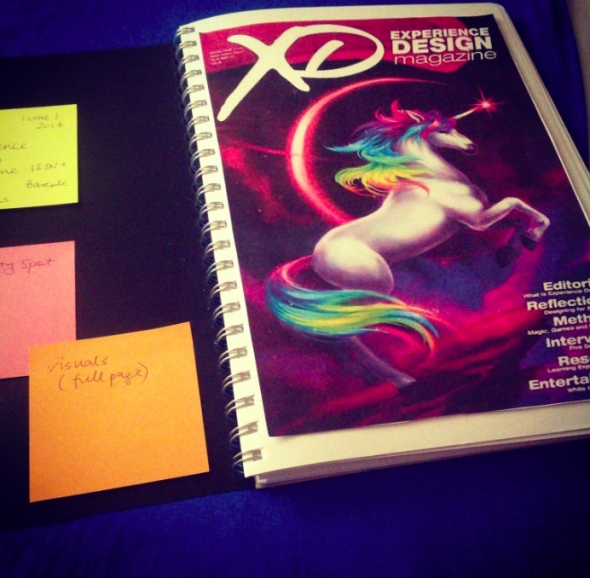 XD is a biannual print/digital magazine which showcases the work of experience design practitioners and researchers from a wide range of human service industries and fields, such as:
* TECHNOLOGY
* TRAVEL AND HOSPITALITY
* ENTERTAINMENT AND EVENTS
* ARTS AND CULTURE
* HEALTH AND MEDICAL
* NONPROFITS AND CHARITY
* EDUCATION
* ARCHITECTURE
* BUSINESS AND FINANCE
And more...
Each issue of XD will feature a series of projects, interviews, visuals, reviews and creative inspiration - all of which help everyone understand why experience design is important, who does it and where, how experience design is done in practice and how experience design research can enhance practice.
XD aims to attract a wide readership across many fields and industries internationally. Its style is informal, conversational and designed to stimulate creative discussion around the concept and practice of experience design.
Visit http://xdmagazine.wordpress.com for more info about upcoming issues.
Some Of My Previous Work
My writing and designs have been published in Silicon Valley, US at
Boxes and Arrows
and
Goldstar
, and in Australia at
The Conversation
.
I have recently completed a PhD in Information Ecology at Queensland University of Technology, in the areas of knowledge ecosystems and learning experience design.
My LinkedIn Profile is
here
.
How The Funds Will Be Used
$3000 - for printing/distributing magazine in Australia, US and UK/Europe via Joomag.

The Challenges
Experience Design, as distinct from a more well known term 'User experience design', is a newly developing field of research and practice. A challenge exists to attract the right kind of expertise to drive this field forward. The Editor of this magazine is already making progress towards targeting the right people to join the team or contribute to this magazine. We hope that by getting the project out on Pozible it will help attract more specialists in this area to contribute or support us in making this magazine a reality.