Big Fag Press is an artist-run printing collective located in Sydney, Australia. We are a bunch of socially active artists and cultural practitioners. Together we own a 4 tonne offset proof press.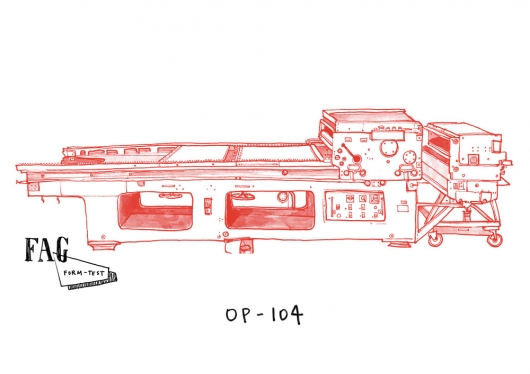 WHAT DO WE DO WITH SUCH A BIG ASSET?
We produce large-scale limited-edition prints with graphic adventurers, host printmakers-in- residence and take on budding cultural producers in our internship program. We also embark on exchanges with local communities, as to us the Big Fag is not just a heavy bit of machinery that prints stuff but a platform upon which we support artists, build community and celebrate neighbourhood stories.
DANCE!?
The Big Fag has been offered a new space by the City of Sydney located in the Glebe Viaducts. It's an incredible location where we will thrive and continue to develop our work in print and a host of other diverse projects. We're so excited about our Big Move that we've started the Big Fag Dance!
Who Are We?
Big Fag Press is run by a bunch of enthusiastic artists who love to collaborate:
— Pat Armstrong (designer at Global Mail and overall online developer wizard)
— Louise Kate Anderson (Arts worker, photographer, project manager extraordinaire)
— Diego Bonetto (SquatSpace, Wild Stories, foraging promoter, old father)
— Lucas Ihlein (SquatSpace, Teaching and Learning Cinema founder, lecturer, blog gardener, young father)
— Mickie Quick (SquatSpace, Blood&Thunder founder, Guerrilla Gardening talent, young father);
...as well as Tim Barbarino, Annie Timmins, Alex Stevenson, Jamie Gray and Clementine Barnes (our indispensible interns and helper-outerers).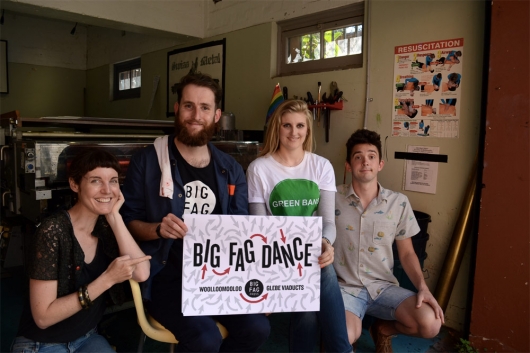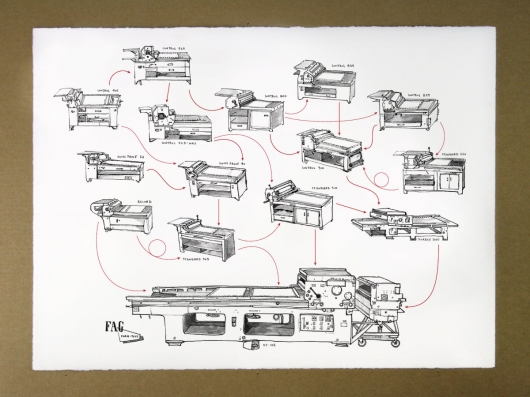 Zoe Sadokierski's "Big Fag Dance" print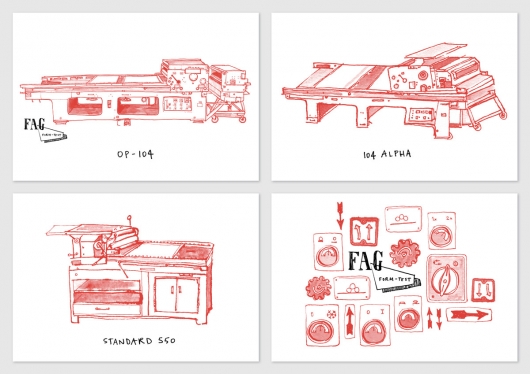 A few of our Big Fag Dance cards
Some Of My Previous Work
GREEN BANS ART WALK
In 2011 we collaborated on an extensive oral history project which commemorated in print, text and video the Green Bans of the 1970s. See this video for a snippet of what turned out to be one of our most important collaborative projects to date:



LAURA HINDMARSH / PAT GRANT RESIDENCY
In January 2013 we hosted two emerging artists Laura Hindmarsh and Pat Grant thanks to a grant from Australia Council for the Arts. From this mentorship each artist had the chance to use and experiment with the press and produced a series of works.

JOHN DEMOS: ACCESSIBLE ARTS MENTORSHIP
Between April and October this year we joined forces with Accessible Arts in a mentorship program with artist John Demos, working towards a more inclusive understanding of artistic process and output. Check out this wonderful little doco by Josh Charles:


How The Funds Will Be Used
In order to get the Big Fag to bust a move we need to raise $4500:
— $2000 to hire a crane, flat-bed truck and to enlist some help from a team of experts
— $500 for traffic control and official clearance to block the road for the crane
— $1500 to install three-phase power in our new location
— $300 to rent a 3-tonne truck to move everything else (drying rack, sink, plate puncher, shelves, inks, paper, chemicals and dedicated furniture)
— $200 for all the other things we forget to list and only discover when we're packing.
The boost from our Pozible campaign will go a long way in helping us out with the move so we can have one hell of a dance!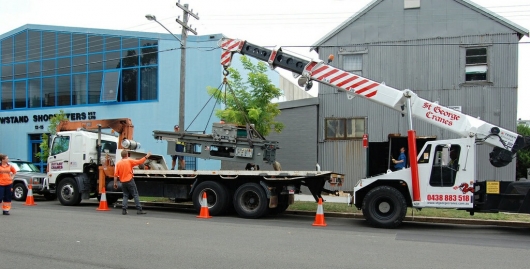 The Challenges
Even though The Big Fag is tough, it needs to be treated with great care. You can't just push it onto a truck!

It needs specialist machinery and experienced movers who will slowly and carefully rig, lift, and re-locate it into its new home at the Jubilee Viaducts in Glebe. For the move we need to employ three experienced blokes (or shielas!! ...although admittedly the crane industry does tend to be a bit macho) as well as a host of lollipop people to ensure that no-one gets too upset when we bust out the Big Fag Dance, temporarily taking over the whole street!