Introducing Peekeasy Productions, a group of friends who come together to create shows with loads of ass and class. Our latest endeavour is a self-managed tour of Europe over summer. We currently have bookings for events and festivals in Berlin, Sarajevo, Barcelona and Paris. We need your support to help get us on the road!
The touring party consists of the Bat Hazzards (Steph, Jack and their little ankle biter, Tanami who will turn two on route!), Mademoiselle Gabrielle and Morris Macaroni (currently based in Berlin), as well as and Jack's little sister Gina who is coming as Tanami's dedicated nanny. The Bat Hazzards have booked their return flights, but we need money to go towards transporting our troupe plus musical instruments, costumes and other paraphernalia from Germany through Eastern Europe then across to Spain and France before heading back to Germany. We aim to raise $5555 dollars (a nice even amount) which is around 4300 euros after conversion. This is roughly how much it will cost to either buy a small bus or cover flights/car hire. We will be camping and couch surfing along the way, as well as busking our hearts out for the extra coin needed to keep us above the red line.
We will be based in Berlin for one month, writing, rehearsing and performing before leg it to Bosnia where we have an amazing opportunity to put on a show in an old amphitheatre in the forest. From Bosnia we will travel through Croatia and Italy to France for the Aurillac Street Theatre festival. Then it's off to Spain where we are booked in for two surf festivals at the end of August, start of September. Bonza! After Spain we are connecting with the Lettingo Cabaret crew in Paris, before heading home.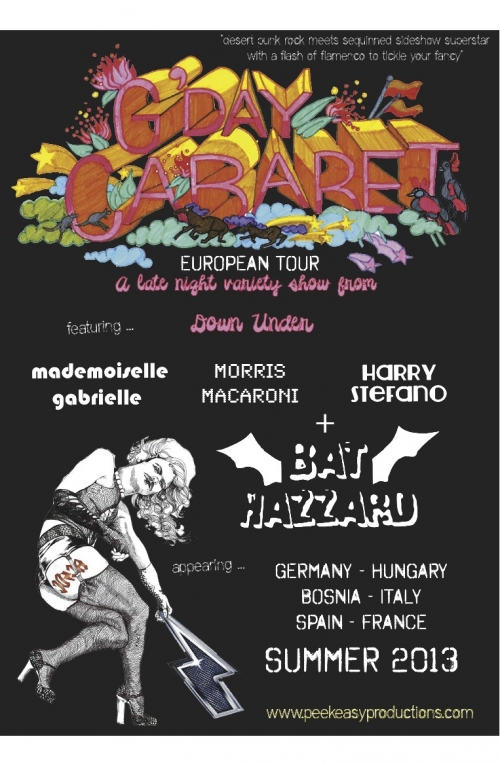 A little bit about us...
Birthed in the stinking hot centre of Australia, Peekeasy Productions began with two friends (or should we say, evil twins) Mademoiselle Gabrielle and Steph Hazzard. Steph and Gab had previously performed together as part of the all-girl cabaret band Stop it I Love it, and had been studying together in Fremantle at Annie Stainer's School of Physical Theatre. In 2010 they relocated to Steph's hometown of Alice Springs where they put on the show 'Vaudevillains' at the Alice Desert festival. During this time Steph hooked up with pre-school play mate Jack Batty 'Bambalam' and they all joined the local group Cat's Meow Cabaret for their big show extraviganza 'Soul Train' - Gabrielle as a scene director and performer, Steph as Assistant Musical director and band leader, and Jack with the lead role of Narcissus.
"We continued to develop our kooky blend of dark Cabaret, music and physical theatre, and in 2011 called up a few other friends and created a new show 'If You Want Blood...' (think ACDC meets Rocky Horror). With Gabrielle as Creative Director and Steph as Musical Director, we self-managed a tour to the Adelaide Fringe festival with a cast/crew of 11 performers. Steph was six months pregnant at the time."
Three months later, Tanami Batty was born, the same day that Steph found out she had won the Northern Territory Anthem songwriting competition. There were fireworks and much celebration.
Late 2012 Steph and Gab put their heads together again and thought, what should we do now? Gab had recently relocated to Berlin with her boyfriend Will (amazing Flamenco/classical guitarist) and was studying at an international school of Physical Theatre through the long cold winter. Steph was busy in Alice Springs writing songs and performing with Jack in their band Bat Hazzard. Tanami was running around and having a jolly good ol' time.
"Why not book a summer tour of Europe?" we dreamed... Would it be possible? We could put a new show together, drawing material from our previous shows, as well as the new work we have devised separately since then. We could tour Europe and develop new skills, create new work, busk, make new creative connections and share our crazy Australian cabaret performance styles with the wonderful people of Europe, where Cabaret was born! How marvellous to be surrounded by all that culture and open our eyes to new creative possibilities. Plus, we'd get to be reunited, Mad Gab and Steph Hazzard, the evil twins of the Vaudevillains realm."
So G'day Cabaret was born, a late-night variety style show in true Peekeasy style. Desert punk rock meets sequinned sideshow superstar with a flash of flamenco to tickle your fancy. We will be on the road from July - October, and we need your support to help get us on the road and doing what we were born to do.
…totally engrossing and entertaining. Electric! - Dean Atkinson, Rip it Up! Magazine