The Blood & Thunder Anthology showcases some of the best comic illustration that Australia and New Zealand have to offer. Combining specialist printing with great artwork, the second issue will include 18 local artists, such as Lachlan Conn (Punkin Moon), Miranda Burton (Hidden) and Simon Hanselmann (Megg & Mogg). And it's ready to go to print.That's why we're asking people to get involved.
The anthology will be printed on a Risograph machine with digitally printed inserts. More impressive still, it will feature intricate letterpress and foil-stamped covers, designed by illustration star Lachlan Conn. All up, it's an expensive, labour-intensive process, but the results promise to be fantastic. Using different inks and paper stock across 230 pages, this vibrant publication will build on the unique format of the first issue to truly be a beautiful collection. Edited by artist and illustrator Leigh Rigozzi, Blood & Thunder #2 will be printed in a limited run of 300 copies.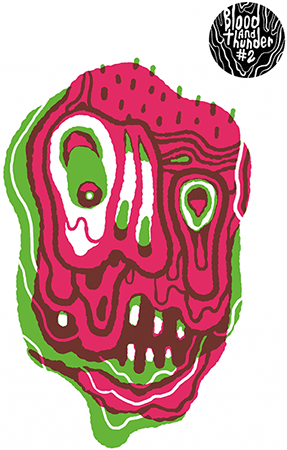 The collection features work by:
Michael Fikaris
Tim Danko
Kieran Mangan
Gregory Mackay
Mandy Ord
Jo Waite
Neale Blanden
Trevor Dickinson
James Flaxman
Andrew Fulton
Michael Hawkins
Sam Wallman
and others

YOUR CONTRIBUTIONS
Blood & Thunder #2 is print-ready and will be launched in May 2013. It will be available in specialist bookstore Kinokuniya and at the Museum of Contemporary Art's annual zine fair. Pledging to this campaign is a great way to show your support for local comic and illustration talent. It can also secure your copy of the anthology if you live outside Sydney. Your contribution will go directly towards the cost of printing the collection.
We encourage you to support this independent project generously.
Blood & Thunder #2 is a project of Blood & Thunder Publishing Concern, which published the first issue in 2011. A Sydney-based design studio, Blood & Thunder specialises in creative concepts, strategy, research and print production.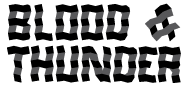 Video by Dominic Kirkwood.
Copy edited by Aden Rolfe.