WHAT IS COLOUR BOX STUDIO?
Colour Box Studio
is a community creative hub in Footscray, Melbourne. We operate as multi-functional pop up creative space that aims to support and showcase Melbourne's creative community. Our programming changes month to month to display a diverse range of artists, art-forms and creative people through pop up shops, exhibitions, events, workshops and more. We are located at 236 Nicholson Street, Footscray. We're currently closed during this Pozible campaign - which will decide our future path.
POZIBLE PROJECT DETAILS
The
Colour Box Studio
team is running a 7 week Pozible campain to raise a minimum of $7000 (with a reach goal of $12 500) so that we can continue on with the next creative programs planned from May until the end of October 2013. We're at a bit of a crossroads so we need your help to continue on this journey to support, nurture and showcase our creative community. We invite you to jump aboard!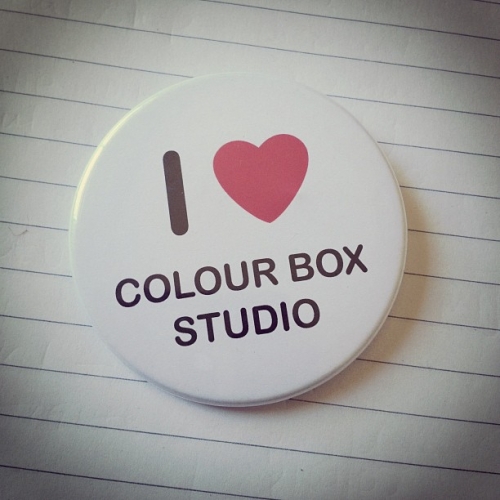 ---
We always support ethical and sustainable practices when we can on all levels of operation. We acknowledge that we are on traditional lands of the Wurundjeri people. We offer our respect to the Elders of these traditional lands, and through them to all Aboriginal and Torres Strait Islander peoples past and present.
For the last 5 and a half months, Colour Box Studio has been reliant on 100% volunteer effort (and this we are truly grateful for). When founder and director
Amie Batalibasi
got the keys to 236 Nicholson St, Footscray on 1 October 2012, the building was a tattoo parlour - now, after an amazing display of community coming together, it's Colour Box Studio.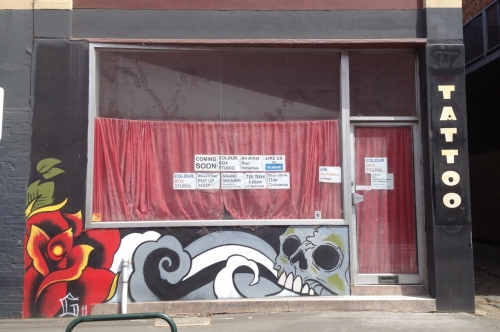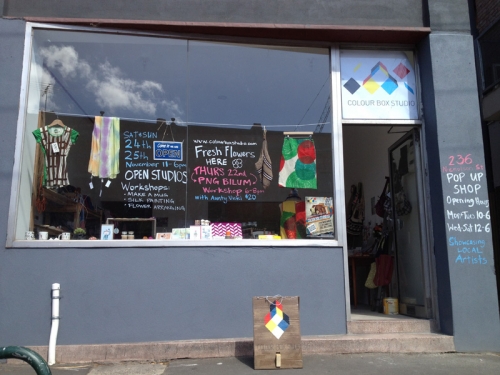 So far, we've been successful in running 3 programs:
•
Christmas Pop Up Shop Program
(Nov/Dec 2012),
•
Digital Media Program
(Jan/Feb 2013) &

We've showcased the work of over 40 Melbourne artists and creative people; we've created income for over 40 Melbourne artists; we've held 4 free community based events; we've enabled 15 artists to facilitate workshops, share skills and make an income; we've bonded with an amazingly generous team of volunteers; we've built a wonderful community 100s of people who support the space and engage with us online & offline (that's you!).... All of this, in 5 and a half months!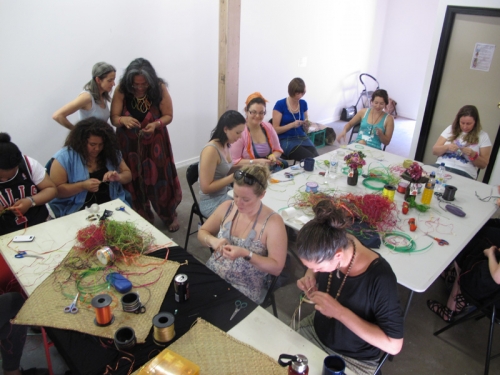 Pacific Weave Workshop at Colour Box Studio Dec 2012. Facilitated by Grace Vanilau & Kooi Taukilo.


Even greater than our achievements has been the journey... it has been a character building experience for all involved, we've come across adversity, we've stumbled but we have learnt from our mistakes and come together as a team and community to achieve what we have so far.
WHAT'S THIS POZIBLE CAMPAIGN ALL ABOUT?
One thing we do need a hand with, is covering the costs to make Colour Box Studio tick. We don't make any profit, we have a very low commission on sales and very low rental fees so that artists can really benefit from our programs in a way that supports them financially - and we want to keep it that way. So we have created this Pozible campaign as we believe that this is the best platform that supports fundraising and community spirit... this is where you come in.
HOW MUCH DO WE NEED AND WHAT FOR?
We are aiming to raise a minimum of $7000 to go towards 6 months programming (1 May - 31 Oct 2013).
Where will the funds go?
If we can raise $7000 these funds will go towards:
• rent & running expenses like internet, water, electricity etc;
• property maintenance (our building is over 200 years old & there's a few things that still need attending to!);
• materials for exhibitions, events, pop up shops, meetings, workshops;
• programming expenses such as posters, flyers, promotion, catalogues, EFTPOS facilities;
• equipment such as a speaker and microphone for events, & heating devices for winter.
If we reach this goal we will also be able to keep our commissions and rental fees low.

If we can raise $12 500 we could put funds into:
• paying 2x people one day a week for the 6 months;
• developing our website & online presence;
• purchase of a computer or portable device to use as a POS system during pop up shop times.
From community consultation and listening to what our community would like to see in the space, this is roughly what our programming looks like:
• MAY: Young People in the Arts Program
• JUNE/JULY: Writing and Performance
• AUGUST: Music & Sound Program
• SEPTEMBER: Visual Arts
• OCTOBER: Volunteers & Members Program
(Please keep in mind that this may change slightly due to the 'pop up' nature of our space).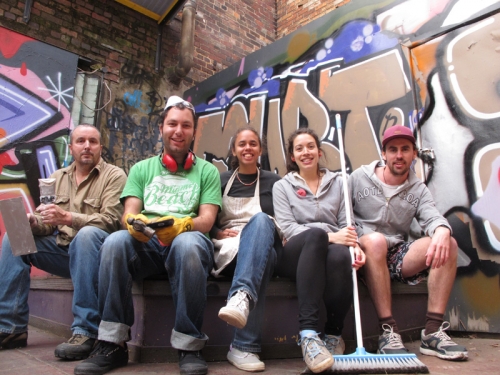 YOU CAN BE A PART OF THE JOURNEY!!!
By pledging towards our project - "A Community Creative Hub" - you are making an important step towards empowering our creative community! (If you pledge, the money will only be processed IF we reach our target and at the end of our campaign). If we don't get this funding we are unable to continue operating at our current capacity offering FREE events, low commissions for artists, low or free rental fees for artists etc.
By supporting us you get the satisfaction of supporting a community of creative people and being a part of something real and tangible and creative and so, so exciting!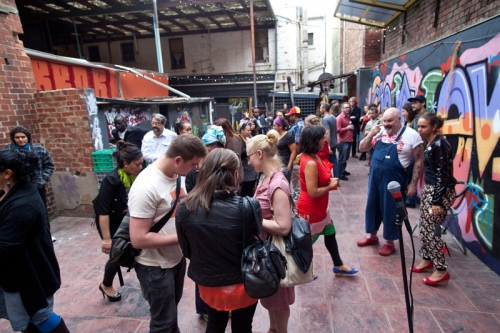 November 2012 LAUNCH EVENT. Photo by Rachel Main.
SHARE THE LOVE
Other ways that you can assist us in reaching our target (and beyond) is to SHARE THE LOVE. Social Networking is a powerful tool to spread the word. Please tell your friends about our project :-)
Find Colour Box Studio online - Like & Share us:
A sincere thanks for your time and support. Love and Respect - From the Colour Box Studio team.
---
WHAT'S GONNA HAPPEN TO COLOUR BOX STUDIO AFTER OCTOBER 2013?

The reason our lease is ending is because our building is going to be knocked down to make way for a 12 story apartment building (sad face). BUT we hope to produce a wonderful program until then (with the help of this Pozible campaign) and after this period we plan to find a new home in Footscray... somewhere (HAPPY FACE)!
Colour Box Studio - Management Team Planning