RSW is currently operating as a Pop-up in Newtown with the support of Harley-Davidson Australia.
Pledgers and members can follow our progress in finding more permanent digs on our
facebook page
and
website
Rising Sun Workshop
Your Bike. Your Workshop. Your Way.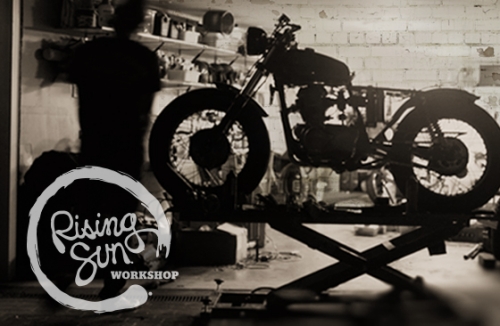 Picture this; you have a Cafe Racer or custom style motorcycle. The reason you like the cafe style bike is the machine, and the creative outlet of customising and modifying an extension of your personality, along with the large and friendly community of bike riders. Now you want to learn to work on your bike and modify it. You need space, tools, and someone to teach you. Problem; you live in Sydney with no garage space, and the only place you have to work on your bike is your living room, which is up 5 flights of stairs. Your tool collection contains the allen key that came with your IKEA book shelf and a screw driver left by the last tenant, so your probably going to need to go buy some tools. But what ones? And where will you store them? Already sounds too hard right? Wrong.
Enter Rising Sun Workshop. We are going to provide the space, tools and knowledge you need to be able to service, modify and customise your prized motorcycle, here in Sydney. Inspired by workshops in the US and Canada, such as Bay Area Moto Shop in San Francisco and Motomethod in Vancouver and Melbourne's Kustom Kommune project.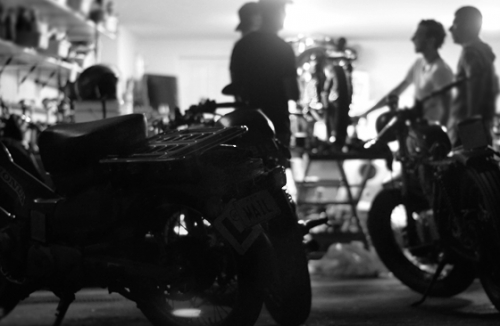 ---
What Is Rising Sun Workshop?
Rising Sun Workshop is going to be Sydney's first communal workshop space for motorcycle enthusiasts. It's a place that provides the space, tools and knowledge to do what ever you can think of to your machine. Whether it is just to change the oil, filter and plugs, or to build your dream custom from a rusted barn find, Rising Sun Workshop will provide your home away from home.It will be fully equipped with all the tools you need, hydraulic lift bays, and communal work areas, all within a brisk ride from Sydney's CBD. We are currently looking for locations around Surry Hills, Darlinghurst, Alexandria, the Inner West, Marrickville and Enmore.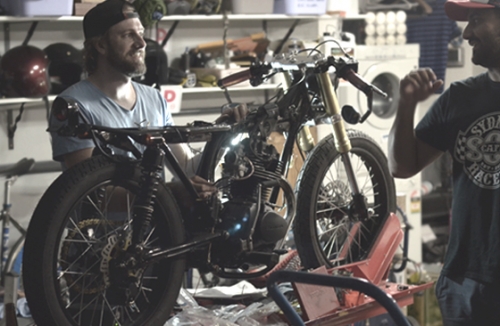 ---
Why The Name Rising Sun?
The name Rising Sun came about when looking for a space to start the project 12 months ago. We found, what we believed to be, the perfect garage space. Once we looked into the property's history and found out it was Australia's first drive in garage and was called the Rising Sun Service Station the name really reached out to us. Due to structural issues we weren't able to save the building and give it a new beginning, however the serendipitous encounter sparked something in us. Rising Sun is a place for machines to have a new start, a rebirth, a beginning, which is what a lot of custom builds are. A barn find left rusting for years, cleaned up, modified, customised, rebuilt and reborn. This is why Rising Sun was seen as great name for our project. Any type of bike is welcomed and appreciated, from British to American to Japanese, even Vespa's and Lambretta Scooters, it's the spirit of the Rising Sun that counts.
---
What Can I Do at Rising Sun Workshop?
Members will have access to DIY motorcycle bays fully equipped with all the tools they will need to service, restore or fully re-build any custom project. There will be training sessions to help you learn how to weld, understand basics of electrical circuits and systems, basic metal fabrication, and plenty more. It's a community, so whatever you want to learn, we will organise an expert to come in share their knowledge to grow yours.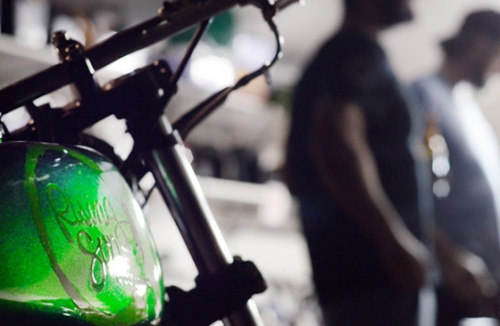 ---
What Makes Rising Sun Different?
We want to make Rising Sun Workshop a surrogate home for the Custom Motorcycle scene in Sydney. Within the workshop members will have access to wi-fi, and if space allows, we want to include a resources area with iPad, laptop and TV connections plus a library of manuals and chill out space.
In addition, we are going to attach a cafe serving speciality coffee and garage style food. A place to fuel the fire before the ride, or to swap stories and experiences while taking a break from the build in the workshop. Your pledge is only going towards the workshop, not the Cafe. Added bonus, right?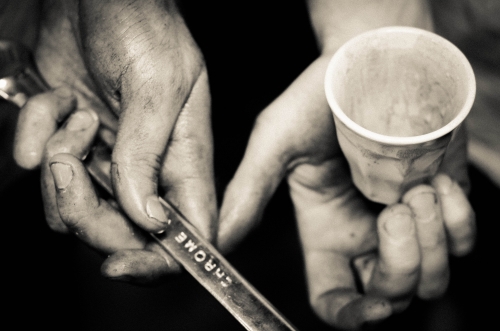 ---
How Much Is Membership?
to purchase visit our website

We want to make sure Rising Sun is affordable and accessible to all motorcycle enthusiasts. We also know that some members will have more time on their hands and needs will vary. There will be 3 levels of membership. All members will need to book to guarantee a work bay, however drop in's are welcome if there is a free space.
Membership #1 - Minaraiko (Apprentice)$150 annual membership - For the rider with limited time but a DIY attitude. Good for beginners and first time bike owners learning to modify and service their bike. This will give access to the workshop and all the tools and facilities.
Membership %232 - Sensei (Master)$250 annual membership - For an experienced bike modifier and servicer. This will give you access to the workshop and all the tools, and 2 breakdown pick ups within a 40KM radius of the CBD, and 10% on the hourly work space rate.
Membership %233 - Ronin (Masterless)$400 annual membership - This is for the experienced builder who needs time and space to work on project builds. They will have access to the workshop and all the tools, 2 breakdown pick-ups with 40KM radius of the CDB, 30% discount on the hourly work space rate and first pick advanced bay booking.
Hourly Rate (Monday - Thursday) - $10Hourly Rate (Friday - Sunday) - $15
---
What If I Need To Leave My Bike At The Workshop?
That's totally fine. There will be storage space for $3 a day, so if it's just overnight or while you undertake a complete custom build, you can store the bike at the workshop for as long as you need.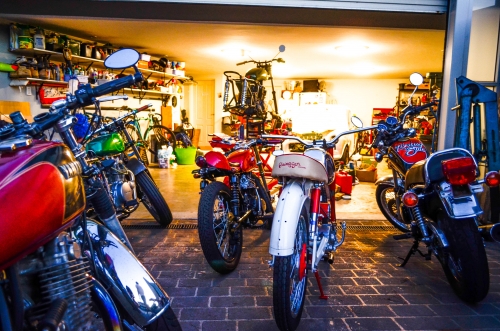 ---
What Do You Get When We Hit The Funding Goal?
We have calculated $35k as the bare bones start up capital needed, additional to existing funds, to open our doors, however we are aiming to hit $50k with your help to ensure we can provide a complete workshop with all the right tools and atmosphere . As you can imagine there are a lot of pieces to this puzzle and each piece has a cost. Once we hit the funding goal we can secure a location and start the fit out. We will be up and running within 3 months of hitting our goal and will provide regular updates via our Facebook page and through email so you can follow our progress.
If we get to $35k we will achieve:- 5 Workshop Bays- Workbenches- Full set of tools for each bay- MIG Welder- Basic range of speciality tools (feeler gauges, chain breakers, etc)- Compressed Air supply for each bay- Bike Storage area
If we get to $50k we will also include:- Wi Fi access for Google-ing and YouTube-ing- Metal Lathe- TIG welder- Drill Press
- A range of other fabrication and speciality
tools (bearing pullers, feeler gauges, carburettor
sync tool, chain breakers, cylinder honers, wheel truer, sheet metal brake, polishing wheel, parts cleaner,etc).
- Chill out area to take a break
If we go past the $50k, additional funding will go towards bigger space, more bays, tools and facilities that you will help determine. It's your workshop so tell us what you need.
If you want to get involved and help make this happen outside of providing funds, get in touch. We will take any help we can get from second hand tools, to electrician's who want to help or any businesses who want to affiliate with us, we are open to ideas. Email us at - info@risingsunworkshop.com or call on - 0424 724 769
Stay up to date on the workshop and cafe developments and progress, follow us on Facebook and go to
www.facebook.com/risingsunworkshop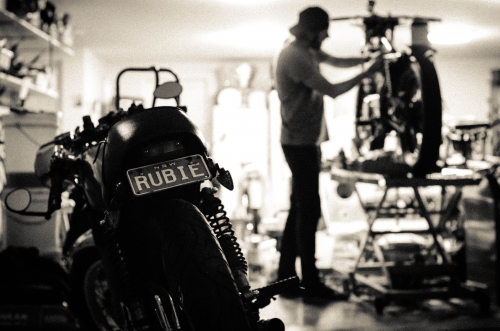 All photographs by Heleana GenausFilm by Kate Disher-Quill & Mercurio Alvarado Mendez