iCOMBAT Brings popular video games like Call of Duty to life. Get off the couch and into one of most intense combat situations ever.
Thanks for checking out our page! iCOMBAT is
the
most intense tactical combat simulation on the planet. Our goal is to create another top-of-the-line combat arena for you to play at. With your help, we can raise the funds necessary to build an incredible battlefield that stimulates all of your senses. This isn't your typical laser tag or paintball game. iCOMBAT gear is as real as it gets, and it's currently featured on the Outdoor Channel's new show
Elite Tactical Unit: SWAT,
staring Mykel Hawke! We're going to tell you a little about about the project, our goals, and our history.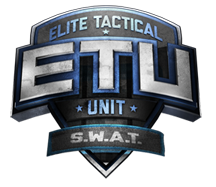 Check out these videos to get a feel for what we do:
The Systems

With iCOMBAT, YOU are the game. How would you like to play Call of Duty or Battlefield in real life? Now you can. You use realistic equipment that shares the same fit, form, and function as the real thing. This is not some clunky laser tag gun that claims to be realistic. Our systems match their real-world counterparts. You can choose to fight with either an irM4, modeled after the popular M16/M4/AR15 rifle, or the irPistol, modeled after the Glock 17. We do this so professionals don't have to compromise when training. This exact same gear is what you get to play with whenever you visit an iCOMBAT arena. If you've seen Elite Tactical Unit: SWAT, you know this equipment is no joke. Plus, players over the age of 18 can wear the StressX shocking belt for a pain penalty when they get hit. This adds even more realism and tactics to the scenario games.

The weapon systems are completely safe and cannot ever be converted into firing a projectile. However, they function the same way they do in real life. There is limited ammo, reloading, and a number of attachments like scopes, grips, and lights. The system is so real that it is currently used by the FBI, West Point, local police around the US, and security forces around the world in more than a dozen countries. The battlezone we are creating will even be used by law enforcement for training during the day.

See our gear and the iCOMBAT name on the Outdoor Channel: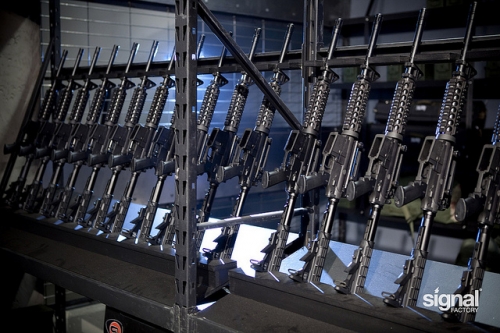 What We're Doing

This project aims to build the most realistic and intense combat arena the world has ever seen. As the video stated, we are not talking about painted plywood walls and cement floors. This arena will have full sound and ambient lighting effects, sand, dirt, pavement, brick and mortar buildings, cars, breach-able doors, two story houses, working water fountains, and multiple zones typically found in a middle eastern village. Each iCOMBAT field is based on a real-world environment or location. You'll be fully immersed in the world of iCOMBAT. We are raising funds to help make this arena come to life. Several locations exist around the world and more are coming every month. If we exceed our goal, we will be using the money to help others open more iCOMBAT arenas around the US. The facility and realistic battleground will be used for police training, product development and testing, as well as public and private game play. With your help, we can build this field and more. Even if you don't reside near southeast Wisconsin, you can still benefit from a number of the rewards and have a good chance that a location is in the works near you. This battleground is planned to open in the spring of 2013.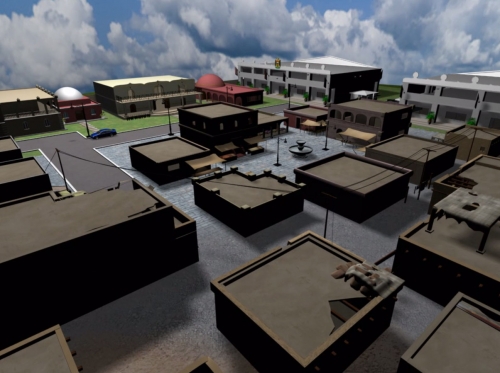 As you can see, the field has immense detail. This mock-up will be copied almost exactly, which includes the power lines, canopies, and brick market area. Even the ambient lighting and environmental details will be controlled. The battleground is broken up into multiple zones, to provide players with a city feel and something new every time. There will be an embassy type compound, a rich district, a poor district, and a marketplace. Games will be played in all areas. Buildings will have actual doors, rooftops, working electricity, and multiple rooms! This allows us to create multiple scenarios and objectives such as attack and defend, search and destroy, or even total warfare.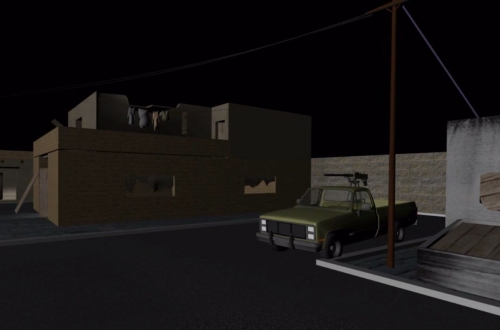 How It Works

iCOMBAT focuses on teamwork and tactics. Most people opt to plan out strategy before duking it out. You don't have carefree guys running everywhere that often. This is not only because of the realism, but because iCOMBAT also has live real-time scoring. Your shots and eliminations, heart rate, and KDR (kill-to-death ratio) are monitored and displayed for all to see. You can see where exactly you've been hit, and where you are hitting your opponents. Plus, with your account, you can log in and see the leaderboard online at any time.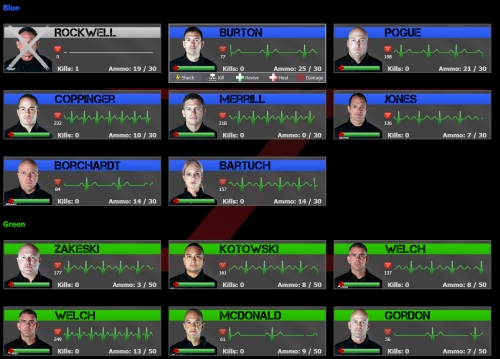 About Us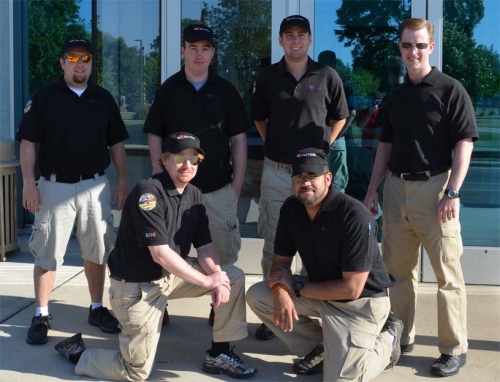 We began in 2005 making a laser tag toy for kids and paintballers who wanted a safer, cleaner version of combat tag. This company was known as Predator Games. Predator quickly grew, selling laser tag toys and add-ons around the world. Tippmann Sports, one of the world's leading sporting goods and paintball manufacturers, started distributing the products in 2008 and growth went through the roof. In 2010, a new division was created known as irTactical. This division focused on our advanced technology to create a very realistic tagging system for police and military training. The products allowed complete tactical training in any environment for a fraction of the cost. There was no more mess or wasted set up time. It caught on and departments and agencies around the world are now using the system for training on a daily basis. The extreme realism of the guns and products prevented us from selling to the general public, until now. iCOMBAT was created in 2012 as a means to let the general population use and play with the irTactical gear in a safe environment. Players can visit any iCOMBAT facility and use the gear to their heart's content. Locations quickly sprang up around the globe and more are coming every month. This project aims to create a state-of-the-art testing and research gaming arena in southeastern Wisconsin, that can also be used for public play. Predator Games and iCOMBAT systems are based and manufactured in Whitewater, Wisconsin by Universal Electronics, Inc, a leader in electronic manufacturing for over 30 years.

Thanks again for checking out our page! We hope you'll find this project extremely interesting and choose to donate, if only just a small amount. We truly believe iCOMBAT is the future of advanced tactical gaming and want to get people off the couch and into the game! Do not hesitate to contact us and ask questions. We think you'll enjoy being a part of iCOMBAT.

For more information, check out www.iCOMBAT.com.