'Feathers' started as a fly-away conversation between myself and emerging artist Cameron Brideoake. Brimming with curatorial passion and frustrated with the lack of opportunities for collaborative shows, we plotted to get talented individuals we knew into a room to make something awesome happen. Almost a year later, Cameron has moved to Melbourne to pursue his artistic excellence and is making fantastic headway exhibiting and curating. Facilitating artists at local city lounge room The Reading Room I too am fulfilling my curatorial dream. But we haven't changed anything yet...

Despite our talented folk flocking interstate I refuse to give up on Adelaide's art scene. Everyone I meet seems to have greater and fresher potential, and this show is part of realising that. From a humble start of five visual artists and illustrators, Feathers has grown to encompass 23 people involved within creative industries, from visual artists (painters, photographers, illustrators), to designers, creative writers, jewelers and 'thingsmiths'.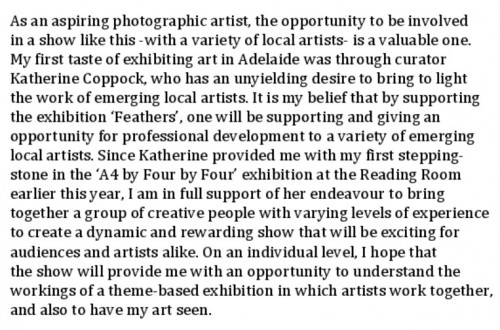 Using wooden poles, chicken wire, and the interaction of the general public, Format Gallery will be turned into a gigantic nest. Starting from the staircase entrance to the gallery space, the chicken wire walls will continue in a circular shape around the walls to re-join the stairs (see image below). Enmeshed into the walls will be the artworks of featured visual artists, based around the communal theme. The media that these artists work within will be entirely their own choice, absolving the divide between genres and treating all crafts as equal.
From photography to jewellery, to illustration and sculpture, all forms of expression combine to increase awareness and love of local visual culture. As patrons weave free materials into the walls they help to build this communal nest, supporting both physically and metaphorically our growing arts scene. Leaving their mark and taking inspiration, it is hoped that the impact of this show will spread throughout the community creating other little nests for fledgling Creatives to thrive in.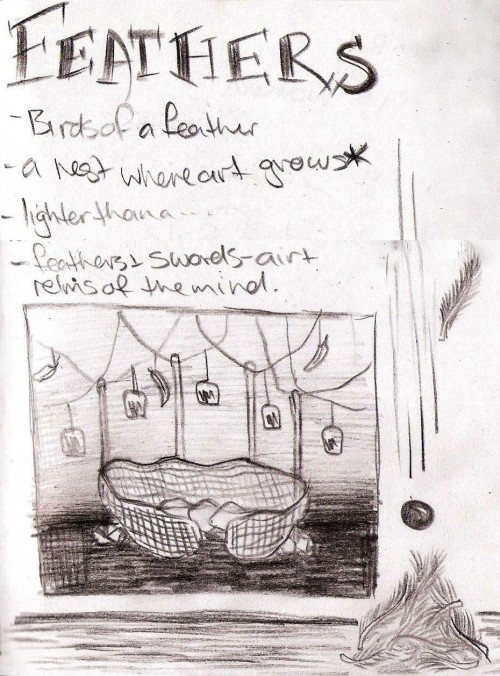 This exposure is furthered in an accompanying catalogue created by emerging designer Daniel Purvis that includes artist biographies of everyone involved in the show, combined with spectacular portraits taken by photographer Genevieve Brandenburg, and accompanied by creative essays by Esther Nimmo and Fruzsi Kenez.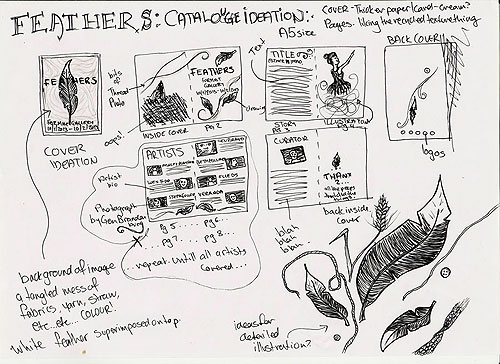 The project is estimated to cost about $3000. Most of this is directed towards the nest, as oak doweling and chicken wire is not cheap. This enclosure is integral to the show as it creates stimulation and discourse, elevating this from 'just another art show' to something special, a stand-out event that impacts the memories of those attending and challenges the notions of a traditional art platform. The interactive nature of the installation warms and welcomes, with the audience becoming a part of the artwork themselves. This facilitates connections that would have never existed, and inspires a new generation of art lovers.

Through donations by the generous artists involved and our supportive general public, we've gained some sponsorship, plus donated fabrics, yarn and straw, local publicity and helping hands. Now, we need your help. By making a small donation to our campaign you will be contributing the success of this project, and boost those artists that are ready to soar.
Thank you. :)