It's like a bookend for your beer.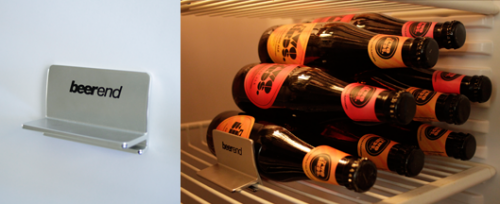 AS FEATURED ON:

WHAT DOES IT DO?
My fridge isn't really designed to store beer efficiently. The shelves are too small to stand bottles up, and laying them down takes up too much room. And If you try and stack them on top of each other the pyramid crumbles pretty quickly.
The Beerend clips into your shelf and allows you to store more beer in less space. It's like a bookend for your beer.
WILL IT WORK IN MY FRIDGE?
Yes, if you have fridge with 'wire' style shelves. For more than three months I've been designing, 3D printing and prototyping different versions of the Beerend, and the result is a universal design that works on any fridge with the 'wire' style shelves.
No, if you have glass or flat plastic shelves. But if this campaign is successful, I'm going to immediately start working on a version that works for you. Backers of this campaign will be offered the 'Beerend 2.0' for FREE (plus shipping) if it gets manufactured. Another reason to pledge and share to help me reach the target.

WHAT IS IT MADE OF?
The Beerend is made of ABS plastic with a chrome finish. It's strong enough to hold your bottles but light enough to manufacture without costing an arm and a leg.
DOES IT WORK WITH OTHER BOTTLES?
Yes, it works with all beer bottles and cans, as well as other bottles like wine.
WHAT ARE PLEDGES?
This is an "all or nothing" crowd funded campaign, which means if I don't hit my target of $17,500 in 30 days the project does not go ahead. The money you pledge will only be transferred if I reach my goal.
By pledging you are contributing directly towards the campaign and the more you pledge the bigger the reward.
Rewards range from buying a single Beerend, through to packages including a
Two Birds Brewing
tee and some options for brands or retailers looking to sell the Beerend (ideal for gift with purchase).
WHERE WILL MY MONEY GO?
I need to raise $17,500 to kickstart the manufacturing process. I estimate my costs will be broken down across the following areas.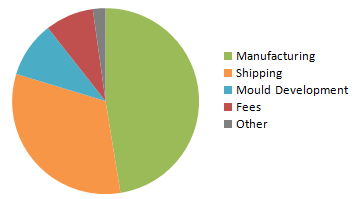 Unfortunately one of my biggest costs will be actually sending out the individual Beerends to my backers, which comes to roughly $7 per package. Sad face.
Share it with your friends, email it to your dad and tell that random bloke who's always at the pub about it. And of course, make a pledge!
If you're looking to try a new craft beer, check out
Two Birds Brewing
who have very generously supported this project.