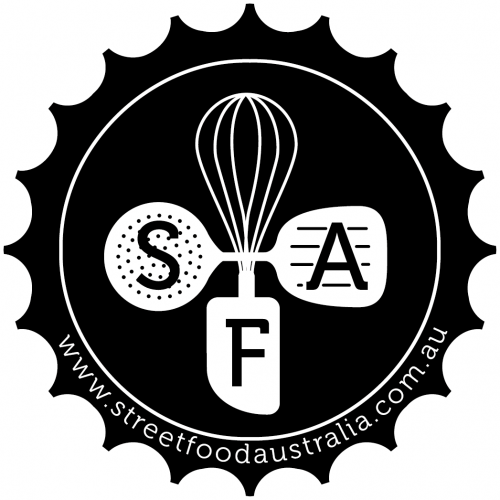 Street Food Australia
(affectionately known as
SFA
) is a start-up social enterprise dedicated to helping disadvantaged migrants start their own business in the food industry. By developing systems, designs and relationships,
SFA
will reduce the barriers to small business by creating a stepping-stone micro-industry in the form of street food vending on bikes.
SFA
will provide training (small business and food service) and support for each vendor for 2 years. This will enable our participants to test their food ideas, capture a following, earn an income, stash the profits and learn all the business basics for graduating into a bigger operation such as a café/restaurant. We do this, AND we transform the food system AND the life of the street by using beautifully designed street food bikes with bespoke service kitchens. The fitted out bikes are self-sufficient examples of sustainability in motion, using solar, 12V & LPG as the only fuels. No mains water. No generators. No power leads required. The food inputs are all sourced from local organic farms (where possible) and the packaging is the best biodegradable examples on the market. We are working with a quadruple bottom line which targets economic, social, ecological and cultural sustainability.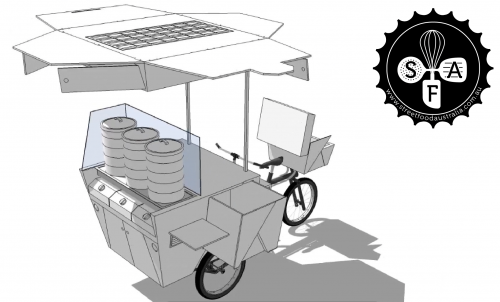 We are seeking $20,000 to help fabricate our first street food vendor bike, the 'Steamed Dumpling' cart and get it on the streets of Brisbane. The dumplings are hand made by local dumpling kitchen, 'Steamed Catering'. Others to follow could be serving, Bungeoppang (Korean fish bread), Banh Mi (Vietnamese pork baguette), and Elote (Mexican corn). Each 'cart' provides a specific cultural culinary delight, rich in flavour and authentically connected to the terroir from where it originates whilst working with regional seasonal produce availability.
The cargo bikes are handmade and imported from Denmark, with rear-wheel steering and can support a load of up to 150kg.
The vendor carts are designed by a local design studio 'Pearler' in collaboration with young design students.
Between December 2012 and June 2013
SFA
will be running a pilot project designed to test the systems, the bikes, build on relationships with council and other stakeholders, and raise capital for a fixed premises with office, commercial kitchen, bike garage and cafe.
However, it first starts with you.
By pledging to SFA, you can choose from our many rewards, including stickers, lunch vouchers, t-shirts, branding opportunities and bragging rights!!!
If your collective generous support exceeds the initial $20k, then for every additional $15-20k, we will build another bike, serving up more delicious cultural delights.
Thank you from the quadruple bottom of our hearts,

The team at SFA
"We build lean, green, vending machines. We build capacity. We en-culture the street"
BREAKING NEWS
Luke Nguyen of SBS television's
Luke Nguyen's Greater Mekong Series
is now a partner to
SFA
.
We welcome Luke and his ongoing passion for developing an Australian street food culture.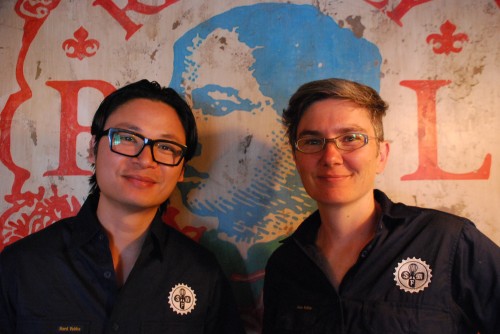 Luke and Helen in Luke's gorgeous little bar "Red Lilly" at the back of Red Lantern on Riley in Sydney.
Facebook event
Street Food Australia Website
Follow us on twitter here